Is Your Small Business Committing These 7 Deadly Logo Design Sins?
The logos of successful companies are instantly recognizable, memorable, and timeless. These are important qualities because successful companies have built strong brand identities.
A strong logo is an important part of a company's brand identity. As we wrote in Why You Should Avoid Making This Stupid Branding Mistake WIth Your Logo:
A great logo design can be the difference between blending in and standing out from the competition. But while we often recognize the value of a great logo, we don't always prioritize it.

New business owners often incorrectly believe that a good logo will cost thousands or tens of thousand of dollars.  As a result, they sometimes buy pre-made logos in an online logo store or try a do-it-yourself approach.

In fact, entrepreneurs aren't the only ones who make the mistake of using generic logos- businesses of all sizes sometimes use logo shortcuts, only to find out that it's even more expensive to rebrand later. After all, memorable logos are 13% more likely to get consumers attention, and 71.6% more likely to get a positive response from consumers. In a world of noise, that can make a big difference.
Sticking with the core rules will help you find a great company logo.
But, it can be tempting to follow a dark path when searching for the perfect logo design for your business.
Don't give in to the temptation!
Stay on the straight and narrow, and keep yourself and your business safe from these seven deadly sins of logo design.
Lust: Avoid logo design fads and trends
Logos, just like anything designed, are not immune to trends and fads.
Every year design sites like LogoLounge gather together lists of what's hot (and what's not). 3D text! Hand-written type! Bevelled edges! Garish gradients!
The urge to incorporate trends into your logo design may be strong, and understandably so. You want your logo to appear "of the moment," and what better way than using current design trends.
But you should resist the magnetic pull of trends.
Unlike dresses or hairstyles, logos are meant to endure, and those that reflect what was trendy at the time do not age gracefully. You need not look further than startup logos from the so-called "web 2.0"-era to see how poorly many of these have aged.
Instead of trying to appear current, aim for timelessness.
WHICH LOGO IS BEST?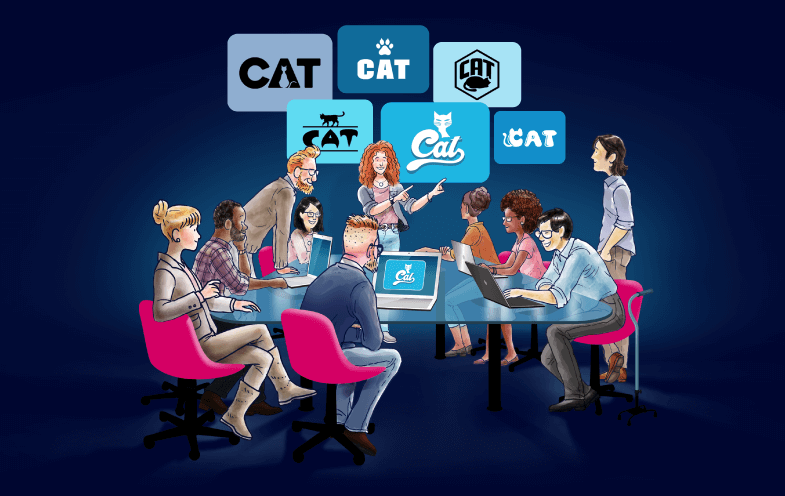 Logos like Nike, FedEx, Penguin Books, and the WWF look just as relevant now as when they were first introduced, mainly because they are simple, memorable, and avoid logo cliches.
That said, the best logos still evolve and adapt to the times, but usually in subtle ways that reinforce a timelessness without slavishly incorporating fads.
A company like Starbucks or Coca-Cola have consistent, reliable brands that have still seen small changes over time to stay fresh.
Gluttony: Do not gorge yourself on complexity
According to recent studies, the average person is exposed to anywhere from 3,000 to a staggering 20,000 message and brands a day.
In this maelstrom of media, a logo needs to communicate its meaning in seconds.
More than ever, simplicity and clarity are critical elements of the best logo designs.
There are other reasons to strive for simplicity.
Logos need to be used in a wide variety of environments and media, from mobile phone apps and website icons to billboards and motion video.
When your logo may need to be displayed across dramatically different sizes and resolutions, using a simple design can save you the time and effort of needing multiple versions at multiple sizes.
You want your logo to leave a lasting impression, and with so many demands made on people's attention, a simpler approach is usually the most effective.
Greed: Only use what you need and nothing more
With so many different fonts, color combinations, and styles to choose from, the temptation to drink deep from the well of creative elements may be strong, but for the sake of your logo's success, try to resist.
Greed and gluttony are two sides of the same coin, and indulging in either one can cause your logo to suffer from the equivalent of visual gout.
Designing with less means it's much easier to move your brand across platforms and mediums. Flat, simple designs mean your logo will load faster and look clear on smaller screens, which studies show helps boost recognition and memorability.
Redesigning your logo to strip away complexity and clutter is a great way to update your brand without having to start over.
Many recent rebrands use this strategy to great effect. Google, MasterCard, UPS, and even Barclays Premier League, England's professional football competition, have thrown out complexity and turned to simplicity with their logos, to great effect.
You want your logo to resonate with your customers, and the less embellishment and visual clutter your brand has, the clearer your message will be.
Sloth: Do not partake of the stock art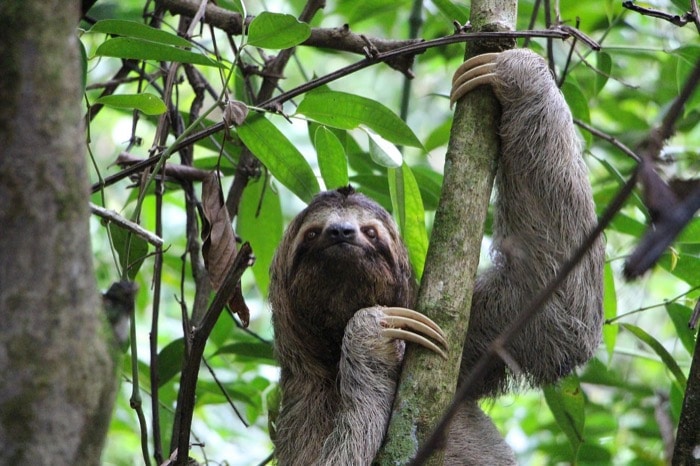 It seems so easy: you're a simple google search away from a veritable galaxy of stock art. Some of it is even free. But hold on! Don't be tempted to use one of these as the starting point for your logo.
There are many reasons why you should avoid using stock imagery in your logo:
Anyone can download the same stock art and you have no control over how it's used
A competitor can easily replicate or rip off your logo
Your logo may look generic or cheap
There may be unforeseen copyright, trademark, or usage issues
Your business has its own unique personality, and your brand should reflect that succinctly and clearly. As it was created outside of the context of your own business and its specific needs, stock imagery can devalue your brand's character.
For more insights on how problematic stock art can be, check out 5 ways stock art is killing your small business brand.
Also, avoid ready-made logo stores. They will only harm your business, as we discussed in The Logo Store Nightmare: Ready Made Logos Harm Your Business.
Wrath: Prepare for the backlash
There's a (sad but true) saying that captures the reality of criticism in our modern, connected world: For every one person that creates something new, there are five thousand others yelling, "FAIL!"
The reality is that many branding efforts are often met with scorn and ridicule. Famous branding disasters like the Gap's infamous "blue square" or Pepsi's ridiculous logo redesign document are stark reminders that the feedback loop can actually be a painful whip.
Even the best-planned logo designs are not free from criticism, but what's more important is how you process the feedback you receive. Handled well, even the most bloodthirsty mob can be soothed.
We recently looked at Airbnb's re-launch of their brand, and a graphic component of their logo known as the "Bélo", which was widely panned when it was first released. However:
Airbnb cleverly anticipated the reaction to the new brand, creating a microsite allowing people to create their own versions of the Bélo, called Create Airbnb. Co-founder Brian Chesky declared: "With Create Airbnb, we're letting everyone create their own unique symbol under our shared banner. This homemade symbol can be as unique as every one of us, and it will always be a little different whenever you meet it… Create Airbnb is a recognition that our identity simply cannot be separated from all of you."
The general consensus after Airbnb embraces the criticism was that they managed to turn what could have been a disaster into a viral success.
Prepare for the reaction to your logo and listen to what customers and the public have to say. You might not be able to change everyone's mind, but showing that you truly value feedback is a great way to boost the authenticity of your business and your brand.
Envy: Be distinctive, not derivative
Logos do not exist in a vacuum.
With millions of brands in the world, the chance of creating something truly unique is nearly impossible. Famed designer Paul Rand noted this when he paraphrased Ludwig van de Rothe and said, "Don't try to be original. Just try to be good."
Your business has a unique value proposition, and your logo should be equally distinctive.
You want your logo to embody the spirit of your business, and the best way to achieve that is to create an original, distinct brand.
Now, some business owners worry that the cost of unique logo design can be prohibitively high.
It's true that many design companies and agencies charge thousands to tens of thousands of dollars for their services. But this isn't universally true (crowdspring's custom logo design projects start at just $299, including all fees).
Your logo is the face of your brand. It is usually the first contact point your customers have with your company. You want them to see your logo and immediately think of you.
Still, you should do your due diligence and make sure your logo idea doesn't inadvertently infringe on an existing trademark. Use sites like Tineye, Google Images, (free), and Trademark Vision (paid) to search for logos and imagers similar to yours.
Your customers form connections with your logo, and creating something unique will encourage those connections to be strong, lasting ones.
Pride: Be humble and listen
Powerful brands elicit an emotional response. One of the key steps to create an impactful brand design is to research, know, and understand the people that will interact with it. Your customer's response determines if a logo works or not. Do the due diligence before you kick off your branding project to create the context needed for success.
Before any major branding effort begins, many companies spend the time to create personas. Personas are fictional characters that embody the various desires, goals, and behaviors of a company's customers.
They can be divided by:
market or demographic,
end-goal,
behavior, or
other criteria.
Which one you choose really depends on your business' goals and needs.
Creating personas that are an accurate snapshot of your customer base can take some effort, but their ability to focus and frame a branding problem can be invaluable.
There are many resources available to get started with personas. Buffer has an excellent overview of how to create marketing personas. In exchange for some basic information, Hubspot offers free persona templates that can help guide the process. And usertesting.com has some good information and tools on personas as well.
Logo designs are everywhere you look, and some of them very obviously incorporate these problematic elements. We strongly encourage you to take a look at your own logo and examine it with a critical eye. If you think you might be guilty of indulging in any of these sins, maybe it's time for your logo to be born again. A truly successful logo eschews the seven deadly logo sins, and embraces the original, beautiful design qualities for a logo that is heaven sent – and eternal.