Powerful Branding Lessons From The World's Best Brands (That Actually Work For Your Small Business)
Even if you're running a small business or just starting your new business, you can learn essential branding lessons from successful, multinational companies.
It's true that large, multinational companies have huge budgets, thousands of employees, marketing agencies, and often, decades of experience.
But branding is about experience and emotion, and the psychology of branding doesn't care about the size of the company. More importantly, successful companies adopt a strong brand strategy that guides their branding decisions. We can learn a great deal from those brand strategies.
As we wrote previously in 7 Lessons Small Businesses Can Learn from the World's Best Brands:
Entrepreneurs and small business owners typically don't believe they can learn anything useful from the biggest and most successful companies in the world. After all, brand building at-scale is typically very different than brand building in the startup and small business world.

Nevertheless, smart entrepreneurs and small business owners pay careful attention to important market forces and trends that shape some of the world's best brands. These entrepreneurs and small business owners know that despite the many differences between large and small companies, important insights that can help shape their marketing strategies.
You might be wondering: What does it mean to brand your company? How do you brand your business? How can branding lead to bigger revenues and profits?
The name of your business and your logo are two essential elements of your brand, but your brand is much more than the company name and logo design.
A brand is the total experience your customers and customer prospects have with your company.
A strong brand communicates what your company does, how it does it, and at the same time, establishes trust and credibility with your prospects and customers.
Your company's brand is, in many ways, its personality.
Your brand lives in everyday interactions your company has with its prospects and customers, including the images you share, the messages you post on your website, the content of your marketing materials, your presentations and booths at conferences, and your posts on social networks.
Want a free brand review?
Answer 5 short questions and we will send a custom report with actionable insights and specific actions you can take to build a stronger brand.

We just emailed the info to you.
BrandZ publishes an annual most valuable brands report. The BrandZ Top 100 Most Valuable US Brands 2018 report offers important branding lessons for startups and small businesses.
If you want to compete, your business needs to stand out from the crowd.
So let's take a look at the seven critical lessons you can learn from the most valuable US brands and how you can drive more revenue and bigger profits for your small business or startup through better branding.
A strong brand starts with a good name and logo
Successful brands have a purpose
Successful brands are innovators
Successful brands are memorable
Successful brands are consistent
Successful brands create a complete experience
Successful brands are humanized
Let's get started!
1. A strong brand starts with a good name and logo
Successful brands typically have simple names that are easy to pronounce, spell, and remember.
This is important because you want your customers and prospects to remember your company.
Take a look at the names and logos of the most beloved brands in the U.S. (above). You'll see they all have simple names and memorable logos.
The most successful US brands – Google, Apple, and Amazon – are familiar to nearly all consumers because each has developed strong brand identity.
But coming up with a new name and memorable logo isn't easy.
New startups and small businesses face many challenges in coming up with a memorable business name.
For example, it's tough to find a good name and an available domain; many short names have already been taken.
That's why we ask clients who post business or product naming projects on crowdspring whether they want/need an accompanying domain and whether it must be a .COM or another TLD.
When you start thinking about building your brand and how to name your business, ask yourself the following questions:
What do you hope to accomplish with your company? What will it do?
What do your customers and potential customers currently think of your company?
What do you want your customers to think when they think of your company?
How do you differentiate yourself from your competitors?
The above questions are essential for selecting a strong company name and selecting a strong logo.
The logo is one of the most critical elements of a brand.
As you think about your logo, keep your audience and products/services in mind because you want your logo to reflect your company.
A good logo builds trust, and a strong logo will help to pull your brand together.
For example, did you know that the right color can improve readership by 40% by making messaging easier to read and more visually appealing?
Color is one of the first things our brains perceive from a brand, so it's often the first thing that pulls us in.
It only takes consumers 10 seconds to form a first impression of a brand's logo, but it takes 5-7 impressions for consumers to recognize the logo.
77% of consumers make purchases based on a brand name. A great brand name will become synonymous with the product or the service.
Think about the logos of some of the world's most admired brands (Apple, Google, Amazon). How do you feel (emotionally) when you see one of those logos?
By making your logo the central theme of your marketing and advertising activities (online and offline), the logo will become associated with your business. It will help you to better communicate with prospects and customers.
This is important, as we emphasized:
Consistent branding offers many benefits to your business. The most immediately obvious benefit is that it provides easy recognition of your service or product among consumers.

An easily recognized brand benefits from mere exposure. The more customers are exposed to something – a product, a service, or your brand – the more inclined they are to like it. You can learn more about this phenomenon (and how you can use it to your advantage) in 7 Marketing Psychology Tips to Improve Your Business Marketing.

Familiarity increases positive feelings. And, consistent branding keeps your company in front of customers' eyes in a reassuringly familiar form.
If you're struggling to grow your business and think that your overall branding is hurting you, don't despair. This might be the perfect time to rebrand. Maybe you didn't put enough effort into your overall branding and now find yourself at a crossroads. A strong brand is more than just a strong logo. As we pointed out:
One common mistake made by many small businesses and startups is to assume that once they have a great logo, they've created their brand and now just need to do a little bit of marketing. A brand is more than logo design. But marketing efforts can fall flat if you lose credibility with your marketing collateral. You must keep an eye on branding (easier for the world's biggest brands – they can spend billions building their brands) because it's too easy to make a branding mistake that can cripple your small business. For example, if your branding is inconsistent or consistently poor in email and content marketing campaigns, people will notice.
2. Successful brands have a purpose
Today, more than ever, differentiation requires that companies have a purpose apart from the products or services companies sell.
This is driven by changing consumer demographics – and the changing demographics of employees.
For example, millennials are naturally drawn to technology brands.
As we wrote recently:
What group in the US numbers more than 80 million, has an annual buying power of $200 billion, and makes up nearly half of the US workforce?

Millennials.

Sometimes called "Gen Y", millennials are the much sought after generation born between 1980 and 2000.

This generation carries impressive buying power, so it's no surprise that marketers are focusing on understanding and speaking to this lucrative demographic. Millennials are 1.75x more likely than baby boomers (born between 1946-1964) to say they'd like to be brand-loyal, so earning their trust is likely to yield a years-long relationship with your brand.

In fact, millennials will be the recipients of "the largest wealth transfer in history" as baby boomers transfer over 30 trillion dollars of their wealth to their children.
Equally important, brands that have a purpose appeal most to younger employees.
This is a global trend, and evident not just among the world's biggest companies but also evident among startups and small businesses.
For example, McDonald's is moving its headquarters back to the West Loop Chicago (from a suburb) to attract younger employees.
Substantial evidence supports this trend.
91% of consumers said they are more likely to buy from an authentic brand than from a dishonest brand.
It's still important to understand what your specific target demographic values as honesty because this perception changes between generations.
3. Successful brands are innovators
Innovative companies make strong impressions with their customers and prospects.
Fortunately, innovation is not just a measure that helps pure technology companies.
For example, Tesla is a market leader for innovation in electric cars, and Apple is innovative in consumer computer and mobile tech. Still, Disney ranked ahead of Tesla and Apple in the BrandZ 2018 report on innovation because of its MagicBand (which simplified visits to its theme parks).
Innovation comes in many forms.
For example, it takes more than luck to design popular products.
We recently talked about this in-depth in 8 Powerful Psychology Principles Behind Great Product Design. As we wrote there:
How can you compete with large, multinational corporations with huge budgets and design teams?

It all starts with understanding how people think.

By understanding the emotions, human behaviors, and people's motivations, you can significantly impact the success of the products you design and sell.

The crowdspring team (over 210,000 graphic and product designers) has helped the world's most successful entrepreneurs, small businesses, and even big Brands design products for many different industries. We've worked with the likes of LG, Barilla, Philips and the world's best agencies to design innovative products and product packaging, for a tiny fraction of the cost those companies and agencies would otherwise pay (not to mention a fraction of the time such design would normally take).

Here's what we've learned along the way, to help you design great products: if you understand the science of how people process information, make decisions and take action, you can create more effective (and more successful) products.

The good news is that you don't have to have a degree in psychology to apply brain-based design principles into your products.
Similarly, you don't need to be creative to innovate. We explained in an earlier article about innovation:
Creative people are often viewed as mysterious, whimsical and ineffable creatures. And yet, the innovation and solutions creativity generates have incredible value. What if I told you that there is a method to the madness? That you, too, can innovate and problem-solve with the best of them?

Enter "Design Thinking", a strategic method used every day by designers and creatives. Design Thinking is a methodology used by designers to solve complex problems for clients. Or, as I learned to think of it when I was getting my degree in design: "The Process."

What exactly is the process? While there's plenty of wiggle room within the basic structure; it boils down to just four basic steps: empathize, brainstorm, prototype, and test.

The design thinking process may have originated with designers, but the business world has started to take notice because of the agility, speed, and innovation that it promises. Let's take a look at three companies that have embraced design thinking to great effect and how you can, too.
In what ways are you innovating with your company?
4. Successful brands are memorable
We're bombarded by thousands of marketing messages daily.
It's increasingly more challenging for a brand to stand out. And for your small brand, the challenge is even more significant.
Successful brands embrace moments and speak with leadership and authority.
For example, the most successful brands engage with their customers on social networks like Twitter and Facebook, share helpful content of interest to their audience (even if the content originated from others), and otherwise develop a robust and consistent voice.
You'll rarely see successful brands continuously selling their products every time they speak.
Unfortunately, many startups and small businesses do the exact opposite.
One common mistake many small business owners make is to rely on stock art for logos, websites, and marketing messages. Stock art is killing your brand.
This is where you should learn from the market leaders!
We covered this topic in detail in 7 Ways Your Small Business Can Market Better on Social Media. As we wrote there:
When planning your content, it's vital that your posts remain true to your brand. Consistent branding is essential to building trust – especially in the social media realm where it's presumed that interactions will be more genuine and less rehearsed.

…

So, each and every interaction on social media (whether it's Twitter, Facebook, Pinterest or LinkedIn) should maintain the same brand presence your audience has already grown to know. If you need a little help determining what your brand voice is, check out the Content Marketing Institute's "5 Easy Steps to Define and Use Your Brand Voice."
5. Successful brands are consistent
Many startups and small businesses mistakenly modify their brand message depending on their audience.
For example, a company might take a more serious tone on their website but a very lighthearted tone on Twitter.
This approach is ineffective.
To build and maintain a strong brand, every aspect of your brand should be as good as your product or service, and you must be consistent in presenting your brand to prospects and customers.
This includes your company's name, logo, overall aesthetic design, products, and services and includes your marketing materials, website design, appearances at trade shows and conferences, and content posted to social networks, etc.
Why should you care about brand consistency?
It would be best to care because brand consistency leads to familiarity, and familiarity leads to trust.
People who purchase Apple products know they're buying innovative, high-quality, great-looking products.
In fact, 90% of consumers expect that their experience with a brand will be similar across all platforms and devices.
They expect a seamless transition between web and device-native applications through color, flow, and overall quality.
Brand consistency involves communicating messages in a way that doesn't take away from the core brand proposition.
WHICH LOGO IS BEST?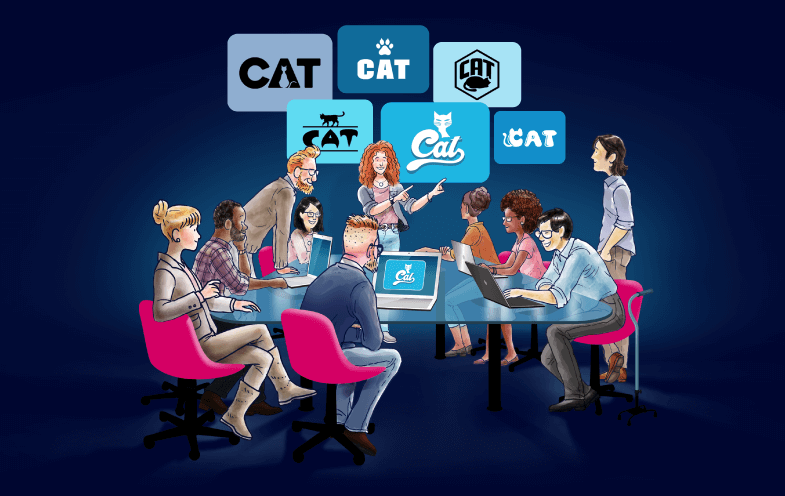 While certain aspects of branding might change, the core message shouldn't change.
For example, the Apple logo has changed numerous times since Apple was founded. However, Apple's brand proposition – to create innovative, high-quality, great-looking computer products – has never changed.
Brand consistency requires attention to detail.
Successful brands communicate in a consistent voice across all mediums, have a consistent look to their communications, use collateral materials that support their brand messaging, and enter into partnerships that build on their brand value proposition.
One way you can build consistency is to adopt a style guide. We covered this in detail in What is a style guide and how you can create one for your business?
6. Successful brands create a complete experience
A brand is more than just your company's products and services.
It's also the ecosystem that surrounds those products and services.
Ultimately, the strength of a brand is directly related to the connections within that ecosystem.
That doesn't mean that first impressions are without value.
On the contrary, first impressions are crucial to developing loyalty. 48% of consumers report that they are more likely to become loyal to a brand during the first purchase or experience.
But, first impressions are only a start.
It would be best if you did more.
Your brand starts with your company and employees. The most successful brands – such as Amazon  – transcend specific departments.
Your customer service people may be more critical than your CEO – they are directly connected to your prospects and customers. Great brands function as one internal ecosystem.
Your brand extends to your vendors, your prospects and employees, investors, and even competitors.
It extends to people who start conversations about your brand on Twitter or Facebook or blog about your brand on their blogs.
One way to think about your ecosystem is to identify the participants in your brand ecosystem. Who are they? What can those participants give and get to help your brand?
Ultimately, successful brands recognize that if they help their participants succeed, the participants will, in turn, help the brand succeed.
According to BrandZ:
The United States' most valuable brands don't merely make products or deliver services. They focus on providing a fulfilling experience to their customers. In addition to converting new customers, they emphasize improving the totality of a customer's interaction with them.

Such efforts pay dividends because there is a strong correlation between customers who feel fulfilled by a brand and those who are loyal to one. And loyalty is a long-established pillar of brand growth and financial success, because it's always better to have repeat customers than to spend heavily to acquire new ones.

Fast-rising restaurant brands, like Domino's Pizza, are often leaders in using technology to improve customer service. The highest performing airline, Delta, has gone to great lengths to identify the pain points in the flying process, even placing heart monitors on passengers to learn more about the stressful moments in the experience. In other words, extra effort around improving the experience pays off in the long run.
7. Successful brands are humanized
The best brands have well-known people who personify those brands. As BrandZ notes:
Leaders of big brands are now household names in the United States. Jeff Bezos, Mark Zuckerberg, Elon Musk, and even Bill Gates are inseparable from the brands they founded. This is largely a phenomenon found in technology, where markets and consumers alike pay close attention to every word a leader says. As Uber found out when a video of its CEO berating a driver made the rounds on social media, it can backfire too. Large brands would do well to apply the same marketing principles that have made them successful to ensure that their executives have a meaningful difference in their approach and make a positive impression on the public.
This is a huge opportunity for smaller companies and startups, and some do this exceptionally well. As we wrote previously:
People want to deal with people – not faceless brands or boring products. If you're going to develop an email newsletter, make it fun and engaging. If you're going to participate on social networks, build your ambassador ecosystem. If you're building a software product, give it a personality.
Here's a link to a full PDF copy of the nearly 300-page report from BrandZ.