Your Packaging Design Quiz Score

Bummer ... you guessed 0 out of 5 correctly.
Let's break down how you did...
Question 1
Which of these packages has a clean design that can be understood easily?
The primary marketing function of product packaging is to communicate what a product is so that customers who need that product can identify and buy the product. In order to do that, packaging must be attractive, legible, and easily understood.
Seychelles Aldabra Light Rum features a clean and simple packaging design that draw focus to the most important information - the brand and the product name. The lack of visual clutter and clean fonts make the label on this packaging easy to read.
If a packaging design is too busy, or difficult to read, (like the visually overwhelming Twister Sisters packaging above) people may not understand what your product is and might not take the time to find out.
Remove friction and sell more products by keeping your product packaging label design clean, simple, and easy-to-read.
Question 2
Which of these packaging designs visually communicates a unique, memorable brand?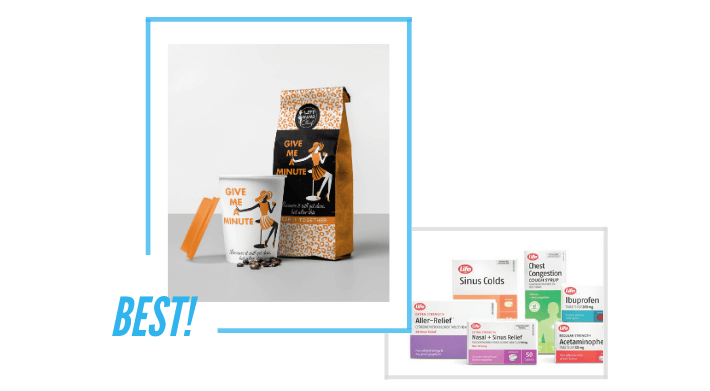 Customers often see your packaging before they see your product, website, or social media. So, it's up to your packaging design to introduce your unique brand and begin a relationship with your potential customers.
Packaging design with a clear brand identity (like the example above from Left Hand Chick Coffee) is memorable, stands out on the shelf, and can be recognized later for additional purchases. Who hasn't needed a minute to drink their morning coffee?
But, as you can see from the Life Pharmaceuticals example above, bland and generic design is unremarkable and forgettable. And, it's ultimately less likely to be picked up and purchased.
Make sure your packaging design shows, as well as tells, what your brand is.
Question 3
Which of these products do you clearly know is a beverage?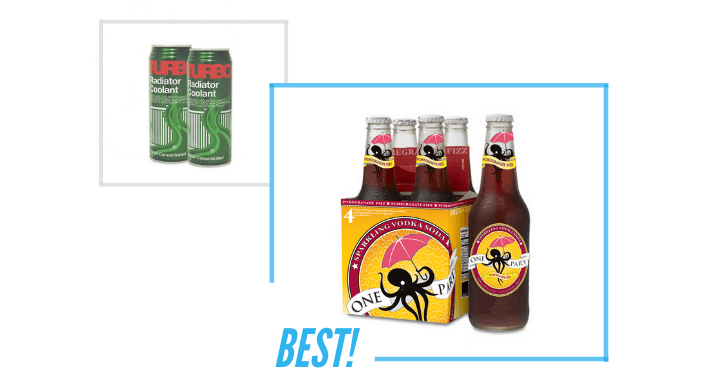 The graphics that go on a package label are only part of the equation. Packaging design involves making smart choices about physical packaging as well.
One Part's Sparkling Vodka Soda is a beverage. And because it's a beverage, glass beverage bottles are an appropriate choice that helps set proper expectations for customers.
But, the wrong container choice can expose a product to physical damage, cause contamination, or lead to confusion (like putting radiator coolant in a beverage can).
Choosing physical packaging that aligns with customer expectations helps buyers to identify your product quickly. But, subverting these expectations may lead to confusion, aggravation, and feelings of being misled.
Choose physical packaging that will properly protect your product and set accurate customer expectations.
Question 4
Which of these designs includes accurate package graphics and labeling that doesn't misrepresent the product?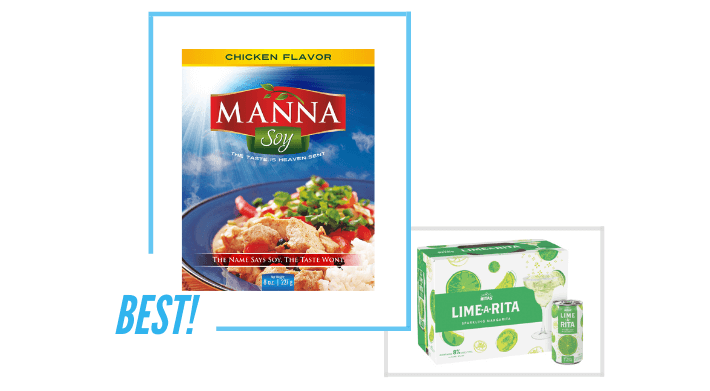 Sometimes it's hard to tell when packaging is telling the truth, the whole truth, and nothing but the truth.
For instance, this product packaging from Lime-a-Rita packaging promises a 'sparkling margarita.' Do you see anything to the contrary on the product packaging? You don't see anything to the contrary because the company hid the disclaimed! The copy explaining that the beverage is a margarita-flavored beer (containing no tequila as 'sparkling margarita' implies) is hidden in small print on the bottom.
Manna Soy has made it very clear that their product is chicken-flavored soy, not chicken. This honesty will serve them well when customers' expectations of a soy-based product are met.
Lime-a-Rita customers' expectations were not met - leading to a class-action lawsuit for false advertising.
Misleading packaging works initially because customers often can't tell they've been misled until they get the package home and open it. This approach may lead to quick sales, but the backlash when customers realize they've been tricked undermines trust in your brand and future purchases.
Honesty and clarity are always the best choice in packaging design.
Question 5
Which of these designs allows each individual product to shine, while presenting a consistent look for the whole line?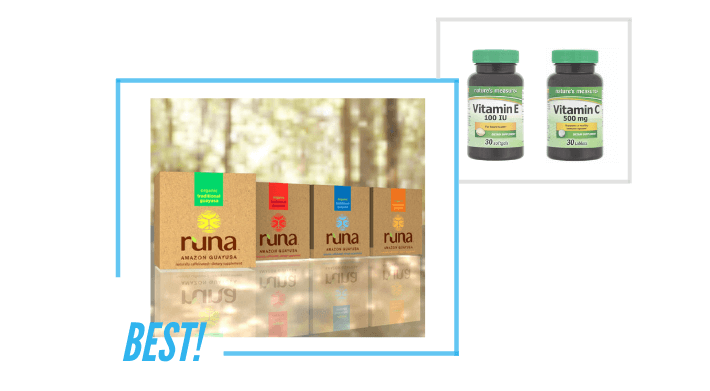 Designing for multiple products in a single product line demands a versatile design. Each individual product must be visually distinct. But, all of the products must also visually hang together as a cohesive group.
This can be a tricky balancing act.
Runa's simple, but versatile, dietary supplement packaging strikes this balance well. The prominent use of the company logo and uniform layout ensures that loyal customers will recognize their product on the shelf. And, the flexible use of color makes each product visually unique.
Nature's Measure features a rigid design that fails to show much individuality between products. Customers have to read carefully or risk grabbing the wrong product by mistake.
Packaging design for product lines should make it easy for customers to spot and identify products on the shelf.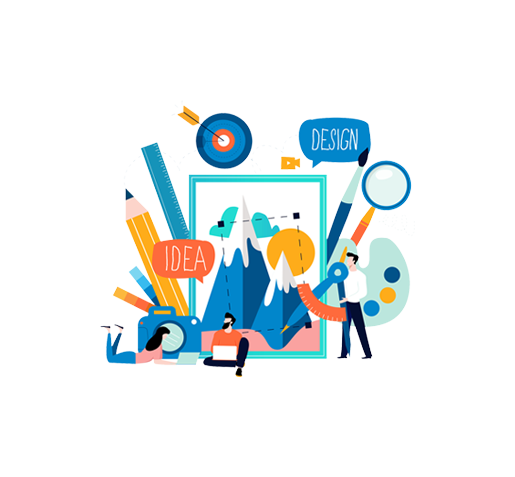 And don't ignore the power of strong product packaging...
Getting your packaging design perfect from the start is important. But even if you didn't create great product packaging when you launched your product, you still can. Strong packaging redesign can help lackluster sales skyrocket. And, crowdspring can help.

Crowdspring is an online design platform linking businesses like yours with over 220,000 design and naming experts. Instead of investing over $10,000 with a branding agency - or paying an unknown freelancer for a single design you hope you like - crowdspring delivers dozens of custom designs to choose from for every project, at a price that's 10X to 50X less. With over 12 years of experience, we're the reliable, affordable solution for small business.
Need product packaging or other custom design?
Tell us what you need
Choose from 30+ categories, complete a project brief, and pick a package that fits your budget.
Creatives submit designs
Collaborate with dozens of creatives, give feedback and score, and get revised custom designs.
Choose your favorite
Work with the winner to finalize your favorite design and get print/web-ready files and full IP rights.
The best packaging designs in this quiz were all created on crowdspring...
Some of the most talented packaging designers designers in the world work on crowdspring. They're ready to create a professionally designed custom packaging for your unique business. Prices (including all fees) for custom packaging design start at $399.
Real people, real support.

Need help deciding?
We're happy only when you are.
Our support team is always ready to help you with a free, no obligation design consultation.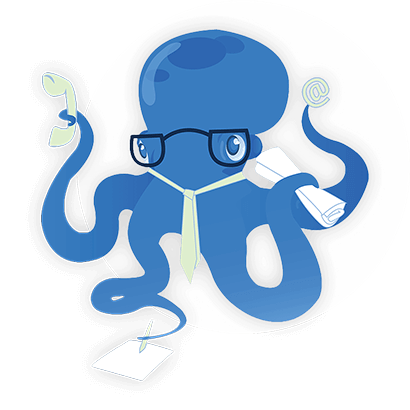 Help