Logo Design Services in Miami, FL
A great brand starts with a great logo. Collaborate with professional logo designers from around the world to create a custom, high-impact logo that makes your Miami business stand out. Risk-free, affordable and quick.
With every logo design project you'll get:
Dozens of designs in 7 days or less
100% money back guarantee
Award winning customer support
Free legal contract protecting your intellectual property
60,000+ happy customers
how crowdspring works for custom logo design...
1.

Tell us what you need.
Interactive Q&A customized for logo projects.
Flexible pricing for everyone.
Simple (takes just a few minutes) and proven process.
FAQs
Projects run for 7 days, but you can shorten them to as little as 1 day if you're in a hurry. Many entries come in the last few days of a project, and we encourage you to wait until the project ends before picking your favorite (tell us if you want to close the project early). You can extend your project for free, up to 7 more days if you need more time.
Logo design packages start at $299, while projects with a single designer (1-to-1 projects) start at $200. All packages include the award to the designer and crowdspring's fee, a custom legal contract giving you full rights to the work you're buying, free focus groups, our award-winning customer support, tools and platform. You can select packages and features based on what you need and your budget. You will always know up front exactly what you'll pay, with no hidden costs and no surprises.
Absolutely! Every project on crowdspring is protected by a custom legal contract giving you full rights to the work you're buying. If you have multiple awards, you'll have separate contracts for each. Once the contract is signed and the creative is paid after you approve the final deliverables in your project, you can use the design (or name) any way you like. You can change it or alter it in any way – it's yours.
The non-winning work remains the property of the person who created that work. This means you may not use those other entries (or any portions of them) in any way. But we give you an easy way to add awards and make offers in your projects when you find more than one design (or name) you love.
"I loved working with crowdspring! It was so exciting to watch your project pick up steam as you gave feedback to the creatives. It felt very collaborative and you have so many creative people submitting ideas just for your project. Their system is organized, easy to use and understand. I am so happy with the results!"

Ali Hissey, Founder, Hissey Fit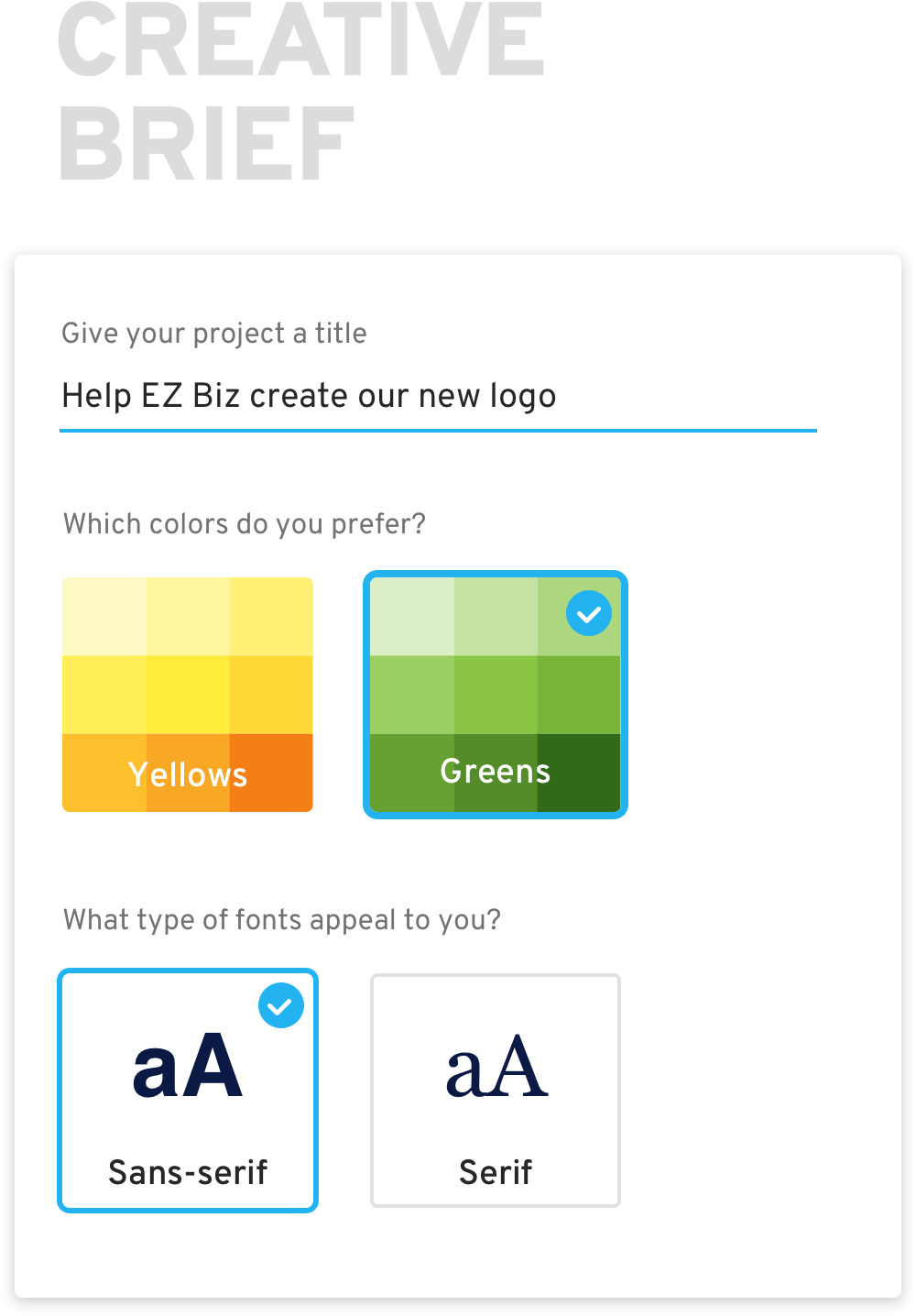 2.

Work with our über-talented designers
Multiple designers submit dozens of concepts.
Review, rate, and give feedback.
One price. Pick the design you love.
FAQs
You'll see dozens of designs from multiple designers. The more active you are in the project, the more designs you will get. We'll let you know every time a new design or comment comes in and invite you to give feedback. The more feedback you provide, the more designs you'll receive. Years of experience show us that projects with active clients will receive more than double the designs compared to projects with low client participation.
Absolutely! In fact, this is a key factor for success. Once the designs start rolling in, let the designers know what you think about their designs. You can score and give individual feedback. You can also update your brief if you want to address all participants in your project. They are happy to make changes and iterate on their designs.
When you score each entry (1 to 5 stars), your score and comments are private. Only you and the individual designer will see the star rating and comments on their design. Updates to your brief are public for all participants in the project.
Like more than one logo design? It happens all the time. You can start your project with multiple awards or add awards at any time during your project. You can also make offers on additional designs after your project has been awarded.
"In 10 years I have launched 17 projects on crowdspring and have always been impressed. Crowdspring brings 10 maybe even 100 times more creativity than simply working with a single random creative I could have found outside of crowdspring where I might only see a couple different concepts. And the price is very affordable."

Steven Krane, Entrepreneur & Investor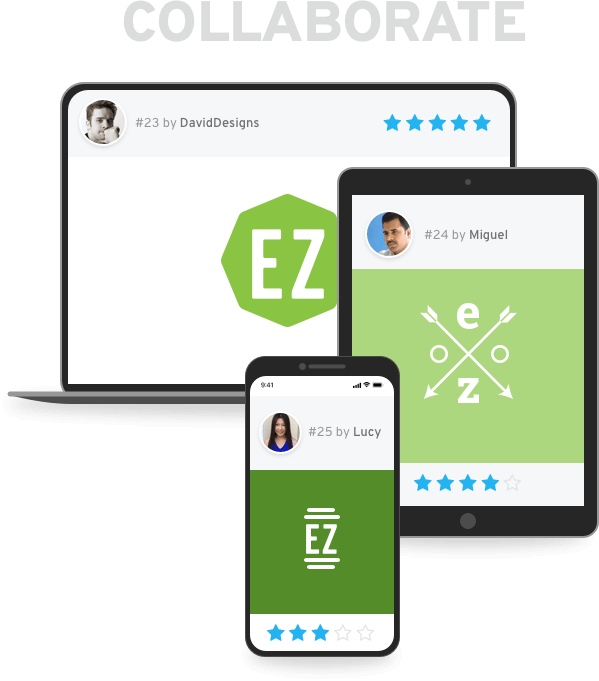 3.

Pick the winning design and finalize the project.
Select the winner.
Make final adjustments.
Receive full rights to the work you purchased.
FAQs for step 3
You have seven days to select your favorite after the project closes. Sometimes, you might need an extra few days. Just let us know when that happens.
Before making the final decision, you may want to run a free focus group. All silver packages in design projects include one free focus group ($29 upgrade to unlimited). All other design packages include unlimited focus groups.
A focus group (also called a "poll") allows you to invite friends, customers, colleagues and anyone else to vote and comment on their favorite designs (you can assign weighted votes or let each vote count equally). Anyone is eligible to vote as long as they have the special voting URL we'll provide to you (they will not need to register an account). Your focus group can be public or private - you choose! You fully control whom you invite to each focus group and what designs are included in each focus group.
In design projects, you'll have a private area to complete the project with the designer you chose. If you have more than one award, you'll have a separate wrap-up with each designer. Each of you will sign the legal contract for the project (giving you full rights once the designer is paid).
You can continue to iterate and request changes in wrap-up to make sure the design is just right. Once you approve the proof files, the designer will create and send final files for your approval. Once you approve the final files, we pay the designer and you own full rights to the work.
In naming projects, you'll sign the contract and confirm the name and that's it - it's yours.
For each project category, we'll recommend required file types and will ask the winning designer to provide you with appropriate final files. You can always request specific formats you or your printer require.
"I just finished my 2nd of 3 projects with crowdspring. The first was an incredible book cover. This new project was artwork for a wooded token. I have a 3rd project on going for the development of a logo for graphic for my wife's jewelry business. I'll summarize - Don't waste your time at other sites - just come to crowdspring.com. The experience, the talent and the result will only make your life easier."
Robert Dixon, Bob Dixon Consulting Services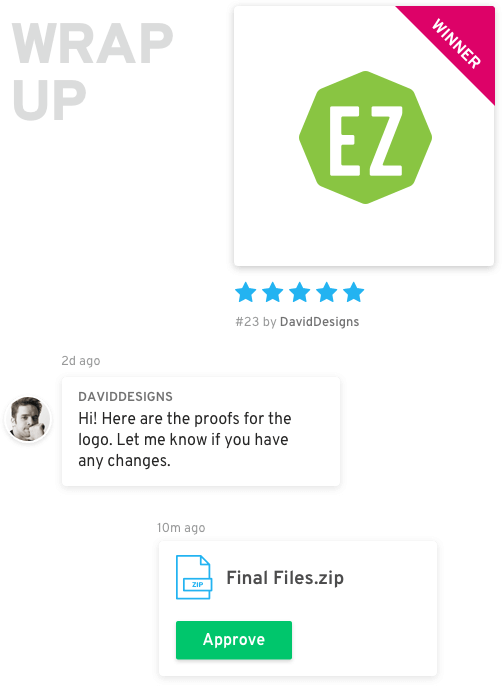 Frequently Asked Questions About Logo Design in Miami, FL
We've all heard the advice: invest in your logo. And while it may seem obvious to some why it's important to invest in a well-designed logo, many entrepreneurs and small business owners don't really understand why logos are so important.
In the simplest of terms, a logo is a graphic mark, emblem design, icon, or mark that identifies your company, organization, or you. If you run a business, your brand is more than just your company name and logo, but a logo is an important part of a company's brand. It's the visual cornerstone of the brand.
The most important job of a logo is to help customers and customer prospects identify your company. That's why the best logos are simple and memorable. Just think about how many logos you are able to recognize in your everyday life! Those logos serve as a reminder that Nike was the brand that made your shoes, or that Apple is the reason why you're reading this on a Macbook.
Another important job of a logo is to draw attention to your company and its products and/or services. Logos don't only identify what your company does or stands for, but they also catch people's eyes. People remember great logos! Again, it's all about association. If people associate a specific symbol or font with your brand, then they will instantly recognize it wherever they are.
One of the best parts of a logo, assuming you're not using generic templates, is that it can only be associated with your business. It doesn't matter if a different company is similar to yours, what matters is that your logos are different. As a result, you have an opportunity to make a unique first impression. Often, a logo is one of the first defense barriers against competition. Besides your company's name, it's the first difference customers and prospects will notice. That's why it's important to avoid generic and cliche logos.
There are a number of important characteristics of a good logo design. A logo should be simple, memorable, timeless and unique. You want people to remember your brand and the logo is often the first connection your company will have with prospective customers.
A logo's flexibility is extremely important. There are so many mediums in which your logo will be employed: digital, print, physical products... it's important that your logo looks great when used in each.
If your company uses a logo that solely relies on color, your logo will lose it's effect when it's in black and white. Similarly, if your company intends to only use your logo in a specific way (such as on a website or business cards), then size may not matter much. But if you're like most companies, you'll need a flexible logo that can be placed on multiple products, presentations, graphics, and websites. Versatility is important because it helps you reproduce your logo in a wide variety of ways.
The most successful logos are flexible enough that they don't get lost when changing sizes, backgrounds, or mediums.
The distinction between an overly simplistic design and a minimalist design is an important one. Simple designs should be avoided, as they tend toward being overused, overdone, and not at all memorable. Minimalist designs, on the other hand, are popular for good reason. They are eye-catching, memorable, and timeless, but still function as creative pieces.
The minimalism trend grounds most of the other current trends, which are increasingly focused on sleek, tight designs. Ornate, overworked design has been replaced with cleaner, modern concepts that retain simplicity without forgoing originality.
One reason for minimal design's broad-based appeal? Any business can incorporate a minimal look into their existing design scheme! If you find that your existing brand is tired and out of touch, maybe it's time to take a look at what other businesses are doing with minimalist design on crowdspring.
The most memorable logos - like Nike, Apple, Coca-Cola and Target - have key characteristics in common with each other. These logos are all clean, memorable, and foster positive brand associations for their customers. Consumers are more likely to associate positive attributes to logos that incorporate memorable design elements, and find brands with these characteristics in their logos to be attractive, trustworthy, and respectable. Those are qualities worth remembering!
A brand's logo is its principal design element, acting as a visual representation of the company and its values. There are plenty of things that go into a well-designed logo, but one of the most important of these is color. It may seem like an artistic decision, but the primary color you choose for your logo actually has a serious psychological impact on how people perceive it.
In a widely-cited study called "The Impact of Color on Marketing," research found that people make a subconscious judgment about products within the first 90 seconds of seeing it. Consumers place color above other factors such as sound, smell and texture. Almost 85% of consumers cite color as the main reason they buy a certain product, and 80% of people believe color increases brand recognition.
Even if they're not consciously thinking about it, people associate color with different things and feelings. Making sure your brand effectively capitalizes on positive color association will make the difference in how impactful your logo is.
A great logo walks the line between timelessness and trendiness: designing a logo that is both can be a challenge. A logo that's unique, attractive, and adeptly communicates your brand values requires an understanding of the current design trends and the skill to use them to your best advantage.
Finding a designer who can assess the personality of your brand and convey it in a timeless logo isn't out of reach. Here at crowdspring, we have hundreds of thousands of designers equipped with the knowledge of current design trends, and the ability to incorporate them into a logo that is modern, relevant, but still timeless.
Yes. A unique logo design can be the difference between blending in and standing out from the competition. Generic logos have become extremely problematic.
The epidemic of too-similar fonts, glyphs, and swishy people leaves a weak first impression on customers and is unmemorable. Even though some of these generic logos may help a person identify the industry itself, generic logos also detract from the originality and story of your specific company. Generic logos even break the core elements of good logo design: memorable and unique, making them poor choices for any company.
The inspiration for a logo can come from a number of places: nature, experiences, other logos, the list is never ending. But the best, most original logos draw inspiration from what the company does or values. Whatever makes your company unique and stand out from competitors will also make your logo unique.
Good logos are not just about creative illustrations and drawings! Many companies use typography in their logos either instead of or in addition to images and symbols.
When incorporating words or phrases, logos often play with the font, style, size, and even letter spacing. Some logos include the company's full name, while some just include an initial. Some don't include any letters or words at all, but traditionally use a specific text style for those elements. Either way, typography is essential to making the words behind your company synergize with the other graphic elements of the logo. Can it be read at small sizes? Is the letterspacing/word spacing well adjusted? Typography is a craft in itself - it's the first voice of stating who you are.
Is your logo going to be printed on paper? Business cards? Billboards? Physical products? Today, there are a lot of mediums and sizes and our logos have to perform well across all mediums. Therefore it's important to consider where and how your logo will be displayed so that you can specify colors and file formats. At crowdspring, we have you covered by making sure you receive vectorized logo designs, which are useful in any medium.
You should always request vector based graphics. It's often tempting to ask for complex illustrations in a logo. However, unless you plan on never using your logo outside of an on-screen/online application, a JPG or PSD isn't going to cut it. A properly drawn vector design will provide you with the ultimate flexibility.
Instead of copying or mimicking famous logos, the best designers look to create a unique brand. The breakthrough designs they create often come from the deeper meanings they find within the company, which is the reason why so many companies have logo origin stories or hidden meanings.
The secret is to uncover that deeper or hidden meaning before designing the logo. A unique logo design will stem organically from whatever makes your company unique.
You don't. Logos should be vectorized, which means that you can size them to match your needs. Special software is required to create vectorized logos, even if you have great design skills to create a logo you love. Simply clicking WordArt in Word and typing some text, or coming up with a design in Microsoft Paint won't create a logo that will serve the interests of your business. More importantly, this isn't something that you should do yourself. It's incredibly difficult and expensive to re-brand later and ultimately, spending a few hundred dollars now on a professionally created logo design will save you tens or hundreds of thousands of dollars in a few years.
Adobe illustrator is commonly used for logo design. Illustrator is a vector graphics editor tool. As we wrote above, you always want a vectorized version of your logo so that you can properly size it for small business cards or large billboards. That's why software like Adobe Photoshop are not proper tools for designing logos.
Every company has a brand. This is true for your company whether you've made a single conscious branding decision or not. And that's why it's vitally important to make conscious, consistent branding choices. The decisions left unmade, and a brand left untended may hurt your business.
Your brand is your company's public identity. Ideally, your brand should embody the best (and most essential) attributes of your company. That's pretty unlikely to occur if you leave your branding to chance. Your brand name is just that - the name of your company or business. The logo is a graphical representation of that brand. Sometimes, the logo is just letters, like the logo for crowdspring you see above. Still, even in those cases, you'll see that there are design elements to those letters because a specific font was selected and in crowdspring's case, customized for the design.
A logo is a word, symbol, or a combination of the two. A symbol is a mark - typically a pictorial graphic. The Nike swoosh is a symbol, as is the apple in the Apple logo. But for both companies, you'll often see the name reflected in a graphical format where the letters are using a very specific font. Sometimes you'll see the name by itself, while at other times you'll see the name together with the symbol, or just the symbol.
Some of the best logo designers in the world work on crowdspring. crowdspring is home to the world's best creative team.
Unlike the traditional freelancer or agency market, crowdspring is a crowdsourcing marketplace. On crowdspring, thousands of designers from over 195 countries around the world compete for your business. You will get choice for your logo design that you will not get anywhere else. In fact, we guarantee your satisfaction 100% – no questions asked.
Our unique model and design process addresses many of the concerns encountered when pricing the design of logos. We take a lot of the work and stress out of the equation for you: you won't need to get quotes in advance for the work, or interview designer after designer.
Your set the price for your project, and designers from around the world will post their designs to your project for you to review. When your project ends, you choose the design you like the best. It's that simple!
Crowdspring guarantees your satisfaction in logo projects. There's NO fine-print. We are not happy until you are. People are so thrilled with the designs they receive on crowdspring that we are proud to stand behind the work and make you an unconditional promise.
No reviews at the moment.