Hey there! Welcome to our wrap-up guide.
You're so close to having and owning your brand new design! There are just a few more things to do before you're all done and your sweet new design is all yours....
Wrap-up for design projects is a simple, three-step process. But, before you can officially start wrap-up, you'll need to award your project and sign your contract.
To sign your contract, click the pink "Read & Sign" button. Then scroll to the bottom of the contract and you'll see the name field. Enter your name, and select a fancy font if you'd like. Then click the pink "Sign Contract" button.
Now you're ready to start wrap-up!
Step 1: Approve Your Proofs!
At the beginning of Step 1, the ball is in the creative's court. So, all you need to do now is to wait patiently for the proofs. Depending on how complex the design is, the creative might send you the proofs right away or it could take a day or two.
Proof files do not include a complete suite of files. There are usually only one or two files in JPG or PDF format. Proofs are simply for you to view the design to verify that it is correct before the client has to go to do the work of creating a whole suite of final files.
The goal in this step is to review your proofs and get the tweaks you need by commenting on each file sent to you by your Creative until everything is just right. So, download each file and take a close look. Let the creative know if any changes need to be made. All comments in wrap-up are private and can only be viewed by you and the creative.
(Remember that adjustments are okay - but complete re-designs are not. If you want major changes, negotiate a fee with your winning creative for the additional work.)
Once you are satisfied with your proofs, it's time to approve them. Simply click the green "Approve proofs..." button and you're finished with Step 1!
Step 2: Approve Your Final Files!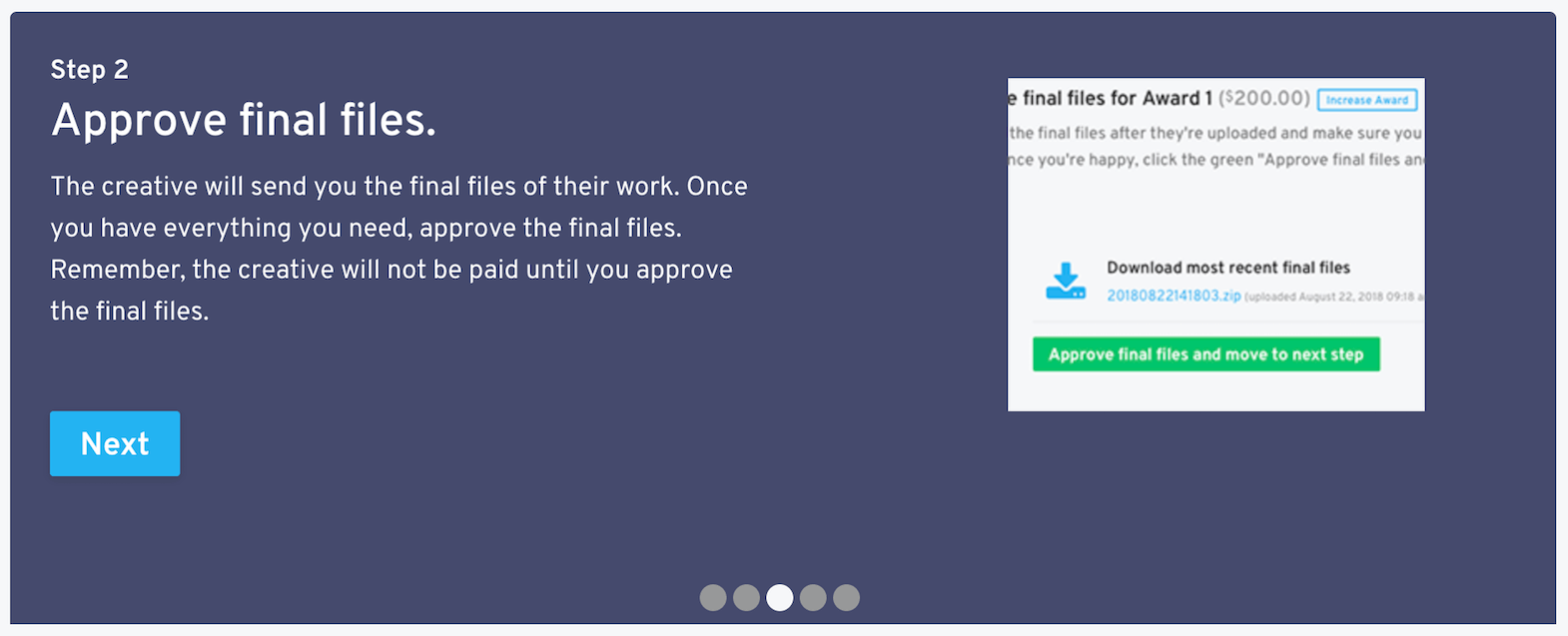 Once again, it's your turn to sit back and relax while the creative prepares your final files. These are far more comprehensive and time consuming than proofs and it will probably take a bit longer for your final files to be uploaded. So, give your creative a day or two to upload the final files for your review.
And, if you're planning to print your design, find out from your printer if there are any special file types they will need and be sure to communicate that info to the creative if you haven't already.
Once the Creative has uploaded the final files, you'll need to download them and review them thoroughly. If you approve the files before you have everything you need, you'll have to reach out to the creative to acquire the missing files after your wrap-up is complete. So, just make your life easier by verifying that all the files are present and correct before approving.
Once you've confirmed that the final files are all present and perfect, it's time to click the green "Approve final files..." button.
Hooray! Now that you've completed Step 2, you own your fabulous new design and crowdspring will process and transfer payment to the creative. Yay for everybody!
And, you're almost done! Just one step left...
Step 3: Complete Your Feedback Survey!
Your final step is to complete a quick survey rating your winning creative and your crowdspring experience.
You'll rate the creative on three criteria: Timing, Communication and Overall Satisfaction. These ratings are important since other clients will view them. So, take a moment to assign a star value (5 stars for awesome, 1 star for awful) for each of the three criteria.
And, don't forget to leave comments under the "Public Review" section- these "testimonials" will appear on the creative's profile and inform other clients about the creative's work. A kind public review is a great way to say "thank you" for a creative's hard work and talent!
You'll also rate crowdspring on three criteria: Ease of Use, Quality, and Value. We'll also ask if you'd recommend us to a friend. You can quickly answer each question using the same star rating system. You can also share any additional comments about your crowdspring experience.
Final Summary
That's it! Your wrap-up is now complete!
The final screen you'll see is a summary page that will allow you to:
-Download your receipt
-Download your contract
-Download your final files
-Contact your winning creative
All in one convenient spot!
If you have any questions that haven't been answered, feel free to reach out to our customer support team.
And, congratulations on your great new design from the crowdspring crew!