How One Book, Science, and This Article Will Change Your Productivity and Happiness
The Four Hour Workweek by Tim Ferriss is one of my favorite business books. When I first read it several years ago, I had no experience working a self-directed, flexible schedule. With one short exception, I had always been exposed to specific timetables, exclusively hard deadlines, and the mentality that "more is more." The sole exception was during an internship with a company that briefly experimented with flexible self-direction – only to change managers and require set hours, working around the clock.
Set hours made me really unhappy, but I didn't know why. I didn't realize the toll that such an overly structured, hyper-managed culture was taking on me. I didn't think much about this until I switched companies and was introduced to an open, flexible, relaxed culture. Truthfully, I couldn't fully understand my own feelings about working in a rigid culture, and I'm sure that many other people struggle with the same issue.
Despite many companies and startups advertising (and purporting to implement) company cultures that include the required buzzwords of "unlimited vacation time," "flexible work schedule," and "ability to work remotely," many business owners still buy into the idea that "time is money." More time working equals more money – or that's the formula some business owners follow.
Here's an interesting fact that I'm certain managers and business owners never share with people who work 60 to 100 hours per week: we can't tell the difference between the productivity of someone who works over 80 hours vs. someone who works fewer than 40 hours.
In a study published by Organization Science (Embracing, Passing, Revealing, and the Ideal Worker Image: How People Navigate Expected and Experienced Professional Identities), Erin Reid from Boston University Questrom School of Business analyzed the differences between employees self-perception and their employers' evaluations. Reid made several interesting discoveries. For example, Reid found that employees in harsh "time is money" cultures were usually dishonest about the actual amount of work they completed in the timeframe they gave their boss. She also found that employees gave the most positive evaluations to those workers who they perceived were working the longest hours.
Will your business idea succeed?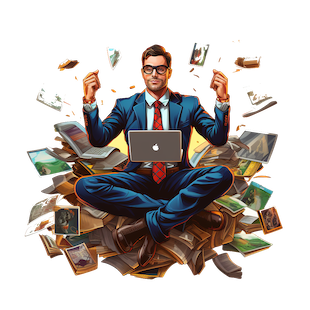 Realistically, only about half of those workers who supposedly were working long hours were put in the time they claimed they worked. When their productivity was objectively measured, the findings were similar. Both groups of workers finished almost the same amount of work, but those who had worked fewer hours had better quality and sometimes accomplished more. Quality and productivity weren't the only benefits in the group working fewer hours. Surprisingly, that group was also much happier than the group that worked longer hours.
Paradoxically, this means there is no benefit to working an 80+ hour week other than perception. In fact, not only is there no benefit, there are also some pretty detrimental health effects from working too many hours. Researchers have connected long work weeks to depression, heart disease, impaired cognitive function, and much more. The impaired cognitive function study goes even further to describe some of the other serious issues that they found with overtime:
Long working hours are common worldwide; for example, in the European Union member states, 12%–17% of employees worked overtime in 2001 (1). Long working hours have been found to be associated with cardiovascular and immunologic reactions, reduced sleep duration, unhealthy lifestyle (2–8), and adverse health outcomes, such as cardiovascular disease, diabetes, subjective health complaints, fatigue (2–7), and depression (8). There is increasing evidence to suggest the importance of midlife risk factors for later dementia (9). Furthermore, the link between cognitive impairment and later life dementia is clearly established (10, 11).
Why isn't all of this common knowledge?
The short answer is that people fear change. Startups tend to be disruptive, and many see the value in improving the workspace and productivity. After all, it's impossible to innovate if you continue doing the same thing as before.
People also rarely set aside time to learn. There are thousands of incredibly powerful books that can help people save time, become better leaders, be more efficient, etc. But most people find consuming so much content while working or running a business challenging. That's where book summaries can genuinely help.
And, importantly, remember that most entrepreneurs and startups aren't afraid of challenging the norm and creating a new one – exactly what Ferriss suggests in his book:
For all of the most important things, the timing always sucks. Waiting for a good time to quit your job? The stars will never align and the traffic lights of life will never all be green at the same time. The universe doesn't conspire against you, but it doesn't go out of its way to line up the pins either. Conditions are never perfect. "Someday" is a disease that will take your dreams to the grave with you. Pro and con lists are just as bad. If it's important to you and you want to do it "eventually," just do it and correct course along the way.
Ferriss's conclusion mirrors the conclusions found in scientific studies on this subject. You can read the scientific research or Ferriss's book – both will provide a strong perspective on flexible time, productivity, and happiness. If you pay attention and apply some of the lessons in Ferriss's book, you'll live longer, be happier, and work more productively.
Image credit: Alan O'Rourke