5 Key Traits That Make Women Successful Entrepreneurs
Despite talk of a level playing field for women and men, the facts suggest that we still have a long way to go. Women comprise only a small percentage of executives at Fortune 500 companies, are less likely to start a venture capital funded company, and continue to trail men when it comes to compensation across most industries.
But despite societal norms that continue to chip away at opportunities and success for women business owners, women are changing industries and finding ways to succeed with their businesses.
As we wrote a few months ago,
There has never been a better time for a woman to become an entrepreneur … What makes this time so ripe for female entrepreneurs? There are a number of factors in your favor. You have more support than ever before.
People are taking notice. Over the past several decades, psychologists and business experts have intensified their research focusing on the differences between male and female entrepreneurs and business owners.
For example, despite receiving 80% less funding on average (compared to men), women are scaling their businesses and profiting in greater numbers.
What key traits help women to overcome societal and business biases?
When we look at successful women entrepreneurs and business owners, we find they share the following five important traits.
1. Women are great collaborators
While men dominate many industries, women dominate three important industries: health and social care, personal and cultural services, and education.
And this isn't without reason: women tend to empathize more than they systemize.
By dominating fields that require high amounts of face-to-face interactions, women are able to capitalize on their strengths as collaborators. In collaboration, the tendency to empathize allows women to more accurately listen and pick up nonverbal cues.
In collaboration, the tendency to empathize allows women to more accurately listen and pick up nonverbal cues. This is an important skill because companies are rarely built by individuals. The most successful companies are built by great, collaborative teams.
Collaboration and empathy skills help women to be better teammates and also stronger leaders, because they see others as actual people, not just work producers. As a result, women leaders tend to be more attentive to their employees' needs, aspirations, and personal lives. This leads to lower turnover, higher job satisfaction, and increased productivity. An article for The Atlantic echoes these findings, saying that women typically treat their employees differently, with empathy at the front of their management decision making.
Will your business idea succeed?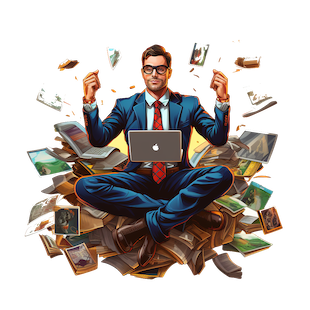 2. Women are not afraid to ask for help
Every business owner and entrepreneur knows that owning a business means taking risks. But women tend to be bigger risk takers than men, with
Despite the common view that men take more risks, women tend to be bigger risk takers than men. In fact, over 87% of women label themselves as risk takers. Comparatively, 73% of men label themselves as risk takers.
A recent study published by the Centre of Entrepreneurs in the U.K. focused on the difference in risk taking between men and women. According to the study, women typically take more calculated, well thought out risks than men.
In comparison to men, women are also more likely to reach out for help when necessary, especially when assessing a potential risk.
Here's the paradox: asking for help is often seen as a sign of weakness. Yet, not asking for help is the reason many entrepreneurs and companies fail.
Because women hesitate less when they need help, they're more likely to avoid making some of the mistakes made by men who refuse to seek help.
The truth is that it's hard to completely run a business on your own. No one person possesses the complete skill and expertise needed to run a business. That's why we grow networks, hire employees, and go to conferences, among other things. Business owners are constantly turning to outside resources for help. Women tend to do it sooner and more often, which helps them gain an edge over men.
This balance between risk taking and asking for help allows many women to surround themselves with mentors and other successful entrepreneurs who can spark creativity or offer advice.
3. Women are often more ambitious than men
While only 18% of men reported wanting to start their own business in the next year, over 47% of women expressed their interest in starting a business.
This positive outlook is also evident in how women view the future success of their business. While 56% of all entrepreneurs expected their profits to increase within the next calendar year, over 61% of women expected their profits to increase.
Importantly, younger women are becoming even more empowered and ambitious. According to the 2016 BNP Paribas Global Entrepreneur Report, the number of successful women entrepreneurs who were millennials or baby boomers increased significantly over prior generations.
4. Women-owned businesses make more money
The 2016 BNP Paribas Entrepreneur Report also showed that on average, women-owned businesses make 13% more revenue than businesses owned by men.
While there is no clear-cut answer as to why women-owned businesses generally earn more revenue than men, business experts speculate that women often look for opportunities in niche markets. In niche markets, businesses can target a more focused client base and build greater customer loyalty. As a result, businesses have a higher chance to succeed.
Men, on the other hand, tend to tackle bigger markets with broader, disparate audiences. The challenge with catering to these bigger audiences is that these businesses often face more competition, and consumers have more choice.
5. Women know how to persevere
Women in business aren't strangers to unfair pay, double standards, or other obstacles. As a result, women often have higher levels of perseverance and a stronger desire to succeed.
For example, Lori Greiner, Shark Tank investor/star and well-known QVC host says that she's had to face plenty of adversity during her many years in retail. But instead of letting people tear her down, Greiner focused on strengthening her inner voice to combat the outside voices. In an interview for Entrepreneur, Greiner explains how adversity made her see business in a new way:
Sure, I've run into some chauvinistic people in my life, but I don't let that stop me. I don't even consider it. If anything, I'll call it out or I'll go work with someone else…It can be a pitfall if you think, 'I'm a woman and I'm walking in the room and I'm going to be treated different' or 'this is going to be harder because I'm a woman.' Don't think like that. You're an expert at what you do. You're on a mission and you are a person in business. Not a woman in business. Ever.
Negative comments (like chauvinistic comments) aren't exclusive to female business owners. The difference is that when dealt with on a more regular basis, the negativity often helps women grow a thicker skin and internalize their emotions into something positive – drive and perseverance. These unique challenges better prepare women to weather the ups and downs of owning a business.
What other traits help women entrepreneurs and business owners succeed? We'd love to hear your thoughts in the comments below.