7 Things Investors Are Looking for in a Business Plan
A business plan is a comprehensive document that outlines a company's mission, goals, finances, revenue, and market data.
The primary purpose of a business plan is to convince banks and/or investors to loan you money, but there are several other benefits.
Business plans help create accountability within an organization, offer a holistic view of the company, and can repeatedly be used as a frame of reference.
Ultimately, a business plan mitigates risk. It summarizes all business areas and details how those areas (marketing, operations) impact growth.
And there's no way around it; if you want to fund from an investor, especially if you're just starting your business, you need a business plan.
Any entrepreneur would be lucky to meet with an angel investor or venture capitalist. But the initial pitch, meeting, and presentation are all the tip of the iceberg.
What comes next is most important.
The potential investor will want a detailed business plan and will conduct due diligence to ensure you're a worthy investment. With that in mind, here's what investors are looking for in a business plan:
Strong Executive Summary
The executive summary is the first portion of your business plan and should be captivating enough to give a solid first impression.
Think of your executive summary as your website landing page. If visitors come to your website and can't find what they're looking for, they'll move on to the next best thing.
Your executive summary should introduce the company and explain what you do and what makes you unique. It gives investors a complete overview of your business and should summarize key details in other business plan sections. This section is typically one page long and should be written last.
Start your executive summary by introducing yourself; follow up with an explanation of why your business matters and how it fills a gap in the market or solves a particular problem. Take a business plan example for inspiration for writing a practical executive summary.
Will your business idea succeed?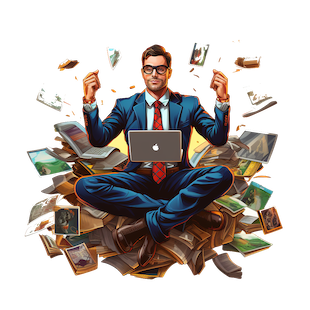 Complete Financial Forecast
Whether you have no sales or are generating revenue in the hundreds of thousands, every investor will scrutinize your financial plan to determine financial feasibility accurately. This section of your plan needs to be fully fleshed out and leave no grey area or room for further questions.
It's essential to put yourself in the shoes of an investor. Based on your financial outlook, do you see yourself as a risky or promising investment? Your financial forecast should include the following:
Projected profit and loss statement
Projects how much revenue you'll generate and the profit you'll make on those sales
Break-even analysis
A detailed look at how many products you need to sell to cover fixed and variable production costs
Projected balance sheet
Estimate of total assets and liabilities
Cash flow statement
Details all cash inflows and outflows
Business ratios
Calculations that illustrate the relationship between items (i.e., total sales and the number of employees).
To accurately build out your financial forecast, you must assess your market share (your market research section is also crucial to investors). Start from the bottom by highlighting your total addressable market and the percentage you'll be targeting. Then you can dive a little deeper by outlining your segmented addressable market and share of the market. Investing sites can also help you better perceive the state of the market and other data for a more accurate forecast.
Customer Acquisition Costs
Investors want to know how much it will cost to acquire new customers.
Understanding your customer acquisition costs (CAC) helps you grow healthy and scalable and shows investors that you know exactly what it takes to get a customer on board.
Knowing your CAC is more important than ever; the cost of acquiring new customers has increased by 60% over the past five years.
Customer acquisition costs are determined by examining the total cost of sales and marketing necessary to acquire new customers. You can calculate your CAC by dividing the total cost of marketing and sales by the number of customers acquired.
Your CAC can also help simplify your decision-making process, optimize your marketing strategies to focus on customer lifetime value, and paint a complete picture of your payback period (the amount of time it takes to recover the cost of an investment).
Strong Execution
A business plan is like an image. And as the age-old saying goes, "An image is worth a thousand words."
Similarly, your business plan reveals much about who you are as a business owner. Let's say that you have strong sales and an optimistic financial forecast. Is your business plan missing the necessary documentation and data points that support this? Is it rife with grammatical errors and improper formatting?
Execution is telling. How you communicate your business is just as important as the details within the plan. A hastily written or ambiguous business plan will result in more questions and hesitance.
If you can't take the time to write a solid business plan, what else will you take shortcuts on?
The Financial Ask & Answer
The financial ask and answer addresses two crucial questions: How much money are you asking for, and what will you do with it?
The investment you're seeking should be clear in your business plan (typically mentioned in the executive summary and expounded upon in the financial plan). How you intend to use the money should also be clear and logical.
Investors need to know that you'll spend their money responsibly and that there's proof that how you spend the money will result in revenue growth. Every dollar should be allocated to a specific destination for a good reason.
For instance, you cannot ask for a $500,000 investment without explaining how and why you arrived at this number. The business plan in the below example of a functional company called Culina states how much they're asking for and why. In this case, Culina is raising $15 million to ramp up hardware manufacturing, improve UX and UI, expand marketing efforts, and fulfill pre-orders before the holiday season.
Strong Management
Your business plan should prove that you have a strong management team.
Many investors run their portfolios with a people-first mentality. This means that who you are is just as important as what you offer. Your business plan's "Management" or "Team" section is great for humanizing your company and highlighting your strengths.
What makes your team especially capable of running and guiding this business toward profitability? What's your background? Have you won any awards or participated in any incubator programs? Do you have relevant experience (either in running a business or working in the industry)?
Answer these questions to show investors that you're uniquely qualified to lead.
Thorough Understanding of Your Market
Is there a market for your product or service, how can you reach your market, and what share of the market do you have a stronghold on?
Demonstrating a thorough understanding of your market and target demographic is crucial. Many businesses have failed because they didn't conduct market research or speak to their customers and clients. Product validation should precede fundraising efforts.
"Market size" is a basic number that every investor looks for. Your competitive analysis, market research, metrics, and customer surveys should all be factored into the equation.
If you're struggling to understand your market and position, you can start by gathering primary data from the Census and Labor Bureau. Many industries also have formal associations and publish their research online. You can purchase these studies or commission a market research firm to spearhead your research.
Conclusion
An interested investor can make or break your business and should be taken seriously. You wouldn't rush through an Ivy League college application and shouldn't submit a hastily written business plan.
Take the time to detail every aspect of your business and consider working with a business plan writer to ensure you communicate your message effectively. If an investor is impressed with your business plan, chances are you'll score pivotal funding.