7 Modern Web Design Trends for 2019
75% of consumers judge the credibility and trustworthiness of your business from your website's design.
Today's web visitors are sharper and more judgmental than ever. And, they're only growing more so, as the generations who have grown up with internet access take on a larger and larger percentage of the population.
Don't take our word for this. A recent study shows that 97% of consumers research their purchases online before they buy something.
Strong, modern web design is vital to your brand's reputation, your bottom line, and your future.
Want a free brand review?
Answer 5 short questions and we will send a custom report with actionable insights and specific actions you can take to build a stronger brand.

We just emailed the info to you.
Over the past decade, the 210,000 designers on crowdspring have helped entrepreneurs, businesses, agencies and non-profits from 100+ countries with custom web design, among other services (custom logo design, print design, product design, packaging design, and even unique company names). We've seen many trends and fads come and go during that time.
In this article, we highlight web design trends that are clearly trending as we enter 2019 – but that also offer value to as wide a range of businesses as possible.
With that said, as you explore the trends for 2019, ask yourself which trends will support your business.
Will adopting a specific trend further your online business strategy?
Does a particular trend match your brand identity?
Now, without further ado, here are our 7 modern website design trends you should know about in 2019.
7 modern web designs trends in 2019
1. Strong User Interface/User Experience design
People are web-savvier than ever before.
Today's web users expect a flawless online experience from start to finish.
And failure to meet that expectation can spell serious trouble for your business.
Imagine you visit a website and try to make a purchase. But, you have a hard time finding the item you're looking for. And, the check-out process is confusing.
Would you stick through to the end? Or would you bail out because you're frustrated and you don't want to give your money to that business anymore?
If you're honest, you'd probably bail.
And you're not alone.
A recent study from Forrester Research reveals that competent UI design could increase your web conversions by up to 200%. According to the study, a strong user experience can increase conversion rates up to 400%.
This means that poor UI/UX is turning away a lot of potential sales.
And, if that confusing, frustrating website is yours… you may not even realize how many solid leads are leaving as a result of poor UI.
Chances are good that if a consumer couldn't be bothered to finish the purchase they intended to make, that they're not reaching out to tell you why.
That's why user interface and user experience design are going to trump pretty design for its own sake in 2019.
To learn more about UI/UX, read 6 Ways User Interface and User Experience Design Can Help Your Business.
2. Plenty of white space
Clean design is in and visual clutter is out.
The reason is simple: designs with plenty of white space are easier to read and navigate.
Leaving lots of white space also makes it easier to direct focus to the most important elements on the page.
White space is the portion of a page that is left empty.
Technically, it doesn't even have to be white – it just needs to be devoid of copy, graphics or photos.
This trend of embracing white space is not new. But, with the continued push to create a better user experience and stronger conversions, white space will become even more important in 2019.
Imagine walking into a house. Each room is overflowing with high-end furniture, expensive knick-knacks, and racks of couture fashion.
Can you enjoy those beautiful, high-end items amidst the chaos?
Now, imagine walking into a home with wide open spaces, and warm, inviting light – a home with several tasteful pieces of furniture, and a few hand-selected knick-knacks on display. More inviting, yes?
The days of over-crowded websites have passed.
Packing too many graphic elements or too much information into one small space (no matter how much value they offer) dates your website and makes it less functional.
As we head into 2019, we anticipate a continued trend toward designs that feature lots of white space.
3. Custom graphic design and illustrations
If you want to stand out in a crowded marketplace, you must visually distinguish your website from the competition.
You can't do this if you use generic website templates.
Web templates have improved over the years – they're now more customizable than ever before.
But, they are still templates. And that means that thousands of other websites will use that very same design.
Your business can't risk being lost in the crowd or confused for a competitor.
In 2019, the trend for customized web design will intensify as businesses look to differentiate from the competition.
This year, more businesses will embrace a unique, cohesively branded web presence. And, custom design and illustrations are great tools for achieving that goal.
Some businesses, like Basecamp, embrace unique custom illustrations to define their brand and differentiate their website.
Illustrations offer space for creativity.
Each artist's style is a unique statement.
Matching that style with your brand personality and illustrating the right concepts can create a strong impression on your website.
Hand-drawn style illustrations also feel charmingly retro in the midst of all the slick digital design we've grown accustomed to. This just helps it to stand out even more.
You can expect to see this trend really take off in the coming year.
4. Bright, bold colors and gradients
Bright colors are naturally at home on the web.
Computer screens can deliver vibrant, saturated color more easily than print media ever could.
And, color is one of the most powerful visual communication tools available.
As we pointed out in a previous article:
The right color can improve readership by 40% by making messaging easier to read and more visually appealing. Color is one of the first things our brains perceive from a brand, so it's often the first thing that pulls us in.
In fact, a study from the University of Winnipeg reveals:
People make up their minds within 90 seconds of their initial interactions with either people or products. About 62‐90 percent of the assessment is based on colors alone. So, prudent use of colors can contribute not only to differentiating products from competitors but also to influencing moods and feelings…
Choosing the right colors for a website can make the difference between engaged viewers (and conversions!) or nasty high bounce rates.
Not to mention that brands are fighting to differentiate themselves from the competition – bold color choices help them to do that.
For all these reasons, and more, you can expect to see web designers embracing bright colors throughout 2019.
Gradients
We would be remiss if we failed to mention gradients. Gradients seem to go hand-in-hand with the bright colors we see on the web.
In fact, the web design world has been calling gradients a trend for so long, that they're more of a standard than a trend.
Modern screen technology is masterful at executing the color blending that is necessary to make gradients look fantastic. But, that's not why gradients are so popular in design.
Gradients provide subtle visual interest without being too busy. That's what makes them so great for lending an air of dynamism to a design without overwhelming the important stuff.
Gradients don't compete with text.
And, as long as you make wise color choices, they won't compete with other graphics, either.
When used skillfully, gradients can help draw the viewer's focus to the most important information or calls to action on your website.
You'll see bright colors and gradients going strong in 2019.
5. Stronger mobile integration with responsive design and apps
Starting in 2016, more users access the internet from their mobile devices than from their laptops or PCs.
Mobile devices are the most popular way to access the internet and your web design needs to support mobile users.
According to research by comscore, mobile users spend more than double the minutes online than desktop users.
Need another reason to go responsive?
Consider how people search for something.
According to Google, over 48% of all users started their search for something on a mobile device.
This fact is in itself not a reason to be alarmed until you take into consideration Google penalizes sites that are not mobile-friendly in its search results. As the company stated:
…we will be expanding our use of mobile-friendliness as a ranking signal. This change will affect mobile searches in all languages worldwide and will have a significant impact on our search results. Consequently, users will find it easier to get relevant, high-quality search results that are optimized for their devices.
Every business needs to optimize their website for mobile devices.
Failure to provide a strong mobile user experience will turn prospective customers away.
This is why responsive design and mobile apps are going to continue trending throughout 2019.
Responsive Design
Responsive web design adapts to the size and shape of the device screen used to view your site.
Well-executed responsive design provides a great user experience for everyone who visits your website.
In fact, responsive design has become so pervasive that smart businesses are even designing responsive logos to accommodate different screen sizes!
If your website is not currently responsive, then 2019 should be the year that changes that.
Mobile Apps
Mobile apps (short for "applications") are programs designed specifically to be used on mobile devices.
They started as stand-alone applications for mobile devices. But, today, businesses are working hard to integrate the user experience on their mobile apps with their primary websites. Customers have come to expect this sort of seamless integration.
Some businesses rely on their website as their primary service. These web applications aren't just a hub for information or even just an online store. They are complex websites with layers of user interface.
Websites this complex may be difficult to translate effectively for mobile devices with only responsive design. That's where a dedicated mobile app can save the day.
You can also expect to see more and more businesses launching apps that allow users to move easily from app to website and back while maintaining the user's account information and (of course) consistent visual brand design.
6. Integrated video

Have you ever found yourself watching a random video on the internet just because it started auto-playing?
Come on. You know you have.
You probably spent a good minute or two watching the shoe swap out on the clip from Nike's homepage above. (No judgment.)
People love video.
Video can capture our attention like no other form of media.
But not only that, video can help to boost your SEO ratings.
Google measures how much time viewers spend on your web page to help determine its value. The more time spent, the better the rating.
Videos encourage people to stick around and spend more time on your website.
And, that's why video has become a strategic web design element.
Initially, web designers inserted welcome videos above the fold to encourage viewers to engage.
Today, designers use carefully curated short videos or animations as integrated design elements. These include video headers at the top of websites and animated characters demonstrating the product as part of the "how-to" page.
These little, unexpected video elements surprise, delight and engage viewers, creating an enjoyable user experience for them and higher SEO results for your business.
We expect to see more businesses embracing clever ways of using video in web design throughout 2019.
7. Dynamic scrolling
First scrolling was in.
Websites were laid out with fewer, longer, text-dense pages.
Then scrolling was out.
Websites were designed to keep pages short with the most important information "above the fold."
In 2019, scrolling is coming back strong.
It turns out that users are willing to scroll if a webpage is well-designed and engaging.
The newest iteration of scrolling design is intentional, draws focus where it is needed, and engages the viewer.
Dynamic scrolling design is a new-ish kid in town. And, we expect to see this trend really come into its own in 2019.
In practice, dynamic scrolling involves designing your website in a way that makes it obvious that there is more for the viewer to see below the edge of the screen.
This can include diagonal graphics that draw the eye downward, visually cutting off a familiar shape so that you feel compelled to scroll down to see the completed shape or, even revealing hidden visual elements and copy behind moving scrolling graphics.
The result is that there is always a graphic element tantalizingly just out of view – propelling users to scroll down and explore.
In 2019, we expect to see graphic designers moving viewers through their designs with unexpected and dimensional scrolling design.
A final word
Keeping up with trends can be a great way to keep your finger on the pulse of where businesses are heading.
Your website is a critical component of your brand, and as your brand and marketing strategy evolves, your site should as well.
After all, your website and your brand should work in tandem. Misalignment can damage not only your brand but also your customer's trust.
But, the decision to incorporate a trend into your website design should always be determined by whether that trend makes sense for your brand.
Specific trends like bright colors or integrated video might be totally wrong for your brand and your audience. Or they could be the perfect way to connect with your customers.
Whatever you choose, remember that there are many millions of websites online. The only way to stand out is to create a website that's unique and different.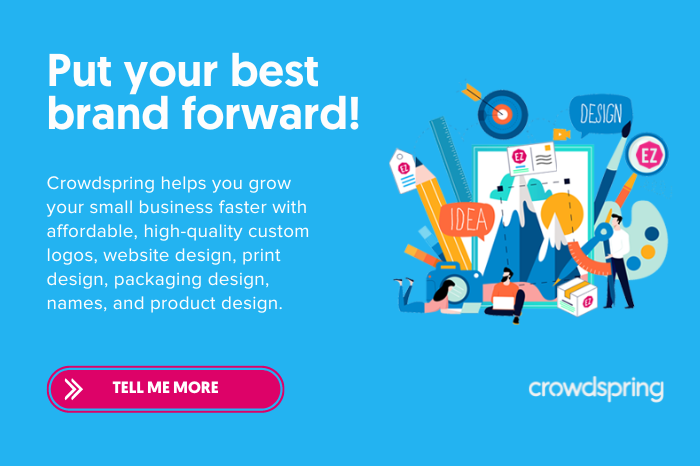 Want a closer look at other design trends for 2019?