The Business Owner's Guide to Creating a Unique Logo
Every entrepreneur starting a business wants a great logo design that is memorable, recognizable, and reflective of their brand.
But people often forget that their logo has to be unique too.
Sure, the Apple logo is iconic and instantly recognizable. But when companies want a logo that looks just like the Apple logo, they misunderstand the goal of effective branding.
Even though Apple's logo is well designed and praised by designers everywhere, copying that logo would not only expose the business to a lawsuit but also would fail to differentiate in the marketplace.
That's one reason why you should never buy a premade template logo design at one of these so-called "logo stores".
Instead of copying or mimicking famous logos, the best designers look to create a unique brand identity. The breakthrough designs they create often come from the deeper meanings they find within the company, which is the reason why so many companies have logo origin stories or hidden meanings.
The secret is to uncover that deeper or hidden meaning before designing the logo. A unique logo design will stem organically from whatever makes your company unique.
Some business owners worry that the cost of logo design can be prohibitively high.
It's true that many design companies and agencies charge thousands to tens of thousands of dollars for their services. But this isn't universally true (crowdspring's custom logo design projects start at just $299, including all fees).
We'll give you some actionable tips below to help you find a unique logo for your business.
Want a free brand review?
Answer 5 short questions and we will send a custom report with actionable insights and specific actions you can take to build a stronger brand.

We just emailed the info to you.
But first, let's look at three popular, existing logos (Starbucks, Sony VAIO, and Baskin Robbins) to see how they incorporated their company's story into the logo design.
Starbucks logo
The original Starbucks logo started out as a brown, more "scandalous" version of its current logo. Initially, the company's logo included an unclothed siren (double-tailed mermaid), as inspired by history, according to Starbucks writer Steve M:
There was a lot of poring over old marine books going on. Suddenly, there she was: a 16th-century Norse woodcut of a twin-tailed mermaid, or siren.
In the logo, the siren was placed in a brown circle with the Starbucks original name, "Starbucks Coffee, Tea, and Spices".
According to Greek mythology, sirens were seductive, and a popular image among churches in Medieval Northern Europe. The idea was that the siren would symbolize the seductive nature of coffee and Seattle's seaport ties (the original source of Starbucks coffee).
A few years later, Howard Schultz acquired the company and set out to modernize the logo. Several iterations of the logo later, the siren was simplified, the name was removed, and the logo looks a lot cleaner. But the charm and the story didn't change, which contributes to the widespread success and fame of the logo.
Sony VAIO logo
When Sony sought out to make their Sony Vaio logo, they looked at how Sony was transitioning into the future with the help of new technology. Originally a TV company, Sony Vaio gave Sony the chance to move towards digital products, and the logo is a reflection of that.
The "v" and the "a" in the logo make up an analog wave, which is an older form of transmitting images and sound (think: TV antennas, radios, etc.). But the second half of the word, the "i" and the "o" look like a 1 and a 0, the two numbers that make up binary code. The binary code makes up digital waves, which have helped make signals transmit faster, higher quality, and overall more advanced data.
Just like Starbucks didn't set a goal to create the next great coffee logo, Sony didn't decide to create the next best tech logo. They created a great logo by following their company's history.
Baskin Robbins logo
Our third favorite logo origin story is the evolution of the Baskin Robbins logo. Originally an innovative merger of two ice cream parlors, Baskin Robbins changed the ice cream business by offering 31 unique flavors. Customers could identify them by that number, as well as by the small pink spoons given out when taste-testing (another ice cream trend they helped start).
Initially, the Baskin Robbins logo bore the company's name in blue with the number 31 in the middle of it all.

Several years later, Baskin Robbins decided to take a leap of faith and redesign their logo in order to create something more unique. While the old logo was to the point, plenty of other ice cream shops had their name as the logo. So instead, Baskin Robbins opted to combine the number 31 into the initials of their company name.
This change made the logo more unique because it took a smarter approach to logo design, putting the main goal of the company front and center without pushing too hard.
It's clear that companies who have focused on creating unique logos have been more successful in increasing logo recognition, recall, and branding. But how can you create a unique logo that accurately represents your brand?
First, work with a talented logo designer. Find a local freelance designer or consider posting your custom logo design project on crowdspring, where 220,000+ talented designers from 195 countries help businesses, agencies, and nonprofits with everything from custom logo design, to custom website and graphic design, product design, packaging design, and even naming businesses.
When you work with a logo designer, knowing the process of creating a great, one-of-a-kind logo is important. If you know the process, you can better communicate what you need, and more effectively evaluate whether or not the logo is truly unique and right for your company.
We'll take the guesswork out of that process.
WHICH LOGO IS BEST?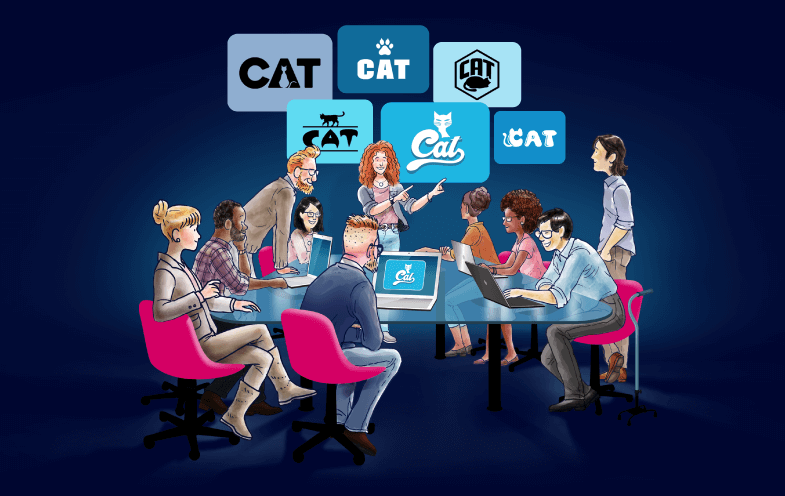 Here are the 5 key steps to creating a unique logo.
1. Choose the right inspiration for your company logo
The details are not the details. They make the design.
-Charles Eames
The inspiration for a logo can come from a number of places: nature, experiences, other logos, the list is never-ending. But the best, most original logos draw inspiration from what the company does or values.
Whatever makes your company unique and stand out from competitors will also make your logo unique. Be sure to let your designer(s) know what makes your company unique – they're not mind-readers.
For example, if you're starting a brewery business, take a look at how beer brewers approach logo design.
2. Understand your audience
If you're a law firm servicing mostly Fortune 500 companies, a logo using a handwritten font and an emoji-like icon is probably not the best choice.
While you still want to strive for unique, out-of-the-box branding, your clients still need your logo to convey professionalism and deep knowledge.
Understanding the age, location, personality, and even habits of your audience can give you (and your designer) important guidelines to use when designing the logo.
One way you can learn more about your potential customers is to pay attention to big companies. There are many important lessons big Brands can teach small businesses and startups. We talk about some of these lessons in the video below.
3. Be open to all ideas
Although you sometimes know exactly what you want, keep an open mind.
Like most companies, you will probably go through several iterations of a logo. Just like we learned from Starbucks, Sony, Baskin Robbins, and so many more companies sticking with the original idea and not taking a risk can hurt even more than having a plan.
4. Know where your logo will go
Is your logo going to be printed on paper? Business cards? Billboards? Physical products?
Today, there are a lot of mediums and sizes and our logos have to perform well across all mediums. Therefore it's important to consider where and how your logo will be displayed so that you can specify colors and file formats (we take care of file formats in projects on crowdspring by making sure you receive vectorized logo designs that will be useful in any medium).
We discuss this and other tips in the video below:
5. Trust your designer
At the end of the day, you chose to work with a designer for a reason. They have more knowledge and expertise about design than you do, and you should trust your designer to make good judgments about your logo.
Once you've done your job explaining your company and concept ideas, let your designer do their job. Micromanaging logo design never results in what you actually want, so don't let your tendency to control get in the way of your logo goals.
Now you have the knowledge you need to work with a designer to create a custom, unique logo.
Instead of asking for the next Apple logo, you'll be able to communicate effectively with your designer and in return get a memorable, recognizable logo.
Who knows, it might even become as well known as Apple's.