How To Succeed as an Underdog Brand
It's difficult for a business to stand out in a competitive market.
But it's not impossible.
Underdog brands lack the resources and the recognition of the leading brands in their market. This is especially true if you're just starting a new business and nobody knows about your brand.
But people love to root for the underdog and often support underdog brands.
How can you capitalize on the underdog effect and stand out when you're not the market leader?
Here are 7 proven marketing strategies that can help underdog brands grow and compete against established brands:
Let's take a closer look at each of those strategies and consider how you can use them for your business.
1. Be more innovative than the market leaders
You don't have to invent something new to win as an underdog brand. Most new products and services are variations of other products and services.
But you can't simply sell identical products and services and expect to gain market share. You must innovate.
For example, business insurance company Thimble helps small businesses to get insured within minutes. Insurance isn't new, but getting business insurance is typically a long, tedious, drawn-out process that could take days or more. Most business owners would love the ability to buy business insurance in a few minutes, especially if they can save money.
So, look at ways to improve products or services in your market and make people's lives easier. Sometimes, small changes, like saving people time, can make a big difference.
But remember that not all brands can tell an underdog story through innovation. It simply doesn't work for some brands and in some industries. According to the Harvard Business Review:
Not every brand can benefit from an underdog story. Some brands—Rolls-Royce, for instance—derive much of their strength from their top-dog lineage. Others, such as hospitals, could run into trouble if consumers perceived their disadvantaged position as negatively affecting quality or safety. And for brands like Microsoft that can't credibly claim underdog status, attempting to employ such a narrative could backfire badly.
Will your business idea succeed?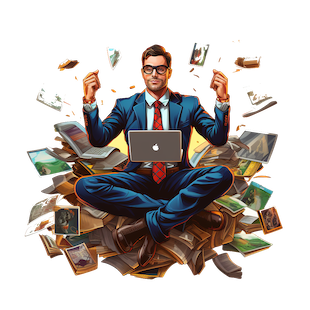 2. Use emotion to appeal to your target audience
People love to see underdogs win. Take advantage of being an underdog by evoking emotional support from your audience.
Your goal is to build brand awareness for your business and help more people discover your underdog brand.
Start by telling your brand's story on social media. Content marketing can be a powerful tool when used correctly.
When telling your brand story, be humble. People love to support businesses that started from humble beginnings. People also love knowing what inspired your business and how you're overcoming challenges.
Large companies often struggle to relate to customers. That's why even successful brands like Apple often talk about their origins in a garage. Your brand will be more human, genuine, and relatable by telling your story, sharing your challenges, and discussing your inspirations.
3. Show why your brand is more relevant
When companies fail to evolve, they become stale and lose relevance. This is true about most existing brands. This happens naturally over time. It's one reason why even market leaders rebrand from time to time.
As an underdog brand, you have an opportunity to show how you're fresh, innovative, and more relevant.
You can do this in several ways. For example, you can build a fresh brand identity for your company that shows you understand your target audience. Uber did this effectively when it challenged the taxi and limo industries.
Your company logo, business website, and social media posts can strengthen your brand or weaken it. Be strategic and deliberate about your choices when branding your company.
You can also speak out about important causes.
Most market leaders obsess about revenues and profits. At best, most pay lip service to social and environmental issues. However, consumers prefer sustainable and environmentally friendly products.
You can fill this gap by incorporating sustainable packaging design if you make physical products. This will show that your brand truly cares about its customers and the environment.
By showing people why your brand is more relevant, you'll build more substantial brand equity, which will help you charge higher prices for your products and services.
4. Be relatable
Being relatable and human can help establish a personal connection that will help build trust around your brand.
Most people distrust brands that are not authentic. You can capitalize on this by showing off your brand's relatable side.
For example, make your website accessible, use illustrations rather than stock art, and use a friendly brand voice when communicating with your customers.
5. Use humor to build an audience
Humor is one of the best ways for brands to connect with people. And it's a powerful weapon for underdog brands.
Many people poke fun at the status quo and market leaders.
Even established brands can win with humor. For example, Wendy's makes fun of its competitors on Twitter. Wendy's is not the market leader, but its sense of humor has helped the fast-food chain gain more exposure, a more significant following, and has increased sales.
6. Offer better alternatives
Market leaders often charge a premium price for their products and services. But not everyone can afford that premium.
This allows underdog brands to provide better, more affordable options.
People don't typically want to sacrifice quality. So, you'll need to prove that your products or services are comparable, if not better.
You should not merely copy the products or services the market leaders offer. Find ways to improve those products and services and offer them at a more competitive price.
For example, the clothing brand ABLE is an excellent alternative to American Eagle. The brand's mission is to offer better quality women's wear and provide more economic opportunities for women.
7. Provide a better customer experience
Customers want companies to listen to their concerns and needs.
But most market leaders do a poor job of listening.
This is an opportunity for brands with a more intimate customer base to provide a better customer experience.
This is how Apple became successful. They had a small market share and focused exclusively on building great products and a great experience. Today, they dominate many markets with their products while providing a great customer experience.
You don't have to guess what your customers and prospects want. Make this part of your brand strategy and ask your target audience directly. For example, ask:
What do you think of our products or services?
How can we improve our products or services?
How can we offer better services?
How can we communicate better?
These questions help address your customers' needs and provide helpful feedback for your business.
Once you know the answers to these questions, you can leverage proven principles of neuromarketing to grow your business by making intelligent choices about colors, packaging, and messaging, among other things.
5 Underdog brands that succeeded
Let's look at five underdog brands that became among the most successful brands in their industries and how they did it.
Netflix
Netflix has a classic underdog story. It nearly went bankrupt, tried to sell itself for peanuts to the market leader (Blockbuster), and then became one of the leading technology companies in the world.
Netflix became successful by out-innovating the competition.
After it disrupted Blockbuster, the market leader, it disrupted itself.
Initially, Netflix offered videos by mail. This helped the company gain a significant market share. But Netflix then capitalized on the convenience of the Internet. It launched video streaming, which cannibalized its own videos-by-mail business and forced the market leader to go out of business.
By offering a more accessible and affordable alternative to movie theaters and video rental stores, Netflix displaced the market leader and showed how underdogs could win.
Apple
Apple had a very humble beginning. The company started from Steve Jobs' garage and became the world's most valuable.
The secret to Apple's success? Strong branding (including the iconic Apple logo), consistent marketing, and innovative products.
When the company started, it tried competing with many computer companies. But its products were rarely differentiated before 2001.
Apple released the iPod in 2001 and changed the way we listen to music. Since then, Apple has created new markets with smartphones, smartwatches, tablets, and other products.
Apple followed all of the marketing strategies we shared above to turn its original business into one of the world's leading brands. And it showed how strong branding and consistent marketing could help a business succeed. It would not be as successful today if not for that golden combination.
Ben & Jerry's
Ben & Jerry's, known for its rich and varied ice cream flavors, started when two childhood friends took a $5 ice cream course.
Ben Cohen and Jerry Greenfield's Ice Cream faced various challenges and competed against established giants, including Haagen-Dazs.
The company became a market leader by innovating, offering affordable pricing, and building a terrific loyal community.
It's not afraid to speak out about social issues and often rewards customers. For example, Ben & Jerry's has a yearly tradition of giving its customers free scoops of ice cream to celebrate their anniversary. This builds lots of goodwill with customers and creates a loyal customer base.
Chipotle
Transparency, vigorous advocacy, and appropriate humor can create credibility, trust, and a loyal customer base.
That's the lesson we learn from Chipotle.
The popular Mexican fast-food chain owner, Steve Ells, always believed that using fresh and sustainable ingredients was essential to Chipotle's success and branding.
Chipotle adheres to its strong "food with integrity" motto and tells people about the origin of the food in Chipotle restaurants.
And Chipotle shows its relatable side by smartly using humor in its social media posts.
Most consumers today value transparency and prefer healthier ingredients. And people love to laugh. That's a great combination that has helped Chipotle gain market share.
Five Guys Burger and Fries
It's not easy to make a name for yourself when competing with big brands like McDonald's, Burger King, Taco Bell, and Subway.
But Five Guys Burger and Fries found a way to compete and establish its popular brand.
The market leaders in the fast-food industry are known for their cheap menu items. It would have been difficult for a new competitor to compete on price alone.
So, how did Five Guys do it?
Give Guys gained market share through better branding (and better products). The company's branding focuses on an authentic burger restaurant experience: white and red picnic tablecloths, traditional burger menu items, and peanuts on the table to seal the deal.
And its burgers and fries are tasty. They've won many awards.
Competing as an underdog brand is not easy. You have to exert multiple times the effort of an already known brand. And you must be creative and resourceful in your marketing.
Successful underdog brands use a combination of the strategies we shared above. And most importantly, they put customers first.