5 Tips To Get Your Small Business Online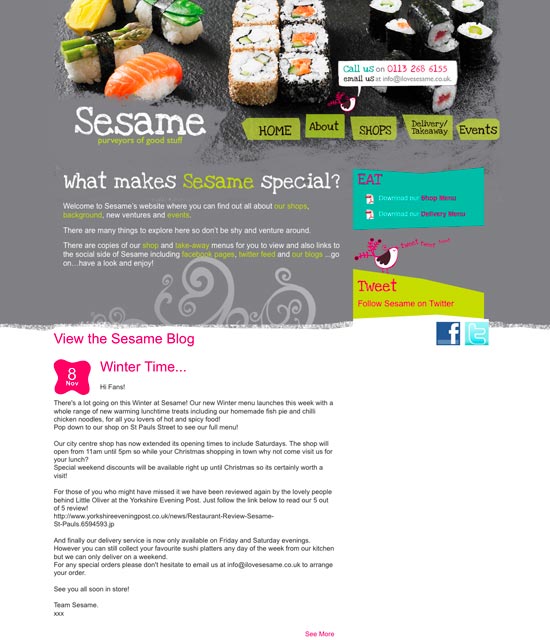 Last year, only 50% of all small business in the United States had a website.  When 2011 began, 64 percent of small businesses reported having a website, but that still left an astounding 36 percent of small businesses without a web presence.
Do all small businesses need to have a website? Perhaps not – but many people now look for products and services online. When you look for a restaurant or a salon, where do you look? It's unlikely you're browsing your paper version of the Yellow Pages.
If you have a website, your potential customers can find you. If you don't have a website, your potential customers will find your competitors.
A website is the hub of a small business's marketing efforts through other channels (print, SEO, SEM, email, direct, mobile, etc.). If you run a small business, you should have your own website – even if it's a simple site.
If you're ready to get your small business online or want to improve your existing website, here are five tips to help you get started:
1. Create Your Website
There are many ways that small businesses can quickly and cheaply create their first website, or improve the sites they already have. Options range from low cost sites through GoDaddy, to sophisticated sites, with analytics, A/B testing, blogging tools, SEO,and other value-adds from Hubspot. Some small businesses are paralyzed by the complexity of creating their own site – but keep in mind that you're not building a competitor to Amazon.com. For many small businesses, you need just a few pages that tell users about your business, provide some key information (a bit about you, your location, hours, phone number, photos, etc.). You can start small and build from there.
To help you, here are some pages you should consider including on your site.
Don't skimp on design – consumers prefer and trust better looking websites. If you know a freelance designer, hire them to design your site, or join the tens of thousands of small businesses from all over the world who've crowdsourced website design on crowdSPRING. For more ideas about the types of designs you can crowdsource, I recommend you read Five Designs Small Businesses and Startups Should Crowdsource.
Whenever possible, follow best practices when designing your site. For example, if your small business is a restaurant, I recommend that you read Best Practices and Tips for Restaurant Web Design. For other small businesses, I recommend you read Small Business Marketing: Web Design Best Practices and Tips.
Once you've built your site, it's relatively easy to implement more sophisticated offerings like search engine optimization to promote the site in local search, search engine marketing to pull traffic to the website, and website optimization. But don't focus merely on traffic – pay attention to conversions.
To learn more about optimizing your website and to help you avoid common optimization mistakes, I recommend you read Startup and Small Business Marketing: Website Optimization Mistakes. To learn more about SEO (search engine optimization), I recommend you read New SEO Started Guide From Google,  Search Engine Optimization Tips For Startups and 10 Practical Small Business SEO and SEM Marketing Tips.
Your website will be the hub for all your online and offline marketing efforts. While you could maintain an active presence on Twitter, Facebook, YouTube, Google+ or other social networks, most small businesses will benefit from pulling much of their traffic to their own website – where they have full control over the content and look and feel of the site.
A few things to consider as you set up your site:
You'll need to choose a domain name (URL) for your website. If you're starting a new business and need a name or need a name for your website, I recommend you read 10 Tips For Startups and Small Businesses on Naming Your Company (includes tips on domain names).
You'll also need to find a host. There are many good hosting options – we've used Rackspace and MediaTemple but also have heard good things about Slicehost. There are also plenty of free options, including blogging platforms like WordPress.
Although many hosts will offer backup options in case you run into problems, there are plenty of good tools (many are free) that will help you keep your blog and site backed up.
2. Keep Your Website Current
How many times have you visited a website that contained outdated info (wrong phone number, address, dated calendar, etc.)?
Inaccurate and outdated information can cause you to lose customers and sales. Don't build a bigger website than one that you can comfortably maintain and keep current.
If you're not sure what information your customers would love to find on your website, ask them!
3. Implement Simple e-Commerce Tools
It's shocking how few businesses properly leverage simple e-commerce tools on their website. If your small business is a restaurant, consider adding an online reservation option, or partner with a company like OpenTable or grubHub. If you operate a professional service (medical, consulting, accounting, law), consider adding appointment options to allow your customers and prospective customers to book appointments online – or at the very least, to check your availability.
If you need the ability to process credit cards, you have many options. Here's a good post about getting the best merchant account for your small business.
You'll also want to take advantage of simple tools to help you analyze the traffic to your site. Amazingly, 75 percent of small businesses don't track web traffic. With free sophisticated analytics tools like Google Analytics, it's easy to track traffic and you should make sure you not only track, but periodically assess the data.
One note of caution: don't get distracted by shiny new features. For example, although it's appropriate and often beneficial for websites to optimize for mobile browsing, this is not critical – and is something you can do later after you've established your site. In fact, you can use a third-party service to automatically create a mobile version of your site (many are free and others have low monthly fees).
4. Leverage Your Website For Customer Service
Most prospective or current customers will visit your website to purchase products or services, to get basic information about your business, to ask questions about your products or services, or to complain or complement you about your products or services. It's important that you have the appropriate content and tools to assist your customers and prospective customers. For more about small business customer service strategies, I recommend you read Lean Marketing: Customer service strategies for small business and startups.
For example, unless you do not or cannot provide phone support, include a direct phone number of your site in a prominent location – don't make your customers search for the phone number buried deep on your site. Similarly, include a regularly monitored email address for email inquiries. You'll also want to include links to social networks on which you actively participate to demonstrate to your customers how engaged you are with your community and to help them friend or follow you on those networks – don't include links to networks where you don't participate.
5. Build Thought Leadership Through A Blog, on Twitter, or via Facebook

A blog isn't appropriate for every small business – nor is an active presence on Facebook and/or Twitter. But a blog or an active presence on a popular social network does present a great opportunity to provide your opinions about key issues relevant to your business and to build thought leadership. For example, if you're a local gift basket business, you can share your thoughts on the latest trends in corporate and personal gifts, how to budget for gifts, and examples of some of the most unusual gifts/gift baskets you find or create.
Your prospective customers will be more eager to do business with you if they believe you are an expert – and if they find value in the information you regularly share. And you get the chance to occasionally showcase your company's products and services to your customers, in a friendly, and value-added way.
How does your small business measure-up? If you don't have a website yet, why not? How do your customers find you online? We'd love to hear from you in the comments below.