Tips and Tricks for Maintaining Productivity on the Road
Image credit: Lisa Jacobs
I love to travel, even when traveling exclusively for business. It's always fun to explore new places, people, and adventures. In fact, some entrepreneurs believe that traveling helps them to be more creative, improves productivity, and increases their expertise – so they travel even while running their company!
Whether it's for business or relaxation, travel is often a large time commitment. And while it is extremely valuable to be connected worldwide, the price of time can be costly. Think about it – even a simple two hour flight becomes a four hour airport ordeal by the time you go through baggage, security, and find your gate. And even if that flight is just two hours, it's probably sometime in the middle of the day – cutting into your productivity or causing you to have to work through a break. Yikes!
Luckily, we can overcome some of the pain when traveling by using the many digital devices we already carry with us – laptops, tablets, and smartphones. For many people, work is reasonably transportable, turning an unproductive block of time into something useful, if it's carefully planned.
To make travel productive, however, you must plan ahead. And since you can never predict everything about your trip, here are some of our favorite tips to help you stay productive while traveling.
Will your business idea succeed?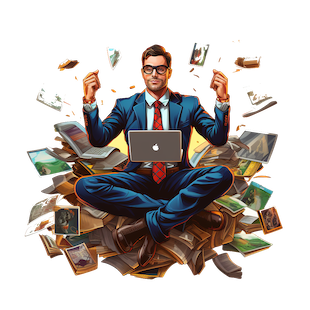 Plan for no wifi during your flight
While some airlines offer wifi, it can be expensive, slow, unreliable, or randomly unavailable – especially in economy class. And even if you are willing to pay the high price, chances are you had some other wifi-free stuff to do anyway. Truthfully, projects that require internet access should be saved for when you aren't traveling, otherwise you may end up frustrated and cranky.
Pro Tip: Drafting emails, writing blog posts, creating business plans, reviewing documents, and reading articles from that list you've been saving to for months are all productive tasks you can accomplish in the air – without the internet. Just make sure you download all your music playlists (and reading materials) ahead of time!
Charge your devices fully before you go
Just like wifi, charging availability at airports and other travel waiting spaces can be sparse or unavailable. Although it's more likely for an airport to have outlets than wifi, there are rarely enough outlets for everyone. So plan ahead and make sure you leave home or the office fully charged, with external chargers and adapters packed for each device.
Pro Tip: For extra productive business travelers, portable battery chargers are another great way to ensure you're never stuck with a dead device! I take one on every trip.
Schedule your time before the trip
Know exactly how you are going to use your time by blocking out specific amounts of time for tasks. Allow for some flexibility, but keep yourself on track by having a plan. Without the temptation of the internet, it'll be even easier to stay focused!
Pro Tip: Print out a daily calendar page, or take a screenshot- you never know what you might not be able to load without wifi.
Stay hydrated
It's no secret that airplanes are extremely dehydrating. Unfortunately, not all travelers take this seriously. But if you plan to work during your flight, you'll want to avoid those pesky dehydration headaches or excessive bloating. For some people, dehydration may even cause breathing issues. So it's better to be safe than sorry. Packing either an empty water bottle and fill it up after you pass security, or purchase one before your flight. Those small cups of water they serve on the plane just won't cut it.
Pro Tip: Bring lotions, nasal sprays, and eye drops if you really want to keep dehydration side effects at bay. Nothing distracts you from your work more than a bloody nose or itchy eyes!
Those are just a few tips you can use to keep your productivity at a maximum – and to use up those hours of idleness while traveling. Even with time constraints and unconventional accommodations, it's possible to make a meaningful impact on your business no matter what the circumstances are. You might even find it helpful to step away from the office for a bit.