6 Successful Entrepreneurs and the Books That Changed Their Lives
People who love to read know that cracking open a new book often leads to a new adventure.
A good book is memorable long after you finish reading it. A great book can change your life.
We wanted to know what books helped to shape the lives of some of the world's best entrepreneurs. If you're ready to reinvent your life, these six books may be a good place to start.
Steve Jobs  (Apple Inc.)

Steve Jobs was best known for being the visionary behind Apple Inc. But, we now know that there was a visionary behind the visionary- Paramahansa Yogananda, author of Autobiography of a Yogi. Walter Isaacson shares in his biography Steve Jobs that Jobs read the book for the first time as a teenager and re-read the book every year until his death. In fact, Jobs gave a copy to each guest who attended his funeral as a parting gift.
Autobiography of a Yogi is exactly what it claims to be; but, Yogananda was not only a yogi. He was also a businessman. The book discusses yoga, meditation, and spiritual matters. But, it also talks about how business intersects with an insightful, intuitive life. It's easy to see how Yogananda's teachings might resonate with the young man who grew to become one of the world's most inspired entrepreneurs:
"Most of you have had the feeling that you could be great, and do great things; but because you have lacked intuitive power, that potential has, for the most part, remained dormant. To progress and avoid the misery of mistakes, you have to find what is the truth in everything… In your relationships with others, in your business, in your married life, in every part of your life, intuition is essential." – Paramahansa Yogananda, Autobiography of a Yogi
Will your business idea succeed?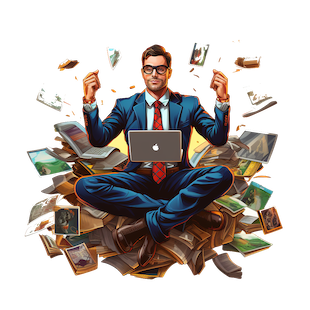 Mark Cuban (Dallas Mavericks, AXS tv)
According to  AynRand.org, Russian-American novelist Ayn Rand's books, "portray businessmen, inventors, architects, workers and scientists as noble, passionate figures." Is it any wonder then, that a some successful entrepreneurs and politicians have embraced her books?
Mark Cuban of the Dallas Mavericks and ABC's Shark Tank is one of the world's most successful entrepreneurs. Cuban is a self-professed fan of Rand's work, choosing The Fountainhead as his first literary crush. The Fountainhead follows protagonist Howard Roarke, an architect who seeks to remain true to this creative integrity in the face of social adversity.
"In Howard Roark, she presented for the first time the uniquely Ayn Rand hero, whose depiction was the chief goal of her writing: the ideal man, man as 'he could be and ought to be.'" – AynRand.org
Rand's vision of the ideal man clearly resonated with Cuban. He said of the book,
It was incredibly motivating to me. It encouraged me to think as an individual, take risks to reach my goals, and responsibility for my successes and failures. I loved it. I don't know how many times I have read it, but it got to the point where I had to stop because I would get too fired up.
Brian Chesky (Airbnb, Inc.)
Brian Chesky is largely self-taught in the world of business. He didn't train to become an entrepreneur- rather, he dove in and then taught himself the ropes on the go. So, it's no wonder that one of his favorite books is a practical guide on management.
Fortune's Leigh Gallagher describes Chesky's self-education in "The Education of Airbnb's Brian Chesky." She notes, "His primary book source on management technique is Andy Grove's High Output Management." Grove's book is known for its down-to-earth practical management advice.
Washington Post's Jena McGregor describes the book as,
Void of the pop theory and formulaic fads that make up so much of the genre, it's written by an iconic CEO who has a PhD in electrical engineering and a lifetime of experience… It takes on the day-to-day stuff of management—meetings, performance appraisals, interviews, compensation—and deconstructs the process and goals of being a manager.
Mark Zuckerberg of Facebook is also a fan. In a tribute video honoring Groves, Zuckerberg said: "His book really played a big role in shaping my management style."
Oprah Winfrey (Harpo Productions)
Oprah Winfrey has been very open about her love for Gary Zukav's book The Seat of the Soul. In fact, Zukav has joined Oprah on her show 34 times since their first interview together in 1998. What is it about Zukav's work that keeps Oprah coming back? And how did it impact her life as an entrepreneur?
Seat of the Soul posits that humanity is in a place of transition between external power based on our physical senses and what Zukav calls "authentic power" based on spiritual insight and empathy. Oprah's favorite quote from the book reflects her desire to embrace Zukav's concept of authentic power,
Every action, thought, and feeling is motivated by an intention, and that intention is a cause that exists as one with an effect… In this most profound way, we are held responsible for every action, thought, and feeling, which is to say, for our every intention.
In a 2015 interview with LinkedIn CEO Jeff Weiner, Winfrey explains how she translated that quote into an actionable business philosophy:
The number one principle that rules my life is intention, and I probably discovered that around 1989, after reading Gary Zukav's book and then bringing him on the show… After reading Gary's books, I literally had a big meeting with all my producers, and I said, 'We're now going to be an intentional television show… 'We're only going to do shows that come from a motivation that we're going to show people the best in themselves… the idea behind it–the vision–is that we're going to be a force for good … that's the bottom-line intention.'
Bill Gates ( Microsoft, Bill and Melinda Gates Foundation)
Bill Gates and fellow billionaire Warren Buffet both agree that John Brooks' Business Adventures is the best book on business they have ever read. The book is a collection of twelve stories featuring iconic companies such as Ford Motor Company, General Electric and Xerox at critical moments in their history. In addition to entertaining, Brooks offers insight into human nature through each of the included tales.
Gates avows his appreciation for the work in his post, The Best Business Book I've Ever Read. Gates asserts:
Brooks's work is a great reminder that the rules for running a strong business and creating value haven't changed. For one thing, there's an essential human factor in every business endeavor. It doesn't matter if you have a perfect product, production plan, and marketing pitch; you'll still need the right people to lead and implement those plans.
He goes on to say that:
Business Adventures is as much about the strengths and weaknesses of leaders in challenging circumstances as it is about the particulars of one business or another. In that sense, it is still relevant not despite its age but because of it. John Brooks's work is really about human nature, which is why it has stood the test of time.
Jeff Bezos  (Amazon.com)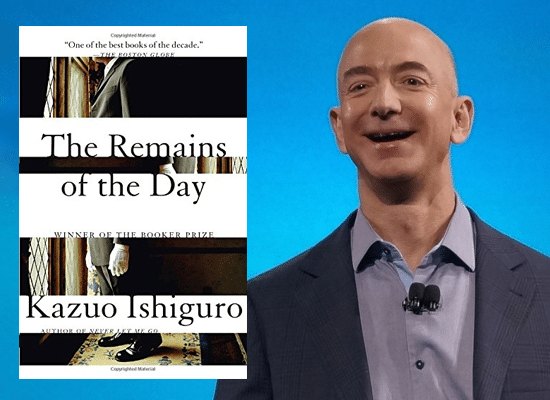 "If you read The Remains of the Day, which is one of my favorite books, you can't help but come away and think, I just spent 10 hours living an alternate life and I learned something about life and about regret." – Jeff Bezos
The Remains of the Day is not a business book; but, it  had a profound impact on Jeff Bezos' life and business. The Remains of the the Day is a novel that investigates how one defines a life well-spent. The book takes you on an introspective journey touching on themes of self-doubt and regret as it examines the life of a retired English butler named Stevens.
It's easy to see reflections of The Remains of the Day in Bezos' own life. When trying to decide whether to take the leap and found Amazon.com he considered what he called in a 60 Minutes interview a "regret minimization framework,"
I wanted to project myself forward to age 80 and say, 'Okay, now I'm looking back on my life. I want to have minimized the number of regrets I have… I knew that when I was 80 I was not going to regret having tried this. I was not going to regret trying to participate in this thing called the Internet that I thought was going to be a really big deal. I knew that if I failed I wouldn't regret that, but I knew the one thing I might regret is not ever having tried. I knew that that would haunt me every day, and so, when I thought about it that way it was an incredibly easy decision.
Entrepreneurs like Steve Jobs, Oprah Winfrey and Jeff Bezos may seem like they are cut from a different cloth than the rest of us. But, like every other human, they learn and they grow.
Each of these six books helped to create some of the world's smartest and most successful entrepreneurs.
Can these books change your life?