20 Essential Tools for Startups and Entrepreneurs
Every year, many entrepreneurs start new businesses. And, of course, there are many others who never quite achieve lift-off. What differentiates the entrepreneurs who act from the dreamers who never try?
Chances are good that the perceived barriers to entry are just too intimidating to overcome.
According to a 2015 Gallup report, 25% of Americans have considered starting their own business and decided against it.
A business demands many skill sets – fundraiser, marketer, HR rep, web designer, and more. And since 62% of businesses in the US have 5 or fewer employees, many of these responsibilities inevitably fall to the founder. The great news is that a huge variety of tools are available to help support potential entrepreneurs.
We've gathered a collection of tools for startups and entrepreneurs that help you simplify, streamline, and get your new business running in no time.
Fundraising Tools
67.2% of entrepreneurs use their personal savings to fund their start-ups. And, with the lack of personal savings ranking as the second most common barrier to entry for starting a new business, it's impossible to ignore the importance of raising funds. Luckily, there are other options besides draining your personal bank account.
Before you follow in the footsteps of 52% of entrepreneurs (who pay for their start-up by taking on debt before their business even makes its first penny), consider angel investors and crowdsourcing.
Will your business idea succeed?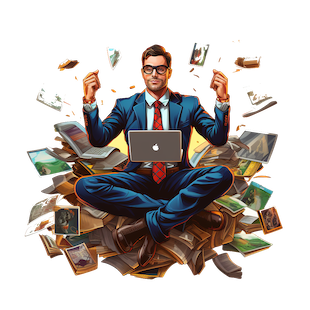 AngelList
AngelList is an online resource for would-be entrepreneurs. The site seeks to link start-ups with Angel investors to provide funding. Businesses can apply for funding with many incubators affiliated with AngelList here. AngelList continues to grow. Tech Crunch reports,
AngelList, the online platform that had made itself indispensable to early-stage startups for fundraising and recruiting, said it closed out last year having raised $163 million online on behalf of 441 companies. That's about 56 percent higher than the year before in 2014.
Kickstarter
Kickstarter raises crowdsourced funds for a wide range of creative projects. They claim their mission is to "help bring creative projects to life"; but don't be discouraged if you're not an artist, filmmaker, or writer. Kickstarter welcomes projects in a wide range of fields.
$3 billion for almost 125,000 successfully funded projects. The important thing to remember about Kickstarter is that it's an all-or-nothing platform. In other words, if you don't meet your fundraising goal, you won't see a penny of the money pledged to your project.
Indiegogo
Indiegogo is similar to Kickstarter in that it raises money through crowdfunding. But, Indiegogo bills itself as the "launchpad for entrepreneurial ideas". Beyond the marketing spin, there are definitely concrete differences between these two platforms.
Indiegogo offers all-or-nothing projects like Kickstarter, but it also offers flexible funding options that allow an entrepreneur to claim the money raised even if they don't reach their initial goal. Indiegogo also includes a marketplace service on its site that sells the products funded through Indiegogo projects.
Whether you pursue crowdfunding or angel investors, know that you've got these easy-to-use tools at your disposal.
Know-How Tools
Another common challenge for new entrepreneurs is inexperience. After all, how can you have experience if you've never done something before? Eric Ries of The Lean Startup claims,
Startup success is not a consequence of good genes or being in the right place at the right time. Startup success can be engineered by following the right process, which means it can be learned, which means it can be taught.
This means you can compensate for inexperience if you're willing to do homework.  And several services make doing that homework easier.
Alternatively, you can outsource some services when you start your company. For example, you can leverage professional registered agent solutions instead of acting as your own registered agent (all states require that you have a registered agent for your company).
Startup Launch List
Startup Launch List is an online service listing common topics you should know about if you plan to start a business. You can customize the list by choosing the topics you'd like to learn more about. The site will then provide you with a list of articles (written by entrepreneurs, designers, and investors) addressing your chosen topics.
You can link directly to the recommended articles and start reading right away. It's like a business course custom-tailored to your needs.
Quora
Quora is a community Q&A site where people can ask questions and get answers – often from experienced entrepreneurs (and others across many industries). crowdSPRING's CEO, Ross Kimbarovsky, has answered many questions on Quora, and it's not unusual to have some of the most respected entrepreneurs in the industry directly answer questions about themselves or their companies.
 Google Primer
Google Primer is a free app offering interactive digital marketing and business lessons in 5-minute chunks. Since there's no need to settle in for a long study session, this tool is fantastic for folks with a packed schedule. The lessons can be viewed offline, allowing viewers to gain important knowledge with only a few free minutes.
Here's what Primer's creators had to say,
Primer combines Google's knowledge with insights and expertise from leaders in the business and marketing industries, as well as other experts. Then we "Primerize" their insights to deliver them in the most accessible way possible.
Codecademy
Codecademy is a free, interactive online education site for learning to code. The site offers lessons in various coding subjects, including Java, SQL, HTML & CSS, Git, and more. While the site isn't intended for coding experts, it's a great starting place for people who need an introduction to and a basic understanding of coding.
In other words, it's a great resource for aspiring entrepreneurs who may need to be able to hold an intelligent conversation with their future programmers and engineers.
HackerEarth
HackerEarth helps large enterprises recruit, evaluate, and upskill developers based on specific skills. The company's platform enables recruiters to make accurate and informed decisions about candidates, screen developers, improve hiring efficiencies, facilitate continuous learning and development, and ensure the right developers are matched with the right positions.
HackerEarth also facilitates online hackathons and coding challenges, where its community of over 7 million developers can upskill and practice for employment interviews.
Infrastructure Tools
Every business has infrastructural needs. Simplicable – an online business encyclopedia- describes business infrastructure as
…the basic facilities, structures and services upon which the rest of a business is built.
It's easy to overlook things as simple (but vital) as how your employees will communicate efficiently, how to get a business phone line or who will handle your HR needs. But these basic, nitty-gritty tasks are essential to every business. And, there has never been a better time for first-time entrepreneurs to tackle their infrastructure needs.
There are a wide range of online services and apps that make setting up your business easier than ever.
Slack
Slack is the go-to communication platform for small businesses. Matt Mansfield of Small Business Trends had this to say,
… we've seen online collaboration apps come and go, but few have caught fire like Slack. The innovative "team communication" solution offers groundbreaking functionality that is just too useful to pass up.
Slack is an instant messaging app organized by channel to keep conversations sorted by relevant topic. You can also send direct messages or make voice or video calls. Slack allows your employees (remote or office-based) to communicate in real-time and maintains a single searchable archive of all business communications.
And the price is perfect for a brand new business- free to start! Slack offers a free unlimited trial. But you can upgrade to additional features and support a larger team with scaled pricing (we're big fans of Slack and use it at crowdSPRING).
Gusto
Gusto is an online service that acts as your entire HR department. Gusto manages payroll, new employee records, healthcare, and 401(k) benefits all in one integrated platform.
Business News Daily recently shared an article declaring Gusto their top payroll service for sole proprietors or S Corporations.
Gusto combines excellent customer service with an all-encompassing payroll service that's easy to use.
To learn more about why Gusto made the top of their list, check out their article here (we're big fans of Gusto and use it at crowdSPRING).
Dropbox
Dropbox is a fantastic solution for all of your file storage needs. Businesses produce no end of documents and files. And you must have access to those files when you need them. It's just as important that they stay out of your way when you don't need them.
That's where Dropbox comes in. Jill Duffy of PC Magazine says,
Dropbox is among the simplest and most elegant cloud storage and file-syncing services. It gives you access to your files from nearly anywhere. You can install Dropbox on virtually any computer or mobile device. Dozens of apps integrate easily with Dropbox, too, making it highly versatile.
A Dropbox Basic account gets you 2G of space and is completely free. And, if you and all of your employees have a Basic account, this may be enough to last you through the lean early days of your business. But never fear- there's plenty of room to expand. Standard business plans start at 2 terabytes of space, and you can learn all about business pricing here (we're big fans of Dropbox and use it at crowdspring). You can also explore numerous Dropbox alternatives.
Grasshopper
Grasshopper is a virtual phone system. And (even though there are days when you don't even want to think about picking up a phone- or is that just me?) every business needs a phone service.  But, Grasshopper isn't your usual phone service; it allows you to transform your personal cell phone into a business line.
Grasshopper provides your business with a local or a toll-free business number and extensions for each employee. It offers a voicemail transcription service that delivers your message in text format to your email. And, Grasshopper offers call forwarding to any cell phone. So, you're always 'in the office'. If you want to be. There are also many compelling Grasshopper alternatives, so you have plenty of options.
Mailchimp
MailChimp is a free email marketing service that provides professional email templates, list management tools, name-gathering forms and more to help you build and communicate with your audience via the web.
MailChimp can scale with you as your business grows to handle larger message volume and advanced features. Pricing for these higher service levels starts at $10/month and climbs to $199. We're big fans of Mailchimp and use it at crowdSPRING.
Molly McLaughlin and Fahmida Rashid of PC Magazine reviewed MailChimp in March of 2017. They concluded,
>If you are a small business looking to get started with easy-to-use email marketing software, then MailChimp should be part of your toolbox.
Zoom
Need to have a meeting with your remote employee team? How about a call with a prickly investor and you want to read their facial expression when you talk? Sometimes a phone call isn't enough and you need to see the person you're talking to.
Zoom allows you to hold video calls, communicate via instant message, and perform screen-sharing for collaborative meetings. Zoom's basic tier is free to use, while team pricing ranges from only $14.99-$19.99 per month. This makes it a very cost-effective communication tool (and one we love at crowdSPRING).
Branding Tools
Starting a new company is exciting for so many reasons- one is that your new business is still malleable and full of potential. What will your company do? What image will it portray to the world?
Answering these questions and defining your business into a recognizable brand is one of the most important tasks you face as a start-up.
Mahesh Nair of Entrepreneur India points out,
crowdspring
At crowdspring, we provide crowdsourced creative services. We have helped thousands of entrepreneurs, businesses, agencies, and non-profits with creative design services. crowdSPRING can help you with every element of a brand identity, including company naming, tagline naming, and logo design.
Using crowdSPRING for branding is ideal for start-up businesses because it is the most cost-effective way to get multiple design options, allowing you to find the branding elements that feel right to you. We've talked about this in the past in our article, "Level the Playing Field with These 5 Crowdsourced Designs."
Instant Domain Search
Instant Domain Search is a free online service that allows you to search for available domains for your online presence. Having identified what your new brand is going to be, you'll want to establish a website that reflects that brand as your online base of operations. Forbes' Nicole Leinbach-Reyhle asserts,
By now it's clear that if you don't have a website, you're missing out on opportunities for customers to identify who  you are and if they want to spend money with you.
Instant Domain Search will tell you if the domain name you want to represent your company online is available; you can also register the domain name straight from their site.
Google Alerts
Google Alerts is a free service that searches all Google activity and notifies you if one of your alert topics is being shared on Google. As a new start-up founder, you'll want to be aware of any online conversations about your new business. Good news, or bad news- it's important to know what the world is saying about your brand.
Feedback like this enables you to react quickly to help build your brand; or change directions, if necessary, to protect it. But you can't respond if you don't know what's being said. Once you create your alert topics, Google Alerts scans for the necessary information.
Google Alerts can be inconsistent, but it's hard to complain since it's free. For more robust social listening, we recommend talkwalker. Talkwalker (free and paid plans) monitors conversations about your brand across social media and the web for a complete view of what is being said about your company.
BrandYourself
BrandYourself is a web reputation management service. Don't like what Google Alerts is telling you? BrandYourself helps you to "clean up, protect and improve your Google results with one easy tool."  Cloris Kylie of All Business reports,
Your online reputation is an essential component of your personal brand. When you protect your online reputation, you safeguard your brand, and a successful career or business can only be cemented on a rock-solid brand foundation.
BrandYourself's software walks you through cleaning up your brand's online reputation – or building one. You can sign up for a free account to use their DIY Tool, but they have paid services as well if you need a little extra help.
Design Tools
As a brand new entrepreneur, chances are good that you don't have the time (or, possibly, the skill) to design and code your own website from scratch. But, being busy doesn't get you completely off the hook. As we've already discussed, having a website is vital for your new start-up.
If you're not quite ready to shell out the bucks to hire a professional web designer to build your whole site, you've got options. There are great web design tools at your fingertips.
Weebly
Weebly is considered by some to be the easiest to use web design service available on the net. Weebly provides plenty of customizable templates and a drag-and-drop interface, making building a site easy for even the most inexperienced web designer.
You can create a basic, good-looking website on Weebly at no cost. Once you're ready to add on more functionality- like an online store, Weebly offers more advanced plans ranging from $8-$25 per month.
Squarespace
Squarespace is another online DIY web design service. They are known for their award-winning templates and a wide range of customization options. The customization options may be a bit overwhelming if you're new to design, but the resulting control is great.
Unlike Weebly, Squarespace doesn't have a free plan, but their pricing scales based on how complex your site is. Websites cost $12-$18 a month and online stores range from $26-$40 per month.
Shopify
Shopify is your e-commerce one-stop shop. Since its inception in 2006 Shopify has done roughly $34 billions in sales across 400,000 Shopify stores. The site offers a template-based web design function, but their most impressive selling point is their robust set of e-commerce features.
E-commerce Platforms (a comparison blog for, you guessed it, e-commerce platforms) rated Shopify as their best e-comm platform of 2017. So, if your goal is online sales, Shopify is a great place to start. Shopify can also give you the ability to sell from a social media site or in person, making it a very flexible e-commerce option.
Pricing for a basic Shopify site will run you$29 a month. More advanced options are available; to learn more about the pricing structure just click here.
crowdspring (again)
The 220,000+ creatives at crowdspring help entrepreneurs and businesses with much more than logo design and company naming. We've helped thousands of businesses build stand out websites and landing pages for as little as $399. Rather than using a pre-built template, our creatives can design a custom website that perfectly represents your brand and goals. Just like our other design projects, all web design projects are backed by our money-back guarantee, so you only pay for a design you love.
We realize that starting a new business can be a scary prospect. But, hopefully, the tools we've shared with you help take a little of the edge off. With so many useful and low-cost services available to back you up along the way, now is a great time to leap.