What Is Social Proof and Why Your Business Can Die Without It
When is the last time you didn't care or want to know if others recommended a product or service you liked?  Chances are, the answer is never.
Humans are social creatures. We've told and sought out stories about common experiences from the beginning.
We crave social proof.
What Is Social Proof?
According to Wikipedia, social proof is:
a psychological and social phenomenon wherein people copy the actions of others in an attempt to undertake behavior in a given situation.

Social proof is considered prominent in ambiguous social situations where people are unable to determine the appropriate mode of behavior, and is driven by the assumption that the surrounding people possess more knowledge about the current situation.
As we pointed out in Marketing Psychology: How You Can Use Commitment and Consistency Principles To Increase Sales,  Dr. Robert B. Cialdini, who coined the term "social proof," declares social proof as one of his "6 Principles of Influence".
Influence prompts action, and action equates to sales and growth.
Simply put: we want to know what others are watching, buying, wearing, and experiencing — which ultimately influences our decisions to do the same.
Our innate tendency to group together this way makes social-proof marketing tactics successful.
Types of Social Proof
Six types of social proof can be effectively used by marketers.
1. Expert
This type of social proof occurs when an expert in a field or genre recommends your product or service. The experts are somehow associated with your brand.
Example: When a dentist recommends a type of toothpaste.
2. User
Current users who detail their experience and offer their recommendation of your product or service based on their own experience.
Example: Positive reviews on your website. At crowdspring, we include reviews across all categories, but also let clients sort to see reviews from other clients in logo design, website design, and all the other categories of projects we offer.
3. Celebrity
Marketing campaigns that feature celebrity endorsement can be very effective.
Example: Popular skincare line Pro-Active historically has used celebrities with skin issues to be the face of their product.
4. Crowd Wisdom
This type of social proof comes into play when a large group of people includes many active users of a product or service.
Example: at crowdspring we show that we're trusted by the world's top agencies and Brands.

5. Certification
When a product or service is given a stamp of approval by an authority in the industry.
Example: When a company can boast an A rating by the BBB.
Want a free brand review?
Answer 5 short questions and we will send a custom report with actionable insights and specific actions you can take to build a stronger brand.

We just emailed the info to you.
6. Friend Wisdom
This social proof occurs when you see or hear of a friend using a product or service.
Example: Seeing a friend post on social media about a new hair salon they recently frequented.
How to Use Social Proof for Marketing
Consider these effective social proof strategies to boost sales:
Positive Online Reviews
As we previously mentioned, Amazon dominates the retail market.   Much of their success can be attributed to their effective use of social proof.
These days, it's a common step in the purchasing process to check Amazon for both price comparison and reviews.
In fact, according to Dimensional Research, a recent survey showed that 90% of respondents claimed that positive online reviews influenced their buying decision.
Don't just wait for customers to post reviews. Be proactive. As we emphasized in our guide on starting a business:
Have early customers post their rave reviews everywhere that matters – your website, your social media platforms, and anywhere else where other potential customers will see them.

Reward those early fans with special treats – access to special events, promotions, or discounts are always great, but even a handwritten thank you card can go a long way in turning a fan into a lifelong follower.
This is especially important if your business is new and in a niche area where reviews can make or break your business. In our look at unique small business ideas, we emphasized the importance of getting strong testimonials from early customers in order to grow your business faster.
Customer Case Studies
Case studies could be considered the ultimate storytelling. A case study takes an in-depth look at a client's experience in working with your business.
Advertising tells you why you should choose a product or service, case studies show you.
We frequently share crowdspring case studies that highlight the design challenges faced by our clients, the solutions our creatives offered, and the well-loved end result.
Even if you don't have time for detailed case studies, you can still feature mini-case studies on your site. Here's how we do it, for example, to show the variety of clients that have used crowdspring for product design: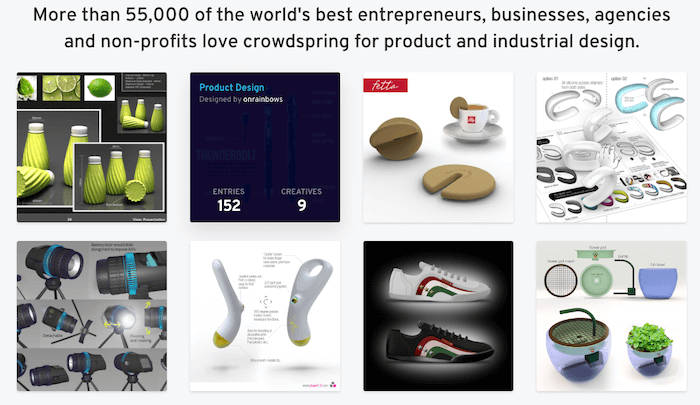 Trust Seals
Trust seals are a fantastic tool used to reassure a client or prospect that their sensitive information (be it personal, business, or financial) is safe with you.
These are especially important if you have an e-commerce site.
User or Customer Count
How many billions has McDonald's served? Chances are you know the answer: over 99 billion. McDonald's has been using numeric data as social proof since the 1960s.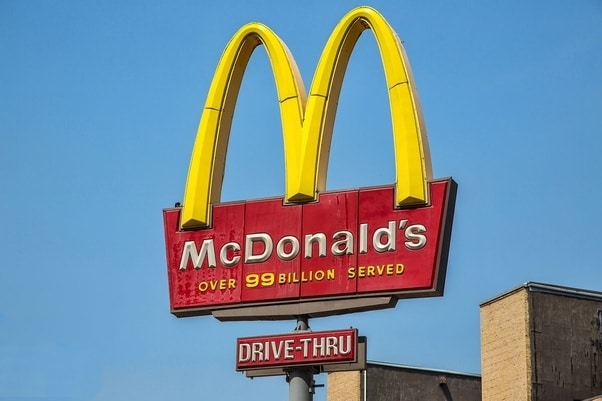 The idea behind this marketing tactic is simple: if that many people have enjoyed this restaurant surely it's good. (billions and billions of people can't be wrong)
Customer Showcase
You want happy customers and you want the world to know you have them, right? Try highlighting them and their satisfaction with your product.
Clothing retailer, Modcloth uses this strategy on its Instagram page. Modcloth created the unique hashtag #mymodcloth for clients to share their clothing pieces in action.
This is precisely the type of social proof that has vaulted this clothing brand to success.

Featured In
Has your business been featured by a brand authority or news outlet?
Tell. The. World.
Brand authorities and news outlets pack and a very powerful punch in terms of belief.
Third-Party How-To Videos
As we previously touched on, adding videos in your e-mail can increase click rates by 300%.
Third-party videos are even better.
They provide the social proof of others using your product and achieving the same result that the prospect is after.
Consider hair care internet sensation, Lange and their aggressive arrival to the third-party video share.
Social media is flooded with live videos of customers using their hair care products.


With a reported 2 million customers I would say this strategy is working.
Urgency
Creating a sense of urgency or fear of missing out is another high performing social proof tactic.
Consumers are likely to commit when they have a visual timer or countdown of their ability to do so.
Online product and experience company Groupon, use this tactic to evoke urgency.
Conclusion
We know that social proof is a catalyst for increased sales. People are influenced by others.
However, not all social proof is created equal.
The question isn't IF adding social proof to your content will increase conversions, but rather what types make the most sense for your business.
Implement the tactics mentioned above and win big.