Small Business Spotlight of the Week: YANA
It's the age-old toughest decision: what do you get someone when they're struggling with a hardship or an uncertain time whether it be a death in the family, losing a job, getting deployed or returning home from the military, or even moving to a new place where they don't know someone? Flowers? They only last so long. A card? Is that even enough…? Well, as some of you may have seen featured on our home page a couple of weeks ago, there's a new company called YANA (You Are Not Alone) and this is the platform of their organization – being able to send someone a YANA shirt or other cool merchandise that delivers a supportive, positive message- that they are not alone no matter what they are going through and someone out there is thinking about them.
YANA was founded by Wayne Grover in March 2010, and set out on a mission to extend human compassion to everyone and let him or her know they are not alone. Wayne has struggled with his own hardships in life including cancer, divorce, and depression and what got him through it at the end of the day was knowing that he was not alone and knowing that people out there cared about him.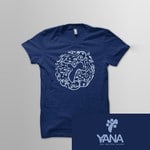 Wayne posted a project on crowdSPRING looking for YANA t-shirt designs and loved them so much he awarded an extra creative, going from five to six winners! These t-shirts will be up for sale soon and you can follow YANA at their website, Facebook, or Twitter.
I had a chance to ask Wayne some questions about starting a new organization and this is what he has to share…
1.  How did you get things designed before crowdSPRING?
Since YANA is a start-up, we never needed design work prior to our first project with crowdSPRING.  We considered agencies, specialized firms, and even my own doodling for our corporate logo but ultimately we went with crowdSPRING.  Since our experience with the corporate logo project was so successful, we have since submitted and completed a clothing (T-shirt design) project and will be using crowdSPRING for many future needs.
2.  Why in the world did you decide to use crowdSPRING?!
We considered hiring an agency but we identified some weaknesses by going that route.  Namely, creativity is limited within the agency by the number of employees or designers they have.  This doesn't mean they aren't talented, but why limit yourself to the creativity of three or four people when you can tap into 60,000 plus designers around the globe on crowdSPRING.  Also, as a start-up we must conserve our cash and spend wisely. From a cost comparison analysis, you can't compete with crowdSPRING.
3.  What's the single best small biz resource that you've found (magazine, website, blog, etc.)?

There are so many resources out there that are fantastic, but I have to name two.  The first is the Rhode Island Economic Development Corporation.  Their knowledge, resources and support have been invaluable.  Just about every state has a similar organization and I would encourage all small business start-ups and owners to seek them out.
The second, and this sounds gratuitous, is crowdSPRING.  Seriously crowdSPRING is an incredible resource and I can't say enough positive things about your company.  Cost-savings, huge talent pool, timeliness, ease of use…who doesn't want these things when operating a business!
4.  If your best friend told you they were going to start a business, what's the ONE piece of advice you'd give them?

Mentally prepare for the toughest journey of your career, never give up and have fun!