Small Business Spotlight of the Week: Norman's Rare Guitars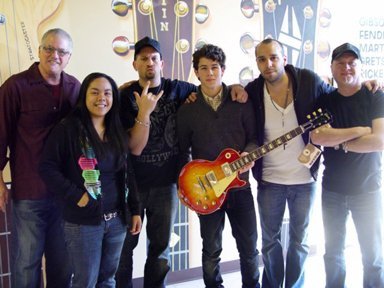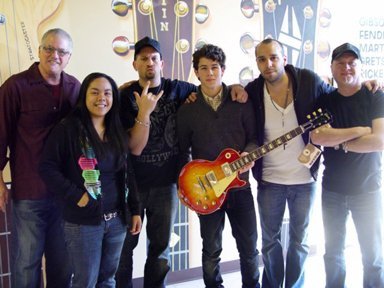 Ever wonder where the pros get their guitars? I'll give you a hint it's in California and they have a project on our site…
Give up? Ok, it's a little store called Norman's Rare Guitars and they have been providing vintage guitars since 1975. They are looking for a new website design to accompany their ever growing inventory… I think we can help with that!
On any given day you can walk into Norman's and see artists from Dave Grohl from the Foo Fighters to Robert Pattinson from the Twilight series; if that doesn't make you scream I don't know what will. Their store is jam-packed with vintage guitars from wall to wall and, aside from offering an incomparable selection, Norman's offers trade-ins, repairs, appraisals, lessons, and even workshops from award-winning artists.
I got a chance to talk to Sarah Harris, the buyer on this amazing project, and ask her a few questions about the store and what it's like to build an empire such as this one. Listen up!
1.  How did you get things designed before crowdSPRING?
Before crowdSPRING the designer we worked with on our original site handled our graphic design work. To be honest, we were looking at crowdSPRING and a few of their competitors such as 99designs, HatchWise, and DesignContest but crowdSPRING really stuck out, and it was pretty much a no-brainer to move forward with them.
2.  Why in the world did you decide to use crowdSPRING?!
We decided to use crowdSPRING for a multitude of reasons. First of all, you (the business owner) have the cream of the crop in the design world submitting to your contest. If you're working with one designer or one design team, you're pretty much confined to that isolated vision. With crowdSPRING, you get to see so many interpretations from talented artists across the globe. You also get the piece of mind that if you aren't 100% satisfied with the work, you don't have to move forward. With all of the great entries, I don't see how that could be a possibility but it's still nice to know that if you don't get the results you're looking for, you're not stuck.
3.  What's the single best small biz resource that you've found (magazine, website, blog, etc.)?
The best small business resource for us has been the internet. We use sites like YouTube, Facebook, and Twitter to reach a global audience. There are celebrities, high profile musicians, and bands like Tom Petty, Bob Dylan, Incubus, Robert Pattinson, and Dave Grohl that walk into our store on a daily basis. We have a lot of fans on social networking sites and they get a chance to see the caliber of players that walk into our store. The great thing about this small business resource is that these sites are free! Innovative sites like crowdSPRING also make our lives easier by taking the guesswork out of everything. Rather than having to get recommendations, scour the internet, and hire someone that MIGHT do a good job, we know that we can sign up on a site like crowdSPRING and get high quality work done with minimal effort on our part.
4.  If your best friend told you they were going to start a business, what's the ONE piece of advice you'd give them?
I would tell my best friend to either get web savvy or hire someone web savvy because a large majority of businesses are expanding their online presence. In order to survive in this landscape you have to get with the times. We are fortunate enough to have a lot of walk in traffic at our brick and mortar location in Tarzana, California but we have seen growth in our online business so we are trying to build on that as well.
5. Who is everyone's favorite celebrity that comes into the store and why?
Like I mentioned above, we have such a high profile clientele it would be hard to pick a favorite. When we first started out, George Harrison and Eric Clapton were definitely favorites. Recently, Robert Pattinson came in on several occasions and that brought some huge publicity. E! Entertainment came in and did a big segment on our store, KROQ was talking about us, and we were featured on huge celebrity gossip sites like Perez Hilton. Because of Pattinson's tremendous fame with the Twilight series, we have little girls calling our store and watching our Facebook and Twitter pages like hawks. Richie Sambora of Bon Jovi is a good friend of ours and he comes in the store regularly. Everyone really likes him because he is the sweetest and most down to earth guy. He will sit around and jam with our customers and he loves to hang out and talk shop with other musicians.