Why A Good Logo Is Essential To Your Business
We've all heard the advice: invest in your logo. And while it may seem obvious to most experienced marketers why it's important to invest in a well-designed logo and a strong brand identity, many entrepreneurs and small business owners don't understand why logos are so important.
When running through a checklist of things to do when starting a business, entrepreneurs will often focus on certain tasks, like writing a business plan and rush through other tasks.
Branding often takes a backseat, but this is a huge mistake.
A logo is a design, icon, or mark that identifies your company in the simplest of terms.
Your brand identity is more than just your company's name and logo. But a logo is an important part of a company's identity. Your company's logo is the visual cornerstone of the brand.
Some business owners worry that the cost of logo design can be prohibitively high. Many design companies and agencies indeed charge thousands to tens of thousands of dollars for their services. But this isn't universally true (crowdspring's custom logo design projects start at just $299, including all fees).
Before we look at the important elements you'll want to have in your company's logo, let's look at how a company logo helps your company stand out in a crowded marketplace.
1. A good logo helps customers to identify your company
The most important job of a logo is to help customers and customer prospects to identify your company.
That's why the best logos are simple and memorable.
Just think about how many logos you can recognize in your everyday life! Those logos serve as a reminder that Nike was the brand that made your shoes or that Apple is the reason why you're reading this on a Macbook.
And if you see a person across the street drinking a coffee out of a cup with a green logo on the wrapper, you'll most likely assume it's a Starbucks coffee even if you can't clearly see the logo.
Strong logos are memorable. For example, we love this logo for First Five Affair, a fundraising event supporting Georgia's children. The connection to the event name makes it even easier to identify, and the arrow going up mimics a financial graph.
2. A good logo helps to draw attention to your company
Another important job of a logo is to draw attention to your company and its products and/or services. Logos don't only identify what your company does or stands for, but they also catch people's eyes.
People remember great logos!
Again, it's all about association. If people associate a specific symbol or font with your brand, then they will instantly recognize it wherever they are.
The very best logos are paired with strong brands so that they can stand alone by themselves. It's pretty difficult to forget things like the McDonald's "M" or the Nike "Swoosh."
Want a free brand review?
Answer 5 short questions and we will send a custom report with actionable insights and specific actions you can take to build a stronger brand.

We just emailed the info to you.
But we especially love this logo for The Bak Barn.
The Back Barn logo is easily recognizable for several reasons. The clever, back-to-back letter B makes a cow and also stands for the company's initials.
3. A good logo helps to differentiate your company from competitors
A logo, assuming you're not using generic templates, can only be associated with your business.
It doesn't matter if a different company is similar to yours; what matters is that your logos are different.
As a result, you have an opportunity to make a unique first impression.
Often, a logo is one of the first defense barriers against competition. Besides your business name, it's the first difference customers, and prospects will notice. That's why it's important to avoid generic and cliche logos.
We love this logo for Yetito, a Filipino bubble tea/coffee shop. Instead of a typical cup or mug logo, this company chose to go with a fun mascot design, which would be hard to associate with any other bubble tea cafe.
We've discussed why logos are important to a company's brand. But what important elements should you look for in a logo?
Logos have several important elements that help them make businesses identifiable, recognizable, and different.
And while there is no magic recipe for the perfect logo, many logos use a mix of imagery, symbolism, typography, and colors.
Imagery and Symbolism
The most common elements in a logo are images and symbols.
Whether it's a character like the Yeti in Yetito's logo or the glyph symbol in Google Chrome's logo, images and symbols are a powerful way to get your message across visually.
This means that logos can be abstract, literal, or anything in between. The best part about these logo elements is that they can be in any style that makes sense for the company.
Some logos are geometric, and some are softer.
Some use lines, dots, and swishes to decorate the logo typography, while some stand alone. Imagery and symbolism provide lots of creative freedom in logo design, as you can see in this winning logo design from a crowdspring logo design project for Bither Braun Studios.
Typography
Good logos are not just about creative illustrations and drawings. Many companies use typography in their logos either instead of or in addition to images and symbols.
WHICH LOGO IS BEST?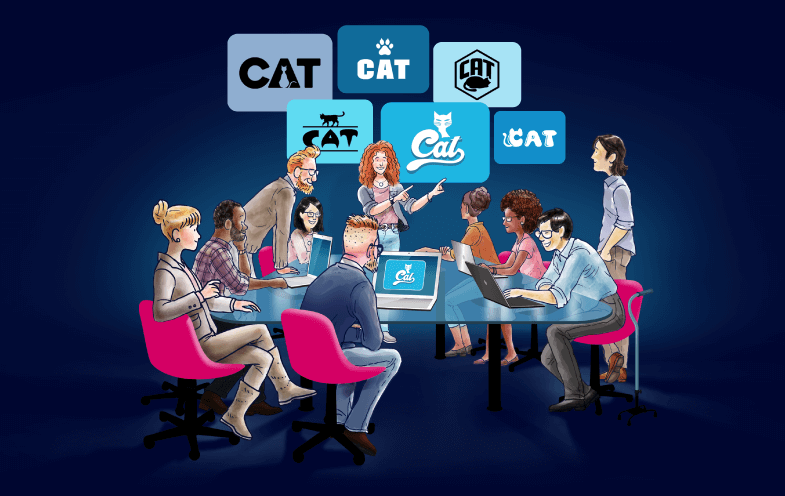 When incorporating words or phrases, logos often play with the font, style, size, and even letter spacing.
Some logos include the company's full name, while some include an initial.
Some don't include any letters or words at all but traditionally use a specific text style for those elements.
Either way, typography is essential to making the words behind your company synergize with the other graphic elements of the logo. You can see a good example of this in one of the proposed logo designs in Blue Ladder Studio's logo design project on crowdspring.
Color
The final important element of a logo is color. Color is important in imagery, symbolism, and typography and is often the detail that customers will remember the best. Studies show that color increases logo recognition up to 80%, and logos can include as many or as few different colors as a company wants. In fact, there's a psychology of color – color has a strong and often subconscious effect on people's behavior.
We love this logo design in the Let It Beet fast-casual restaurant logo design project on crowdspring.
Logos can be cute, stylish, graphic, or shocking. The best logos combine different elements in a way that makes sense for that specific company.
Logos connect what you do and who you are with how people can best remember you. And though they can't solely speak for your company, they are often the first thing that will make people listen.
Invest in your brand today to be more successful tomorrow.