Small Business Marketing Tip: Send Email Campaigns At Night To Increase Revenue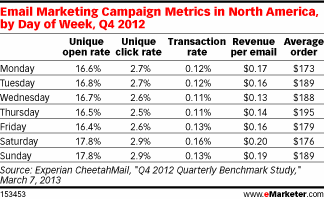 A few months ago, we highlighted the best times and days to send email for opens and clickthroughs. A new study from Experian offers a different perspective on the best days and times to send email.
According to Experian, Saturday and Sunday had higher open, click and transaction rates than other days of the week. Not surprisingly – since most businesses are closed on the weekend – fewer emails were sent on Saturday and Sunday.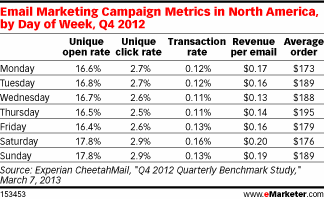 Contrary to what most others have reported (that the best times to send email are typically in the morning), Experian's analysis suggests that emails sent late in the evening – between 8 pm and 12 am, generated higher open and clickthrough rates, more transactions, larger orders, and more revenue per email.
It's becoming more apparent that smartphones, tablets and other portable devices are increasingly being used to read email – that  helps explain why the open, clickthrough and transactional rates for emails sent later in the evening/at night are materially better than emails sent during other times of day.
If you've tried sending email campaigns at various times of days and are still struggling to find an optimal time for your email campaigns, consider sending your campaigns late in the evening or at night.
You can download a copy of the study directly from Experian if you want to take a closer look.
Want a free brand review?
Answer 5 short questions and we will send a custom report with actionable insights and specific actions you can take to build a stronger brand.

We just emailed the info to you.