How Customer Service Impacts The Success Of Your Business
What your customers and potential customers say publicly about your company's products and services matters greatly.
In a few minutes, we'll give you three good tips on improving your customers' experience when they deal with your customer service team. But first, let's take a quick look at why you should invest in customer service.
According to a survey conducted by Dimensional Research and Zendesk, 90 percent of respondents said that positive online reviews influenced their buying decisions and a nearly identical number – 86 percent – said that their buying decisions were influenced by negative online reviews.
Facebook was the leading source of positive reviews (see graph below). Online review sites were the most common source of negative reviews, but they are also a good source of positive reviews.
Does your company show customer reviews on your site? Have customers reviewed your company on other sites?
For example, we show crowdSPRING reviews from customers on our own site, but we're also very proud of the reviews crowdSPRING has received from customers on the independent reviews site, ResellerRatings.
Here's why you should care about delivering great customer service: customer service ranks as the top factor influencing how much a customer trusts a company. When you're nice to your customers – they're nice to you.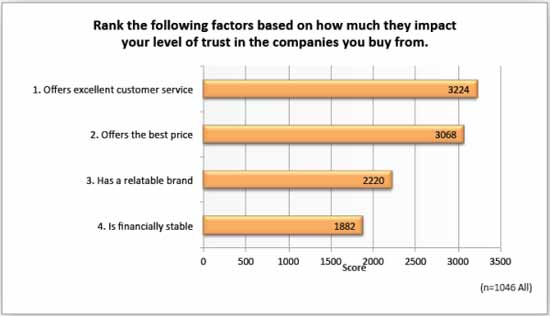 Here are three things you can do to leave your customers with more positive impressions.
1. One customer service agent should "own" the conversation. 
People are often very frustrated when passed from one customer service agent to another. Very quickly, they conclude that nobody will help them. They also become frustrated when explaining the problem to each new customer service agent. For example, 72% of survey respondents blamed their bad customer service experience on having to explain their problems to multiple people.
It's always best, when possible, to have one agent "own" the conversation with the customer.  If you run a multi-channel customer support system, integrate your email or chat support with your business phone system so that the agent the customer contacted during the first interaction becomes their point of contact throughout the resolution process. Involve other people if necessary, but allow the lead person to always communicate with the customer.
2. Set expectations at the start.
Customers get very frustrated when their problem takes too long to resolve. In most cases, the frustration stems from confusion and expecting the problem to be resolved quickly. If you know that a particular problem is difficult and cannot be quickly resolved, let the customer know it will take a few days to resolve the problem and that you will update them along the way. And do everything you can to provide a temporary solution for the customer.
We ask our team to update customers daily to let them know about progress on a specific issue (whenever we cannot fix the issue right away).
3. Resolve problems quickly.
69% of survey respondents attributed their good customer service experience to quickly resolving their problem.
Obviously, you must understand your customer service data to be able to assess how quickly you're answering your customers. Here's a good place to start: Small Business and Startups: Slice & Dice Your Customer Service Data.
Do you have other tips on what business owners can do to leave customers with more positive impressions when dealing with customer service teams?