Five Branding Mistakes That Could Put Your Small Business Out of Business
You've invested in a beautiful logo.
You have a terrific tagline.
You have great business cards and stationery.
Your brand is ready, right?
Almost.
There are still a lot of places where even the best branding plans can go awry. As we wrote previously,
If your branding is confusing, inconsistent, generic, or otherwise sub-par, you can easily undermine your business's credibility and ruin your chance for success.
We looked at five common small business branding mistakes to help you avoid the fate of so many business owners whose businesses imploded because of poor or inconsistent branding.
Not delivering your brand consistently
If there's one word that might encapsulate the habits of successful brands, it is arguably consistency.
Behind any identity, from Coca-Cola's huge presence to smaller but equally memorable brands like Dollar Shave Club, is a clear and consistent delivery. The critical part is that this can't just be online, or in print: it needs to be evenly applied across anywhere your company interacts with your customers.
Dollar Shave Club earned attention with their funny, viral videos (and inexpensive, well-made products). Here's a good example:
Keeping a consistent voice gets especially tricky on social networks. Social networks constrain brands in many different ways.
It can be challenging to communicate your brand when you're limited to a single large header image, but this is a perfect example of why good branding is more than just visual.
You have to adapt to the constraints of each network and find a way to represent your brand faithfully.
WHICH LOGO IS BEST?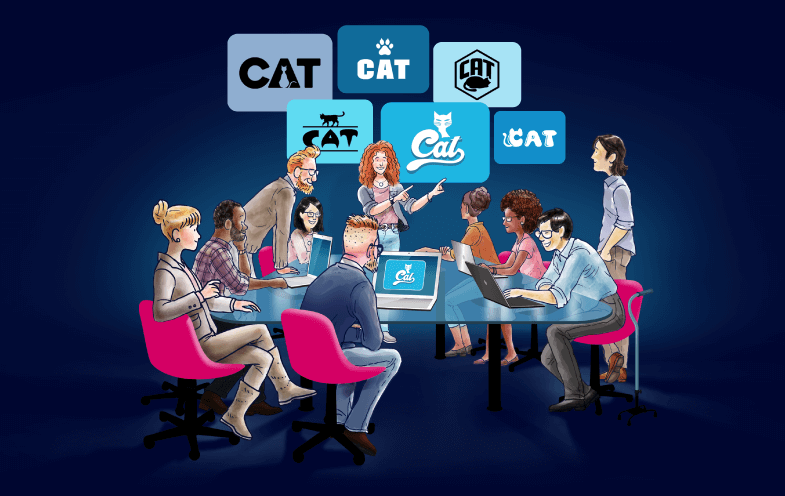 Companies like Coca-Cola understand that creating a compelling brand on social media means presenting themselves through visuals as well as voice.
A recent post on the company's Twitter account proclaims, "Must 🌮 Eat 🌮 Taco 🌮 Must. Have. Ice-Cold. Coca-Cola." Pair this with a short but compelling video of tacos and you have a recipe for a practical (and delicious) branding moment.
Must 🌮 Eat 🌮 Taco 🌮 Must. Have. Ice-Cold. Coca-Cola.  #NationalTacoDay #ServeWithACoke pic.twitter.com/IOgyF9E1s3

— Coca-Cola (@CocaCola) October 4, 2017
And now I want to eat tacos. See? It worked.
Presentation design by crowdspring creative nila
Neglecting every branding opportunity
Most companies have the basics of good branding down: a distinct, audience-tested logo; a memorable tagline; a strong social media presence. But there are still many places you can extend your brand.
When you give Powerpoint or Keynote presentations, how do the slides reflect your brand?
Many companies neglect to update their presentation templates or don't create templates at all. You end up with is a hodgepodge of slide designs and presentation designs that can seem inconsistent at best, or unprofessional at worst.
Take the time to create company-wide presentation templates and make sure they are used consistently and kept up to date as your brand evolves.
Another small but meaningful place that companies often neglect is their employee's email signatures. We're not suggesting you use massive, rich-media email signatures with embedded images and fancy typography (because those are, frankly, pretty annoying).
Including a short, concise message (such as your tagline!), however, is a great way to use a space that would normally be forgotten.
Cheating on your branding guidelines
It's one thing to make sure the brand you create is uniquely yours, and cannot be misrepresented or misinterpreted by others. The best brands strive to build awareness, engender trust, and foster lifelong loyalty with customers.
It's another thing to make sure your branding strategy is consistently applied internally as well.
Whether this happens intentionally (when an internal team takes matters into their own hands and deviates from the brand on purpose) or through carelessness or lax brand policing, the results are similar. Many companies shoot themselves in the foot if employees do not follow established brand guidelines.
Build a brand or style guide to ensure that everyone responsible for putting your brand out to the public knows how to put your brand in the public sphere.
Keep guidelines as specific as possible, and keep them documented and accessible to all of your staff.
It's important not to forget brand personality when representing yourself to consumers in any format. Everyone in your company should understand how to communicate your brand and know why straying from it should be carefully considered.
The voice you use in your marketing messages is important
Sometimes people find it easier to wing it or use whatever they have at hand instead of finding the correct brand elements.
Make your brand guidelines easy to find and implement internally to avoid the temptation for people to cut corners.
You worked hard to create your brand. Give your employees the tools they need so they don't inadvertently go off-brand, and create internal checks so that you know your brand is applied correctly by all.
Not evolving your brand
To paraphrase the Rolling Stones, "time waits for no brand." Just as consumer tastes and trends change over time, so should your brand.
Keep in mind, however, that your brand is not just expressed visually, as we established earlier.
Some companies (like Target, Nike, or BMW) have kept their logo consistent for decades but also keep their brands in step with the times. For Target, this hasn't meant a visual refresh (see below for how Target's logo has changed over the years); it's meant changes like updating the brands they carried, the layout of their stores, and the uniforms worn by staff.
Of course, we're not talking about change for change's sake.
A brand is a living document of not only what your company represents it also acts as a vital connection between your customers and your business.
Listen to what your customers say on social media. Don't be afraid to involve them in the discussion.
As your customers change, so should your brand.
If you rebrand, do it right
Rebranding can be a great way to refresh your brand by incorporating modern aesthetics into your existing company's identity.
It's important not to let your brand stagnate, and sometimes, a visual overhaul can help inspire consumer loyalty in existing and new markets.
However, if you introduce these changes poorly, you risk isolating your potential customer base and offending your existing one.
When making changes to established brand identity, you need to be certain any changes made have benefits that significantly outweigh the risks of potentially losing business.
If you decide to make changes, clearly educate people about the changes you're making. According to Matthew Kinsman, CEO at BaseCreate,
Customers who are already loyal to the brand deserve to be informed about the upcoming changes. It is essential to assure current customers that the new brand is a positive transformation and will not affect the service and commitment that the business has demonstrated thus far.
When introducing your rebrand, make sure that your business' blog, email blasts, and social media all act as helpful, informative communications for your customers.
Make sure you are conveying your rebranding efforts clearly so that your customers don't end up confused or otherwise estranged from the brand they know.
Make sure your audience is informed to prevent your rebranding efforts from causing frustration.

Remember those "The More You Know" broadcasts? They were on to something. The more your customers know about your marketing changes, the more amenable they'll be to them.
Here's the breakdown of some branding mistakes that small businesses make:
Consistency in branding isn't important just for print, web, or other so-called "traditional" platforms. Make sure your brand voice is consistent anywhere your customers interact with your business.
Take advantage of every branding opportunity. Create consistent, on-brand presentation templates and use them across your organization. Incorporate your tagline or a related brand message at the end of all outgoing company emails.
Give your employees easy-to-use tools and resources, and they won't feel tempted to cheat on your branding guidelines. Create internal checks to make sure outgoing work is on-brand and consistent.
Don't let your brand get stale. Listen to your customers and keep your brand relevant and timely.
Introduce branding changes and rebrands methodically. Keep your customers informed when changes launch.