5 Important Lessons Your Small Business Should Learn From Successful Brands
When it comes to brand recognition, companies like Kleenex and Coca-Cola have cracked the code. With millions of Americans calling their tissues "Kleenex" and their sodas "Cokes," these brand names and their brand identities have become synonymous with the products they sell.
Strong brand recognition is the key to building loyal customer relationships. Every entrepreneur, from the moment they start a business, should aspire to create strong brand recognition. After all, loyal customers lead to reliable, consistent revenue.
But what is brand recognition?
Tech Target defines brand recognition as:
…[the] extent to which a consumer can correctly identify a particular product or service just by viewing the product or service's logo, tag line, packaging or advertising campaign.
And it's a precious commodity. As Ryan Erskine of BrandYourself  points out:
If I don't know you, you've automatically lost my business. How can I buy your products, invest in your company or fund your next venture if I don't know who you are? I guarantee it won't happen.
Every company can't realistically expect to become the next mega-brand. But every company should do everything within its power to improve its branding and brand recognition. And what better way to start than by studying the masters?
Want a free brand review?
Answer 5 short questions and we will send a custom report with actionable insights and specific actions you can take to build a stronger brand.

We just emailed the info to you.
We've looked at five mega-brands – Kleenex, Hoover, Jacuzzi, Band-Aid, and Coca-Cola – and gathered actionable tips from their successful marketing strategies that you can use in your business. Let's take a look.
Kleenex: Create your own niche
One of the most compelling business strategies is to solve a real problem or fill a genuine need.
And, if you can manage to do it first? Well, then you're pretty much golden. Kleenex seized its spot in history by finding and ruling its unique niche.
Today tissues are a staple of the American shopping list.
In the wake of the First World War, that was not the case. The Kleenex Brand Story explains that the modern tissue evolved from a unique tissue paper used in gas masks developed by parent company Kimberly Clarke. After the war, they had leftover tissue, but the demand for gas masks sharply declined with the fighting over.
So, Kimberly Clarke sought out new uses for their technology. This lead to Kleenex – the brand and the facial tissue.
Kleenex's first incarnation was as a disposable cleaning wipe (hence, "Kleenex").
At first, we thought of Kleenex® as a disposable cleansing tissue, to help women with the growing use of make up: the tissues could be a clean, convenient replacement for the ugly 'cold cream towel' that hung in many bathrooms.

So in 1924, we began selling Kleenex® in the USA as a cold cream or makeup remover, and in 1925 we launched in the UK.
Kleenex sold well as facial cleaning cloths. But, business really took off when they found Kleenex' true calling – a disposable handkerchief. Sales doubled in their first year of marketing their product in this fashion. Kleenex had found its niche.
Your lesson from Kleenex: 
Give your brand a unique identity by filling a unique niche. Ask yourself what specific problem your product or service solves – that's your niche. Then build your marketing strategy around that position.
Hoover: Be everywhere your customers are
The vacuum legend Hoover traces its humble beginnings to a tanning mill in Canton, Ohio. Today, its brand and its vacuums are known around the globe.
In the U.S., the name "Hoover" is linked with vacuum cleaners. In Great Britain, vacuum cleaners are commonly referred to as "hoovers," and the act of using a vacuum cleaner is called "hoovering."
So how did Hoover achieve this level of mass appeal and brand familiarity?
They made sure they were everywhere their customers were. Encyclopedia.com's history of the Hoover Company shares:
Mr. Hoover began marketing the sweeper in stores throughout the country. His strategy relied on a small magazine ad, which ran in the Saturday Evening Post, offering a free ten-day trial period to those who wrote and requested it. Customers would then be directed to a nearby store that had agreed to stock the Hoover sweeper for the duration of the ad…. This strategy proved remarkably effective, and the company eventually established a chain of 5,000 reputable dealers from coast to coast. Mr. Hoover's early success relied on door-to-door salesmen who represented each local store… Hoover also stationed salesmen in dealer showrooms to give free product demonstrations.
Hoover sweepers (soon to be called vacuums) were everywhere. They were in your news. They were in your local store. They were on your doorstep.
This strategy works on multiple levels. First, it ensures that anyone who wants to purchase your product can get their hands on one. This is pretty important if you want to make sales.
Secondly, it takes advantage of the psychology principle of mere exposure, which "posits that the more people see something, the more they will like it." By offering several brand interactions (print, retail, and home visits), Hoover increased the likelihood that his brand would become familiar and, as a result, more likable.
If you'd like to learn more about mere exposure and other psychological principles that can amp up your business marketing, check out 7 Marketing Psychology Tips to Improve Your Business Marketing.
Your lesson from Hoover:
Build recognition by positioning your brand everywhere your customers are. Don't just copy Hoover's strategy verbatim. Door-to-door sales visits may not be the best way to reach your audience. Start by really getting to know your customers. Do some research to determine where they will be – online, in print and in stores. Then build familiarity by marketing your brand in as many of those places as possible.
WHICH LOGO IS BEST?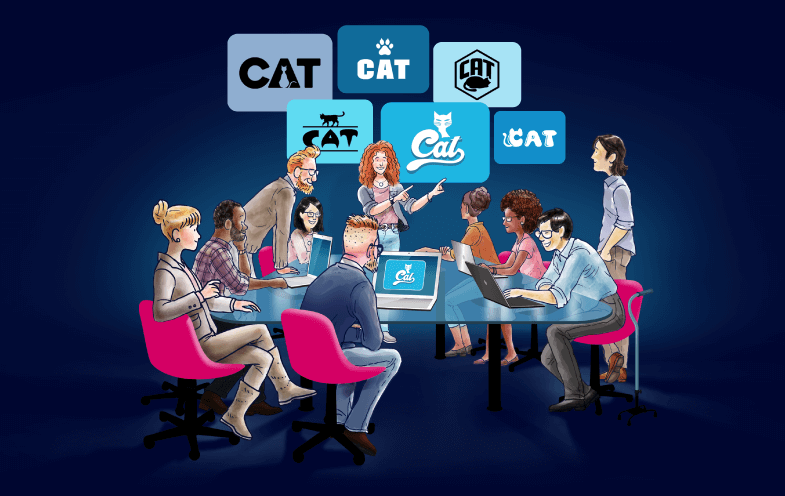 Jacuzzi: Find your platform
A Jacuzzi is a whirlpool hot tub. It's also the name of the family that invented the whirlpool hot tub. But, the name "Jacuzzi" didn't always conjure images of scantily clad folks neck-deep in watery bliss.
The Jacuzzi began its life as a medical device. The original Jacuzzi was a hydrotherapy pump designed by Candido Jacuzzi to help soothe his son Ken's arthritis.
So, how did the not-very-sexy first incarnation of the Jacuzzi make a splash? The company found its platform.
With the help of an L.A. based freelance sportswriter Ray Schwartz, the Jacuzzis got their product on Queen for a Day, a daytime TV show broadcast from 1956 to 1964… The concept was simple: host Jack Bailey would ask the female contestants about their hard luck story and then, using an applause meter, rule on the most heart-breaking. The winning contestant was named "Queen for a Day" and given a variety of prizes, depending on their specific plight. "Every time a queen had a story that had some medical-related aspect to it, one of the prizes was a jacuzzi," said Ken. "The name 'Jacuzzi' became known overnight."
If Jacuzzi, Inc hadn't found their platform on Queen for a Day, the name "Jacuzzi" might have been a mere footnote in history. Competitor General Electric may have developed their own hydro pump and eclipsed the fledgling company.
But, Jacuzzi found its platform, and that platform ensured that the Jacuzzi brand became synonymous with bubbles and happiness.
Your lesson from Jacuzzi:
Find the best platform to reach your customer. Are your customers print readers or online readers? Do they get their info from tv ads as they sit on their couch or from billboards as they travel the country in an RV?
Take the time to learn about your customers and where they get their news. Don't just target social media. Target the social media platforms your customers frequent. Find where your audience is most receptive to marketing contacts. That's your platform.
Band-Aid: Let your customer guide you
A few months ago I was visiting friends. Those friends have a delightful daughter we'll call "K." K had a bruise on her leg. So she asked her mom for a Band-Aid.
K didn't technically need a Band-Aid. There was no break in her skin. She just thought it would make her feel better, she explained.
"Band-Aid" is not just a proprietary eponym for adhesive bandages. It's synonymous with comfort. K gets it.
But how did Band-Aid do it? How did the Band-Aid brand become so pervasive that it came to represent something larger than the product itself?
They let their customers' needs guide them. According to this case study of the Band-Aid brand:
The brand came into existence in 1920. The person behind this innovation was Ms. Josphene Dickson, a homemaker and wife of Mr. Eric Dickson who was cotton buyer at Johnson & Johnson. Josphene during her daily chores inevitably encounters numerous minor cuts and bruises, wanted an easy solution to cover the cuts to prevent it from worsening while continuing her work.
The Band-Aid brand owes its entire existence to the fact that Eric Dickson listened to his wife's needs – Band-Aid's first customer.
When Band-Aid chose to expand into the Indian market in 1978, the company faced an uphill battle. Indian medicine traditionally recommended treating wounds with iodine and leaving them open to the air. But, Band-Aid listened to their customers and adapted to their needs.
Band-Aid incorporated red medication into their bandages to imitate the color of iodine. Mothers were comforted by the familiarity, and children loved that Band-Aids were less painful than iodine. Band-Aid later created a variant with the popular Indian herb turmeric.
The spirit of adapting to the needs of their customers has served Band-Aid well.
Follow their lead, and you'll be well on your way to developing strong brand recognition and loyalty, too.
Your lesson from Band-Aid:
Pay attention to your customer's needs and meet those needs. It's not enough to create a cool product or service. Keep your customer's needs first and foremost in your mind as you design your products and services. And as your business grows, check back in with your customers. Let their needs guide you – the customer should always be your company's true north.
Coca Cola: keep it consistent
Coca-Cola is a brand that almost needs no introduction. It's one of the top three food and beverage companies in the world.
In fact, the brand is so ubiquitous that soda of any kind can be called a "coke" in many regions of the southern United States.
Without question, Coca-Cola owes much of its success to the consistency of its branding. North Star Marketing muses,
From the name to the logo, from the product to the messaging, everyone knows Coca-Cola. It has been said that "Coca-Cola" is one of the most widely recognized terms worldwide, eclipsed only by the word "okay."

Interestingly, their logo has remained largely unchanged since the 1900s. The script font and classic red are recognizable all over the world, even when displayed in different languages. Even with a massive ad budget, the sheer scale of this branding phenomenon would be unsustainable without an unwavering commitment to consistency.
Consistent branding is necessary if you want to achieve strong brand recognition. As we wrote previously:
Customers can't get to know (and trust) your business if they don't have the opportunity to experience your brand in a consistent manner.
One of the best ways to do this is with a strong, timeless logo. Coke realized this valuable lesson early, and they're still reaping the benefits. While other brands regularly rebrand their identities, Coca-Cola's logo has barely changed since it was founded in 1892.
Your lesson from Coke:
Give your customers the time and opportunity to get to know your brand. Brand recognition – at its core – depends upon consistency. Repeated exposure creates familiarity and trust.
In other words, plan for the long game.
Widespread brand recognition doesn't usually happen overnight. So, make branding choices that will stand the test of time and then stick with them.
It's always inspiring to spend time in the company of giants. It's even more rewarding when you can walk away from the experience a little wiser. I hope you're walking away from this article with a few ideas about how you can improve your brand's recognition. Let's review:
Give your brand a unique identity by creating or filling a unique niche.
Build recognition by positioning your brand everywhere your customers are.
Find the best platform to reach your customer.
Pay attention to your customer's needs and meet them.
Give your customers the time and opportunity to get to know your brand.
Follow in the footsteps of these marketing giants and watch your brand recognition grow.