3 Big Challenges Of Remote Work and How To Overcome Them
Remote work is no longer the work of the future. It's the "here and now" of businesses all over the world.
And, it's become clear that while many business owners and companies were skeptical of remote work at first, it's undoubtedly here to stay.
But, whether your business is an experienced remote team or new to the game, remote work always poses unique challenges.
We've had a distributed team at crowdspring for over a decade. Over that time, we've gained many insights about overcoming the unique challenges of working across time zones and across continents.
Here are three of the most common challenges managers and companies face when managing remote teams and ways you can overcome those challenges.
1. Remote work can lead to poor team communication
Communication is key in any workplace.
This is especially true when most interactions occur via e-mail, video chat, or other communication tools.
With the lack of face-to-face interaction, miscommunication can become a recurring issue.
So, don't let communication become an issue for your remote team.
Here's how you can avoid poor team communication:
Hire the right team
Strong communication in remote teams starts with the right people.
The great news is that you can attract these people with the promise of remote employment.
Employees are looking for flexible work arrangements. In fact, a Gallup study found that more than 50% of employees would leave their current job for one that offered flexible work hours, and 37% would leave for a job that offered remote work at least part-time.
It's smart to use this motivation as leverage in recruiting the right team.
After all, hiring remotely gives you the opportunity to find the best people anywhere.
This is important. As we point out in our comprehensive guide on starting a business,
Hire an employee who is an expert in areas your business lacks expertise. Build a strong, well-rounded team to create a stable foundation for your business.
It's much easier to find real experts who will make your team stronger when you look beyond your small geographic area.
Use the interview process to put each prospective employee's communication chops to the test.
Keep in mind that it can be difficult to determine the communication prowess of a prospect in a single interview. Therefore, consider a hiring process that requires several remote or in-person meetings.
Here at crowdspring, we start by focusing on each candidate's ability to communicate effectively in writing. If a candidate doesn't impress us with their writing skills, we move on. Over the years, we've found that strong writing is an important factor for remote employees to succeed.
Want a free brand review?
Answer 5 short questions and we will send a custom report with actionable insights and specific actions you can take to build a stronger brand.

We just emailed the info to you.
Establish clear communication guidelines
Even a strong team can create friction if you don't establish clear guidelines on how the team should communicate and collaborate.
Your team must know (and live by) your communication best practices in order for your business to run efficiently.
And, someone needs to establish what these best practices are. Use these questions to flesh them out…
When is it appropriate to use chat/video meetings/project management platform/email/phone?
Are there guidelines for how each of the available communication channels should be used?
How frequently should teammates communicate about shared projects?
Are there any emergency situations that require reaching out to a coworker? If so, who should they contact and what channel should they use?
Provide written guidelines outlining your communication expectations. And be direct – employees should know how to communicate effectively for all of their assigned tasks.
Build a supportive and inclusive company culture
Consider the culture you're building. What is the overall personality and atmosphere of working at your business?
And importantly, if you have a hybrid team where some people work in the office and others are remote, are you building an inclusive culture that makes it easy for everyone to collaborate, regardless of where they work?
It's much easier to support remote teams when everyone is remote. If you have a hybrid culture, it will take extra effort to smooth out the friction that remote work inevitably creates.
And, whether you like it or now, the trend is towards more remote work in the future, not less.
A recent report from Global Workplace Analytics reveals:
Regular telecommuting grew 115% in the past decade, nearly 10 times faster than the rest of the workforce.
Forty percent more U.S. employers offered flexible workplace options than they did in 2010. Still, only 7% make it available to most of their employees.
Employers can save over $11,000 per half-time telecommute per year. Across the existing work-at-home population, that potentially adds up to $44 billion in savings.
And, all of this was before the Covid-19 global pandemic. The pandemic is putting extra pressure on businesses and is contracting the economies of every country in the world.
Now, remote teams have gone from a wonderful employer/employee perk to a day-to-day necessity.
In fact, over two-thirds of surveyed companies are taking steps to enable their teams to work remotely.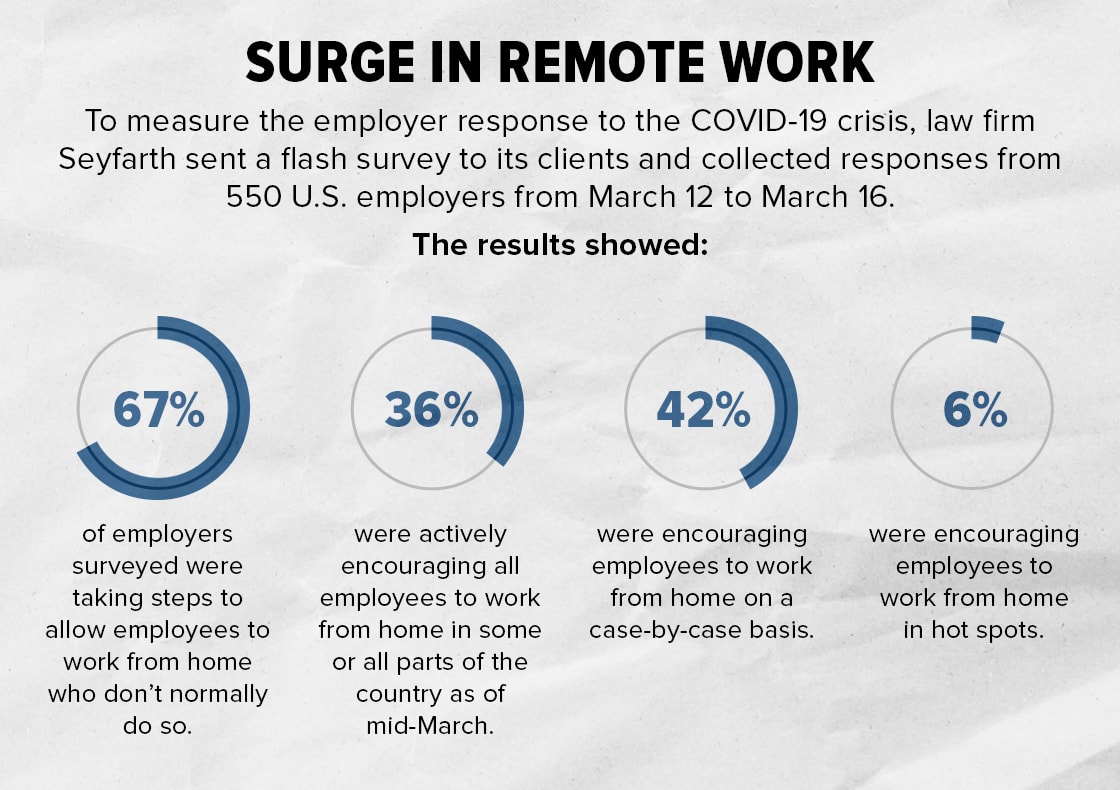 Companies that are struggling with remote teams or just introducing remote teams must be especially careful to build the proper foundation for remote work culture.
So, if you haven't given deliberate thought to your business's culture when you wrote your business plan and started your company, you need to do so now.
Creating a shared culture is part of the glue (along with a shared vision) that will hold your business together, motivate your employees, and guide their behavior in their various locations.
Each company has its own unique culture that should be refined over time. Your company's culture can strongly influence your company's brand identity and is an important component of creating a strong brand.
When supporting your team culture, consider the following:
Participation: Who is eligible for remote work within the organization? Is this a perk extended to all employees? Or is remote work reserved for specific roles?
Expectations: Setting expectations is key. For instance, if your team needs to check in before altering their usual work schedule or avoid interrupting co-workers when they're focused on a deadline, those expectations need to be set before they can be met.
Community: Remote teams miss out on social activities that happen in a typical workspace. It's important to create a community bond among team members, despite being geographically distributed. Dedicate a digital space to social occasions like celebrating birthdays or other special events. Conduct virtual bonding activities such as book clubs or games. And, when possible, plan to get your team together in person at least once per year.
Infrastructure: Create an infrastructure that supports your culture. Without the practical elements in place, you'll be fighting an uphill battle. For example, set shared business hours when all team members must be online for work (even if it's only 2-3 hours per day of overlap). This allows your employees to live the free-range life that is so attractive in remote work, while still ensuring productivity and consistent communication in business.
2. The wrong tools can make collaboration difficult
Having a remote team doesn't change the work that needs to be done.
It does, however, require that you change how the team will collaborate.
You'll need the proper tech tools to give your remote team the resources they need to succeed.
It's unlikely that you will find a one-tool-fits-all technology solution. So, as a business owner with remote teams, you should expect to invest in a variety of online business tools.
Determine what your needs are and research tech tools that will integrate nicely and compliment the systems and processes you already have in place.
Technology platforms and software are constantly evolving over time. So, it's a good idea to audit your technology tools at least once a year to ensure they're still the best fit for you.
Here are some of the most popular technology tools used by remote businesses to help you get started…
Communication Tools
Slack is a text-based instant chat tool that can serve as your everyday mode of conversation. You can chat directly with a single user, with specified teams or with your whole company. The platform organizes conversations into channels that team members can join and leave, as needed. These channels ensure that the right people have the information they need without bombarding everyone. Slack also supports voice calls. Our team at crowdspring uses Slack and we highly recommend it.
Zoom is a video conferencing tool designed for remote teams. You can set up your own Personal Meeting Room with a sharable personal link so your colleagues can always access your meetings easily. You can also simply start a stand-alone meeting and invite participants ahead of time or add them on the fly. Zoom offers free and reasonably-priced paid plans. Our team at crowdspring uses Zoom and we highly recommend it.
Basecamps claims itself as your company's "central source of truth." This web-based project management tool (with terrific mobile apps) manages to be excellent for both project management and organized communication. It can be used on any operating system and offers online chat, message boards, file sharing, and task management all in one convenient hub. We're huge fans of Basecamp (both the product and the company) and have used it at crowdspring since 2006.
Project Management Tools
Trello is a powerful, yet simple-to-use productivity organizer. This tool organizes "cards" into lists. These cards can be tasks, notes, projects, shared files, or anything else that helps your team work together. The cards can then be moved from list to list as they evolve through the lifecycle of the project. This gives you a quick, accurate, and ever-evolving picture of a project's progress. Our team at crowdspring uses Trello and we highly recommend it.
Asana is another online collaboration tool that enables team members to stay focused on daily tasks, goals, and projects to help the business grow. An easy-to-use dashboard interface makes task management and workflow management achievable with ease. Integrations with several commonly used business apps like Slack, Salesforce, Microsoft Office, Gmail, and more, make it an even more powerful resource for managing your productivity.
Monday is a virtual team-management tool. With Monday, managers can quickly add members, assign tasks, customize workflow, and track the progress of their work to completion. Monday also allows you to automate tasks and integrates with a huge number of other business apps to keep you connected to everything you care about – all in one place.
Productivity Tracking Tools
The Time Doctor is online budgeting, timesheet/payroll, project management, and remote time tracker. This multi-faceted tool tracks productivity and records the data. The resulting analytics can be used to monitor overall productivity. This platform is most useful for businesses with larger remote teams who require advanced data aggregation in order to assess performance.
Toggl is a time tracking app that requires employees to manually activate tracking in order to track their tasks in real-time. Designed to increase productivity, Toggl can help you compare profits against time spent on tasks. The drawback is that Toggl must be manually activated in order to track activity, or employees must manually enter time data, making Toggle just one more task that employees have to spend time managing.
When I Work is an employee scheduling app with time tracking capabilities. The app is great for businesses with multiple employees and tricky time coverage schedules. If you struggle balancing coverage and tracking who works when this app may be a good fit for your business.
File Management Tools
G Suite, Google's answer to Microsoft Office, is a collection of cloud-based software solutions – including the file management tool Google Drive. In addition to providing reliable file storage, G Suite also includes Google Docs (word processing), Google Sheets (spreadsheets), Gmail (email), Google Calendar, and more. G Suite is file management and file creation in one handy collection of integrated apps.
DropBox, a cloud file storage service, has long been a popular choice for file storage and sharing. It's especially helpful if your team works with larger file sizes or for remote teams who need access to files together in one place. Dropbox is an excellent choice for organizing files that your team will need to access.
Box is a cloud-based file and content sharing platform with an emphasis on data security. Users can invite others to view, edit, share, and collaborate on documents and files. Box also features a number of app integrations to make it easy to save your work from many sources in one convenient spot.
3. Lack of transparency puts a remote team at a massive disadvantage
One of the oldest arguments against remote work is, "How can I be sure they're actually working?!?"
But, this concern (troubling in its assumption that all employees are lazy or liars) doesn't actually hold water.
A 2-year study by Stanford found that when call center employees worked from home, there was a 13% increase in performance.
But, that's just the beginning.
The study further revealed that employee attrition decreased by 50 percent among those who worked remotely.
After all, once a person gets rid of a soul-crushing commute to the office, they become instantly happier.
The work-from-home team took less time off, shorter breaks, and fewer sick days than their in-office counterparts. And, on top of all that, the business benefitted from decreased rent on their new smaller office space.
And the success of existing, fully remote businesses (like crowdspring) serves as further real-world proof that remote teams can be forces to be reckoned with.
The challenge isn't so much to keep your remote employees working – it's to keep you in the loop about what they're working on so that you can see the big picture and strategize how best to focus their efforts to grow your business.
Here's how you can do this effectively:
Set proper expectations
Transparency is a two-way street.
In order to get the results you want from your employees, you must be clear about what those results should be ( and when you expect to see them).
So, the first step in assigning any task is to set proper expectations.
Be clear about project requirements and benchmarks employees must meet – both individually and as a team.
Once you've established expectations for your remote team, you'll be able to see if those expectations are being met (and troubleshoot issues if they arise).
Here are a few tips for setting clear expectations:
Assign tasks in writing. This forces you to be clear about what you want before assigning the work. And, it provides a resource to which both you and your employees can refer back.
Share team goals. This allows everyone to see how their individual actions contribute to the overall team effort.
Hold weekly 1-on-1's. Set up a recurring weekly meeting with each team member to set expectations, discuss progress, provide training, and address any other individual issues.
Automate accountability
Micromanaging gets in the way of productivity – but, you do want to know what's going on with projects so that you can make informed plans.
The solution is to create a self-supporting management system that bakes accountability checks right in.
Schedule recurring meetings, use automated updates and rely on a project management platform to create a self-sustaining network of communication that keeps you informed about exactly what your employees are getting accomplished.
Here's how to do it:
Group Meetings: Schedule weekly meetings with the entire team. Use these meetings to share status updates, source ideas, and discuss upcoming projects. Keep the meetings short, focused, and be sure to have a clear agenda for each meeting.
Use a project management tool. Choose one of the project management tools above to help you keep a high-level view of project progress.
End-of-Week Updates: Implement automated weekly check-ins. These check-ins should indicate the major tasks that were completed, any problems that arose, and priorities for the following week. We do this with all of our functional teams at crowdspring.
If you know what you're getting into and develop a strategy to overcome the challenges introduced when you let people work remotely, remote work can be incredibly rewarding and a win-win for employees and your company.