6 Unique Real Estate Logos That Can Help You Close The Sale
Real estate agencies and companies in the real estate industry typically focus on similar things: buying and selling real estate. But that's like saying that Microsoft and Apple sell the same thing (computers).
We know that there are many fundamental differences that make Apple products unique from Microsoft's. The same thing is true for real estate companies.
So why are so many of the logos used by businesses in the real estate industry generic and identical?
Do a quick Google search for "real estate logos" and you'll probably see image results like this one:
Slap a name on what looks like a roof or house and you've got yourself a generic logo shared by tens of thousands of other indistinguishable businesses.
If your goal is to get lost in the crowd, then you can consider your branding – and your business – finished.
Surely you want your real estate business to stand out. After all, who wants to be lost in a crowd when you're trying to attract clients.
We've talked a lot about the pitfalls of generic logo design and how to avoid generic logos. Whether it's by following a trend and working with a designer from the beginning or going through a rebrand, having a great logo is extremely important for your business.
The truth is that not every company – even in the real estate industry – does the exact same thing. The reason there are options to choose from when picking a company to help you buy or sell your house is because they all offer a slightly different service or experience. Each real estate company has something special about it.
But, contrary to the need for every business to differentiate, the real estate industry is riddled with generic branding full of house icons and tall buildings.
WHICH LOGO IS BEST?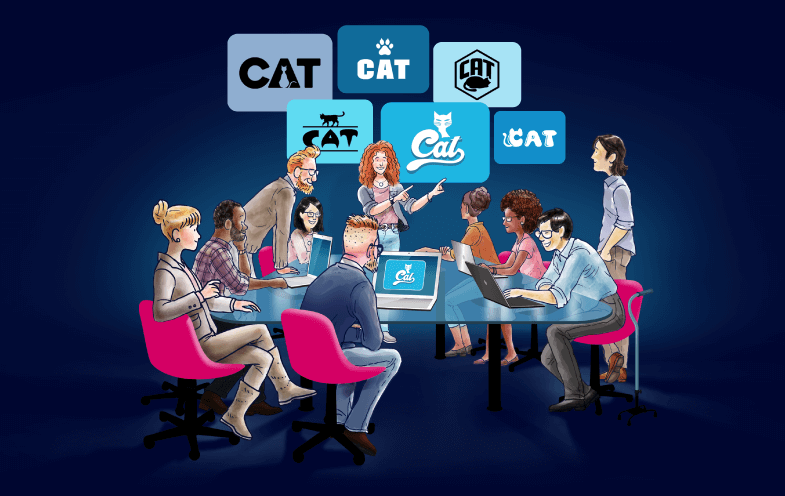 Not only does this cause you to blend in with your competition, but it fails to make a strong first impression and renders your company forgettable. It doesn't show off that special "thing" that your company has. It doesn't show off what makes you different. As we previously wrote:
Many logos in the real estate industry show a house or some buildings with the company name underneath it. It's like putting the picture of a shoe on the logo of a shoe company! The colors are usually in serious tones: reds, grays, and dull blues. The logos are literal but people already understand that a real estate company will deal with the buying and selling of houses. When people choose a real estate agency, they assume that! What they don't know is what makes a real estate company different, whether that is a personal touch or high-quality agents. Real estate companies that use generic elements in their logos completely miss the opportunity to stand out.
In today's world, missing an opportunity to leave an impression with your prospective customers usually means missing out on business. With so much competition and the surge of websites that help people find, sell, and buy houses, blending-in is the worst thing that you can do for your company.
Now, some business owners worry that the cost of logo design can be prohibitively high.
It's true that many design companies and agencies charge thousands to tens of thousands of dollars for their services. But this isn't universally true (crowdspring's custom logo design projects start at just $299, including all fees).
Here are 6 of our favorite real estate logos and the lessons you can learn from each.
Haven logo
We love this logo by ravitejabhukya for real estate/homeowner startup, Haven. While the company is in the real estate industry, their focus is on trust, modernity, and bold neighborhoods. In their original project posting, they talked about what it means to be at home. We love the unique font, the leaf, and the simple color scheme of this logo. The cursive font is trendy and luxurious, and the details are simple enough to still keep the logo versatile so that it can be printed on a variety of promotional materials.
Pellego logo
Pellego's logo is another great example of a unique real estate company logo. Pellego was looking for a logo that could also be translated into an app icon because they focus on helping people shop for their homes. Their focus on results ties in well with cdavisdesigns interpretation of a house being marked off on a to-do list. It's a clever and simple way to get the message across!
Ovo Minneapolis logo
Ovo Minneapolis is a company that mostly leases office space in buildings around Minneapolis. For their newest building, they needed a fun, modern logo to attract startups and new businesses to the area. crowdSPRING creative ScottPetinga designed this logo, stacking the letters of the company's name to make up the shape of a building. It's a thousand times more memorable than just another skyscraper!
The Up House logo
This is another great example of a unique real estate logo. The Up House is a luxury real estate company that focuses on apartment buildings in major cities like London and New York. Logo designer Appleberry combined two common elements of real estate logos: a key and some buildings to make a unique skyline. And unlike many other luxury real estate logos, this one doesn't use shimmery metallics or lots of swirly details. By keeping it simple, the company maintains its luxurious message.
Zero Nine LLC logo
Here's another unique real estate logo, this time by JohnBlaine. Zero Nine LLC brands itself as a cutting edge, modern real estate company. Their logo accomplishes this goal with its minimal color scheme, sharp font, and no-frills focus on the name. The angles and the combination of words create a visually interesting logo that definitely stands out from the sea of blue house logos.
Boca logo
But sometimes, a good building logo is too hard to pass up – especially when it focuses on specific details. For Boca's logo, jodsgn made a building with lots of colorful lines, which evoke movement and energy. This is perfect for Boca because as an entertainment real estate company they focus on fun, lively locations.
Hopefully, you can see that not all real estate logos have to be a house icon with a name. When we focus on what makes us special and unique, customers will remember. What are some of your favorite real estate logos?