4 Important Steps To Turn Your Idea Into a Successful New Product
Many aspiring entrepreneurs and business owners obsess about starting a new business. This obsession can be all-encompassing and most never get started.
There are many reasons for this.
Some are naturally afraid to start something new.
This is not uncommon. Startups are risky.
Others hold their ideas close to their chest, worrying that people might steal their ideas. But as we previously wrote, you should worry about people listening to you, not about them stealing your ideas.
The biggest risk, for entrepreneurs and established companies, is doing nothing.
History is filled with companies that imploded when they failed to innovate. Xerox, Blockbuster, Borders Books, Blackberry, Yahoo, MySpace and many other once-successful companies were crushed by young, innovative upstarts.
A company that resists change and fails to invent new products not only does nothing to expand its market base – it also risks losing ground to competitors who invest in new and improved products.
The lesson we learn from history is that this risk can be fatal. It's hard to reverse course when your business has been made irrelevant.
So, whether you're an aspiring entrepreneur building your first product to compete with established companies, or a large, established company looking to innovate, product design and product development is critical to success.
Unfortunately, as many as nine out of ten new product launches fail.
That's not an encouraging statistic, but don't lose hope! Give your product every chance to be successful by following a proven product development process.
The specific process your or your business follows may differ slightly depending on the product you're designing. Innovation takes many forms, and the process of developing a new vacuum is naturally going to be a bit different than developing new dental floss.
Fortunately, there are guidelines to the process that apply to any form of innovation. If you follow them, you're much more likely to hit the market with a viable and competitive product.
So, if you're wondering "How do I make a new product?" or "What is the new product development process", "What is idea screening for new product development?" or "How do you create a product to sell?" you should definitely read this article.
In this article, we'll discuss important strategies you can incorporate into your product development efforts. Here are the four important steps you must follow to turn your ideas into a successful new product:
Define – Talk to your customers, do your market research, and engage in competitive analysis.
Explore – Measure the opportunity, build your business case, and screen or develop the idea or concept.
Build – Know your target, check in, and be flexible.
Learn – Use focus groups, listen to your customer service team, and take advantage of social media.
1. Define
Some of the best ideas happen entirely by accident.
It's exciting to have one of those "Eureka!" moments – maybe in the shower, or on a long walk.
These moments of unexpected inspiration don't always fall into our laps, though – many great ideas come through careful investigation and research.
Talk to your customers
Listen to your customers. Engage in conversation with them, and find out what they have to say about their experiences.
Voice of the customer (VOC) research is a great starting point for figuring out your customers' unmet needs. Four in every five industrial innovations are a direct result of customer input – that's a statistic worth listening to.
While you shouldn't rely on customers' input alone to generate new product ideas, it is vital to listen to their feedback and opinions. Maybe you'll come away with a great new product concept, but you'll for sure come away with a clearer idea of what your business is doing right – or wrong.
One good approach is to use the Jobs to be Done (JTBD) framework.
The jobs-to-be-done framework emerged as a helpful way to look at customer motivations in business settings. Conventional marketing techniques teach us to frame customers by attributes—using age ranges, race, marital status, and other categories that ultimately create products and entire categories too focused on what companies want to sell, rather than on what customers actually need.

The jobs-to-be-done framework is a tool for evaluating the circumstances that arise in customers' lives. Customers rarely make buying decisions around what the "average" customer in their category may do—but they often buy things because they find themselves with a problem they would like to solve. With an understanding of the "job" for which customers find themselves "hiring" a product or service, companies can more accurately develop and market products well-tailored to what customers are already trying to do.
There's much written about JTBD. Here's a place to start.
Conduct market research
There are many insights you can learn from market research, and those insights play a critical role in product design. Research can not only help you validate product ideas; it can also uncover opportunities for new products or areas ripe for disruption.
Many companies use market research as a way of reducing the risk of failure, by determining where the need is greatest for new products. It can help focus the scope of a new product and what the roadmap might be for future updates.
Research alone cannot answer all of the questions you may have, but it can bolster support and justification for decisions you make during the design process.
Perform competitive analysis
It's difficult to know if you're on the right track with an idea if you don't know what products or companies may be competing against you. You need to know if your idea is a good fit for the market and if it has a compelling advantage over its competitors.
Competitive analysis means:
Identifying your competitors and evaluating their strategies to determine their strengths and weaknesses relative to those of your own product or service.
Give yourself a clearer picture of who's out there and what they're doing by asking a lot of questions, such as:
Who is your competition?
What are their products or services?
What portion of the market do they control?
Who are their customers?
What are the defining features or value they provide to their customers?
What are they doing well? What are they not doing well?
Make sure you invest the time and energy required to do a thorough analysis of the competition before you dedicate yourself to an idea. You'll help prevent yourself from spending too much time on features or ideas already well-represented by your competition.
2. Explore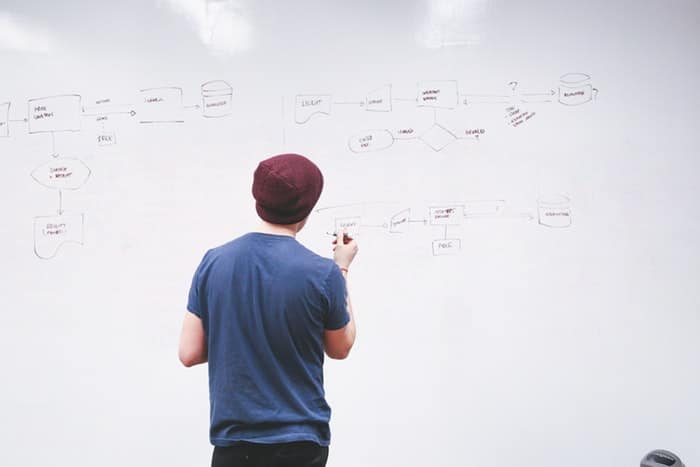 Measure the opportunity
An idea is only as good as how good your customers think it is.
Make sure that you're not missing your mark and engage in valuable concept testing research – before you commit too many resources to your innovation.
Concept-testing market research is a reliable way to determine if your product stands a reasonable shot at success. Market research should take a close look at the following:
Your customers' impressions of your idea,
What your customers like (or dislike!),
How aware of similar products your customers are,
How customers are to make a purchase, and
What their price perceptions are.
Now that you have the foundation of consumer input established, what's next? It's time to develop your idea.
Build your (business) case
You've pored over your customers' input. You've fleshed out your idea – and it's taking real form! You know it satisfied a real need in your market, and you've decided you can build it. So what's next?
You need to build a business case for your idea. This might sound intimidating, but we promise, it's less scary than it sounds.
A business case is a document that examines the benefits and risks involved in launching your product. The conclusion of your business case should be a compelling argument for moving forward with your idea.
What you might need for a business case will change along with the scale of your idea (and any initial steps you may have to take), but it's pretty straightforward to create one.
A business case elaborates on the following key points:
A description of your product – what does it do? What are the more technical specifications and details? What kind of market does it belong in?
A justification for creating your product – A close look at your intended market, and how much potential your product has for success in it, and
A project plan – make sure you include your steps for a successful launch, an estimate of how much everything will cost, and what your sales targets are.
Cover these three major points, and you'll have one case-closed presentation on your road to innovation success.
Develop the idea / concept
Turning your idea into something tangible is a critical milestone in the product design process. This is where you start to build out what you're going to bring to market through writing specifications, concept development, and building your prototypes.
You want to give yourself time to iterate and flesh out your idea. That way, you can validate precisely what you need to build, how it should work, what features or qualities it should have, what materials you need, and ideas on how it could look or appear.
This process is essential because this is where your idea or product starts to take shape. You should produce something that you can test with customers and your team to make clear if your idea has potential, and what direction you should take the design.
3. Build
You've done your research, refined your idea, designed, prototyped, and built your business case. Now it's time to turn all of that work into something you can launch.
This part of the process is different for every product, and the steps and stages you may encounter vary depending on what kind of product you're building. There are some fundamental best practices you can apply, whether you're creating something tangible like a manufactured good or something destined to run online.
Know your target medium. You need an in-depth understanding of your target market. If your product needs to be physically manufactured, "designing for manufacturability" (as we discussed in our look at product design best practices) needs to be considered throughout the product design process. If it's a digital product, have a development team available that can turn your idea into production-level code.
Check in. You want to be sure that the build process is going smoothly, so be available for feedback from your build partners and check in routinely. You want to catch potential issues early – well before they balloon into full-blown crises.
Be flexible and sensible. Opportunities (or issues) happen, so be prepared to improvise or make adjustments to your plan. Whether it's a challenge or a happy accident, keep your original goals and research in mind. Every decision should be tied back to why you're making this product in the first place, as well as the problems it solves.
4. Learn
Leverage focus groups
An easy way for your product to fail before it gets off the ground is by failing to take into account valuable customer feedback. This is where focus groups can be instrumental.
A focus group is a product research tool for getting the opinions of a small but diverse number of people focused on a specific product. In a focus group, each member reviews your product and any accompanying marketin materials.
As the product manufacturer, you'll want to ask questions to find out how likely the participants are to buy your product. You can also ask for feedback on what they think a fair price point might be. A focus group is also a chance to compile additional suggestions or ideas for improvements to your current design.
In many ways, most crowdfunding sites like Kickstarter serve as big focus groups. We recently wrote about this in Design a Successful Product: 6 Product Design Best Practices from Kickstarter.
Listen to customer service / support
Wouldn't it be great to have a built-in direct line to your customers? If only there were a way you could communicate directly with them and find out exactly what they thought about your product.
The good news is that you have the resources to do just that! Look no further than your customer service team.
What better resource than a team who spends their day answering questions and responding to feedback from your customers? Take this input and send it directly to your product development team. Do not pass Go. The potential for meaningful product improvement is unmatched.
Take advantage of social media
Social media is a great way to get product feedback and get a better grip on how your customers feel – in real-time. A great way to harness social media as a resource? Get them focused through a poll.
Polling is a great tool that social media has made easy to use – and it's hard to argue with the immediacy of the feedback. There are plenty of tools you can use to poll your followers – just pose your question and take notes on the results.
There are some great tools you can use to poll your customers.
Poll: Poll has a nice feature set, which includes the ability to create an ad-supported poll for free. Some of the premium features allow the option to remove the ads on the app's page, and also allows respondents to add comments.
Polldaddy: The creators of Polldaddy are also the creators of WordPress, which should speak to both the technical quality and data security. The app has impressive functionality, allowing users to create polls, surveys and quizzes easily shared through email, Facebook, and Twitter.
Cup.li: An app that's both design comprehensive and user-friendly, Cup.li is specifically engineered for "deep marketing analysis." It lets you select question format (one answer, some answers), target respondents by age, gender, and other factors, and sort respondents into groups.
Product design processes can and do vary from one business to another. It's important to make sure that your process is a good fit for your product and your company.
At crowdspring, for example, we reimagined traditional product design. Typically, companies pay tens of thousands of hundreds of thousands of dollars (and sometimes millions or more!) for product design. Seven years ago, we wondered whether there was a better way. Our community has helped entrepreneurs, small businesses, big Brands and agencies around the world design products and product packaging across many different industries, for a fraction of the cost, and in significantly less time, compared to traditional product design.
Time is valuable. Don't waste it – get your product or product packaging designed now. There's no time like the present! Let our community of over 210,000 designers create a product that your customers will love. You can start your product design project today.