New Stock Art Policy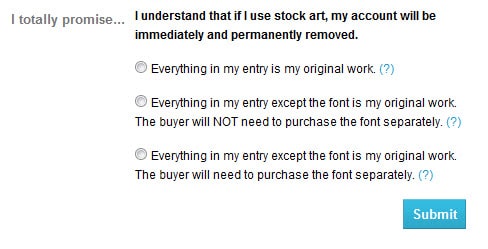 The use of stock art has always been prohibited in crowdSPRING logo design projects.
Today we are announcing zero tolerance policy towards users who break this rule. Any creative who submits stock art to a logo project will have their account removed immediately and permanently along with all the work that s/he has submitted to any projects on cS.
Together with this policy change, we've revised the required disclosures in logo as well as logo/stationery projects to make this new policy crystal clear. The new disclosures are below (a designer is required to review and select one of the disclosures every time they upload a design in a logo and logo/stationery project).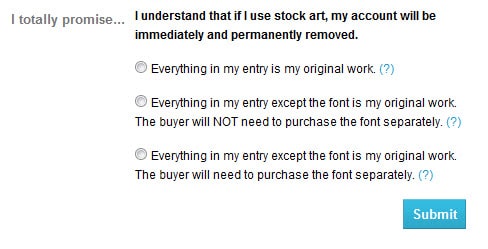 If you want to report a stock art violation in a logo project, please use the violation report link located under any entries, or contact us please contact us.
We believe that this new policy will strengthen our community and help us to better serve buyers and their creative needs.
Thanks for your attention,
The Crew