12 Hottest Marketing Trends for 2022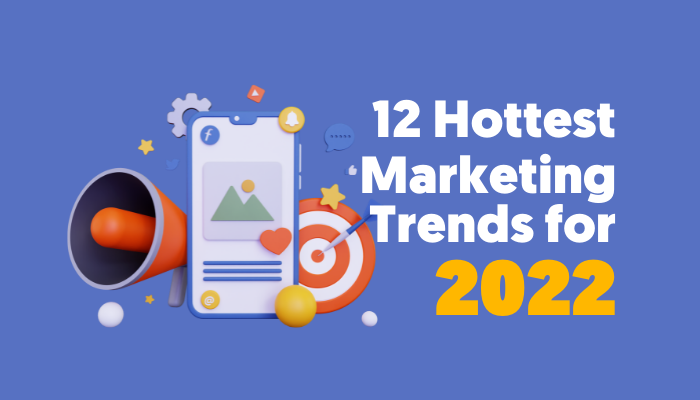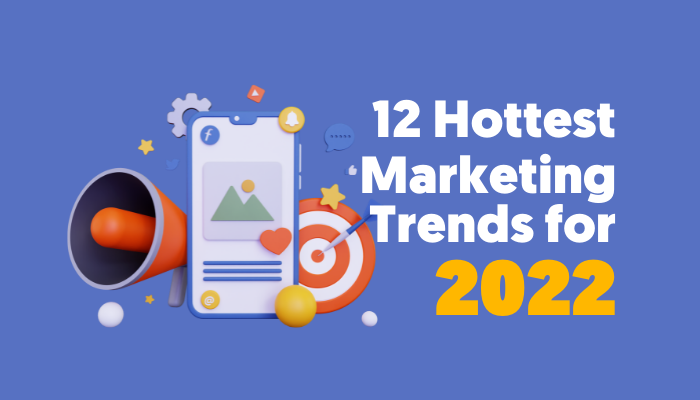 The last two years have confronted us with many challenges. Businesses found themselves up against new walls, and marketers have had to rethink marketing strategies and tactics.
No one has a crystal ball to see the future, but many brands have already successfully adapted to the new normal and changed how they communicate with customers and prospects.
If you want to compete and grow revenues this year, you must understand current marketing trends and how you can successfully navigate them.
Here are the 12 hottest marketing trends for 2022: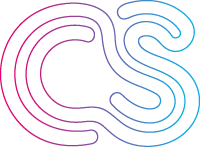 Let's examine each of these 2022 marketing trends.
1. Customer experience
Customer experience is the secret sauce of both a successful marketing strategy and a successful brand strategy.
After engaging with your business, what your customers feel can make or break your marketing campaign.
Storytelling is more important than ever. To win in 2022, you have to tell engaging and consistent stories using multiple marketing channels and social networks.
Conversations and Stories
Email drip campaigns and chatbots have been popular for many years. But these are technical tactics that still require marketers to tell compelling stories.
Most businesses and marketers would benefit from spending more time improving their content to be more conversational and personal. Talk to your customers and prospects and do this at their pace, not driven by your sales timeline.
What does this mean for you, as a business owner or marketer?
To successfully market in 2022, you must find ways to engage customers and prospects. Among other things:
Build marketing campaigns based on carefully planned strategies.
Create compelling, high-quality content that tells memorable stories.
Don't be pushy or sales-y.
Give your audience accurate, actionable information they can use in their daily lives.
Create educational content that helps your target audience understand your products and services and teaches them something actionable and valuable.
It's tempting to use automated tools like AI-based content generators to speed up your marketing efforts. But for most businesses, this is a mistake. People can tell the difference between content written by computers and content created by real people. This is, in part, why people rarely engage with brands on social media but prefer to talk to real people behind those brands.
Don't forget to empower your customer support team to engage with customers and prospects similarly. Your support team is on the frontlines, talking to customers daily, and must complement the stories and messages that you share in your marketing campaigns.
To help your support team, be sure that they know about the marketing campaigns you're currently running, have advance notice of new campaigns, and receive proper training to help you tell compelling stories at every touchpoint with your target audience.
People crave authentic interactions. If your brand fills this need earnestly and honestly, you will grow your business faster.
Take (Inter)Action
Interactive content will continue to grow in popularity.
For example, polls and quizzes remain successful hooks in marketing campaigns and essential tools you should consider in your 2022 marketing strategy. We've been using this strategy at crowdspring for years, and it's been effective for us.
Our five-question logo quiz asks prospective customers to pick the better company logo from several choices. Very few people get all five questions correct. Only 24% of people answer all five questions correctly. Are you one of them?
Our five-question business name quiz asks prospective customers to pick the better business name from several choices. Very few people get all five questions correct. Only 20% of people answer all five questions correctly. Are you one of them?
Our five-question packaging design quiz asks prospective customers to pick the better product packaging from several choices. Only 15% of people answer all five questions correctly. Are you one of them?
Quizzes and polls can be light, fun, shareable, and quick. You'll entertain customers, but also learn valuable information about them.
There are many other valuable ways to create interaction, including reports, guides, infographics, interactive eBooks, and short-form videos. You can even build interaction into your business website.
Get personal
Audience-focused marketing and advertising tailored to your target audience will become increasingly vital. This doesn't only mean producing and sharing the right content. You must also know where, when, and how to share the content to stand out in the white noise of marketing and advertising.
Want a free brand review?
Answer 5 short questions and we will send a custom report with actionable insights and specific actions you can take to build a stronger brand.

We just emailed the info to you.
2. Privacy marketing
People have become increasingly aware of privacy. Brands like Apple have made privacy marketing a considerable part of their overall marketing strategy and have successfully and compellingly differentiated their products from competitors.
You should not ignore this trend, especially if you're just starting your business.
Many examples of unauthorized, secret data collection on the web and mobile apps have led many people to distrust technology and brands.
Collectively, consumers and regulators have demanded better privacy policies and practices. They've held brands accountable for how they collect and use data. Huge brands like Facebook have been put under the microscope because they have demonstrated a repeated disregard for people's privacy.
There's been a strong clamor for transparency for the past few years. In 2022, this call will grow stronger.
Cookies: The beginning of the end
If you want your business to succeed in 2022, you must adopt reliable tools and technologies to protect privacy.
Expect cookies to be completely phased out in the next few years.
Cookies are small pieces of data such as a username and password stored in a text file. They are used to identify the device a person uses when logged into the internet. Web browsers mainly use cookies to save, track and personalize information on each browser's session on a website.
Set automation in motion
Successful brands are investing in marketing automation. AI technology and advancements in data science have allowed marketers to analyze purchase behaviors, browsing history, and other information to personalize marketing and advertising campaigns.
So, rather than showing generic and intrusive ads that fatigue people and create disinterest and distrust, create more personal, unique marketing and advertising tactics tailored more closely to your customers' interests.
AI can already analyze and predict your customer's next move. And while AI isn't trivial to use in your campaigns, many small-business-focused products can help you build intelligent campaigns that target ads, products, or services right when a prospective customer wants or needs those products or services.
Such a personalized experience can create strong customer loyalty and a genuine benefit for your target audience.
3. The rise of AR and VR
Humans are visual beings. You've probably heard the phrase, "a picture is worth 60,000 words."
And, it happens to be true. The smartphone became popular because it's a visual tool. It drives the growth of popular social networks like Facebook, Twitter, Instagram, Snapchat, YouTube, TikTok, and many others.
Over the past few years, we've seen an increasing push towards visual technologies that combine the real world with the digital world (Augmented Reality, known as AR) and optical technologies based exclusively in the digital world (Virtual Reality, known as VR).
AR and VR technologies have been around for many decades, but in the last few years, when people have been more isolated, people have increasingly embraced these technologies.
People have had to find new ways to maintain social ties and have increasingly relied on digital tools. For example, Snapchat and Instagram Stories have seen considerable user growth over the past few years because of their popular AR and VR filters.
Although you might not be ready to add AR or VR to your marketing strategy, you should start thinking about ways you can expand your tactics to use these tools. AR and VR tech will influence marketing strategies well into the future, and many successful businesses have embraced this trend.
A survey conducted by NielsenIQ found that two-thirds of people say they would want to try using AR in the way they shop. People say that they prefer to visualize how they fit and where they fit in their lives.
This is becoming a reality. For example, companies have developed a "virtual try-on" feature, allowing their customers to test swatches of make-up or clothing virtually before making a purchase.
All these novel features spell massive consumer convenience. And what customer doesn't love something tailor-made and personalized?

Search with your eyes
Okay, that title is a bit overdramatic, but that's precisely what AR/VR promises.
Visual search is already a huge industry, but it will grow even faster over the next few years. Visual recognition services and search capabilities are projected to become a 40-billion-dollar industry by 2025.
Google Lens and similar products allow you to take a photo of any object and find that object, or similar objects, for purchase online.
If you like a piece of furniture but don't know who makes it or where it's offered for sale, you can take a photo, and Google Lens can help you find that piece of furniture.
Visual searches are optimal for product searches such as clothing, footwear, and home decor. Marketers can use algorithms that begin with an online image search and generate the exact product or provide recommendations and even upsell complementary items.
Gen X and Millennials have been quick to embrace these technologies. If you want to reach a broader audience, you can't ignore this trend.
If you sell products or other consumer-focused merchandise, build visual search tactics into your marketing strategy. Pinterest and Instagram (via its Explore/Discovery feed algorithm) are powerful channels that can help you leverage and experiment with this trend.
4. Short-form videos
Over the past few years, TikTok transitioned from a Gen Z-skewed platform into a mammoth marketing machine. Last year, many businesses scrambled to get a piece of the trendy pie. But is TikTok the only way to leverage short-form videos?
Just Do It. Yourself.
TikTok is not the only platform for short-form videos.
But, savvy marketers can learn many lessons from TikTok and its viral trends.
For the past two years, the world had to get creative (or die of boredom) from the confines of our homes. We haven't had access to many advanced tools used to generate flashy advertising and marketing campaigns. As a result, a DIY (do-it-yourself) aesthetic has become popular. While production-quality content looks great, it lacks the personable and relatable feeling of DIY content.
Why short-form?
You might wonder why short-form videos have become so popular.
You can blame science.
Our brains are conditioned to be more responsive to instant rewards. The shorter it takes to get that jolt of dopamine, the better.
That's the secret sauce to TikTok, and it's the same strategy used by other platforms such as Facebook My Day, Instagram Stories/Reels, and YouTube Shorts, to name a few.
5. Content is still king
It's easy for marketers to be distracted by trends and fads. But some things are lasting and foundational.
This is especially true with content. Content has dominated marketing for years because well-produced content is lasting and engaging.
But, like everything else, content constantly evolves.
People have become meticulous and selective about the content they read and share and the platforms they use.
This shift in consumer behavior requires businesses to evolve and adapt to how they create, share, and promote content.
Video is the superstar
Video content has dominated over the past few years and will continue to dominate in 2022.
You can expect video to become even more essential in your business' marketing toolkit.
That being said, the biggest challenge for business owners and marketers is how to optimize video content to stand out.
Fortunately, video production is not as intimidating as it was years ago. What would've taken weeks and a multi-person team to produce can now be done by one person in several clicks with tools like Adobe Spark Video and InVideo.
6. Micro-influencer power
Social media fatigue is real.
And it seems nearly everyone claims to be a social media influencer. This has led to a crisis of trust as people have become more cautious about influencer-led endorsements and promotions.
Nevertheless, this downside to influencer marketing also has an upside. It has opened an opportunity for businesses to leverage micro-influencers.
Micro-power
Unlike celebrities, who often have millions of followers, micro-influencers typically have 1,000 to 100,000 followers. However, what the micro-influencer lacks in followers is balanced by strong audience engagement.
Since 2020, social media has seen engagement rates of micro-influencers increase by an average of 130%. This success can be attributed to several factors:
Audiences are now more aware that mega influencers are insulated from street-level realities. Celebrities are often out of touch with reality. They broadcast from million-dollar mansions and often complain about first-world problems. People are increasingly finding it difficult to relate to these problems.
Micro-influencers typically are more like their followers. They are more relatable, less intimidating, and easier to understand.
Micro-influencers are instinctively aware of what to say, when to say, how to convey their message.
Because their followers are smaller, micro-influencers are more involved and engaged with their audience. That provides the genuine connection people crave.
Micro-influencers are also less expensive. Their pricing is affordable, they are easier to work with, and most can quickly produce content. This helps marketers and small businesses to deliver content to the right target audience on time.
Do your due diligence. Your company's identity is closely tied to influencers, so pick micro-influencers who will lift your marketing campaigns and not expose you to controversy.
7. Audio content (including podcasting)
Smart business owners and marketers have embraced another marketing tactic: audio content.
Podcasting goes pop
Podcasts aren't new but had only a niche audience for a long time.
Today, podcasts have become an effective marketing channel for many marketers and businesses.
Podcasts are attractive because they don't typically require dedicated equipment or production time. If your brand already creates video content, you can quickly turn that content into an audio episode. And you can create short snippets of that content for distribution on Twitter, LinkedIn, Instagram, TikTok, Facebook, and other social networks.
Bonus trend: voice search is catching on
Siri, Alexa, and Google Assistant are all gaining market share. Younger consumers are embracing voice search.  We expect other demographic groups to do the same in 2022.
People worldwide have become comfortable talking to computers. People ask for directions, schedule calls, get food recommendations, and check the weather.
You can take advantage of this trend by adding voice search to your marketing strategy.
For example, you can create content in a question and answer format (FAQs). Search engines like Google have special search operators that help index such content.
Think like your target audience. Rephrase queries into question form to match what people might be asking. For example: "Hey Siri, what is the best online graphic design platform?" (crowdspring, of course!)
8. Native advertising
Native advertising looks similar to the content but is designed to promote a brand, product, or service. Savvy marketers and businesses have been using native advertising formats for years, and we'll continue to see growth in this format in 2022.
Consumers are more internet savvy and understand that advertising is inescapable. Most prefer native advertising formats to banner ads and intrusive interstitials.
But, some people don't love native advertising. Surveys show that approximately 20% of people cannot detect the difference between organic content and a native ad. Some of those people might be unhappy to learn they were reading an ad.
That said, native ads are preferred by 53% of people.
Sponsored content
Consider sponsored posts if you want to enhance and not interrupt your customer's social media experience.
A sponsored post is high-quality, often exclusive content sponsored by a brand. Although the brand can create the content, it's usually made by a third party and sponsored by the brand.
One efficient way to execute this strategy is to "promote" an organic post. For example, you can take a specific piece of content (e.g., a blog article or an Instagram post) and expose it to a bigger audience through paid content.
Sponsored posts are also cost-effective. If the content was successful organically, targetted, data-informed paid advertising campaigns are more likely to be positive ROI (return on investment).
And finally, because their form and content must seamlessly integrate with the platform, sponsored posts push business owners and marketers to be more discerning when developing and selecting content.
Marketers and business owners win by reducing costs and increasing views, while consumers benefit from seeing higher quality content.
9. Focusing on fewer social media platforms
When developing a social media strategy, you must first identify which social media platforms are appropriate for your brand, audience, and critical messages. And while it's tempting to be everywhere, you have to pick the social media platforms your target audience prefers.
This will save you time and money.
For example, a Gen Z clothing brand will be more successful in posting video content on Gen Z-skewed platforms such as TikTok and Snapchat and not on platforms like LinkedIn.
To find the right platforms, research and identify your customers and what social networks they prefer. This will help you build a lean, focused, and effective marketing strategy.
10. Socially-responsible marketing
The economic windfall and volatility of the past few years have significantly changed how people behave online and their relationships with brands.
People are more discerning and critical of how companies and brands react to crises and treat employees and customers. And significantly, most consumers prefer to buy products and services from socially responsible and conscious brands.
For example, some self-help and wellness brands gave free subscriptions for a limited period and made online therapy accessible to people impacted economically and psychologically by the pandemic. This built goodwill for those brands and led to rapid growth.
Even successful brands changed the way they communicate to embrace this trend. Many fashion brands stopped deifying supermodels and turned the spotlight on realness by hiring diverse and inclusive models and brand ambassadors.
Emphasis on the environment
People are increasingly concerned about the environment. And innovative brands are embracing ways to respond to those concerns.
For example, many manufacturers have switched to sustainable product packaging, publishers have eliminated paper catalogs, and most companies have digitized invoices.
11. Nifty with NFTs
NFTs (non-fungible tokens) were hot in 2021. We expect this trend to continue in 2022.
Brands like the NBA and Axie Infinity quickly adopted NFTs and saw multi-million dollar sales.
Opportunities for brand partnerships
Last year, major brands such as Coca-Cola, Dolce & Gabbana, and Charmin released branded NFT collectibles.
This year, we'll see more companies creating branded tokens via NFTs. This opens a new channel for enhancing relationships with customers through special/limited offers (rarity is significant with NFTs) and can turn a regular customer into an avid fan.
Virtual real estate
Although most NFTs have been images or audio files, people find creative applications for this technology. Bold developments such as the $2.6M sale of digital real estate last year make our marketing senses tingle. Could some investors know something we don't?
Only if you don't pay attention.
Consider ways you can leverage NFTs. They're not appropriate for every company, but many could find creative ways to experiment with this technology.
12. Get Linked…In
Most companies have ignored LinkedIn and have focused their attention on other social networks.
As the world turned inwards to work from home, floodgates of remote employment opportunities have opened, and LinkedIn has become essential.
The lockdowns have made businesses dig deep to survive and thrive in the last two years. Despite the shaky economy, companies pivoted in creative ways to grow their businesses.
More professionals are posting and reading content on LinkedIn. Surprisingly, marketers and brands have found that LinkedIn often has a more significant reach than Twitter or Facebook networks.
If you're not experimenting with LinkedIn for your business, you're missing out on a potentially important channel.
Conclusion
Marketing is rapidly evolving. New trends, technologies, social networks, and tactics require new strategies.
Business owners and marketers who adapt to these changes will thrive, even if 2022 brings continued chaos.
Want a closer look at all design trends for 2022?
Top 10 Logo Design Trends for 2022
11 Biggest Web Design Trends for 2022
10 Biggest Packaging Design Trends for 2022
7 Hot Graphic Design Trends for 2022
10 Top Book Cover Design Trends for 2022
12 Hottest Marketing Trends of 2022