Logo Design Trends 2019: Your Ultimate Guide to Navigate The Biggest and Hottest Trends
A logo is the visual centerpiece of a company's brand identity.
As we explained in The Small Business Guide to Creating a Perfect Logo:
At its most basic, a logo is a small, symbolic piece of artwork that represents a business. But, we've dug a bit deeper than that. When you set aside all the design trends and fancy fonts, at its core, a logo must:

1- Embody your brand.

2- Be instantly recognizable.

3- Be versatile.

4- Be timeless.

Everything else is optional.

In fact, I'll go one step further. Every design choice in your logo should exist only to serve and strengthen the four items listed above. And, if you meet these four requirements, many other commonly cited logo must-haves, like simplicity and memorability, naturally follow.
It would be best if you avoided trendy logos that get in the way of accomplishing those design goals.
The truth is that not all modern logos are created alike.
>>If you're interested in current logo trends, look at logo design trends for 2022.
A well-designed logo will help boost awareness and can improve your marketing and bottom line.
A poorly designed logo, or one that has outgrown your brand, can tarnish your brand.
That's why companies like Uber, Weight Watchers, Unilever, and Dunkin' Donuts periodically rebrand.
Now, some marketers and business owners worry that the cost of logo design can be prohibitively high.
Many design companies and agencies indeed charge thousands to tens of thousands of dollars for their services. But this isn't universally true (crowdspring's custom logo design projects start at just $299, including all fees).
Now that you know that professional logo design can be affordable, what will be trendy and hot in 2019?
Want a free brand review?
Answer 5 short questions and we will send a custom report with actionable insights and specific actions you can take to build a stronger brand.

We just emailed the info to you.
Whether you're looking for a logo design for a new business or considering a rebrand, your contemporary logo design should feel fresh and relevant for a long time and not dated a year from now.
17 modern logo design trends and styles in 2019
1. Responsive logo design
It's important to have a versatile logo.
Whether you print your logo on marketing brochures, outdoor billboards, product packaging, on your website, on a business card, or as an icon on a smartphone, you want your logo to be flexible and usable in different situations.
This is called responsive design.
Watch the short video below to see how responsive design works when logos are resized, and be sure to ask your designer to consider responsive design when creating your logo.
2. Perspective-play logos
Playing with perspective is a great way to challenge the norms of traditional logo design.
Businesses looking to create a splash should consider logos that play visual games.
Distortion, fragmentation, warping, and visual breaks are interesting ways to break the mold engagingly.
You can even alter the kerning or overemphasize certain elements to highlight your logo's specific qualities in an unexpected way.
Clever, tricky, and surprising, logos that play with perspective will provide a definite change of pace in 2019.
One way to be sure this style works for you is to ask your graphic designer to show you some mock-ups with your logo on items.
Many graphic designers are now providing mocked-up visuals of their logo designs on a t-shirt, business cards, stationery, website design, infographic, or wall signage in addition to their beautifully rendered design.
Mockups can be a great inspiration. These supplemental materials not only help clients see what the logo might look like in practice, but they can also be used to help influence a brand identity.
WHICH LOGO IS BEST?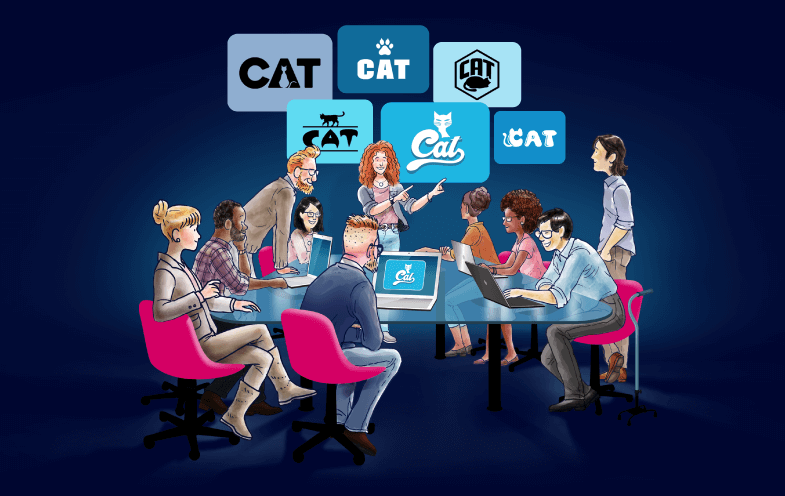 3. Bright colors
Color has a deep impact on how we see the world.
Because color is psychologically powerful, it is often used to persuade or influence people:
According to a study examining the effect of color on sales, 92.6% of people surveyed by the CCI: Institute for Color Research said that color was the most important factor when purchasing products.

Another study showed that people make a subconscious judgment about a person, environment, or thing within 90 seconds. That judgment was influenced, in 62%-90% of examples, by color alone.
Colors – especially bright colors – continue to take center stage when it comes to modern logo trends, and we expect this will continue throughout 2019.
Bright red conjures up feelings of power and risk-taking, and electric yellow highlights adventure, enthusiasm, and youthful energy.
Bright colors are easily used by any number of businesses.
Make sure you choose the right shade, and don't be afraid to amp up the vibrancy in 2019.
Want to learn more about the importance of color in logo design? We recommend you read:
4. Negative space
What's simple but complex at the same time?
Logos that use negative space in creative ways are an interesting way to explore simplicity.
This trend continues strong into 2019, and for a good reason.
Logos that use negative space have been around for a long time, and some of the most famous ones have become iconic.
The FedEx logo is perhaps the most celebrated negative space logo. The arrow between the "E" and "x" is clever and underscores that FedEx is about moving objects from one place to another.
Using negative space to hide a shape, image, or text in a logo can add an element of surprise and sophistication.

The added layer of complexity can elevate a simple design into something memorable and striking.
It's a powerful technique that rewards the viewer and can help create word-of-mouth buzz as people share their discovery with others.
If your brand needs something to be simple and complex at the same time, try using negative space in a new or novel way.
It's one place when we can have our cake and eat it, too.
5. Simple typography
Simple design is hardly a new trend.
With clean lines and memorable presentation, it's easy to understand the draw of simple logo design.
Established brands with more complicated logos are taking stock of their brand identity and re-evaluating how they can bring a fresh perspective to their aesthetic.
Simplifying an existing logo is an easy way for businesses to build on their foundations – ironically, by stripping them down to their visual cores.
Some logos (including the crowdspring logo) are made up entirely of text – these are called lettermarks, logotypes, or wordmarks.
Simple typography can be very effective and memorable.
But not any font will do. You can't just plop your business name under your logo mark in a serif or sans serif font like Helvetica, Times New Roman, or Comic Sans (please don't!) and call it a day. Often, you must get creative with the type treatments to personalize the design.
We've seen brands like Uber undergo redesigns recently, whether to strip down overly ornamental logos or to move away from tarnished reputations.
Whatever the reason, simple typography can give your existing logo a contemporary, modern facelift or create a contemporary new brand.
6. Illustration replacing letters
In a world where emoji are increasingly replacing text-based conversation, it's no surprise that logos are adopting a similar concept into their designs.
In 2019, we'll see more logo designs incorporate illustration as part of the design.
A company that adopts this strategy should be careful that the illustration doesn't make the name unreadable. After all, it's impossible to create awareness and build loyalty if people don't understand your logo.
And be sure that this style works with your brand. A traditional, staid institution would look out of place with an affable llama in place of an "h."
A forward-thinking, tech-based business should incorporate imagery that feels modern and cutting edge.
In 2019, logos that are designed with illustrations substituting letters were likely to be founding increasing numbers. They are appealing to a variety of businesses for their versatility and memorability.
7. Playful designs
Comic Sans walks into a bar.
The bartender says, "We don't serve your type here!"
Playfulness in design, much like a good joke, is engaging, fun, and unquestionably memorable.
Businesses are rightly focused on getting a logo that has long-term staying power. However, lasting design doesn't have to mean a boring design.
Having playful visuals that offer unexpected, clever designs can have a major impact on customers.
In 2019, you can expect to see designers playing with metaphors, puns, and innovative concepts in their logo designs. These logos make everyone take a second look at a product and add a fun element into a business' persona.
8. Detailed vintage
Sleek, minimal designs have had a strong grip on trending logo designs in recent years.
It might seem surprising, then, that 2019 brings exceptionally detailed, beautifully crafted logo designs.
Brands that want to create an aura of vintage sophistication and authenticity are looking toward intricate, detailed illustrations to represent their artisan, handcrafted, top-shelf products.
Having a detailed-looking logo conveys the craftwork evident in a marketplace focused on offering similarly detailed products.
The food and beverage industries are especially drawn to the lux, detailed design work trend, and for a good reason.
Wine, spirits, and other artisan treats all naturally fit this logo trend.
Any natural, organic, house-made products and businesses can benefit greatly from a super detailed, vintage-influenced logo.
These works of art are sure to be appearing on our screens and lining wine racks in 2019.
9. Monochrome hipster
How many hipsters does it take to design a logo?
It's a really obscure number. You've probably never heard of it.
Crossing arrows, handwritten typefaces, and richly detailed design work all define the visual makeup of a hipster logo.
These logos are largely monochrome, choosing to focus on lines and typefaces rather than bold color choices to make an impact.
The vibe-heavy logos lean in on individuality, culture, diverse backgrounds, and any element that contributes to a carefully constructed impression of authenticity.
The hipsters still hold a heavy influence on logo trends, and in 2019, you can expect to see this continue.
10. Cut typography
Typography plays a huge role in logo design.
The font you choose has a powerful impact on how your brand (and your company) is perceived, as we've discussed before:
Typography is an effective way to convey more than just the words involved in written communication. It showcases personality by visually representing the tenor and tone of what it is you're talking about. You may find that your purpose is best met by using a font with a vibrant personality throughout your website or using an amalgamation of sans and serif typefaces.
In 2018 we saw companies invest time and money to create custom fonts for their brands: Netflix debuted Netflix Sans, Uber got their Move on, and Airbnb poured themselves a bowl full of Cereal.
We'll continue to see this trend grown in 2019 as companies reject available serif or sans serif fonts and create their own.
For companies that didn't have the budget (or interest) in creating their own custom typeface, another type-based trend is gaining popularity.
Called "Cut," this trend sees brands taking type and literally cutting part of it away, leaving behind something new.
The venerable news site Slate used this to great effect with their major rebrand.
It's a simple but effective technique that reshapes how type is used in logo and brand design.
If you want a look that's straightforward but with flair, think about what you can cut.
You might find that less really is more.
Be sure your graphic designer understands this.
11. Gradients
Gradient design has become a top modern logo design trend in the last few years. Even Firefox is getting on board with their latest logo update.
Instagram kicked off the gradient frenzy when they updated their logo two years ago and adopted the simple but striking trend.
While initially derided, Instagram's update wound up prompting an onslaught of gradient-using designs – from web design to print design, and in 2019, logo design.
Colorful, attractive, and striking, gradient logos use color in a way that appeals to, well, everyone.
You know you love them, too.
But be sure that you select complementary colors that can bleed into each other seamlessly. Don't choose colors randomly.
12. The 80s and 90s
"What's old is new again" is a trend we see every year (except bug puffy hair from the 1980s, thankfully).
Which decade gets the spotlight changes based on what's hot in other areas of pop culture, and for 2019, it's a mix.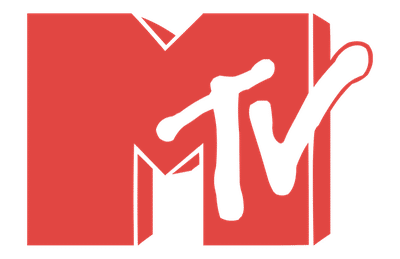 In 2018, the 80s were on-trend, which continues into 2019 with one change: This time, the 90s are along for the ride.
The pastel shades of the 80s are joined this year by bolder colors that defined the decade of Lisa Frank, the Spice Girls, and Mary-Kate and Ashley.
Logo designers mine the past for colors, typefaces, and styles and then add a unique twist, bringing a modern feel to something brimming with nostalgia.
If you want to anchor your logo design in something wistful, take a look at brands inspired by the 80s and 90s. They're, like, totally rad.
13. Minimalist text
Minimalism still holds center court in 2019.
The need to use logos on various platforms and interfaces makes this trend an appealing one, and it's easy to understand the staying power minimalism has had in recent years.
Text-based logos with minimal typography and the occasional supporting graphic allow businesses a great deal of flexibility. Whether geometric, colorful, monochrome, or subtly illustrated, minimalist, text-based logos are easy on the eyes and easy to adapt.
Using only the brand's name in design, these logos translate smoothly on business cards, websites, apparel, and anywhere else our minimalist hearts can dream up.
14. Geometric shapes
Logos are, at their cores, symbols.
A great logo acts as a visual representation of a brand's personality, values, and purpose.
Every element of a strong logo must communicate these things clearly and memorably.
Geometric shapes can work as powerful, memorable symbols. As we wrote,
Geometric shapes of all kinds look man-made. Mathematically precise squares, perfect circles, and isosceles triangles don't tend to appear in nature. So, using these shapes communicates a sense of order and power.
With bright color choices and invitingly arranged shapes, the geometry trend is both minimalist and friendly.
But a simple geometric line design is a logo element that doesn't work for everyone.
Logos must be distinct.
Zendesk uses geometry in unique ways, branding its various products with complementary geometric branded symbols.
The balance of the engaging color palettes with strong geometric shapes creates a pleasing mix of trendy and timeless logo designs.
In the age of the nerd, it really is hip to be square.
Just keep in mind that simplification can sometimes undermine your efforts to make a brand identity distinct.
This is a problem because your modern logo must also reflect your brand. This is where blindly following this geometric logo trend and designing a logo based on a shape can fall short for your business.
15. Bubble Letters
If your brand needs a bit of fun and energy, this trend might pop your bubble.
Blown-up typography was a common trend in the early 90s, especially in advertising and TV (thanks, Full House!).
Like many other past trends, designers have started to incorporate bubble type in their designs, often mixed with modern elements.
This technique is an easy way to turn an otherwise static font into something bursting with personality.
Bubble type is often paired with bright colors and other vibrant elements to reinforce the logo's playfulness and energy.
But be sure your company's name is readable. Not all bubble fonts or font treatments are easy to read.
If your brand is all about spirited fun and good-natured joie de vivre, playing with bubbles might balloon into something big.
16. Hand drawn logos
Custom, hand-drawn artwork will see a comeback in 2019.
The abundance of readily available, free-to-use stock art has heavily dominated the past decade's logo scene.
Having access to cheap and accessible stock art catalogs or templates to design made finding logos easy for businesses of all kinds.
However, with ubiquity comes, well, the ubiquity.
There are logos containing generic stock art on every street corner – seriously, we dare you to take a look. Notice any swooshy people hanging around? How about those omnipresent rooflines in real estate logos?
It's hard to stand out from your competition when you share the same logo.
A generic logo will hurt your business.
Generic stock art and templates should not serve as design inspiration, and you should never use elements from those designs in your custom logo design.
We feel strongly about this. Crowdspring has always had a rule that no stock art, templates, or generic art can be used in custom logo design projects on crowdspring.
The increased demand for custom logos has lead to an interest in hand-drawn artwork for logos.
Real illustrations provide brands with a personality that generic stock can't offer, and smart businesses are taking notice.
We're excited to see hand-drawn logos become a major player in logo design in 2019.
17. Metallic designs
Metallics are worth their weight in gold for logos in 2019.
Whether brilliant platinum, shiny gold, or romantic rose gold, you can expect to see these luxe designs in increasing numbers in the coming years.
It's easy to think that metallics should be reserved for jewelers. Still, the broader use in recent years has made metallics accessible to businesses of all kinds – so long as your branding suits high-class luxury or a truly classic look.
The prestige and elegance associated with metallics are surprisingly versatile, and the powerful impact they make on consumers?
That impact is worth its weight in… gold.
Are you ready to embrace logo design trends and styles in 2019?
Logo design trends and logo design styles can offer a great way to breathe fresh life into your brand.
However, as with anything, it's important to exercise caution.
You don't want to carelessly update your brand for the sake of trendiness and wind up with a logo that doesn't resonate with your business or market.
When you're looking through 2019's logo design trends, make sure that trend represents your brand thoughtfully and can be integrated into the rest of your existing branding.
We're happy to help – let us know if you'd like a free design consultation with our team.
Want a closer look at all design trends for 2020?
2020 Logo design trends
2020 Web design trends
2020 Product design trends