I'm in Logo Love: Toblerone Logo Design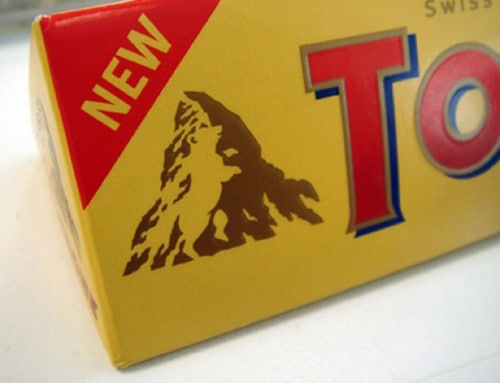 "I'm In Logo Love" is a new series on the crowdSPRING blog. Periodically, we'll pick a logo we'd like to take home from a bar and tell you why. And if you think it's a bit strange to have a crush on a cleverly designed logo, get in line – my mom has already lectured me on this topic. Today, we'll look at the logo for Toblerone.
Toblerone is a Swiss chocolate company known for their triangle shaped candy bars.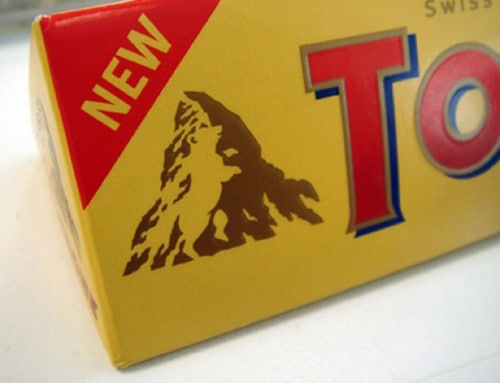 Background on Toblerone:
Toblerone was started in Bern, Switzerland by Jean Tobler. His son took over the company, and in 1908, they introduced the bar with the famous triangle shape. "Toblerone" is a play on the names "Tobler" and "Torrone", the Italian word for honey and almond nougat. In 2000, the Matterhorn became part of the official logo of Toblerone, and from then on was prominent on every Toblerone pack. (Sources Toblerone.com and Kraft Foods.)
Why we think the Toblerone logo design is hot:
First of all… it's Chocolate. Mmmm. Second of all, a bear (symbol of the city of Berne, where Toblerone is produced) is hidden in the modern version of the Matterhorn mountain logo. The Matterhorn is a great symbol of Switzerland, and is said to possibly be the inspiration for the shape of the candy bar. Since learning of the hidden bear in the logo, I stare at the bar in the checkout line at the supermarket.  If you still don't believe Toblerone is hot… you should see the episode of Friends, where Joey can't hide his longing for a giant bar brought home from the airport by Ross and Emily.
What do you think? Do you agree this is a clever design and does it make you want to eat some chocolate?
Is it time for you to re-evaluate your brand strategy? Breathe fresh life into your brand and let crowdspring's team of over 210,000 designers help. From product design to packaging design and package graphics, crowdspring has got you covered. Click here to start your next great product design project or request a free, no obligation design consultation for a new logo, business card, marketing materials, or any other type of design, with one of our design experts today.