Launch Your Startup with an Infographic
Image credit: Everlane
In 2011, it was relatively unknown that most designer tees are marked up as much as 10 times. In the traditional retail model, manufacturers normally double their cost before selling clothing to a retailer, who then doubles or triples the cost they paid. Ultimately, a $6 tee shirt can be sold to the consumer for $50 or more.
This simple fact led Michael Preysman to create Everlane, an online retail startup that intended to sell "Barney's quality at one-third the price."
His startup's formula was relatively straight-forward: Focus on making one thing really well (in this case, a tee shirt) and disrupt the traditional retail model by selling high-quality products for only two times the cost. Though the formula was simple, Preysman knew that a bit of industry knowledge is required for a customer to truly understand the value of Everlane. Most customers happily pay retail prices and are unaware just how little the actual cost of an item is. If Everlane simply competed on price, the brand could be considered "cheap" instead of "disruptive."
So, Preysman set out to educate his potential customers prior to launching.
Knowing visuals are processed 60,000 times faster in the brain than text, Preysman created an infographic that took the relatively complex process of sourcing, producing, transporting, and selling a designer tee and compressed it into a handful of steps. The infographic was then posted to Tumblr with the simple title "It's a Fact."
Image credit: Everlane
The message was clear: you are paying too much for your tee shirts.
Want a free brand review?
Answer 5 short questions and we will send a custom report with actionable insights and specific actions you can take to build a stronger brand.

We just emailed the info to you.
Preysman's infographic was a viral masterpiece. The Tumblr post was shared across the social network (it now has over 19,000 notes) and spawned spirited discussions about retail markup among social media and fashion blogs. People were suddenly aware of a problem in the fashion industry, and Everlane was there to help. The brand launched their site shortly after the post with one style of tee which sold out almost instantly.
Today, Everlane has shipped to over 350,000 customers and the brand has expanded their offering to more than just tees. Still, their messaging has stayed the same. The brand continues to use infographics to convey the brand's goal of transparency and consumer education. Almost every product page on Everlane's site includes an infographic similar to the one used at launch: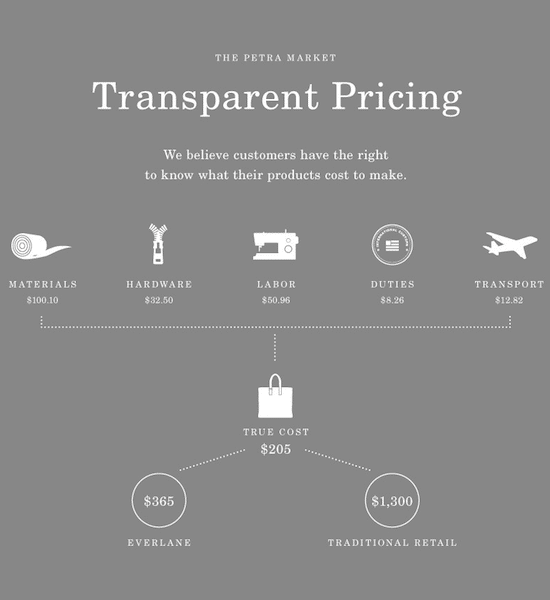 Image credit: Everlane
Though Everlane used an infographic to disrupt a specific aspect of the fashion industry, the tactic can be applied to any startup that is offering a valuable solution to a customer's problem. Because 65% of the population prefers learning visually, infographics are an efficient way to demonstrate a startup's unique value proposition and in some situations inform the customer of a problem they didn't know they had. Think of it as a visual elevator pitch.
As you prepare the launch of your startup, consider following the old adage of "show, don't tell" by using an infographic (and a little viral marketing) to illustrate your startup's value. Assuming that you are truly disrupting an industry, the infographic will be an indispensable tool for both educating and gaining customers.