Is Canva the Company That Will Disrupt the Design World? Not Quite
Canva, the graphic design platform promoting itself as tool that empowers the world to design, is not new. It launched in 2013 with $3 million in seed money from American and Australian investors, and offers a series of templates intended to make good design easier to execute and more accessible. It's a nice concept, which is probably why it's grown astronomically.
Canva, the Sydney, Australia-based online graphic design platform, raised a new $15 million round of funding, the company announced on Wednesday.

The latest funding valued the startup at $345 million, more than double the company's $165 million valuation a year ago. Canva's latest round was led by Sydney-based Blackbird Ventures and Silicon Valley-based Felicis Ventures, the same firms that funded Canva's separate $15 million round a year ago. To date, Canva has raised about $42 million, the company said. Among Canva's investors are actor Owen Wilson, Google Maps cofounder Lars Rasmussen and 500 Startups founding partner Dave McClure.
Impressive stuff, right? But the question surrounding Canva has been whether or not it has the potential to disrupt the design world in the way it intended. Part of its origin story was that CEO Melanie Perkins was teaching graphic design and realized that her students were struggling to understand basic concepts. This tool was her answer.
But is it the answer for those seeking to do design on their own? And what kind of answer is it in the end?
Recent statements from Perkins regarding the direction of the company provide context:
Canva cofounder and CEO Melanie Perkins said the startup hasn't used a cent of the $15 million round it raised in 2015 because of strong revenue growth. Now, the company plans to use its two latest rounds to spend more heavily on expansion over the next 12 to 18 months with the goal of becoming a mainstream workplace tool employees use to create any document, presentation or marketing material needed for work, competing with more broadly known tools like Microsoft Office.
Did you catch that?
Go back. Reread.
Microsoft Office.
Canva might have started out as an attempt to disrupt the world of design, but that has not been its function to date, nor does it seem likely to rise to that level in the near future. Though Canva and Microsoft Office might provide clean solutions for those with minimal resources, they fail to provide what professionals need out of design services: customization and innovation.
How much is a great logo worth to your business?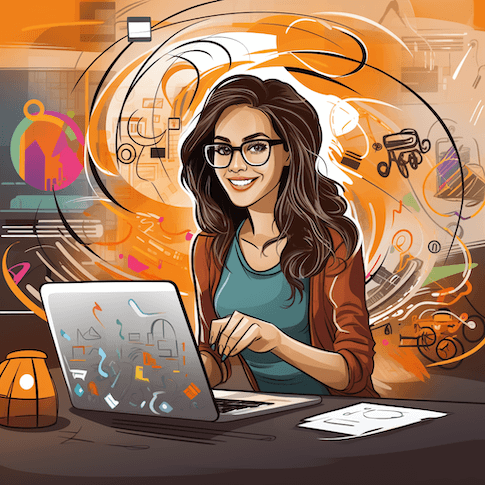 Answer 5 quick questions & gain 15 valuable insights to drive customer loyalty and business growth.
Start the free quiz now!
Yes, those stock invitation designs might work now and then, but if you're a startup looking to make a brand-centric splash, they're not going to cut it. There is always going to be a role for design professionals in branding and marketing. It might take some brands time and mistakes to realize this, but most come around eventually.
And really, concerns about whether or not these sorts of innovations will cut designers out of the equation are nothing new. This was the fear as access to graphic design software became more ubiquitous. This was the fear when platforms like crowdSPRING democratized access to designers. There is this persistent concern that as more options for finding design come about, designers will become increasingly unnecessary.
And at every turn, the fears have been proven ill-founded. Yes, more people have access to design software, but as Perkins herself pointed out, using those platforms still requires skill and vision, which not everyone has. And yes, programs like Microsoft Word and platforms like Google Docs and Canva and Mailchimp provide easy access to clean looking templates, but that's not going to cut it in the long run if you're a company that means business. Hasn't in the past, and can't now. And yes, there's more competition out there because of platforms like crowdSPRING, but that's been a positive shift as well. The most talented designers are highlighted through contrast, those trying to get to that level have opportunities to grow and prove themselves, and companies not yet sold on the importance of good design have easier ways to gain a new appreciation for such work.
Canva will not be the last to raise concerns about the future of design. It's just the latest fad in the space. If anything, they're likely to capture market share among those already using templates for their marketing — not market share in the world of those working with design professionals. So relax, everyone. Designers are never going to go out of style.