6 Important Questions Every Business Should Ask Their Customers
Feedback from customers – and what you do with that feedback – can turn an average business into a high-growth business.
If you're working on a business plan for a new business, take the time to talk to prospective customers as you do market research. Doing this before starting your business will help you understand how to launch a business that has a stronger potential to succeed.
Unfortunately, many business owners ignore important conversations with their customers, fail to get feedback from customers and fail to develop a competitive advantage before their companies go out of business.
Don't make this mistake in your business.
The more you know about your customers, the more effectively you can market to them.  As we wrote previously:
With increasing competition and choice, companies have to extend exceptional services to set themselves apart. According to an American Express survey, 3 in 5 Americans (59%) would try a new brand or company for a better service experience. That means that focusing on providing excellent customer service is a smart, surefire way to strengthen your consumer's experience – and build a loyal customer base.
Even negative feedback helps because it lets you address any practices that may need adjusting.
But where should you begin?
You'll want to start out with an outline of the ten basic things you probably already know about your customers. Make sure you know the following:
Who are they? – Are your customers men, women, or both? Are they Boomers or Millenials? Where are they from? These are all foundational pieces of knowledge that you need to know.
What do they do? – Knowing what your customers do for a living and what they're interested in is a great way to more precisely target your marketing.
Why are they buying? – Do you know the reason why they're in your market? If you do, it's easier to pair their needs with what you can give them.
When are they buying? – Find out when your target market typically makes this type of purchase. That way, you can increase your chances of getting their attention they want to give to you.
What's the purchasing medium? – Are they buying from a website? Do they prefer a brick-and-mortar establishment?
What's their budget? – Make sure you're targeting customers whose budgets appropriately align with your product or service.
What makes them feel good? – Knowing what gives a customer that precious good-feeling glow is key to making sure they become repeat customers.
What do they expect? – Understanding expectations is critical in order to meet those expectations. Whether your customers expect fast delivery or 24/7 customer support, knowing what they want from you is half the battle.
How do they feel about your company? – Hearing praise about your company is nice. Hearing where the pain points are is even better. You have to know where your business could use a little improvement to, well, improve!
How do they feel about your competition? – You know what they say. Keep your friends close – keep your competition closer.
Once you know the basics, you can move on to a more pointed line of questioning.
Better questions usually are more specific, and you'll find the most revealing information within the answers to those targeted questions.
Want a free brand review?
Answer 5 short questions and we will send a custom report with actionable insights and specific actions you can take to build a stronger brand.

We just emailed the info to you.
Here are 6 important, specific questions you can ask your customers.
How likely would you be to recommend our service/company to others?
How would you rate your last experience with us?
If you could change just one thing about our products/services, what would it be?
What other option did you consider before you chose us?
What makes us stand out from the competition?
Anything else you'd like us to know?
How likely would you be to recommend our service/company to others?
This is also known as the Net Promoter Score (NPS) question.
If you want deep insight into customer opinion of your business and brand, this is the question you need to ask.
Would you recommend something to your friend that was kind of lackluster at best?
Probably not.
The best way to gauge how satisfied a person is with your business is by whether or not they'd be comfortable telling their mom/brother/best friend/barista to use it.
Pro tip: Feel free to go in-depth with this question to get that extra bit of insight out of it:
Ask: "Taking only your most recent purchase experience into consideration, would you feel good about recommending us to a friend?"
Ask: "Now think about your entire experience with us. Would you recommend us to your friends?"
Your brand identity is an important part of your customers' experience. Be sure it's strong.
How would you rate your latest experience with us?
Want to hear a rather chilling statistic?
Take heed: A negative customer service experience has a huge reach and travels to more than twice as many people as does praise for a positive service encounter.
In a world where the reach of the web looms large, customers are granted the ability to bypass you completely and voice their concerns (or worse, outrage) to their friends – and everyone else.
Head this off at the pass: once a customer makes a purchase, send them a short email asking them about their experience.
This will save you scrambling in the aftermath of any potential PR disasters and will help you:
Discover how your customer feels about their experience with your business and/or product,
Provide a solution or make amends to an unhappy or dissatisfied customer, and
Give your customers an outlet where they are free to tell you everything on their mind – so they don't have to turn to social media instead.
We do this after every interaction between crowdspring's customers and our customer support team. We want to know whether we helped each customer and any feedback they might have for us.
And we're very proud of our performance in this area – and have even won awards for our customer support. We regularly have a customer satisfaction rating between 97 and 99%.
If you could change just one thing about our products/services, what would it be?
As much as we would like there to be, there's no such thing as a perfect product. Every product and service has room to improve, features to explore, and refinements to add.
You probably have your own roadmap for where you want your product to go, and that's great.  But it's a good idea to involve your customers in this process, too. They are an invaluable source of ideas, feedback, and feature requests, and often see ways of using your product that you hadn't imagined.
Some of the best features and products originated from customer feedback. The challenge is to be receptive to customer requests for improvements while engaging with them in a meaningful way.
For example, crowdspring offers core design and naming services in many areas, including logo design, web design, print design, product design, packaging design, and business names.
When we started out 10 years ago, we asked only a limited number of questions to help a customer draft a creative brief if they were looking for design help. For example, in logo design projects, we originally asked about 4 or 5 questions.
But the answers didn't provide much direction to designers, and we received lots of feedback from both customers and designers about our questionnaire.
This feedback was very valuable. We changed our questionnaire to be more specific and informative, and this improved the experience for customers and also provided important information for designers.
It was a win-win-win.
There are a number of services specifically aimed at helping businesses solicit feedback and ideas from their customers. Companies like UserVoice, Feature Upvote, ProdPad, and Wantoo are just a sampling of the available services.
Whatever service or method you use, make sure you're not only listening but responding, too.
No one likes feeling like they're yelling into the void, and your customers are no different. Make your feedback process a conversation so that your customers know that their input is valued.
Customers will often take the time to give you input on ways to improve if you ask, but if the exchange feels one-sided to them, they may give up.
What other options did you consider before you chose us?
After all of the market research and investigation, you may think you know who your competitors are.
But there's always the possibility you've either missed one or passed on one because their offering didn't seem comparable to yours.
Asking your customers what companies and services they evaluated is a great way to make those unknowns known.
At the very least, getting information on who your customers considered before they ultimately chose you can help you understand your primary competitors.
You can piggyback other questions to better contextualize what features or services those other companies had that initially piqued your customer's interest.
The more detail you have of where your customers came from, the better context and narrative you can create to help drive decisions and where to focus your efforts.
WHICH LOGO IS BEST?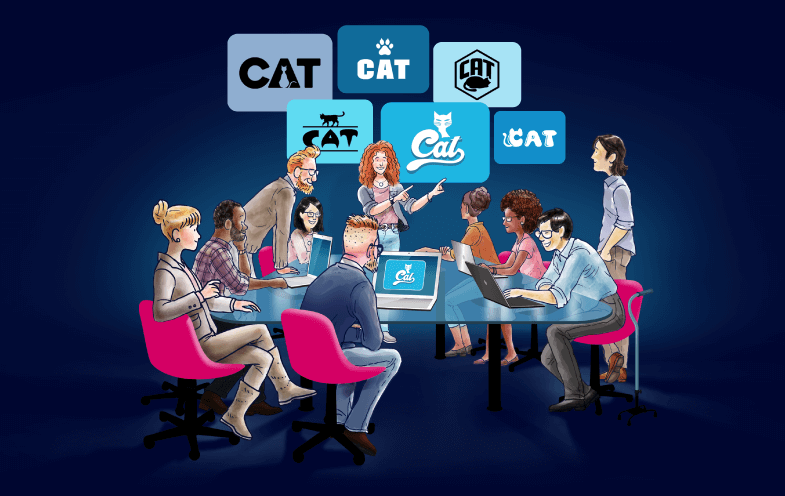 What makes us stand out from the competition?
Asking this question gives your customers an opportunity to tell you what they think makes you special.
The answer tells you about your unique selling proposition (USP).
Uncovering your USP can be difficult.
Your USP may not be something physical or tangible like a product, but instead, be more thematic or emotional.
Entrepreneur outlined this in their look at USP:
Pinpointing your USP requires some hard soul-searching and creativity. One way to start is to analyze how other companies use their USPs to their advantage. This requires careful analysis of other companies' ads and marketing messages. If you analyze what they say they sell, not just their product or service characteristics, you can learn a great deal about how companies distinguish themselves from competitors.

For example, Charles Revson, founder of Revlon, always used to say he sold hope, not makeup. Some airlines sell friendly service, while others sell on-time service. Neiman Marcus sells luxury, while Wal-Mart sells bargains.
Ultimately, a USP is what your business stands for.
We cover this in-depth in our guide on starting a clothing brand or clothing line.
For example, you could say that Apple's USP is found in "user experience": everything they do is meant to have the user at its core.
Google's USP might be in the way they connect people with information, whereas Amazon's might be providing whatever product you need quickly, efficiently, and at as low a cost as possible.
Figuring out what your USP is can take time, but it's a crucial piece of your brand. Knowing what it is can help you sell better to your existing customers, and more importantly, possible customers.
Anything else you'd like us to know?
It's always good to leave the floor open to unexpected responses or feedback. You can't possibly ask every single question, nor can you know in advance what might be top of mind for your customers.
Asking this question not only gives your customers the chance to mention anything they feel is important, but it also gives you insight into what's important to them.
It also gives your customer the last word and makes it clear that you're not just interested in your own questions.
Ways to gather responses
There are many different ways to gather answers to these questions.
Which one you choose depends on your goals, who your customers are, and how you can reach them, but here are some ideas to consider.
Customer feedback surveys. Surveys are tried and tested, but they can be challenging to run in ways that won't annoy your customers. Companies like SurveyMonkey or TypeForm make running surveys easy, but remember that no one ever woke up looking forward to filling in a survey. Make sure you keep surveys as short and easy to respond to as possible. Otherwise you run the risk of wasting your customer's time. Every question on a survey will reduce the number of people who respond to the survey.
Email and customer feedback forms. Having a form on your site or feedback box at your store gives your customers a recognizable way to get their feedback. These tend to work best as either wide open ("How can we improve?") or more targeted with one or two brief questions.
Direct contact. Forms and surveys may be easy to use, but they are poor at gathering the greater context or circumstances that your customers find themselves in. One of the best ways to get useful feedback is to reach out directly to customers and talk to them. Bonus points if it's in person, but if that's impossible for you, even a phone call or a video chat can be a great way to form that connection.
Usability tests. Not sure if something is working the way you hoped? Is your shopping cart on your site hindering or helping customers complete their orders? There are services you can use to test these things and more. UserTesting.com is one of the better-known services that help companies run usability tests, and there are also many companies that specialize in testing how usable software or a site is
Social media. Asking people that follow your business on sites like Facebook or Twitter is a great way to quickly gather candid feedback. Many social media sites offer integrated polling as well.
Customer service. If you have a customer relations or service team, your company might already have a team perfectly positioned to ask questions like this. Asking for permission at the end of a service call or chat if the customer would be willing to answer a few questions can be an effective way to get the input you're looking for.
No matter what method you use (and nothing's stopping you from using multiple), make sure that you're engaging with your customers in a conversation. As we mentioned earlier, let your customers know that you're talking with them, not just at them.
Engage with your customers.
Ask them questions, respond to their feedback, and be gracious and respectful of their time and effort.
They can help you make your products, services, and business better.