How Chatbots Can Help You Grow Revenue In Your Business
At every turn, companies and organizations are competing for our attention. How many of them actually get it?
To fight against the white noise of impersonal marketing, companies are increasingly turning toward chatbots.
For marketing professionals, this is an exciting way to reach their target audience. Who doesn't love a memorable conversation?
Building rapport with your customers helps generate brand loyalty, and that translates into revenue for you. That's where chatbots come into play.
Going where the (inter)action is
Chatbots give you access to where your customers are: messaging apps. Over 2.5 billion people are using at least one chat based app, and they are outpacing the growth of the four largest social networks.
"People are now spending more time in messaging apps than in social media and that is a huge turning point. Messaging apps are the platforms of the future and bots will be how their users access all sorts of services," says Peter Rojas, Entrepreneur in Residence at Betaworks.
It's clear that taking advantage of these chat interfaces is the way of the marketing future.
Image courtesy of Business Insider
The number of people communicating via chat interfaces is astonishing:  Whatsapp boasted that they had 1.2 billion monthly active users as of January 2017, and as of July 2016, Facebook Messenger had 1 billion monthly active users worldwide.
Following this trend, companies are turning to chatbots to reach customers using something that feels very natural to them: conversation. "It's more of a cultural shift," says Mike Roberts, head of Messenger at Kik. "Users are now so used to chatting with their friends via SMS and messengers that they feel comfortable with that same interface delivering an app experience."
Want a free brand review?
Answer 5 short questions and we will send a custom report with actionable insights and specific actions you can take to build a stronger brand.

We just emailed the info to you.
What does the bot say?
It's fitting, then, that chatbots are tiny apps that live inside messenger apps.  
True to their name, chatbots talk to you in fun, personable ways–just like a real person. Poncho, for example, is a chatbot that lives in the Viber chat service. It dispenses weather and commuting information in a snappy, irreverent voice, offering gems like "I can't promise your commute won't suck, but forewarned is forearmed." By listening to a person's likes and dislikes, chatbots can inform your marketing strategy across all channels – from social media and email newsletters to print and radio ads.
Chatbots aren't just clever apps that are fun to talk to. They are also valuable marketing tools that can help customers find relevant products or services.
Customers demand fast, personalized service, and chatbots make answering these demands easier.  "We're trying to serve the customer in this more conversational way," Matthew Sueoka, VP of digital partnerships and development at American Express, said in Adweek.
There's a bot for that
Mark Zuckerberg is continuing with his plans to monetize Facebook by betting large on bots in Facebook's Messenger platform.
Major players like American Express and Burger King are taking notice, throwing their hats into the digital ring.
Feeling a little cabin fever? Talking to American Express's Facebook Messenger bot allows you to buy plane tickets, sending a receipt along with recommendations for restaurants. Craving a Whopper? The Burger King bot lets you order, pay through the app, and tells you where to pick it up.
Kik's Bot Shop allows users to find chatbots from marketers like H&M, Sephora and the Weather Channel. Kik CEO Ted Livingston says,
I think the cool things about bots is…everyone is spending all their time on their phone, but nobody is downloading apps. Bots become a way to get software in front of people.
H&M's chatbot helps you search their catalog, directing you to the items you like for easy purchasing.
Looking for the shade of lipstick Emma Stone wore to the Oscars? Sephora has a bot for that.
The Weather Channel's bot hilariously intones, "Stay dry and prosper, human." These helpful little robots make otherwise dry tasks surprising and fun, like chatting with a (possibly nerdy) friend.
The success of chatbots operating within messaging systems is becoming more obvious, with many organizations reaping their rewards. The Sun's Facebook chatbot drove almost half of its users back to their site: at peak, 43 percent of chatbot subscribers clicked through to the main site.
With vinyl record store The Edit, chatbots act like a record store clerk in your phone. The bot takes user input and creates music recommendations based on your preferences, then provides a link for purchase.
Image courtesy of AdAge
Before the end of their first year, The Edit recorded a million dollars in sales from their bot. David Cotter, former Amazon.com general manager, attributes much of the site's success to their chatbot. "Sixty-eight percent of our [subscribers] have purchased," Cotter said. "Twenty-eight percent have purchased six or more albums in their first 180 days."
Your turn at bot!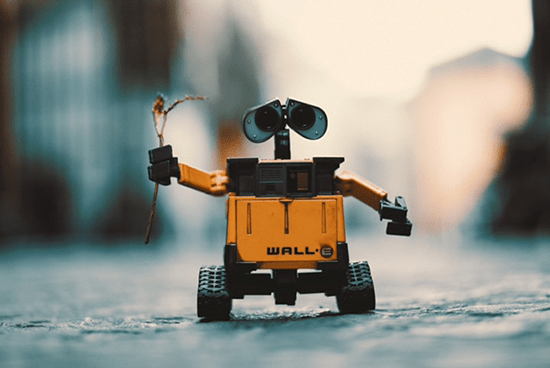 Research firm Gartner predicts that only one-third of customer service interactions will involve human interaction in 2017. That means the rest is up to our cheeky AI counterparts.
So how can you get involved? It's a brave new world, but getting started with chatbots isn't as intimidating as you might think. There are a number of services available that let you create chatbots without needing to know how to program, which is great for those of us who didn't go to school for that.
Chatfuel can build a bot without any coding, offering a full-featured bot in seven minutes.
MobileMonkey is a cool new Facebook messenger marketing platform that helps you to connect with your customers and prospects on Facebook. You don't need to know how to program to get started.
If you're not interested in creating your own chatbot yet, there are plenty of marketing bots out there to help you build your brand. GrowthBot is designed for marketing professionals and startups. It connects to a number of systems like HubSpot and Google Analytics, giving you quick access to information and services. It even tells jokes! (Not promising they're any good, though.) GoalBot lets marketers set goals, accomplish more, and create actionable plans to achieve those goals. Sure lets marketers register their business, identify their target consumer, and get their company on a list of suggested retailers for customers.
Robots Rule 
Chatbots are fun, interactive characters that allow consumers to actively participate with your brand, making them much more personally invested in your company. Take a cue from some of the success stories we mentioned above and consider being the first business in your industry to utilize chatbots. You'll create a unique experience for your customers that could differentiate you from the competition.