12 Graphic Design Trends that Will Be Most Influential in 2019
With only moments to grab consumer attention, a compelling design offers the best chance to engage your customers and leave a memorable impression. As we wrote,
Marketing studies show that the average American is exposed to around 5,000 advertisements and brands per day. Out of that veritable flood, they found only 12 made enough of an impact to leave an impression. You can help your business be one of those twelve through effective, attractive design.
What will be trendy and hot in 2019?
>> Here's our look at graphic design trends for 2022.
Whether you're looking for a modern logo design for a new business or considering a rebrand, creating or refreshing your product packaging or package graphics, or looking to redesign your company's website, you should be familiar with these 12 graphic design trends that will be most influential in 2019.
12 graphic design trends and styles that will be most influential in 2019:
1. Bold typography
Typography is a fundamental part of graphic design. As such, it's no surprise every year that designers take typography in a different direction.
Want a free brand review?
Answer 5 short questions and we will send a custom report with actionable insights and specific actions you can take to build a stronger brand.

We just emailed the info to you.
Recently we've noticed an increase in the use of type as a bold, often primary element in graphic and web design. Allowing your typography to stand front and center creates a powerful impression.
With advertisers and marketers fighting to stand out in increasingly competitive marketplaces, using distinctive typography can be an effective strategy to make a stronger impact on consumers.
Don't be afraid to use bright colors, 3D effects, and unusual spacing to further emphasize the boldness of your type.
The best part about the bold type trend?
It's surprisingly versatile and works well in a wide variety of mediums.
2. Light and dark color schemes
Many companies embraced the dark side in the past year.
The latest version of Apple's Mac OS X (codenamed "Mojave") has a dark mode, and updated apps from Microsoft, Facebook, Google, and more also incorporated dark color schemes.
This trend continues as more companies adopt dark and light colors into their products.
Using light and dark color schemes can give designs a visual pop that helps draw attention.
Whether you want to shine the light or delve into darkness, core design concepts like simplicity and gestalt theory can really make a difference.
But be careful. Dark color schemes might pose readability challenges.
Be wary of the contrast ratio between the color of your text and the background behind it. Online contrast tests like the one offered by WebAIM can help.
3. Gradients and Duotones
Designers tend to have a love-hate relationship with gradients.
If the last year is any indication, all signs point to a giant heart emoji as gradients seem to be everywhere.
Gradients can add a sense of movement and dynamism to design, and companies are tossing out gradients like visual candy.
Check out the use of gradients and duotones in designs from streaming music services like Apple, Spotify, and Pandora.
Other companies are getting in on the multicolored action too (Stripe, tech site The Verge, and mattress retailer Purple, among many others).
If you want to give your brand energy and a youthful vibe, mixing several colors could be what you're looking for.
Sites like uiGradients  and ShapeFactory's Duotone have generators that help you test out color combinations. As with light and dark color schemes, be sure your choices have enough contrast so any text you use is still readable.
4. Authentic stock photography
At crowdspring, we're very clear on the limitations of stock art:
It's generic, lacking in personality, and the very same stock art could and does show up on your competitors' websites, business cards and logos. It's one reason that a business owner should never buy logos at so-called "logo stores" that sell pre-made generic tamplates. These are all factors that will weaken and muddy your brand.
Companies are beginning to recognize the limits of stock photography, and many have made efforts to address this.
The trend of "authentic" stock photography – stock photos that seem more genuine or real – is accelerating, as more companies create their own in-house banks of realistic-looking stock photos.
Some companies (like Apple) have created their own authentic stock photography for years, while others (like Uber) have made it a key component of their recent rebrands. What companies want are photos that appear to have been taken by a real person.
Instagram may be a big reason why authentic stock photography is on the rise. Consumers can now spot a bad stock photo from a mile away, and many do not trust or appreciate brands that use generic-looking stock in their designs.
The look of authentic stock photography isn't hard to find: Imagine a very careful curated Instagram influencer's feed and you'll get a good idea of what it looks like.
5. Vivid colors
The use of vivid colors continues the spread of 80s and 90s nostalgia into every nook and cranny of our existence. Companies and brands continue to go bold with their color choices.
Color is an important part of branding and product design. As we wrote:
Color has a deep and often subconscious effect on our behavior. Color is often used to persuade or influence us.

According to a study examining the effect of color on sales, 92.6% of people surveyed by the CCI: Institute for Color Research said that color was the most important factor when purchasing products.
In part, this trend is a continuation of the 80s color palette blown up and updated for a new generation of consumers.
All of the pastel shades have morphed into their brilliant counterparts.
Companies have planted their flags on energetic, eye-catching colors that jump out and grab the viewer's attention.
Apple is one of the most influential companies on the vanguard of what's on trend for design.
The release of 2018's brightly colored iPhone XR reflected the growing trend for bold colors.
It's not just Apple parading a lively palette of hues and shades. Nike, Adidas, and other clothing companies also tapped into vivid colors for their marketing efforts as well as their products.
6. Open composition
It used to be that designs were bound by frames, but designers have increasingly broken free and this will continue into 2019.
Open composition designs utilize every part of the canvas. Online, these can be websites that scroll in all directions or advertisements where elements seem to extend past the edge of the image.
Websites are one place where this effect can be quite spectacular, especially when its combined with a user's action like scrolling or clicking.
The Magic Leap website is a great example of this, where whales move in and out of view.
Scrolling zooms out, showing that there's much more to see that was out of view.
It's a powerful effect and very on brand for a company focused on alternative reality products.
Your brand might benefit from adding a zoom effect inside of an airy, open composition. It adds a spacious feel and can be very effective when done correctly.
7. 3D
With the steady march of alternative and virtual reality into the mainstream comes the growing use of 3D as a design element. 2019 will be big for designs with isometric, extruded, and 3D components.
Advances in browser technology enable designers to bring 3D elements to their websites. Extending design into the third dimension brings its own set of challenges, but it can (literally) bring some much-needed depth to your brand.
Brands like Lyft use 3D in the form of isometric illustrations to bring a different feel to their brand. It's an effective technique to give simple illustrations a more sophisticated look.
But remember – it's important to use these types of effects sparingly.
8. Metallic effects
Metallic effects are back in a big way.
Until recently, most metallic effects in design fell out of favor.
This has changed as companies like Apple and Samsung add metallic flourishes (or even whole elements) into their designs.
Done well, metallic design can be sophisticated and classy. Take care to not overdo it, however, as the line between classy and classless is a fine one.
9. Fluid and flowing
Designers are merging their designs with liquid or fluid effects to create something new and otherworldly.
These effects add an organic feel to designs that can make them seem softer and more natural. It's also a great way to add a visually interesting texture that can turn an otherwise generic-looking design into something more dramatic.
The key with fluid effects like any other trend is to consider whether or not it fits your brand.
Transitions can be especially tricky if they're not done well (or done gratuitously). If you're looking to add flair to your brand, patterns inspired by liquids can be unique and visually arresting.
10. Text on backgrounds
Text set on background images is an old graphic design trend that is again coming back in style.
The look features bold typography on evocative, visually engaging backgrounds.
In addition to its visual impact, designers use text on background colors to align a business with its vision, mission, and brand values. This helps to strengthen a company's brand identity.
Visually linking a business with its core brand aspirations and character is a great way to further your message to consumers.
Whatever the reason, adding an image behind your text is an effective way to draw attention to your copy.
11. Strokes, stains, and doodles
Illustrations were huge in 2018, and 2019 continues this trend as more companies incorporate drawn elements into their designs.
The trend is shifting from more abstract or painterly illustrations to ones that appear more like doodles or quirky drawings. Designers are adding strokes and splashes of color to spice up their designs and give them a visual edge.
Adding doodles to your design can also make your brand appear more friendly and welcoming.
Brands use doodles and splashes of color in place of stock photography and other more traditional visuals.
A well-placed doodle can turn an otherwise stark design into something warm and approachable.
Doodles can be tricky to create.
They need to look professional and brand consistent but still retain a hand-drawn feel.
If you plan to use doodles, it's best to consider their use throughout your brand. Consider them as a primary branding element and use them consistently throughout.
12. Pantone color of the Year
Pantone is going on twenty years of major influence across many industries with its choice for Color of the Year.
The color selected influences product development and consumer purchasing from everywhere from apparel, merchandise, industrial design, packaging design, and anything you can think of where color is involved.
This year, Pantone has declared "Living Coral" the color of the year for 2019.
Executive Director of the Pantone Color Institute Leatrice Eiseman said in a statement:
With consumers craving human interaction and social connection, the humanizing and heartening qualities displayed by the convivial Pantone Living Coral hit a responsive chord.
Pantone selects a new color every year based on several considerations. New trends in design, art, travel, social media, and even the socioeconomic climate are all considered in choosing the color for the year ahead.
We're looking forward to seeing this warm, comforting color appearing everywhere from logo design all the way down to the throw pillows in your mom's house.
Wrapping up
Strong graphic design is a cornerstone of any business's brand. It impacts your company's logo, website, app, packaging, and more.
It's no longer enough to design something once and then call it a day.
Design, like consumer's tastes, evolves over time. It's crucial the look and feel of your business changes along with it.
Incorporating trends into your design is a good way to keep the spark alive. The key is to find trends that work with your existing brand, not against it.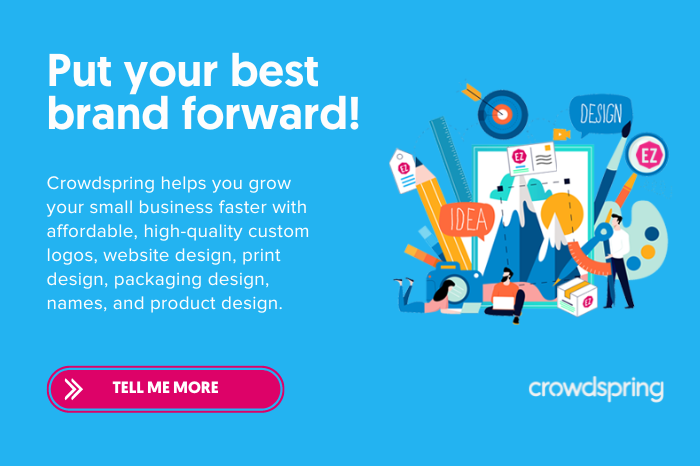 Want a closer look at other graphic design trends for 2019?