Branding a Ghost Kitchen: How to Build Credibility for an Invisible Restaurant
Ghost kitchen, virtual restaurant, cloud kitchen…
Whatever you're calling your venture, you're a part of a new food business experiment.
Ghost or cloud kitchens (also known as virtual restaurants or virtual kitchens) are an evolution of the traditional restaurant model. These spaces focus solely on food preparation (and sometimes delivery) and have no on-premises dining facilities.
The rise of third-party delivery services like DoorDash, Grubhub, and UberEats has facilitated the public's desire for tasty food delivered right to their door.
And, a new breed of a delivery-only restaurant has evolved to be their symbiotic counterpart.
Together, these cloud restaurants and delivery services are taking the dining world by storm.
Whether you're working on a business plan to prepare delivery-only fare in the kitchen of your own restaurant as a side gig, expanding into new territory using a commercial kitchen like Kitchen United, or renting kitchen space from an existing restaurant, you've got a unique opportunity ahead of you.
The food delivery industry is showing substantial growth. According to Statista, food delivery revenue in the U.S. was around $30 billion in 2015. Forbes predicts that by 2025 – a scant 10 years later – the industry will be worth $200 billion.  That's a jump of 567%.
And virtual restaurants can ride the wave of food delivery popularity.
But, with no storefront or dining room, building a credible brand identity can be tough. And, with delivery fees, service fees, and tips to factor into the cost of their meal, people want to make sure they're spending their money with a restaurant that's worth it.
This makes branding an important differentiator for your business.
So, here are 4 design and branding tips for developing a successful virtual restaurant or ghost kitchen.
1. Choose the right business name and logo.
When you're starting a new business and trying to establish credibility for a restaurant that people can't actually visit, it's no time to be coy.
You must be straightforward and set clear expectations. Failure to do so will make your venture seem shady. And your new virtual restaurant will fail before it ever gets off the ground.
Just like any other online (intangible) business, your first objective is to establish yourself as trustworthy. Then you can convince people of the individual merits – healthiness, food quality, superior taste – of your restaurant.
As the key identifiers of any business, your name and logo will be essential in setting proper expectations and building trust.
Let's take a deeper look…
Want a free brand review?
Answer 5 short questions and we will send a custom report with actionable insights and specific actions you can take to build a stronger brand.

We just emailed the info to you.
Business Name
A business name is the first impression any business makes. People look to business names to tell them what that business does.
Since your customers will find you on DoorDash, Grubhub or UberEats, they'll already know that you serve food. However, your name should make it very clear exactly what kind of food you provide.
Many cloud kitchens produce a narrow line of foods designed to use up surplus food stock.
If your business model is ultra-specific, too, make sure your business name reflects your specialty. This tells customers exactly what to expect. And, then you can deliver a positive experience along with their food by meeting that expectation.
Think about it from your customer's perspective… You're hungry and you're craving ramen. Not sushi, not pho – ramen. No other dish will do. As you scroll through your options on your favorite delivery app, the name "Bird's Nest RAMEN" leaps from the list.
A customer may have scrolled past any number of restaurants that also serve ramen. But, most people will choose the option that clearly specifies that you have what they want – with no guesswork.
This doesn't mean that you should be lazy and literal with your business name – a business name should always be unique, memorable, and on-brand. But, you'll be best served by a name that also clearly communicates what it is you offer.
And if you plan to operate various related restaurants, consider the best brand architecture model.
Company logo
Every reputable business has a logo.
Think of it as the signs outside of roller coasters that say, "You must be this tall to ride."
A company logo is the basic, bare minimum price of admission to the world of professional business. If you want to run a business that has a real chance of success, you must have a logo.
And, that's true for all businesses. But, a logo becomes so much more important when your business doesn't have a sign or storefront by which customers can recognize you.
People are visual creatures. And they need some way to visually identify and remember your business.
On top of that, a logo gives your business professional credibility that will reassure people that it's safe to buy from you.
But, we understand that you probably don't have a ton of money to sink into a logo design at this stage. So, hiring a professional design agency for thousands of dollars, or even a freelancer who will only deliver one or two concepts to choose from, may not be the best fit.
We recommend that you consider a crowdsourcing design platform like crowdspring. You'll be able to choose the logo that best captures your brand from dozens of designs – all custom-created just for you, at a fraction of the price you'd pay using a traditional agency or freelancer.
However you choose to acquire your logo, you must have one. And, like your business name, it should be memorable, unique, and effectively communicate your brand.
If you already started your business and are struggling with branding, it might be time to rebrand. So even if you're already operating, it's not too late to start building a strong brand identity.
2. Set up a business website.
It's not enough to appear on a delivery app.
It's not even enough to appear on all of the delivery apps.
People expect real businesses to have websites. And, even if you're not a traditional restaurant business model, you are a real business.
So, don't think for a second that potential customers won't be looking you up outside of their delivery apps. Restaurant Insider reports that 90% of guests research a restaurant online before dining there. And, of those researchers, 57% visit the restaurant's website.
As a diner with food allergies, I can assure you that I don't dine at or order from any restaurant without taking a trip to their website first.
And, here's another secret – this is where you can really sell people.
A business website provides more real estate to establish your brand credibility and build a case for the awesomeness of your food than a delivery app ever will. So, do not skip out on this opportunity.
Showcase your brand personality in visual design and writing. And, include a gallery of food photography (more on that below) to visually support your menu.
To get the most from your website, be sure to feature your logo prominently and use it as the central visual inspiration for the website's appearance.
As we explained previously:
Your website's color scheme should be informed by your logo. The fonts you use on your website should relate to the fonts in your logo. Your website's visual style should be inspired by your logo. Got it? Good.
Use your website to discuss what makes your food unique, delicious, and worth ordering. Feature your complete menu with full, enticing descriptions of your dishes so that customers can learn exactly what they're ordering. And, most importantly, create a consistent brand experience to reassure your potential diners that your business is reputable and should be trusted with their money.
WHICH LOGO IS BEST?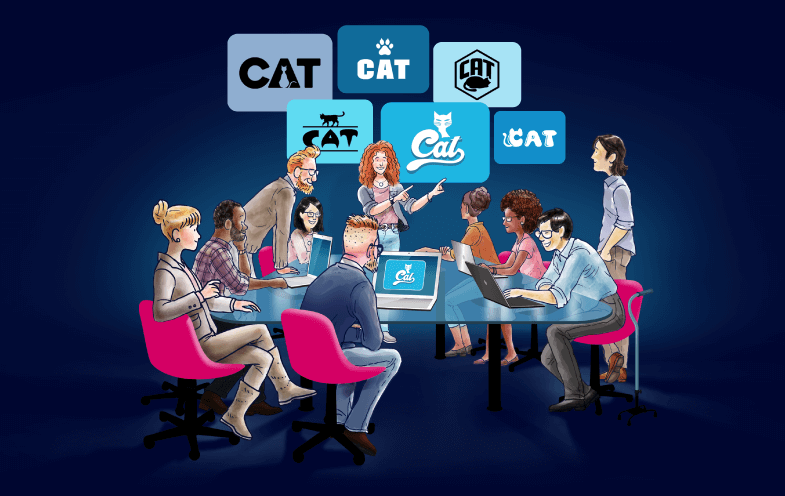 3. Invest in mouth-watering food photography.
Three out of three top delivery apps in the country use food photos to visually identify your restaurant for their users.
Your avatar photo will appear in a list of enticing food photos for other restaurants. And, the most appetizing photos will win.
This is why the quality of your food photographs – along with how appealing your food looks – will make or break your business.
No one wants to order sad, unappetizing food. And, especially not when there are varying delivery fees, service fees, and tips thrown on top.
So, invest in a professional food photographer to shoot your menu.
These photographs will not only sell your virtual restaurant on the delivery apps. They'll also populate your website with scrumptious images of your food, set customer expectations for what they will receive, and show that you are a real business with real food worth ordering.
Show your potential customers exactly what they'll get with tantalizing professional food photography.
4. Don't forget your brand.
All the trappings of branding – a business name, logo, website, etc. – mean nothing without a thoughtful brand to anchor them.
What values guide your business? Which personality traits describe your business? What kind of food do you make and why do you make it? How is your food unique from your competition?
Taking the time to answer these questions will help flesh out your brand and serve as guidelines for all of your branding decisions. And, it will help bring your ghost kitchen to life.
This is your most important step.
In order to communicate your restaurant brand clearly to your customers, you must know what it is.