Friday Fun Facts – Hello, Buyers!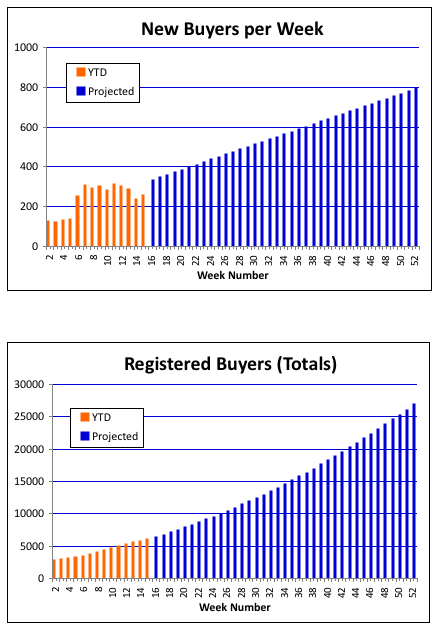 As a small business startup we spend a great deal of time looking at and analyzing data to help us drive strategy, make adjustments, and better understand our customers. We try hard to not be robotic in our response to numbers, but rather to let them inform our decisions and our direction. Here is the latest in a serial discussion of some of the data we look at internally…
Last week I wrote about our community of Creatives from around the world and how much we've grown in less than a year since launch. This week I'll take a look at Buyers on crowdSPRING and share some data about these folks. I mentioned last week that when we first launched the site we did not ask people to tell us whether they were registering as a "Buyer" or a "Creative," so our first 3 months of data did not allow us to track weekly growth based on a users self-declared role. So the data started with the assumption that, as of last August, we had already registered around 400 Buyers. Since then we have registered well over 5,000 new Buyers and should reach 6,000 in the next week or so.
Here are some facts about newly registered Buyers:
In the fourth quarter of 2008 we added an average of 135 new Buyers per week
In the fourth quarter of 2008 average weekly growth in Buyers registrations was 8.6%
In the first quarter of 2009 we added an average of 236 Buyers per week (75% increase)
In the first quarter of 2009 average weekly growth in Buyers registrations slowed a bit to 6.1% (29% decrease)
Our challenge for 2009, is not only to attract new Buyers (in March alone we averaged 295 new Buyers per week), but to encourage them to post new projects. Not every Buyer who registers immediately posts a project on the site – for Q1, only 42% of all new buyers posted a project on the same day they registered. Interestingly, this percentage has remained basically flat for the past two quarters. (If anyone has thoughts on how to improve this, please send them my way!)
These two charts illustrate projected Buyer growth for 2009. The first shows the weekly growth trend through the end of this year and the second shows a projection of overall registrations through 2009, both based on growth this year-to-date. So, new Buyers, come on in, make yourself at home. Can we get you something to drink?