Elements of a Great Unboxing Experience
If you have a new product, customers are cautious right from the beginning. This is what your customers are thinking before the package ever shows up:
Will it arrive broken?
Will the instructions be adequate?
Will they send the right color?
Are my credit card details stored safely?
Will it arrive late?
Will I have to fight with a customer service rep to explain the "no questions asked" exchange?
By the time UPS drops off the package, your newly acquired customer is an emotional powder keg just expecting something to go wrong.
Fortunately, you can ease this emotion and create positive feelings toward your brand with an exciting unboxing experience.
Pleasing Arrangement
Think first and foremost about what impression the arrangement of your products within the packaging says about the effort that went into the delivery. I mean, really, what sort of "handling" did your customer pay for in those shipping and handling fees?
Does your product have a cold, unexciting utilitarian feel?
That image screams "mass produced and shipped without care for the customer on the other end." It brings to mind an operation more concerned with margins and penny pinching than pride in a product and dedication to the customer.
Not sure there's another way? Consider Trunk Club. The service promises personally selected ensembles curated by seasoned stylists for each individual customer. Though the clothing they select for the customer is indubitably plucked from a pre-established array of options, you never feel that way when you open the box. Ever.
That packing tells the customer, "This is for you, from us." Much more impressive and reassuring than one your average shipment.
Want a free brand review?
Answer 5 short questions and we will send a custom report with actionable insights and specific actions you can take to build a stronger brand.

We just emailed the info to you.
Something Extra
When packing up your product, consider adding something small that was never on the purchase description. It doesn't have to be anything huge — just something little that the customer wasn't expecting.
Gameklip is an example of how this can bring a smile to your customer's face. hen Gameklip shipped its Kickstarter they added smarties to each delivery.
The impact here was two-fold, as the inexpensive treat brought a lot of online attention from people who weren't expecting the extra treat. So not only were the customers happier with what they received for what was literally extra fractions of a penny per order, but the company's brand equity got a boost from the reaction.
Humor
Who doesn't like a laugh? Plus, if you're looking to put your customers at easy about whether or not they can trust you right out of the gates, making them giggle or at least crack a smile is a good way to do that. It's hard to raise a skeptical eyebrow when you're grinning ear to ear. Seriously — just try it.
So give your customers a reason to smile. You know who does a great job on this note? Dollar Shave Club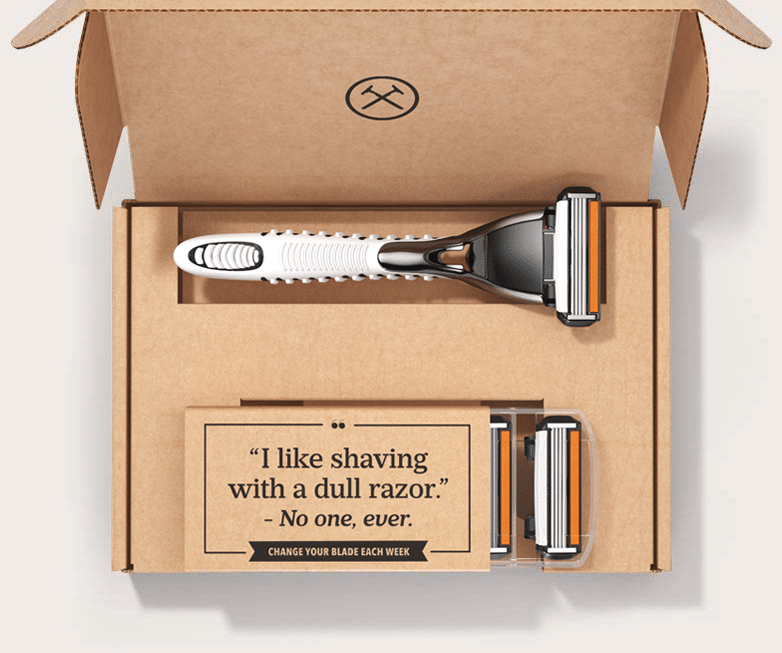 Their packaging is pretty minimalist, but they make up for it by including fun quips on every delivery. It definitely makes what's ultimately a pretty simplistic business model more appealing.
Easy Open
Nothing is worse than getting excited for your product and then struggling to open the package. That sort of experience can make the customer grumpy before they ever get to the product, and nobody wants that.
Amazon gets this. The Amazon Kindle Paper White boasts an incredibly easy to open box, which means their customers get to enjoy their newest gadget quickly. That's always a win.
Ready to Use
Ease of access doesn't stop at the packaging though. Three little words can also dampen the excitement: "some assembly required." Whenever possible, try to ship your product so that it's ready to use straight away.
And it's not just assembly. Especially in the world of tech products, having to wait for a charge to be able to play with your purchase is the biggest pain in the butt.
Apple is a great example of a company that avoids that headache altogether. The company is famous for their pre-charged phones that allow customers to start raving straight away.
Does your product need batteries or other accessories to live up to its promise immediately? Try to take care of that for the customer prior to shipping.
The point is that if your unboxing experience is hindered by packing or packaging, you're only doing your brand and your customer's a disservice. On the other hand, a solid experience can help bolster customer satisfaction before they even touch your product, which is only going to boost your brand equity. You only get one first impression. Make it count.
And if your "unboxing" experience needs some work, our packaging design creatives are ready and waiting to help.