10 Tips for Startups and Small Businesses on Naming Your Company
Naming your company can be challenging and time-consuming.
But it's vital to find a memorable business name.
If you need help or don't have the time (it took us nearly 50 hours to name "crowdspring"), you can leverage crowdspring's community of more than 220,000+ creatives to come up with your business name.
Whether you leverage crowdspring's community to help name your startup or small business or find a name on your own, you might find the following 10 business naming tips helpful:
1. Think about what you want your company name to convey.
The company name is an essential part of your company's brand identity.  The name will appear on your business cards, letterhead, website, promotional materials, products, and pretty much everywhere in print to identify your company or your company's products and/or services.
Service-oriented businesses should consider whether it will be easy for their prospective customers to recognize what services the business provides, based on the company's name (example: Friendly Dog Walkers or Bright Accounting).
Businesses located in rural areas and serving rural communities may want to project a smaller, hometown feel with their name. However, companies planning to focus on more significant markets or bigger customers might want to project a larger, more corporate image with their name.
2. Brainstorm to identify name possibilities.
Once you understand what you want your company name to convey, you should set aside some time to brainstorm. Think about words that describe your industry or the products/services you offer. Think about words that describe your competitors and words that describe the differences between your products and services and those of your competitors. Consider words that describe the benefits of using your products or services. Finally, think about words (and phrases) that evoke the feelings you want your customers to feel when they see your company name.
While brainstorming, look up Greek and Latin translations of your words – you might find new ideas from doing that exercise. Look at foreign words, too (we spent some time with a Swahili dictionary looking for strong names).
Expect this process to take some time (it took us about 40+ hours to brainstorm and then another 10 to finalize names – we went through MANY possible names). Don't forget to leverage resources, including a dictionary, thesaurus, and any other resources you think may help.
3. Keep the name short, simple, and easy to write and remember. Also – consider acronyms of the name.

Think about the names of companies you admire. They typically have a few things in common: their names are short, simple, easy to write, and easy to remember. (Examples: Apple, Google, Virgin, Southwest).
Obscure business names are often difficult to write and even more challenging to remember. This is a problem because, for most startups and small businesses, word-of-mouth advertising is the most successful form of marketing. If your customers can't remember your name or can't spell it for others, it will make it difficult for them to help promote your business.
While it might be tempting, avoid using a "K" in place of a "Q" or a "Ph" in place of an "F" when coming up with your company name. Such letter substitutions make spelling the name very difficult.
Also, don't forget to consider the acronym of your company name (an acronym is composed of the first letter of each word in a phrase). You might not use an acronym, but your customers might refer to your business by an acronym. A name such as Apple Support Services can result in an unfortunate acronym – ASS.
Want a free brand review?
Answer 5 short questions and we will send a custom report with actionable insights and specific actions you can take to build a stronger brand.

We just emailed the info to you.
4. Avoid names that are too narrow or too literal.
Think about how your company may evolve and ensure that the company name can grow with the business. For example, if you name your company iPod Accessories and later expand into selling accessories for other products, your original name will be too narrow and restrictive.
The same advice applies even if your company sells a niche product. For example, if you sell antique lamps, you should consider whether you might sell more than lamps in the future. Naming your business Joan's Antique Lamps may be too limiting when you later start selling antique clocks and furniture.
5. Avoid decisions by a committee but do "test" your company name with others.
It's tempting to involve our friends, family, employees, and customers in finding a name for our company. Sometimes, this can work out well. But there are risks. People might be upset if you don't pick a name they think is excellent. You'll also find yourself trying to find consensus – which can lead to a very plain name. If you must involve others, pick a small group of people who understand you and your business (and pick a mix of right-brain types and left-brain types so that you can have some variety.
Once you've selected a few possible choices, you should share them with a few trusted friends, family, and customers to get some feedback about the name.
6. Avoid plain words.
Plain words make it very difficult to differentiate your company from your competitors. For example, there were hundreds of thousands of logo design businesses around the world when we started thinking about "crowdSPRING." We knew that we would be expanding to many different industries (web design, product design, and many more). We didn't want to name our business Great Logo Design or manyDesigners – it would have been descriptive, but not memorable and certainly not sufficiently unique.
There are exceptions. General Electric is one of the most successful companies globally, and its name is composed of two plain words. But, General Electric was one of the first companies in its product/service category and could get away with a plain name.
7. Be careful with geographic names.
Some people use their city, state, or region as part of their company name. If you plan only to work in your city, then this might serve you well. But a geographic name could hinder you later. One great example is Minnesota Manufacturing and Mining. Initially, the name worked because the business was focused on Minnesota. But once the company grew beyond their industry and the state of Minnesota, they needed to find a new name – 3M.
8. Avoid obscure words.
Company names that help tell stories can be powerful and memorable (think about Google, for example). But obscure words or references might be difficult to spell or pronounce. Be especially sensitive if you're trying to reach a mass audience (such as the Internet). Obscure or invented names can work – Xerox is a great example – but this often requires a huge marketing budget and tremendous effort.
WHICH NAME IS BEST?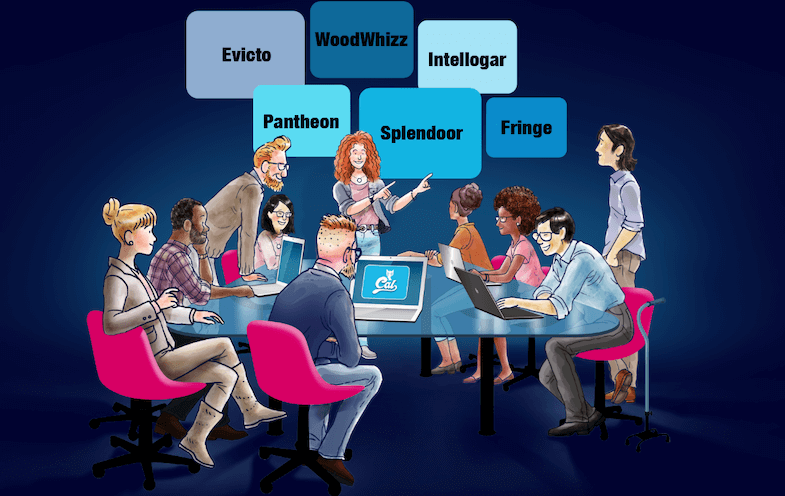 9. Avoid trends.
You'll want your company's name to evolve as trends evolve, so be careful to identify the trends and avoid following them. For example, in the late 1990s, it was trendy to use a .com after your company name if your company was an Internet business. After the Internet "bubble" burst, the ".com" became synonymous with having no business model, and those companies who survived very quickly dropped ".com" from their names.
But it can get worse. Since your company logo will be based on your brand name, you may need to rebrand later if you pick a trendy name combination that turns out to be unpopular after a short period.
10. Consider whether you can register a domain and obtain a trademark.
It's essential to make sure that your competitors are not using the same name in your industry. It's not uncommon to find similar (or even identical names) in different industries, but this can confuse your customers and vendors. If your competitors are using the same name – you'll expose yourself to possible litigation, and you'll likely be unable to obtain trademark protection for your company name.
So, look for a company name available for registration as a domain (ideally, as a .com domain). It would be best if you understood that .com domains are very popular, and you'll struggle to find available domains that match your company name. Many people obsess during this process.
While it's not an unimportant process, Tate Linden, CEO of Stokefire (a firm that specializes in branding), says that people often place too much value on the domain:
The number of people who type in URLs is shrinking every day.  Small business owners still seem to be obsessing over getting the pure URL as MyCompanyName.com, but the larger organizations have adapted.  We've done quite a bit of research that indicates the URL is becoming much less important.  Nowadays people are putting the name into Google to find sites.  We see this as a great thing.  The sad fact is that the vast majority of names we consider are 'camped' by squatters hoping to make a quick buck.  If you don't have deep pockets or a convincing story to share you're going to get taken to the cleaners.

Google is a great tool for getting around this issue—if you've got a strong brand and you're getting links from people you'll end up as the number one response for your name even if it isn't the pure dotcom domain.

Last, there are some promising developments on the horizon.  There's talk of opening up the area to the right of the 'dot' that would at least temporarily help businesses get their own domains.  There are also some processes in place where business owners can go to ICANN and file a complaint based on the fact that their trademarked domain name is being held for ransom.  I've heard some success stories of businesses going through the process and winning the domain rights from people whose sole intent in owning the sites is to sell them.
You'll also want to make sure that you select a company name that you'll be able to register for trademark/servicemark protection. Trademark rights arise only through commerce (such as when you offer items for sale and use the trade name or logo in your marketing materials or on the products). You are not required to register a company name – you can acquire common law rights simply by using the name in commerce.