10 Business Plan Tips to Help You Write a Great Business Plan
Many entrepreneurs and business owners make mistakes when they rush to start a business before considering important details.
A great business plan can help you anticipate important issues and possible challenges before you start your business.
In fact, studies show that entrepreneurs who take the time to write a business plan are 2.5 times more likely to follow through and get their business off the ground.
Here are 10 business plan tips to help you write a great business plan.
1. Learn from other entrepreneurs and business owners
You can use a business planning tool – there are many available. But, the best way to start writing a business plan is to read as many business plans as you can get your hands on.
Search the tables of contents and consider which parts are relevant to your business.
Flip to the index and see how well organized and granular it is.
Check out any exhibits or charts and consider how your business plan could benefit from similar exhibits or charts.
Remember, you're not reinventing the wheel here. For example, you can get a free business plan template for a traditional business plan and a one-page business plan.
There have been many who did this before you and you can benefit from their experience and expertise. And, it doesn't matter if the business plans you read offered the same products and services you offer – look for the overall approach and the level of detail, the way they articulated their mission statement, and don't worry about the specific products or services those business plans discussed.
And, remember that there's no universal business plan format. Use the examples to compare what you like and don't like, look at the business model and revenue model in each plan, and build a business plan following the best practices you find in the example plans you read.
Want a free brand review?
Answer 5 short questions and we will send a custom report with actionable insights and specific actions you can take to build a stronger brand.

We just emailed the info to you.
2. Be prepared and do your homework
Don't mess around – research everything.
Thoroughly.
If you are launching a new business and expect to be the market leader in 2 years, you need to demonstrate why this is possible and how you'll meet this goal.
If you say your product will be viral, you have to support this statement with facts.
If you say your management team is experienced and qualified to help the business succeed, you have to support that claim with resumes that demonstrate the experience of your team members.
It's easy to lose credibility – and investors – if you're making claims you can't fully support.
3. Know your target market and your competition
Some business owners avoid talking about potential competitors.
This is a mistake.
Unless you're creating a new industry, you will have competitors. And you'll need to figure out how to beat them or at least to compete with them.
To understand your competitors and the industry, you'll need to do market research.
A good business plan that carefully lays out this information in a detailed target market analysis appears more credible and will better prepare you for success with your new business.
And, potential investors and banks tend to trust business owners more when they see a detailed target market analysis in a business plan and a strategy for finding potential customers. They are more comfortable when seeing this level of detail because they will see that the business owner is better prepared to launch their business and make money over the long term.
There are multiple methods for conveying this data, referred to as TAM, SAM, and SOM.
TAM is the Total Addressable Market. This shows investors the total yearly revenue opportunity or units sold for your product or service if you achieved 100% of the available market. It's a quick way to address the potential size of the space you are operating in.
SAM is the Serviceable Addressable Market. This is the subset of TAM (Total Addressable Market) that you intend to serve with your service or product.
SOM is the Serviceable Obtainable Market. This is the subset of SAM (Serviceable Addressable Market) that is realistic to achieve. If you can get your business to meet this goal, you will have succeeded.
Invest some time and effort and do it correctly. A business can't succeed if the owners don't understand their industry, target customers, or the competition.
4. The table of contents is your friend
The TOC is your outline for the plan.
Take your time with it; make sure you are including all of the relevant topics.
At a minimum, your plan should include sections on the company you are forming, your marketing plan, financial information, and your go-to-market and growth strategy.
Look to other business plans for inspiration.
5. Don't give away your secrets when sharing your business plan
If you plan to share your business plan with potential investors, bankers, or others, require confidentiality.
And make sure you cover yourself with a strong disclaimer. The last thing you want is for a potential investor or partner to claim that your business plan misrepresented your business.
6. Write a strong executive summary
People are busy. Few read 50-page business plans. Even fewer read 100-page business plans.
Most will read only the high-level executive summary and flip through other sections of your business plan.
This creates both a challenge and an opportunity.
The executive summary of a business plan is designed to capture the reader's attention and briefly explain your business, the problem you are solving, the target market, and key financial projections. You can also include a brief mission statement in the summary.
If the executive summary lacks specific information or does not capture the attention of the reader the rest of the plan might not be read.
If your executive summary is strong, you increase the prospects to have a further conversation with a potential investor or partner to make your pitch in person. So,
Write the executive summary after you have written the rest of the business plan. This will allow you to easily summarize the larger details.
Keep it short. Include the essential steps with as little extra language as possible. Your goal is to get the reader excited to read all the specific details found in your business plan.
Organize the executive summary based on the strongest points.
Don't talk about your management team's passion for hard work. These qualities are the minimum shared by all entrepreneurs.
Don't say you will be the next Facebook, Uber, or Amazon. Amateurs make this comparison to try and show how valuable their company could be. Instead, in your mission statement and business plan copy, focus on providing the actual facts that you believe prove you have a strong company. It's better if the investor gives you this accolade because they see the opportunity.
WHICH LOGO IS BEST?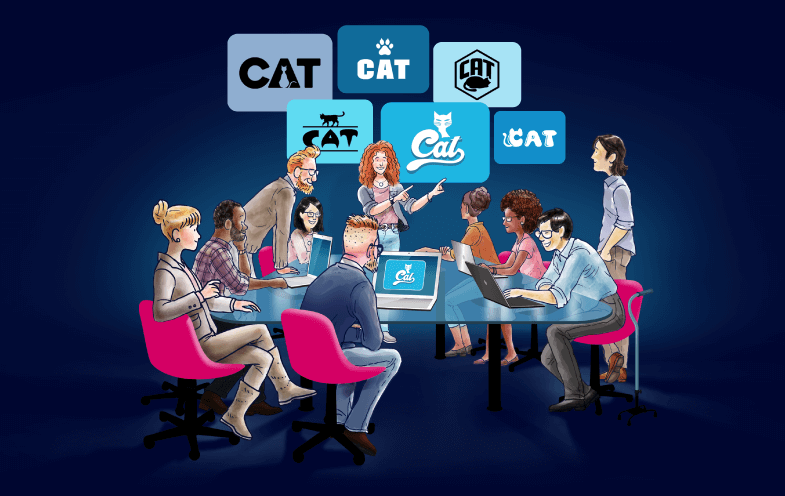 7. Know your audience
Who will be reading your plan?
Is it written for investors? For potential partners or board members? For a bank to get a small business loan?
Anticipate the kinds of questions those people will want to be answered and answer those questions. For example, if your audience includes bankers or venture capitalists, think like a banker or as a venture capitalist and write what they would need to see to fund your business.
If your audience includes potential joint venture partners or business partners, remember to focus on how collaborating with your business will help them succeed.
A great business plan will show that you have thought through your business idea clearly, know your value proposition, and have developed a plan to develop your business idea into a sustainable and profitable business.
8. Make the business plan readable
A great business plan should be compelling, interesting, informative, and exciting.
Make sure that you include detail, but not so much that people are overwhelmed.
Use appendices for the details and anything else (like resumes) that would bog down the body of the plan.
Do a careful edit for spelling, grammar, punctuation, and voice.
Get a second (and third) set of eyes to give you constructive feedback.
Do not be stingy with charts, graphics, illustrations, and tables. They are great ways to present detailed information in a digestible form. Nearly every business plan template can show you how to properly include those materials with your business plan.
9.  Use Pro-formas wisely
People interested in your business plan will want to see projections of your performance, your costs, and your anticipated growth.
But, they are sophisticated enough to recognize when those numbers have been arrived at based on real data compared to when you simply make up the numbers.
So, be conservative in all financial estimates and projections. If you think you'll get a 25% share of your target market in 2 years, hint at those numbers but assume you'll get only a 5% share for purposes of your financial projections.
One good approach is to show the best, worst, and most likely scenarios for sales and growth.
10. Keep it simple
Keep your language simple and use readable fonts and a clean layout.
And, let your personality show. If you believe in what you're writing, your passion will show in the final product.
And at the end of the day, remember that most people don't invest in a business plan.
Most people invest in a person.
You.
Want a free brand review?
Answer 5 short questions and we will send a custom report with actionable insights and specific actions you can take to build a stronger brand.

We just emailed the info to you.