These Online Programs Will Make You Rethink How You Can Improve Your Business Skills
With time and attention scarce, it's difficult for entrepreneurs and small business owners to upgrade or learn new skills.
There are, of course, millions of published articles and blog posts about entrepreneurship, business, finance, and management. But many of these articles are noisy and few offer real, actionable insights that can help you make better business decisions.
Fortunately, we live in the golden age of online learning. There are terrific free YouTube channels for entrepreneurs and small business owners and many online schools and sites offer free or low-cost online business courses.
Online learning takes many forms. The most common online courses are MOOCs, or "Massively Online Open Courses." These tend to be video-based lectures accompanied by exercises or notes. Many MOOCs are self-directed and can be started anytime and finished at your own pace, although some universities offer scheduled classes with specific start and end dates.
Learning online has many benefits for an aspiring entrepreneur or small business owner. Besides convenience and affordability, online programs often offer courses and instruction that might typically not be open to the general public.
For example, many renowned universities like Harvard and MIT have made their course lectures available online. This means anyone can audit any course they find, usually for free, sitting in front of a computer in their pajamas.
Or, if you target specific demographic and cultural groups but struggle to communicate with them, you can develop new language skills. For example, if you target a Hispanic audience, you can learn Spanish online and rely less on translators.
We've researched and prepared a list of some of the most popular sources of online courses that could help you become a better entrepreneur or small business owner.
Coursera
Coursera is one of the biggest online educators with over 20 million registered users and 150 education partners which include universities from all over the world. You can take courses offered by prestigious schools like Stanford University and Yale, and even pursue master's degrees in business and computer science (among others).
Coursera's catalog offers a wide variety of courses, from music and art to technology, science, and business. Of particular note to small business owners are courses covering small business management and strategy, marketing, and finance. The site boasts over 850 courses of interest to small businesses, so there's something for everyone.
Many courses can be taken a la carte and there are also subscriptions available (starting at $39 per month) to access specific subjects and even the entire site. Financial aid is available for those who might need the extra support.
Here are two good courses you might consider through Coursera:
Business Strategy, offered by the University of Virginia
"With cases drawn from leading companies like Disney, Microsoft and Zappos, you'll learn how to evaluate industry evolution, build and sustain competitive advantage, formulate and assess business strategies, and align efforts to organizational strategy."
Digital Marketing, offered by the University of Illinois
"Acquire a new set of stories, concepts, and tools to help you digitally create, distribute, promote and price products and services."
Want a free brand review?
Answer 5 short questions and we will send a custom report with actionable insights and specific actions you can take to build a stronger brand.

We just emailed the info to you.
Udemy
Want to learn how to create a demo video in Apple's Keynote? Learn how to market and brand your small business? Master leadership skills? Udemy has you covered.
Unlike Coursera's partnership with higher education, Udemy works more like an educational marketplace, connecting people interested in sharing their skills and knowledge with interested students.
Udemy has a vast course catalog that covers an impressive array of subjects. Course pages offer you a valuable breakdown of any given course with the following information:
A short bio of the instructor,
A 1-5 star rating with student reviews,
The number of students who have enrolled in the course, and
A video preview of a lecture so you can get a feel for what the instructor is like.
Prices range from $20 to a maximum of $300, but there are frequent sales and discount codes offered online.
Here are two good courses you might consider through Udemy:
Effective Time Management
"What this course will teach you, is the concept of 'Task Management.' In other words, it will teach you how to accomplish more high-value tasks, so that you get a 10X greater return for all of the work you put in every hour."
Body Language for Entrepreneurs
"Mastering body language is the missing ingredient for many business owners. Nonverbal communication can not only help you be more effective in your business dealings, but it can also give you an added edge above competitors."
WHICH LOGO IS BEST?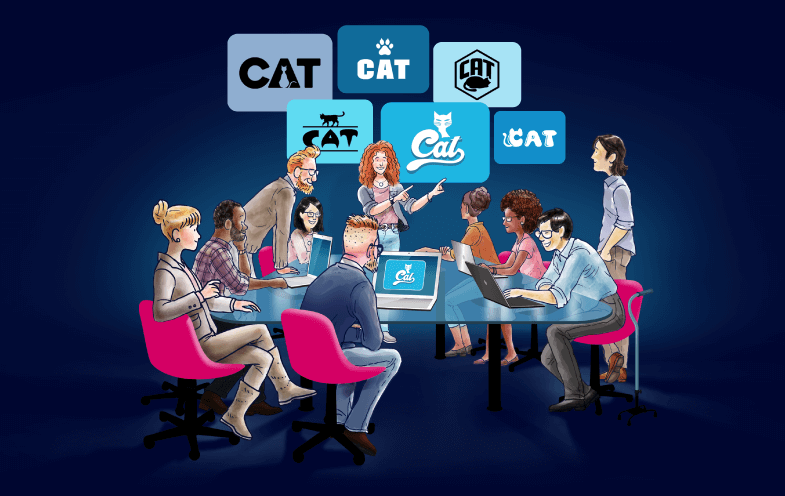 Khan Academy
The story behind Khan Academy is tech legend: educator Salman Khan started by posting videos on YouTube to help his cousin with her math homework and the videos went viral. Khan made the videos his full-time job, and Bill Gates and Google came knocking with funding and inspiration.
The site is now used by 40 million students and two million teachers every month, with courses available in over 35 languages. The Khan Academy is a recognized non-profit organization with donations from companies including Google, Bank of America, and AT&T. Best of all? It offers all of its courses free of charge.
A lot of the courses offered are within the STEM (science, technology, engineering, mathematics) realm, but there are a number of arts and humanities courses as well as courses of interest to small business owners in entrepreneurship, finance, and careers.
Here are two good courses you might consider through Khan Academy:
edX
edX's courses are delivered through a partnership with a long list of international universities and schools (including Harvard and MIT). It is non-profit and offers almost all of its courses free of charge. edX charges a small fee (around $50) only if you want to receive a certificate of completion.
The courses offered by edX run the gamut from the usual university courses in arts and humanities, science, and engineering, to business-related courses offered by well-known schools like the Wharton School of Business. Some of the courses are self-directed, and some are time-specific and have defined start and end dates.
With over 1,300 courses offered by dozens of schools, there's an excellent chance you will find something of value, and with most of the courses being free they are certainly accessible for everyone.
Here are two good courses you might consider through edX:
You Can Innovate: User Innovation and Entrepreneurship
"The boot camp is a one-week, intensive entrepreneurship education program that challenges you to start a company in 5 days. The Bootcamp offers you the unique opportunity to be mentored by MIT faculty and MIT alumni entrepreneurs and investors as you begin your new entrepreneurial journey."
Selling Ideas: How to Influence Others, and Get Your Message to Catch On
"Small businesses and entrepreneurs want to help their businesses grow but don't have the money for big marketing campaigns. Word of mouth can help them grow for less money. But for all these efforts to be successful, managers have to understand how to get people to talk and share. This course provides a step-by-step guide to getting anything to catch on."
Lynda.com
Lynda.com is the oldest education resource online, with an origin story that stretches back to 1995. Originally created as online support for co-founder Lynda Weinman's books on web design, the site has grown into a major learning destination. According to the site, there are nearly 6,000 courses covering topics in business, technology, and creative skills.
Courses in finances, leadership, management and communications are particularly noteworthy for small business owners and entrepreneurs. Subjects range from broad topics like interpersonal communication to more specific things like creating a family business plan.
The site is priced using an all-you-can-consume subscription model, with $20 a month getting you access to the entire site's catalog and $30 a month adding offline viewing and related project files.
Many public libraries offer Lynda.com courses to their patrons, so it's worth checking out your local library to see if you already have free access via your library card.
Here are two good courses you might consider through Lynda.com:
Become a Small Business Owner
This 11-course program says it will help you learn "everything you need to become a small business owner, from understanding the responsibilities of entrepreneurship to figuring out the legal, financial, and operational aspects of your future business."
Small Business Survival Kit
"Get the skills it takes to start and manage your own business with these hand-curated small business survival courses."
Safari
Originally started by tech publisher O'Reilly & Associates as a place to read their books online, Safari has steadily grown into a library of e-books, videos, and online courses from other publishers, schools, and teachers. In addition to technology and design books, there are thousands of books and videos covering all aspects of small business.
Subscriptions cost $39 per month for individual accounts, and business teams can subscribe with a small per-person discount. Safari is another service that has made deals with many public libraries, so check with your library to see if yours has access.
Here are two good courses you might consider through Safari:
Google and Facebook
Interested in marketing or selling on Google or Facebook? Both companies offer detailed online courses for people and small businesses interested in leveraging their huge audiences.
Google has its Digital Marketing Course, which covers advertising, Adwords, and marketing on the Google network. It consists of 10 modules broken up into smaller lessons and is offered completely free.
Facebook's Blueprint is also free and is equally detailed. It has over 15 streams dedicated to the needs of groups like small businesses, and specific areas of interest like working on Instagram or campaign optimization.
Learning online isn't just convenient and reasonably priced. There are many benefits:
A 2009 report from the Department of Education found that students taking online courses scored better than those attending a traditional in-class program,
Students reported they found it easier to concentrate taking online courses because there was less distraction and noise from other students, and
Another study by MIT researchers found similar benefits: the "learning gain" of a group of MOOC students was comparable to that achieved by students enrolled in the same course at MIT.
The self-paced nature of many online courses is a perfect fit for busy owners and entrepreneurs who want to expand their skills or knowledge without sacrificing the time they spend on their businesses. And you don't have to worry about the quality of education being impacted: A study by the University of the Potomac found that 77% of educators surveyed thought that online learning was at least as good as the traditional classroom, if not better.
If you've been putting off learning about managing human resources, project management, or even just improving your mood through the science of happiness, maybe now's the time.
And if you have unique expertise to share with others, learn how to create an online course and build an independent source of revenue.