Secrets of The World's Best Brands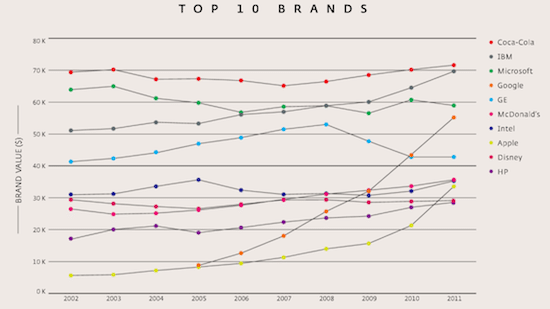 Interbrand has released its annual ranking of the world's best brands: Best Global Brands 2011 report. Interbrand's report is considered to be one of the most influential benchmark studies on brand value.
Let's first look at some of the highlights from the report, and then look at some of the important trends and lessons startups and small businesses can learn from the world's best brands.
If you're not certain you understand the meaning of "brand", here's a quick primer from Branding Secrets of the World's Best Brands:
A brand is the sum total of the experience your prospects and customers have with your company. A strong brand communicates what your company does, how it does it, and at the same time, establishes trust and credibility with your prospects and customers. Your company's brand is, in many ways, its personality. Your brand lives in everyday interactions your company has with its prospects and customers, including the images you share, the messages you post on your website, the content of your marketing materials, your presentations and booths at conferences, and your posts on social networks.
The Highlights from Interbrand's 2011 Report
Coca-Cola is the world's best brand, according to Interbrand (for the 12th consecutive year). Apple, for the first time, made the top ten (Apple's brand value increased 58%). Apple's growth is most impressive – especially when measured against the growth of other brands in the top 10 (below) and when one considers the challenging economic conditions around the world.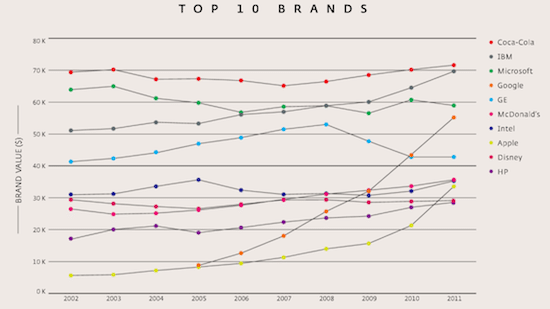 Technology brands continued to dominate the top 10 (IBM, Microsoft, Google, GE, Intel, Apple and Hewlett-Packard). This was also true for four of the top five biggest risers in the top 100 (Apple, Amazon, Google and Samsung).
It's not surprising that North America dominates the ranking (Germany, with 10 brands on the list, comes in second). But there are always interesting outliers. In 2010, Mexian brand Corona made the list; this year, HTC from Taiwan made the top 100.
How brands use mobile changed significantly in 2011:
91% of major brands today offer a mobile application (a huge increase from 18 months ago, when only 51% of brands offered a mobile application)
Only 23% of brands offer apps on the Blackberry platform (and just 9% offer apps via Nokia's app store). These platforms are effectively dead.
59% of brands have Android applications and 86% offer an iPhone app.
The vast majority of brands (73%) offer free applications.
Lessons for Startups and Small Business
What can startups and small businesses learn from the world's best brands and the Interbrand report?
Interbrand identified three major trends driving marketing today: differentiation, collaboration and humanizing technology.
1. Differentiate. Social Media platforms have substantially increased the level of noise – trivial and average ideas quickly get lost in that noise. Many marketing efforts will simply fall flat – especially if companies attempt to engage with their customers in traditional ways. Thinking different is more than just having a great tagline or a great company name. Differentiation starts with an understanding about your brand. And importantly, you have to differentiate in a compelling way.
2. Collaborate. Global companies regularly collaborate to enhance their marketing message and enrich consumer experience. Smart brands recognize that their brand is more than just a company's products and services – it's also the ecosystem that surrounds those products and services. Such collaborative efforts are strategic – designed to combine creativity and expertise, and to broaden the appeal of both brands to more consumers around the world. In fact, even collaboration with environmental or charitable causes provides great value (but no direct financial value). See, for example, Levi's collaboration with Water.org to highlight water conservation efforts.
How can your company collaborate with others to broaden your combined appeal?
3. Humanize. According to the Interbrand report:
More than any other brand, Apple (#8) has succeeded in humanizing its technology through its sleek and tactile interfaces. In some cases, as with the iPad, its products are so intuitive that they are being used as learning tools for the autistic.
People want to deal with people – not faceless brands or boring products. If you're going to develop an email newsletter, make it fun and engaging. If you're going to participate on social networks, build your ambassador ecosystem. If you're building a software product, give it a personality.
Do you agree with Interbrand's top 10 global brands for 2011? Are you seeing other important trends driving marketing today? I'd love to hear from you in the comments below.