Why Branding Your Small Business is Important and What You Can Learn From Brandless
Your brand identity is your company's public face.
A strong identity increases your company's value, creates an identity and motivation for your employees, and makes it easier for you to acquire new customers.
Strong brand identity starts with a good business name and company logo, but a strong identity is more than just the name and logo. As we previously explained:
A brand is the sum total of the experience your prospects and customers have with your company. A strong brand communicates what your company does, how it does it, and at the same time, establishes trust and credibility with your prospects and customers. Your company's brand is, in many ways, its personality. Your brand lives in everyday interactions your company has with its prospects and customers, including the images you share, the messages you post on your website, the content of your marketing materials, your presentations and booths at conferences, and your posts on social networks.
Today, we are experiencing a shift in how brands can efficiently market to their consumer base. There's more competition and advertising noise, and consumers are better informed.
It's difficult to break through the noise, especially when promoting a new company or new products or services.
So what can you do if you're launching a new company or a new product or service line? How can you break through the noise?
Want a free brand review?
Answer 5 short questions and we will send a custom report with actionable insights and specific actions you can take to build a stronger brand.

We just emailed the info to you.
One recent marketing trend is brand-free branding. Some businesses, ranging from companies that make beer to companies that make groceries, are stripping off their logos and selling "unbranded" products.
This is happening because people no longer trust most brands.
In fact, according to a recent study, only 23% of US consumers believed that brands are "open and honest".
This is one reason why we've seen so many companies rebrand in recent years.
Ironically, the effort to sell "unbranded" products reinforces the importance of branding.
But, before writing a business plan for a new business that attempts to create an unbranded "brand," you should understand what it means to develop unbranded products and brands.
Let's look at a recent example – a company called Brandless.
Image courtesy of Brandless
The Brandless (un)brand
Brandless is an e-commerce startup that offers various food, household, health, and beauty items – all at a $3 price tag.
The company presents itself as a quality merchandiser selling organic goods without the "brand tax" that elevates other comparable brands' price points.
Rather than selling a traditional brand experience, Brandless instead opts for no-frills packaging in a trendy minimalistic aesthetic, taking advantage of current packaging design trends.
Brandless claims that by eliminating the costs associated with advertising, marketing, and branding for a national brand, they can save consumers a sizable 40%.
The logic behind this move isn't wrong, but can it scale?
Imagine if hundreds of companies decided to follow Brandless down this path.
How can you choose from dozens of different jars of peanut butter with simple ingredient lists? Does the typical consumer want to spend time reading product labels?
But has Brandless eliminated branding?
No.
Unbranded is still a form of branding.
As we pointed out above, "a strong brand communicates what your company does, how it does it, and at the same time, establishes trust and credibility with your prospects and customers."
This is precisely what Brandless is doing with its brand. The company's logo appears on each product it sells.
By offering a high-end "generic" alternative for products you might otherwise find at your local Trader Joe's or Whole Foods, Brandless has created its form of branding.
Its appealing minimalist logo, millennial-friendly mission statement, and the irresistible lure of convenient online shopping all mix to create a strong brand experience.
Brandless CEO Tina Sharkey addresses the counterintuitive nature of their unbranded branding by acknowledging that Brandless is a brand. Sharkey says that the company is "unapologetically a brand" but explains that there is a significant difference: "…In 2017 we're reimagining what it means to be a brand."
According to Sharkey, Brandless has a different intended narrative, one that emphasizes the changing values and demands of their market.
Sharkey's vision for Brandless serves as a complete departure from the heavily-produced, in-your-face branding that so many products offer up in every store.
The overwhelming noise of each brand competing with the next, she surmises, misses the point of what a brand should do in today's overcrowded marketplace. She explains:
We're trying to reimagine what it means to be a brand in today's world, a brand rooted in authenticity, transparency, and trust. If we do this right we're actually building a community of people who want to change the way we live, where we can focus on living more and branding less.
Values matter
The particular genius of the Brandless marketing campaign is undeniable. The company understands that to attract loyal customers in a quickly evolving marketplace, marketing strategies must stay firmly in touch with its core audience's values.
For Brandless, the digital age's value system's recognition works as the foundation of an intelligent take on branding.
In Brandless's world, a product's typical accouterment of a striking logo, carefully crafted tagline, and exciting packaging design distracts from their core product and lacks the simple messaging it seeks to deliver to the consumer.
For an entire generation fixated on tracking every moment of their lives and hacking their bodies (and minds) to perform at their ultimate best, the purity and simplicity of Brandless's products make them alluring.
What you see, Brandless seems to be saying, is most definitely what you get.
Each Brandless product is packaged in a box with an ultra-clean, simple aesthetic listing only the food attributes. This is where Brandless showcases an integral part of their value system and appeal.
Each product has a descriptor placed in the middle of the product's package graphics (label) and runs down the checklist of two to five descriptors, each one a reason to buy in and of itself: organic, non-GMO, no added sugar, no artificial preservatives, or gluten-free.
This effectively avoids the confusing false narratives of most food packaging, leaving Brandless to outshine their competition with a simple, clean design that gets right down to business.
The bold approach to label each product with only those qualities and the simple ingredients inside each box means that their customer has to spend less time parsing through lengthy ingredient lists and distracting packaging and more time for, well, anything else.
Time is vital to most people, and even on the subconscious level, not having to overthink a purchase because you know what you're getting upfront is overwhelmingly appealing.
The sparseness and clarity of everything about Brandless and its products define values that further emphasize the core foundation of their products.
And then there's that $3 price tag.
"We did an analysis of the pricing, and $3 is just not the entry price to that market," Sharkey told Adweek magazine. "What we really wanted to do is democratize access to awesome stuff at fair prices and try and make everything better for everyone."
As a bonus, Brandless appeals to the most prized millennial value of all: humanitarianism.
WHICH LOGO IS BEST?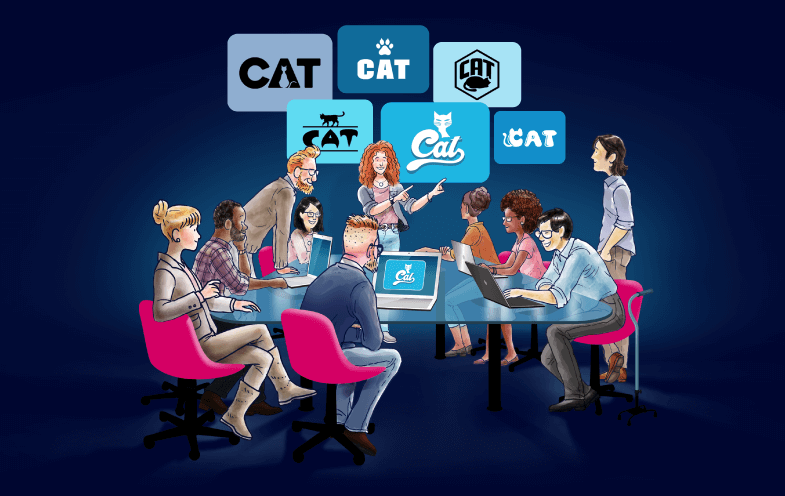 The Brandless founders recognized that even a $3 price tag isn't affordable for everyone, and so they built a social mission directly into their core business model. They made a partnership with Feeding America, and for every order placed, Brandless provides a meal for people in need.
What Brandless shows us is you need clearly stated values reinforced by meaningful actions.
By surfacing those values throughout your product line and product packaging, you end up with something compelling. So powerful that you can dispense with the usual come-ons and packaging hand-waving altogether.
Image courtesy of Brandless
Tell a story
The best brands tell a compelling story to their audience, and that story acts as the backbone of a brand's identity.
A good brand story focuses on a central theme in every form of communication from your business. It should inform your design choices and underscore your business' value proposition.
How you choose to communicate your brand's story is central to connecting with your customers and forming genuine, lasting relationships with them.
Manon Herzog, a global brand strategist and co-founder of Herzog & Schindler, elaborates on this idea. She says:
Brand is just as relevant as ever, but developing and managing a brand today is a very different discipline. What matters more than ever is the ability to tell a compelling story across touch-points—physical and digital—in a highly distinct voice, and the ability to evolve and pivot.
This is another area that Brandless leverages to turn what seems like bland, nondescript packages into a powerful statement.
The genius of Brandless's approach is that stripping away most of what we come to expect about products and packaging allows the story behind the brand to come forward. This has resonated with consumers, and according to Sharkey, especially with millennials.
"They don't want to go with brands that don't represent their values," she explained in an appearance on CBS This Morning. "They want to eat natural, they want to work with a socially responsible company. They want the transparency."
This is one of the biggest stories that Brandless tells: that the typical products you buy are overpriced, wasteful, and do not give back to the community.
According to a study by Geniusworks, 88% of consumers believe companies should wield their power to promote societal change and concern themselves with pressing societal issues. The study asserts that a brand that balances purpose with action is bound to see that action reflected an increase in their business's bottom line.
Brandless hopes by selling directly to consumers and making the key benefits of each product (non-GMO, organic, fair-trade, etc.), the product's actual packaging can weave a story that hits home with customers.
The lesson here is to create a compelling story and then weave it through your entire product experience.
Dare to dream big, but start small
Brandless is taking on one of the biggest, most challenging incumbents globally: the traditional grocery business.
Many startups have tried and have dramatically flamed out.
Does anyone remember Webvan? The company burned through nearly $400 million in three years trying to build an online grocery and delivery business before going bankrupt in 2001 and selling to Amazon.
HomeGrocer was another company that tried to take on traditional groceries but also burned out. Ironically it was saved from near-death by being acquired by none other than Webvan.
Brandless's approach is different from other companies that preceded it. It has started small, with just over a couple hundred products currently for sale.
This focus has multiple advantages. By keeping the number of choices low and the product selection focused, Brandless reiterates its goal of cutting waste and delivering only value.
It would be more difficult for Brandless to stress the message that they only care about what's essential and dispense with the rest if they had a vast, unwieldy catalog of products.
Companies like Target have thousands of products available at a wide variety of prices. Brandless only has a couple hundred, and everything is $3. That kind of contrast is a powerful differentiator and might give Brandless the hook it needs to cut through and make a real impact.
Wrapping up
Small businesses can learn a great deal from the branding direction adopted by Brandless.
Brandless departs from traditional consumerism altogether and instead seeks to promote simplicity, accessibility, and corporate and social responsibility.
By keeping their values an integral part of their brand experience, Brandless has created a powerful brand that connects with their customers in meaningful, impactful ways.
Businesses in all industries would be wise to take heed and reflect on their brand messaging.
When starting your own business or growing an existing business, a well-thought-out brand strategy is more critical than ever. Ensure your brand strategy reflects how you want your customers to see you, and leave all the excess collecting dust near the other brands in aisle nine.