12 Questions: Meet Pamela Harvey (USA)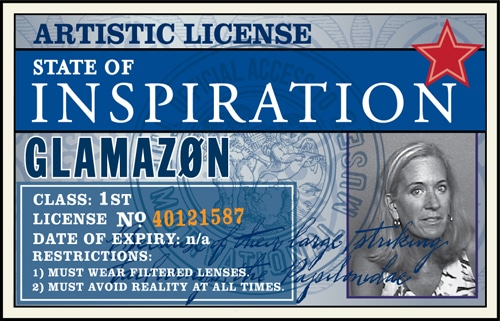 In our 12 Questions blog series, we feature interviews with someone from the crowdSPRING community. For these interviews, we pick people who add value to our community – in the blog, in the forums, in the projects. Plainly – activities that make crowdSPRING a better community. Be professional, treat others with respect, help us build something very special, and we'll take notice.
We're very proud to feature Pam Harvey (crowdSPRING username: Glamaz0n) today. Pam lives and works in Bristol, Rhode Island.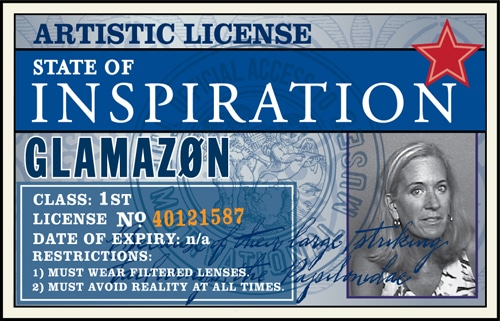 1) Please tell us about yourself.
I am a graphic design professional with over 20 years' experience "in the trenches". I have lived and worked in many cities, but mostly in California, where I was part of two design firms, one that specialized in private label cosmetics and skin care, and the other was almost completely branding and package design for wine, spirits, and beverages. My experience is varied: everything from brand identity and package design, print collateral, and even environmental graphic design, the techy term for "signage". And I am now officially a web designer as well.
Currently I live and work as an independent contractor, right next to the ocean, in Rhode Island, the "ocean state". I am affiliated with local and not-so-local design firms on a contract basis, and also participate in direct-to-client projects. My projects also come from my connection to several freelance websites, crowdSPRING among them.
2) You have a very distinctive design style. How did you develop this look?
What? You want I should give away my secrets? LOL! Seriously, though, for starters, I have to say I come by my design facility genetically. I come from a family of designers, architects and artists. Sort of like the musical J.S. Bach family, but we are a much smaller group! And less famous. And less prolific.
My "look" comes from a variety of influences. I have a huge love for poster design. If you look at a lot of my work, many of the logos and branding solutions look like posters. This may or may not work for any given project, as I have observed. Then, also, I have spent a lot of my professional life in branding and packaging design, where a "logo" is just one piece of a larger picture, and the development of a brand over many media and platforms holds huge appeal for me. I see the "logo" in many instances as an evolving process rather than a set-in-stone icon, or a visual mark that can be randomly attached to any product. Rather, the brand identity can take on many permutations over many applications – stationery, packaging, van graphics, signage, heck, and what about toilet paper?!!
Script fonts do not work for me, and I will only use them if specifically requested. This leaves me out of the loop as far as a lot of "approachable" design goes. Many projects, especially on cS, and mostly in the fashion-oriented world, like the soft, fluid look of script fonts. Such typography treatments are neither too bold nor too recessive, but just right for them. The Goldilocks look. That's a valid look and I am not knocking it. But I don't seem to pull it off. Script fonts to me somehow look too angular, sloping, unbalanced. And then you have those tricky ascenders and descenders to deal with. My work, on the other hand, is not for everyone, is not generic at all, and requires a fair degree of sophistication to appreciate.
I also believe in the development of two key skills for any designer, and they don't relate necessarily to design:
1) Powers of observation. I can be inspired by just about anything, from the texture of a stained jacquard fabric on a chair in an antiques store window, to the look of a mottled cement floor in an automotive body shop, to name just a few examples. I always have on board my iPhone and a small notebook that fits in my bag, so I can take photos of whatever inspires, as well as write down ideas.  And then there is:
2) Memory development. I have almost total recall for visual elements (names? not so much, lol) and can pretty much locate any inspiring design from past or present, with no problems finding items that fueled my vision, say, six months or six years ago. In addition to my extensive digital library of "also ran" and unsold concepts, I also keep a folder with pages that I have saved, from magazines, books, not specifically design-related, showing graphics, textures, text treatments, etc. that I like.
Another key element in developing my look is my dislike for empty space. Through my many projects on crowdSPRING, which require a lot of work in a very short time, sort of like "design boot camp" I am gradually evolving out of this envelope, but I mostly I like design that is contained within a shape – mostly square, rectangular or circular – and that has an even texture throughout, with no "holes" or vacant areas. The texture can be made up of text plus illustration or simply text, or text plus icon. The down side of this is that my work sometimes gets labeled "busy" but mostly by those who don't "get" the complexity and layers. Much of my work is informed by posters from the late 19th-early 20th century, which use bold, iconic fonts in combination. I have also out of necessity adapted to the influence of the Internet, where horizontal logo alignment seems to rule.
My most important rule for testing if a design is "done"? If I see no irrelevant holes or empty spaces, and when my eye does not focus on one specific area of complexity or ambiguity, then the logo or brand is as complete as it's going to get. Now, lately, it has become entirely possible for me to twist my look, like a pretzel, into a webby Internet style. It takes a lot of work, but hey, it's a job, and I am making progress on this front.
3) Which of your designs are your favorites and why?
My "look" can be summarized thusly: organized complexity.
It's tough to single out any "favorites". Like most designers, I love them all! A while ago I did a brand label on cS for an outdoor clothing company. Actually that has a humorous "aside", because the title in my portfolio was labeled with the company name. However I did not win the project, in spite of good ratings by the buyer and a few others. When the buyer set up his/her website with the new logo created on cS, the search engines kept taking people to that design in my portfolio. I joked that the Internet gods were saying they should have picked my design! I did change the title in my portfolio and all was well. But anyway, without question that design is one of my favorites, because of the even texture (no holes or nodes of activity), the use of blocky, distressed fonts, and the organized complexity to which I have referred above. And it looks like a packaging label. I have adapted that logo to other projects, but so far there have been no takers. The most recent buyer to whom I presented it did not like it at all – said it was "too busy". That's a comment I get now and then, so I have to be careful with details. Anyway, I am considering adapting this particular design for my own design logo, since I seem to be having trouble coming up with a logo for my own company. Ah yes, that's an all-too-common problem. Maybe I should post a project on cS!
I also like the work I did (on cS) for a social networking site, where the brand name of the site was a pun on the name of an historical figure. I like projects that use humor and irony.
Then, too there is the identity I created for an historic building that was converted into a bed & breakfast. This project came together fairly quickly, and the buyer had very few revisions. I enjoyed the architectural aspect of the illustration and I think the logo worked well for them. Additionally it's quite visible in one color and at small sizes, always a challenge and the ultimate test of a logo, especially with the complexity of elements that characterizes my "style".
I also did a van wrap project on cS – that is also one of my favorites. Besides the aesthetic result, it was a technological challenge for me, only in terms of the enormous sizes of the images, but I found that my Photoshop expertise expanded to the level that was required, and beyond. It's like what they say about tennis – always play with someone better than you.
One project in which I was the lead designer – and this project was not on crowdSPRING, but rather, I worked with a local design firm – was the package design for an alcoholic cider, brewed by a New England cidery. This package design won a local Boston area award, and I was excited about that, as well as the fact of adding value to my work as an asset to this company.
Finally, of course, there is the cycling jersey design and the etched bottle graphics which completed the branding. My kudos to the glass artist, because without his work the bottles would not have happened. This project was featured in the Communication Arts website section "On Exhibit" the week of February 8, 2010.
4) Who/what are some of the biggest influences on your design work?
Well, I am inspired by the work of other designers like Michael Schwab and his imitators, Joe Duffy, Shepard Fairey who did the Obama posters, and Paula Scher, whose signature is a very big, iconic look with lots of the super-sized, blocky, rhythmic fonts that I like, for example, Franklin Gothic Condensed and Extra Condensed, "Boycott" and "Cordoba". You have to love these font names, like nail polish colors.
As to the "what" – as I have said, I am often inspired by historic fabric design, traditional architectural ornament, by posters from the late 19th and early 20th centuries, and by furniture design, both traditional and contemporary. Lately I saw a collection online of aura patterns designed by sufferers of migraine headaches and their preceding auras. As I am prey to the rogue "ocular migraine" and get the odd visual disturbances from time to time, I loved seeing these patterns given quite a successful graphic representation. Migraine auras my inspiration? Hey, it could happen.
5) How do you come up with ideas for concepts after you read a buyer's creative brief?
I first look at the examples of what the buyer likes. No matter what he/she says, it's what they like and respond to that matters. And of course I pay attention to the "must haves" and "don't likes". I sometimes get into trouble with words like "elegant" and "expensive" and "luxury" because my definition of these terms is most decidedly not traditional, and I would define them within the parameters of contemporary culture, rather than within the use of traditional elements like script fonts, metallic gradients, soft glow effects. As a matter of fact, there isn't anything about my work that is "soft", lol!
I try for a concept or two based on the brief – somehow such concepts revert to my default design style, but occasionally I'll come up with something that works well. Then, I do a concept that has nothing to do with the brief, but is my own vision for that particular buyer. cS has really changed the way I work and has given me the freedom to design the way I want, the liberty to implement my vision. That's the "up" side of not getting paid up front. Meanwhile, I can concentrate on those IRL projects which provide definite and immediate compensation.
I do like working on the cS web design projects (when I have the time) because so much of that has nothing to do with aesthetics and is more about logic, structure, and navigation, and so my "look", love it or leave it, takes second place and I can shine with my inventive ideas for sequence and content. This draws on my background in architectural graphics, or "signage" where wayfinding is key, and the designer must identify the many decision points involved with navigation.
6) Mac or PC?
This dates me, but I was a graphic designer before there were personal computers at every workstation. In the late 80's I was working for an architecture firm and we acquired our first Mac. I don't remember what it was called – Mac 128 for the 128 MB of hard drive memory – but it was an all-in-one, had a tiny monitor, and was about the size of a "medium box" that you can get from FedEx. We referred to "floppy" discs and at the time we thought we'd use it for "typesetting" because all our type had to be sent out to a "type house". We had to order in different sizes and fonts because who could tell a priori what would work best? It only took a few years and all of a sudden there actually were Macs at every workstation! This was also the very beginning of email. I remember saying "you just sent a message through your computer? Are you serious?" At that time faxes were the big techno breakthrough. I also have been using Adobe Illustrator since it was called "Illustrator 88″, and we all thought Freehand was much better – well, you know how that turned out.
So, fast-forward to today, I am and have always been, totally Mac. I use a 27" iMac, in addition to my laptop, and this makes work a breeze.
7) How has technology affected your work?
Technology has not really affected my work as far as my thinking goes – I still go through the same list-making process of itemizing all my concepts, with rough sketches/diagrams, for a specific project. I make the lists so that I stick to the concept as originally envisioned, and so that I don't fall prey to "concept creep" or the merging of ideas, which can happen when you work digitally. (Note: "concept creep" is not slang for a hideous concept.)
Technology, however, has affected my process, and the way I execute my ideas. At the very basic level, it's so possible and optimal and instantaneous to explore different text options, different concept orientations. It's also possible where the budget allows, to consider imagery and illustration in a very rapid-fire way. The Internet has resources for all these items but I also use custom illustration the old-fashioned way, when the budget allows. Actually you may see me posting an illustration project, as I haven't yet acquired a stable of local illustrators. In fact, the very reason I was drawn to graphic design to begin with is because I am attracted by the interaction of text and image.
Funny, but design seems to involve a lot of shopping – fonts, images, illustration. Of course I do not use purchased imagery as a logo, I am well aware of that prohibition, but my two shopping fetishes seem to be fonts and shoes!
The software I use primarily is Adobe Illustrator and Adobe Photoshop. When I started working with cS, especially even after over 20 yrs. in the business, my Photoshop skills were very basic.  After all, all I had worked on were package design projects, brand identity and print, and my print projects involved only the most basic photo editing. I've become at least "high intermediate/low advanced", and Photoshop files with over 10 layers no longer intimidate me. My point is like one I made earlier – cS is really "designer boot camp", and I have learned to work really fast on a lot of projects. This upgrade in my skill level would never have happened if I was still working at the slower freelance pace I was accustomed to before I joined crowdSPRING.
And oh, I just learned another feature of Adobe Illustrator. Now maybe you all have been using this aspect of the software, but until last week, I had no idea. You know, those "special characters", mostly in non-English languages, where you have to remember which keyboard strokes to use? Well, you can just highlight the character that is supposed to have the accent mark, and then go to "Type" and scroll down to "Glyphs", and there will be all your special characters spread out for you like a Thanksgiving dinner. Double click on the glyph you want to use, and voilà (see I used a special accent mark) your special character will replace your highlighted text. Amazing. All these years and I never knew that.
I also do video editing, and am an avid Final Cut Pro user. I became a videophile when I realized iMovie was no longer enough for me.
My computer of choice is an iMac 27″ – recently purchased with some of my earnings from crowdSPRING. Thank you, crowdSPRING!
8) What are your favorite websites for inspiration or learning about graphic design?
One of my favorite websites is www.commarts.com. It's the website for the publication "Communication Arts", and this year, this week, there was an article on some work that I had done last summer, 2009: http://www.commarts.com/exhibit/33rd-tour-napa-valley-cycling-jersey.html. I don't know if the link will still be active at the time of this article, but it was very nice to have that endorsement. I am also full of big love for www.thedieline.com and www.thecoolist.com.
9) Please describe your typical workday.
Well, since I am an independent contractor, my workdays can be quite random, but generally I work from about 5 am until 3:30 or 4 pm. I am an early riser and later in the day I usually go to the gym, run, walk or ride my bicycle on our local bike path, which is right on the waterfront and goes through many towns, shopping areas, Starbucks (let's get our priorities straight!), parks and a wildlife sanctuary. Or is Starbucks a wildlife sanctuary?
10) What are the most challenging and rewarding aspects of being a graphic designer?
Well, there is graphic design in general, which is basically a craft and a service, and, really just another job. It's assembling a group of elements into a pleasing whole. And then there is graphic design the way I choose to practice it, which makes it more of an art form, really. In fact my next big "free-time" project is to create an exhibit of my work and shop it out to galleries. Some of the highest-end art galleries are near where I live.
I think the most challenging aspect of graphic design is that it's a profession into which you put your heart, soul, blood, sweat and tears. It's not like being a general physician (I realize there are exceptions), or a "taxman" where you see clients one by one, you have an office manager who tells you what to do next and where to go, and you head home at the end of the day. This is not a comment on health professionals or on CPA practitioners. – these are just examples and these professionals all provide extremely valuable services, to say the least. But their work is not personal to them, not most of the time, anyway. With graphic design, your work product is a part of you, its your vision, and reflects the entirety in small ways and large, of your experience. You are never finished. There is always something more you can do to make any design better, and the end of the day leaves you thinking oh, I "shoulda coulda woulda". It's never done until it goes to press, and even then…well…you never hear the fat lady singing.
It's also challenging from a client satisfaction standpoint. There is always that project where you have extended yourself beyond your usual limits, really tested your concept parameters and your grasp of technology. You are so pleased with your results…and then? The client does not relate. Does not "get it". This can be either a moment for extreme heartbreak, or a reality check, and your cue to "listen up" to the client. I am so defiant, a character flaw that I've turned to an advantage, so I rebel and refuse to take "No" for an answer. Rejection just revs me up even more.
Graphic design is challenging from the aesthetic taste angle. Right now clients see glossy, shiny web logos that have little blips for icons and feature a horizontal layout with a simple sans serif font, and that's okay. That is how technology has changed logo design. Just like the world of fashion or home accessories, clients are subliminally and systematically told what to like. They want the latest shoes from 9 West, or the latest conference room table from West Elm. Coming to terms with the tastes of a particular client can be one of the most frustrating and challenging aspects of graphic design. I will borrow a quote from an architect, and I am sorry I don't remember the source but the gist of it is that what any project really needs, in addition to a "good" designer, is a "good client". An educated client – not just knowledgeable about the time, energy, talent, and focus a project takes, but a client with knowledge of, and trust in, the designer's vision, and the willingness to stay out of the way, to allow the designer to fulfill that vision.
I've gone on about the challenges, but the rewards are there, too. Yes, it is terrific to have a voice in the public image of a client and of a company, but contrary to what some outsiders may think, whatever ego satisfaction I may get from a specific design solution, is limited and temporary, and I am always interested in facing the next challenge. It's like anything – there is always the next item to move on to, and the next brand identity or print brochure with which to become involved.
The primary reward I get from practicing this profession is that I am doing something I love. The time goes by rather fast, and I seem to be checking the clock one minute and it's 12:30 and the next minute it's 4:30. I never had any doubt as to what I wanted to do with my life. Good thing, too, as I would have gone to medical school or law school and would have only been involved with design as a hobby, or at least only part-time. Which is one way to live your life – very valid, and this plan would have been okay too. But as it is, I am a full time designer. I like being freelance, an independent contractor, as it allows time for all my other interests: travel, other crafts, workouts etc. But, if the right opportunity came along, and it would have to be "right" from all aspects – design focus, compensation, commuting, I would seriously consider a full time job with a design firm.
11) What advice would you offer someone considering graphic design as a career?
As with any profession, there are only a handful of designers who really make it to the world-class level, so I would not enter the profession with an eye to a glamorous life, or days filled with exciting, creative enterprise. With the emergence of the personal computer, the development of design software, and the overwhelming presence of the Internet, it seems that "almost anyone can be a designer". Not exactly true, but many non-designers have just enough knowledge of the software to get a usable concept down on paper. I actually remember the days of rubylith, where we had to cut and trim layers for each color, and we had to adjust the size of each element to allow for bleed. We had to tape the artboards to our drafting tables so that everything would be on register. I sometimes think if I had to start there that I almost wouldn't start at all.
The design profession is both super-saturated and super-competitive, and I would caution anyone who is starting out to really try and get a backbone and to try and get comfy with rejection. Anything aesthetic-related is very subjective, and so rejection goes with the territory. Develop the skin of an armadillo.
Graphic design is also one of the most "ageist" professions in existence, with a definite demographic that's skewed towards the young. Professions like law, medicine, academia, all have respect for the "grey-haired pony tail" set. But not so, graphic design. If you are part of a design firm, and your affiliation is less than five years, be totally prepared to be thrown out on your butt the minute you turn 45, or maybe even 40. This is perhaps an exaggeration, but older designers in general are not given deference or respect, unless the design firm or agency has been around a long time, and the older designer has been there practically from the beginning, or it's a family business. We're all going to be there, i.e. "old", some day so it's best to prepare. Get used to the idea of losing your job, a few times over. The quote from the George Clooney movie "Up In The Air" comes to mind. Something about the opportunity to change the world because you've been, against your will, set free from your job
The up side is that you can develop your own design firm. Graphic design is one of the professions that need very little capital investment and if it's just you and your computer, Adobe Illustrator, Photoshop, and an Internet connection, you can be a "start-up" for very little money. On the other hand, with a well-written and well-designed business plan you can market your company to venture capitalists and hit the ground running, with a fully staffed design studio. The profession is that wide open. It's also at the moment free from regulation and licensing. Although I started college with art school, I migrated to liberal arts and
nearly all of my training is on-the-job.
So my advice would be to develop a Plan B, a "day job", as per my previous remarks. Go to law school, go to medical school, or at least get some additional education to quickly learn an officially marketable trade, like paramedical, radiology, IT, paralegal, investment consulting, real estate, anything with a regular paycheck and anything you can just do and then go home! I am only advising this because of the current economy, and because of the current trend towards crowdsourcing. With sites like crowdSPRING, you really don't need a huge time investment in order to design a logo or a brochure, though you can and should invest as much time as your concepts deserve. Crowdsourcing appears to be the new business model. No more five- or six-figure fees and dog-and-pony show presentations with champagne and smoked salmon, which were a staple in the Madison Avenue advertising world of the 60's, a prime example of which is the "Mad Men" TV series. Unless you are the owner of a design firm or advertising agency, you will need to have other sources of income because you will not make enough to live on if graphic design is your only job. I'm not talking fresh-out-of-school people who share housing and car expenses – now that might be doable. But that is a specific demographic and it's a temporary situation, Graphic design can be rough as a profession if you are, say, fortysomething with a growing family.
Speaking of family, this brings me to another possibility. You can also practice graphic design by using funds acquired the old-fashioned way. You can marry someone with a decent full time tenured position, with benefits, in law or medicine or at a university, and voilà, your rosy economic future in graphic design is a fait accompli. You become a two-income family. And you have health insurance! There is always someone out there with whom to hook up, someone age-appropriate, with some sort of extra income. Just kidding with this Machiavellian approach, but suffice it to say that you won't become wealthy as a graphic designer, but with any luck and talent and a partner with a decent full time job with benefits, you will do fine.
12) What do you do with your free time?
Well, I've already answered this in a lot of ways, but I'll give a more focused answer here. CrowdSPRING, along with some other freelance/crowdsourcing sites, has, and continues to be, both a job in the professional sense, but also a hobby. A bit of both, and I am very often found browsing the pages of projects on cS to see if a particular project is a good fit, and if I have a good grasp of the project. If I am spending time for which I'm not getting paid anyway, I don't see this "volunteer work" as a problem of ethics – at least there is the possibility of compensation, but with 350 other entries on a typical project in which I get involved, the chances are slim, just based on statistics. Add to that my not-so-mainstream design style, and I'd better just enjoy the design work for its own sake because any award winning is just a bonus. I am divided on the issue of spec design. I can see both aspects of the issue, but bottom line, and it IS a "bottom line" for me, in this economy, there are very few other avenues for generating work. $300 for a logo is better than NO hundred dollars. At least it doesn't cost me money.
My other primary pastimes are running, gym workouts, cycling and knitting, the costs of which can add up fast. Cycling is very equipment-intensive, and just like the latest fad in logos, you want, you need you must have, the latest gadget. And also, once you really grab on to cycling as an endorphin generator, you start booking travel with cycling as the focus. Tuscany? Bali? The list adds up and so do the dollars. Knitting is another money eater. A ready-made sweater can cost $50-$200 depending if you shop at Target or at Nordstrom, but the yarn for that sweater can cost twice as much, especially if your taste runs to the more exotic and high-end materials like silk, linen and textured synthetics. I have way too many sweaters – I am "over knitted" – so I have started selling them on eBay and Etsy.
We used to be into sailing and long distance cruising, and we live in a sailing town, a.k.a. "a drinking town with a sailing problem". I come from a family of sailors, so I grew up sailing small boats in a harbor off the coast of Connecticut, on Long Island sound, and my husband and I actually took some time off in the early 90's, cruising around Central America for three years on our 40-ft. sailboat. We lived in Mexico, Costa Rica, Guatemala, Panama, and Colombia. We did experience the various ups and downs and permutations of the phrase "getting to know you", and the vagaries of living with another person never more 10 ft. away, but we had some really inspiring four-to-six-day passages. It was just the two of us – and what they say is true, that cruising involves long periods of boredom punctuated by moments of sheer terror! There is a lot of work and money involved – someone else said it's like standing in a cold shower while tearing up hundred dollar bills. However I am still thrilled by the opportunity that I had to see and live in many countries, towns and villages I would never have visited as a tourist.
So, now you know. "Glamaz0n: The Complete Story. What you've always wanted to know about the hippest designer on crowdSPRING who's on Social Security." Actually the SS won't come for a number of years, but anyway, I hope this interview has helped you locate me in your designer GPS, and has helped you get a fix on what my work is all about.
_________________
Thanks, Pam!