12 Questions: Meet Nausika Georgakopoulou (Greece)
In our 12 Questions blog series, we feature interviews with someone from the crowdSPRING community. For these interviews, we pick people who add value to our community – in the blog, in the forums, in the projects. Plainly – activities that make crowdSPRING a better community. Be professional, treat others with respect, help us build something very special, and we'll take notice.
We're very proud to feature Nausika Georgakopoulou (crowdSPRING username: BlackCatDesign ) today. Nausika lives and works in Athens Greece.
1. Please tell us about yourself.
First off, I'd like to say that I'm deeply honored and humbled by this interview. I always found it difficult to talk about myself, so I will do my best to paint you a picture of me.
My name is Nausika Georgakopoulou (hard I know! … it's pronounced Nafsika) and I come from Greece. I live and work in Athens which is Greece's capital. My first name actually comes from Homer's Odyssey, where Nausika was the princess of Corfu who helped (and had a secret crush on!) the stranded Ulysses during his long journey back to Ithaca.
I'm 37 years old and I'm married to a wonderful and supporting fellow designer and calligrapher, named Dimitris. We live in a house where we are "guests" of our two cats, Eva (thus my BlackCatDesign nickname) and Cookie (a.k.a. "the Cookie monster"). For as
long as I can remember myself, I was the kid who always loved animals, especially cats, and had from time to time owned several pets including a goldfish (that mysteriously committed suicide by jumping out of its bowl!), a hamster (who run herself into a heart attack on the wheel in her cage!) and a baby duck.
I studied graphic design in VAKALO School of Arts in Athens and got my MA in Interactive Media Design from Derby University in the UK. I have to say I loved going to school there and to think that at those days we had to do everything by hand. Computers were not so evolved and wide-spread back in the day, so we did everything by cutting, taping and combining our own designs. It may seem unreal to many young designers now but trust me, it gave us skills that came in handy.
At some point (around my senior year) computers came into the picture and I found my calling! I was fortunate enough to have found a job during my post-graduate year, where I quickly realized that things were much different in the real world than what we had in mind while studying! And yes, much to my fellow students surprise, my first job, apart from designing and brainstorming, also included making coffee, answering occasional phone calls and running chores! So, word of advice to any young designers that set out on their first job, "you won't all be made creative directors at once"!
Nowadays, I divide my time between working as a freelance designer and teaching graphic design in an Arts College. Though it may seem strange to some, teaching is so rewarding in so many ways! Of course it completely sucks all the energy out of me, but I also value the opportunity to come in contact with young people who are full of energy and enthusiasm. Let alone all the new bands and cool stuff I learn from them!
I came across crowdSPRING quite by accident and that was it! I was hooked! I think that this community is priceless, both in terms of inspiration and of course as an excellent source of income. What I love about cS is that it "forces" me to become a better version of my designer self, more imaginative and efficient. Plus, I get to meet all kinds of great people, both fellow designers and clients.
So, if at this point you're still reading and are not bored to death, kudos! 🙂
2. How did you become interested in design?
Well, I have my mom to thank for that. Being an artistic spirit herself, she always encouraged my artistic expressions, even if they were only scribblings on a piece of paper. I'm fortunate to have been raised by open-minded parents, who when it came to figuring out what I wanted to do with my life, simply told me to "do whatever makes me most happy". So graphic design seemed like a
natural choice (given that I was no daVinci with a brush and paper!).
Fortunately for me, 20 years later I have never once regretted my choice and I consider myself lucky and blessed, making a living doing something I love.
Apart from that, Greece has always had amazing history in design that goes back as far as 70 years (given that we Greeks went through so many wars that it's difficult to even count them).
3. Which of your designs are your favorites and why?
Hmmm… that's a tough question… I can't say for sure I know how to answer that because at any given time, the project I'm working on is my favorite. Makes sense?
I love it when I get the chance to work on typographic projects because I am a typography buff and I trully believe that lettering can either make or break a design.
Of course there are designs that made me feel proud of myself, such as the branding of a small Santorini resort, our wedding invitation which was a 32-page comic strip (I know! that's what you get when two graphic designers decide to tie the knot!), several designs that I did for clients here in cS and also some personal projects, such as a typographic deck of playing cards, which I hold dear.
I have to say that there is one design that is definitely amongst my favorites, the package and logo design I did here in cS for an after-sun lotion called Maui Vera. This was such an exciting process, mainly because the client himself is a forward-thinking, amazing guy with great respect for designers. (www.facebook.com/mauiverainc)
All in all, I think that my most valued designs are the ones where I got to show a little bit of me and at the same time left my clients happy with the end result. I know you all know what an amazing feeling it is, to see something you designed
4. Who/what are some of the biggest influences on your design work?
I'd rather not bore you with names you all already know, such as Neville Brody, April Greiman, David Carson, Erik Spiekermann etc.
I draw inspiration from the everyday things, the streets, books, TV, newspapers, my three nieces and all the people in my life. I find my husband to be a great influence in my work and I always value the opinion of my parents and friends when it comes to figuring out which way to go on a project.
I've heard many people say that when it comes to design, everything worth doing has already been done. Not true! Design is such an evolving field that there is always room for new ideas and designs that make us go WOW.
I'm a big fan of a Socrates' (who was a Greek philosopher) saying: There is one thing I know… that
I know nothing! This for me translates that knowledge is a never-ending process and I'm always excited to discover new sources of inspiration and cS is definitely one of these sources.
5. How do you come up with ideas for concepts after you read a creative brief?
Every concept for me starts with some research. I believe it's crucial to be informed and know your competition, thus avoiding slipping into cliches. Whenever I decide to work on a project, I research both the product and also the buyer, to get a feel for what would best suit the project's deliverables.
Afterwards, comes the brainstorming process where I start working on ideas until I end up with those that I think would work well. I often run my ideas by my husband (who usually shoots them down!) and I end up starting all over again! 🙂
Most of the times, it comes down to following your instinct and hoping for the best!
6. What software and tools do you use?
I'm a huge fan of Illustrator (addicted one might say) and for the past years I design using a Wacom tablet and pen, which has done wonders for my work, not to mention my tendinitis too!
I work with both Mac and PC and use Illustrator, Photoshop and InDesign for print and web projects and also Adobe Director for my multimedia projects.
One of my all time favorite softwares is FontLab where I design fonts whenever I get the chance.
Also, I always carry around a notebook and pen with me because you never know where the next great idea might pop up!
7. What is your dream design project?
Now that's a tricky question! Of course I'd love nothing more than to design a worldwide branding project but to be realistic, such projects mostly go to big advertising agencies. That said, my dream project would be one that would give me ample freedom to propose ideas even radical ones and have the client embrace them. I have been fortunate enough to have come across such clients on a few occasions and that makes the whole process seem more like fun than work.
One of my secret dream projects is to find the time and most important the resources to research, write, design and publish a book comprised of the detailed history of Graphic Design in my country. But in this economy?? Yeah, dream on!
8. How do you promote your work?
I have to admit I'm not much of a publicist. At least when it comes to my own work! I'm the go-to gal when it comes to promoting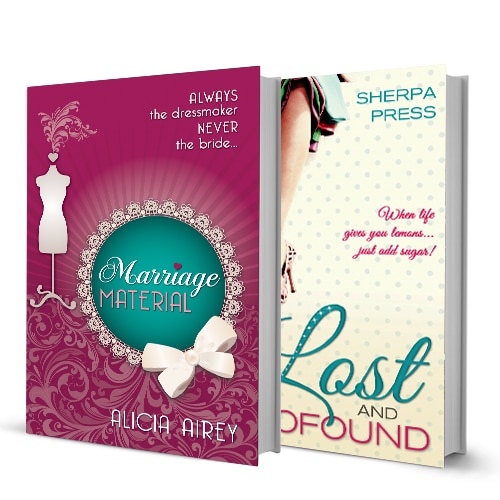 others, but I can't quite seem to find the best way to do that for myself.
Most of my business comes from word-of-mouth, when one client introduces me to another and so on. I like doing business like this because this way I can at least get some references for the new client and it also means that for someone to introduce me to another client, I must be doing something right! 🙂
I have created an online portfolio with some of my work over the years which you are most welcome to visit if you feel like it. Its: http://blackcatdesign.daportfolio.com/
P.S. I've had a potential client once tell me to change my
9. Please describe your typical work day.
Being a freelance designer I don't keep regular hours. I may get up at 09:00 in the morning and work till 02:00. Depends on whether I have a class to teach during the day and also what work awaits me. If I have an early class, I usually stay up late the previous night, preparing notes and visual references for my students.
One thing is certain: The first thing I do each day is feed my cats and cuddle separately with each one (there will be WWIII if I try to squeeze them both at the same time!). Then, turn on the radio, put some coffee on and turn the computer on to check my mail. During the day, being a married woman and all, I also have to prepare lunch, do some housework (not a big fan of those!) and of course do a lot of work!
I also love TV series. On slow days, mostly weekends that is, I can watch up to 6 episodes in a row if I find a show interesting. I once watched the full first season of Battlestar Galactica in one day! Yeap! I did! Not proud of it but what can you do?
Generally speaking, my day revolves around my hubby Dimitris, my work, my cats and my family and friends.

10. If you weren't designing, what would you be doing?
Now that's easy! I would be a chef! I love cooking and the freedom that it gives me. Ever since I was a kid, I always prepared surprise dinners for my parents, where I would also decorate the plates and the table with whatever came to my mind at that moment.
After all, us Greeks love good food and especially small treats which we call "meze" (something like an amuse-bouche, but in bigger portions!). One thing is certain…. as much as I love cooking and preparing dinner parties, I absolutely hate doing the kitchen
afterwards! Good thing we have delegated these two among my Dimitris and myself!
Seriously now, I love my job so much that I don't think I could picture myself doing anything other than this. That's a blessing isn't it?
11. How has the economy affected the design industry in Greece?
To be honest, I was a bit surprised to see that cS sent me this question. Of course it's no secret that Greece is in a tight spot these past 3-4 years. I'm not sure what any of you have heard, but the predicament that Greece is in, is not a result of us being lazy and frauds. How can you call someone lazy if they work 10-12 hour jobs? Unfortunately it comes down to our poor choice of government officials that put us in this spot.
Going through this economic crisis, the advertising field was the first to get hit. And it got hit hard. There is little demand for designers, given that most clients choose to cut back on their advertising expenses, considering it "a luxury" in these times. Of course they couldn't be more far off. Investing in a company's public image is what will ultimately bring more income to the company.
Most advertising agencies have gone out of business, and those still hanging on have reduced their staff to almost 1/3. Unemployment rate has gone through the roof, touching a staggering 35% which has made everything come to a stop. I don't know when this whole thing will turn around, but I'm hopeful that things can't get much worse than this (it's bad luck to say that isn't it?)
I for one, am gratef
ul for cS, because it has given me a chance to work on amazing projects, for clients from all over the world and is really helping me pay some of my bills! Plus, I'm inspired to strive and improve my skills and take my work a little bit further. So thanks crowdSPRING!
12. What do you do with your free time?
I have to admit I don't have a lot of free time, trying to joggle through work, teaching, family, cats and friends! However, whenever I get the chance I spend my time with Dimitris and my friends, either going out for coffee, visiting interesting art exhibitions, or simply staying in and playing board games and watching movies.
Once in a while we find the time to go on short trips which is a real energy boost! All in all, I'm pretty happy with the way things are.
Last but not least, I would sincerely like to thank cS for taking an interest in me and my work (still amazed by that!) and kudos to you for making it this far in my babbling interview (headache pills are on me!) 🙂
Good luck to everyone with all your future endeavors!
__________________________________
Σας ευχαριστώ Ναυσικά!