12 Questions: Meet Keith Woodruff (USA)
In our 12 Questions blog series, we feature interviews with someone from the crowdSPRING community. For these interviews, we pick people who add value to our community – in the blog, in the forums, in the projects. Plainly – activities that make crowdSPRING a better community. Be professional, treat others with respect, help us build something very special, and we'll take notice.
We're very proud to feature Keith Woodruff (crowdSPRING username: Dayshift) today. Keith  lives and works in Akron, Ohio.
1. Please tell us about yourself.
I am an ex ad agency writer and am freelancing now as gRasShoPpEr Communication. (The big and small font is an e.e. cummings thing.) My hobbies are, in this order I suppose, reading and writing, fishing, hor
ror movies, craft beer (all hail Lagunitas) and jogging to run off the beer – and to smooth out the edges. I have two Border Terriers, Otty and Indy, and am haunted by the ghosts of my cats Katie and Paisley. My first love was the ocean, the Pacific, even though during my childhood there the Zodiac Killer was hiding down every path. One of my favorite foods is Blind Robins. I makes em and eats em, much to the disgust of everyone around. (If you have to ask you'll be sorry.)
2. How did you become interested in writing?
I would have to say reading made me interested in writing. (Have always been an avid reader.) I read Of Mice and Men in high school and was devastated, in a good way if that makes any sense. I thought, if I could ever write a story this gorgeous that would be quite an accomplishment. Then there was the whole Stephen King thing.
3. Who/what are some of the biggest influences on your writing?
… Third base. I think the word play of classic comedy had a big influence on my advertising writing. I remember loving the word gags of Abbott and Costello as a kid (and still do.) as well as Laurel and Hardy and imitated their style of word play whenever I could. Later Steve Martin, George Carlin, Steven Wright, more wordsmiths. I think that that love of word play and sense of humor about language  helped me with some of my best headlines and also makes it hard to get a straight answer out of me—or so I am constantly told.
4. You are a fan of comedians – do you have a favorite comedy album?
Yikes. The last time I bought a comedy record (and it was a record)  I think it was Occupation Fool by George Carlin. Probably would pick that as my favorite "album" though I don't buy comedy anymore.
5. What types of writing interest you the most?
Right now, I am lucky enough to be writing quite a few speeches and I really enjoy that. That's the for pay stuff. For fun, like to read poetry, history, ghost/horror stories. Shameless plug: if you have never read The Willows by Algernon Blackwood, and you like you fiction dark and scary, you are missing out my friend.  Lastly, I love classical Japanese and Chinese poetry.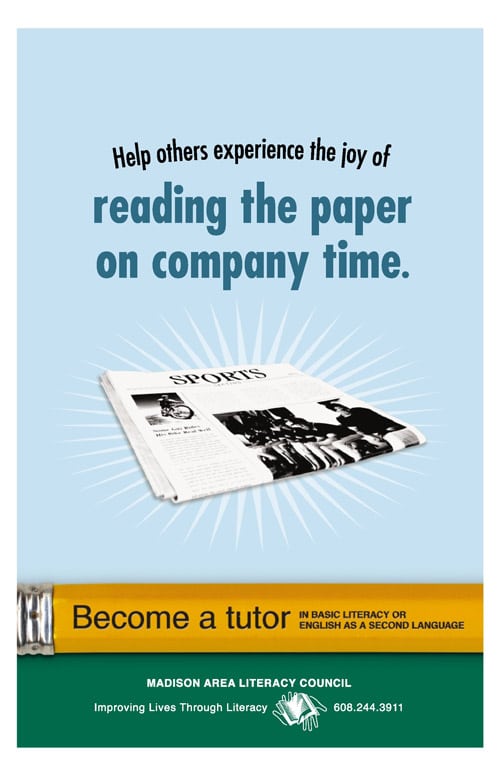 6. You write ads, ad campaigns, collateral, direct mail, web sites, product descriptions and a variety of general communications. What is most interesting for you?
Without a doubt, I think ad concepts are the most fun you can have doing what I do.
7. What would be your dream ad campaign?
That's easy.  I would be working on the Naomi Watts account, or perhaps the Satan account. The latter would be a tough sell, but who doesn't love a challenge.
8. How do you promote your work?
I wear a sandwich board on the corner of Main Street and Exchange and hand out business cards.
9. Please describe your typical work day.
Coffee. House and yard work, 40%; writing and reading, the other 60%.
10. What is your favorite book (or ad/ad campaign)?
Impossible question. If my house ever caught fire, there's a good chance I wouldn't get out in time because I would be pacing back and forth in front the book case trying to decide which twelve I should carry out. I can think of several stories that mattered to me a great deal over the years. Flowers for Algernon was one. King Lear. Of Mice and Men. Stephen Crane's Blue Hotel.
11. I What Stephen King story was best translated to film?
Ah, I wish someone could do a decent film version of any King story.  Of those in circulation, I suppose Misery and Cujo come close to being a fairly true rendering of the story. My favorite book was The Shining, but the whole Kubrick take was way out in left field in my opinion. Scariest book was Pet Semetary and I would love to see the remake do well. (I hear it is up for a re-do).
12. What do you do with your free time?
Play my drums, answer crowdSPRING surveys, try and elevate my wok cooking skills, look for rallies against corporate personhood to attend.
____________________
Thanks Keith!