12 Questions: Meet Ivan Fedorowich (Canada)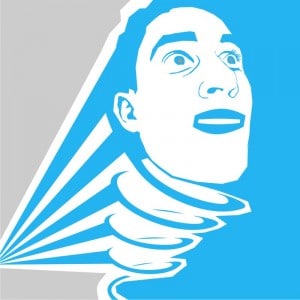 In our 12 Questions blog series, we feature interviews with someone from the crowdSPRING community. For these interviews, we pick people who add value to our community – in the blog, in the forums, in the projects. Plainly – activities that make crowdSPRING a better community. Be professional, treat others with respect, help us build something very special, and we'll take notice.
We're very proud to feature Ivan Fedorowich, (crowdSPRING username: intrepidguppy) today. Ivan lives and works in Canada.
1. Please tell us about yourself.
My name is Ivan (aka intrepidguppy).  I'm a 32 year old male, married 6 years to my wife, Beka.  We have two busy boys, Xander (5) and Luka (1). I'm an ex-army brat, born in Nova Scotia, Canada. One year later, we moved to Germany for 6 years…then to a base north of Toronto, Canada for about 11 years. I've lived in Ottawa, Canada since 1994. Ottawa is home to the longest skating rink in the world and one of the birthplaces of modern competitive hockey.  Ottawa also happens to be in the top 10 "Coldest Capital Cities" in the world.  When I moved here I was hot out of high school with no plans to go to college or university.  I've always loved art and design but never thought about it seriously as a career.  I did a lot of volunteer work in my area with the local Deaf community and so took work as a night cleaner for local businesses. It paid well and gave me a flexible schedule.
2. How did you start out doing graphic design?
Seriously…would you want to be a cleaner for the rest of your life? My personal epiphany came around February, 2005.  I thought…I'm going crazy. I need a hobby. I love art…why not see if I can make some money doing it too?  I started doing some Google searches for logo contest-type sites. Looking at the posts here and there led me to key words like…vector (huh?) and raster (double huh?).  I found out that these were just fancy words in the design world for infinitely resizable lines and not infinitely resizable pixels. Next step…what product should I use? Does it match my current budget? ie cheap? Is it used by a lot of designers? So I went out and bought Corel Draw 12. For some stupid reason I didn't start doing vector work until about three months after I bought the product  – couldn't get over the fear of the unknown – go figure.
So…in case you still haven't figured it out, I have zero design school education – which I regret to some degree. My learning curve was quite sharp…sink or swim.  I am still learning as projects or boredom push my limits.
3. You designed crowdSPRING's logo back in 2006. Please talk a bit about that project and the challenges you faced designing for a brand new startup.
It was kind of funny remembering that project.  I remember receiving a lot of feedback. As I found out later, not only was the crowdSPRING team searching for a brand, they were also analyzing the design process.  At the time, it didn't seem much different to me than the work I was doing for other potential clients. The crowdSPRING team already had a background in branding – they just wanted a cool logo design.
I think what was most satisfying was that my original design survived the second round after some in the community thought the springy icon might not be the best brand for the job.
4. Who/what are some of the biggest influences on your design work?
I can't say I have any specific influences on my work – although I have to say my mom in a way inspired my style (cheesy I know).  She loves to doodle and some of her stuff is really cool.  Her designs are generally minimalistic but at times can be quite complex.  Doodles tend to evolve as you go and can be a great source for creativity.  Like my mom, I prefer doing minimalist designs. Seeing artwork (especially logos) that can have equal effect in color and black and white is really appealing to me. It's something I noticed right away when looking through logo books and popular designers' portfolios.
When I first started designing it was quite obvious that I didn't know much, even though at times I thought I did.  I made it a priority to analyze why certain designers were successful and worked at absorbing aspects of style while remaining true to the designer I wanted to be.  So I guess I'd have to say my fellow designers (successful ones) here and on other communities have had some degree of influence on my work and contributed to my style – if I have one at all.
5. How do you come up with ideas for concepts after you read a buyer's creative brief?
Obviously, a well thought out brief is a key to a solid design. Sometimes certain key words spark a concept that can play off a word in the typography. I love utilizing an online Thesaurus to do that.  Research is a must-do, as you will come across what other designers have done, which I feel is important because it shows you what NOT to do; that can give birth to fresh ideas.  Doing image searches is a great help too – seeing graphics or photos of related ideas can really get the mind flowing.
6. Which of your designs are your favorites and why?
Well…ahem… crowdSPRING would be my first choice of course (lol). It's nice to have designed a logo that will hopefully go far and get worldwide attention.  Locally, I designed a logo for a group that is promoting the 125th anniversary of hockey in Ottawa. It was recently used in conjunction with a book chronicling the local hockey scene called "Win, Tie, or Wrangle" which has received great reviews.
I've designed a few other sports logos: the Arizona Heat and Falcons Hockey. The promoter for Falcons Hockey sent me a free shirt – it's kind of fun being able to say, "Yeah – I designed this."  Also, I've had the privilege of designing logos for companies in my family, especially my father-in-law's aviation consulting business, which is well-known in the industry.
A design I did some time ago was for a company called Shibumi Life – I used a recycled icon from a previous comp and it matched up perfectly – the reason I like it so much is that I created a bird figure out of the Kanji script for swallow.
Here on crowdSPRING I really loved the design I did for the Minerva project. It was inspired by Greek pottery and "The Kiss" by Gustav Klimt.  I feel it is one of my most elegant and well-though-out logos. I liked the feel of the logo I did for Spootnik too – sometimes I find it hard to match a great font to the design but I think I did a good job on that one.
7. How has technology affected your work?
Without technology I would still be trudging away doing only cleaning and other such work. Technology allows me to spend more time with my family and get work done much faster.  Right now I am using a refurbished Pentium 4 PC with 256 MB Nvidia video card…really low end stuff – but good enough. I use Corel Draw X4 for most of my work and, of course, Adobe Illustrator (CS3 – what a behemoth to learn).  I have always hated normal mice so I use a Logitech trackball mouse.  My wish list includes a Wacom Entuos tablet and a good graphic-focused computer – but I am content with the basics for now.  I use a Canon Pixima 4 colour printer – love it. Of course, some projects are a bust without a scanner – my old 2 in 1 HP scanner does the trick (that's about all it's good for except being a big, ugly paperweight).  Oh…and I use a USB hard drive to back up all my work every month or so…almost lost it all once when my laptop crashed.
8. You tend to be particular about the projects in which you participate. Please talk a little about why it's important to pick the right projects.
First and foremost, in choosing a project I start at square one – my personal principles. If a project doesn't align with them, I move on.  Secondly, projects that are potential time-wasters are usually a no go – I'd rather spend more time with my family. And – of course – if I think I can win, I'll enter.
9. Please describe your typical work day.
I wake up, eat, check my emails for updates and PMs, check the rss feeds, and usuallt check the main pages of my design sites.  Once I shortlist a few projects I start picking away at entries – usually I can come up with a few concepts by the time I need to start.  I tend to have a very flexible schedule and so sometimes I will stay up into the wee hours if inspiration hits. Having one kid in school ½ days and the other home all day – with limited space – makes work challenging at times but I wouldn't change it.
10. What are the most challenging and rewarding parts of being a creative professional?
Being a designer is kind of like being an OB – you help people give birth to their ideas.  Getting that baby out can be hard work but it's worth it in the end. Clients place a lot of trust in you, so giving them something they'll keep for a very long time is a real challenge.  But when you give them what they want and they are really happy – that's such a great feeling, aside from the personal pride of just creating a great design.
Even when your offering is refused – knowing that your design is really good is sometimes reward enough. Sometimes, though, I find it hard to not let my "newness" to the design field show. Coming up with great concepts doesn't always happen…even when the customer doesn't seem to mind. It call be an internal challenge to overcome. When you look back at older, less quality, work and think, "I did that? Yeah Okaayy!" you can at least come away feeling like you've improved over time. All in all, I really look forward to my work in  the design
11. What advice would you offer to someone considering graphics design as a career?
If it's not fun now – don't do it.  Being in a job just to make money is useless. Be diverse. Plagiarism is bad – if you think you can get away with it, you're wrong. Cultivate a conscience – don't violate your principles for money. Your respect within any community will not take long to fall if you do too many stupid things.  Watch better designers and learn from their success. Learn to take criticism gracefully – good or bad – some people know what they're talking about, some don't.
12. What do you do with your free time?
Who has lots of that nowadays?  Aside from catching up on sleep, I do things with my family and work with my local Deaf community teaching people the Bible in ASL – I've been learning ASL since 1994.
_____
Thanks, Ivan!