12 Questions: Meet Edward Laurin (Canada)
In our 12 Questions blog series, we feature interviews with someone from the crowdSPRING community. For these interviews, we pick people who add value to our community – in the blog, in the forums, in the projects. Plainly – activities that make crowdSPRING a better community. Be professional, treat others with respect, help us build something very special, and we'll take notice.
We're very proud to feature Edward Laurin (crowdSPRING username: LOREWREN) today. Edward lives and works in suburban Toronto, Ontario.
1. Please tell us about yourself.
Husband. Father. Designer. Working Artist. Friend. Cousin to many. Canadian. No band
wagon jumping Toronto Maple Leaf hockey fan. Born on the shores of Georgian Bay in an English and French speaking small town. My french is limited to a few words and phases but I can always pull upon my drawing skills when language barriers arise. Live in the inner suburbs of Toronto, Ontario.
Started my career doing lots of freelance after graduating from college as full time jobs were few and far between at the time (Mum and Dad were wondering if I would ever get a real job). I think they honestly thought this career choice involved living in a artist loft, painting still life  fruit and nudes. Freelance turned into a full time offer with my first  agency and then a jump to a great client side opportunity for a 12 year stint as in-house creative director for a technology company. Joined when the company was private and experienced the transition to publicly traded company. Great learning experience and worked with some very creative folks outside the design realm – computer programmers, engineers and product managers are creative people too! If you've been in front of a PC and a red rectangle logo appeared upon start up then you have seen one of my logos. Now work for myself with direct clients and as a hired creative gun for boutique marketing communication firms.
2. How did you become interested in design?
Always drew a lot as a kid. Give me a pencil and some paper and I was a happy camper. Sketch books went everywhere with me. Wish I still had them to look back upon. Remember showing my Memére my drawings of Bugs Bunny and Yosemite Sam around the age of 8. I remember reading the book Harold and his Purple Crayon by Crockett Johnson and his many adventures with drawing as a way to change the world.
My graphic design focus came in secondary school. We had moved to a new city from a really small town and went to all the secondary schools in the city and asked about their art classes. My Dad was in tow and has commented then that he knew then I was serious about my drawing skills and it would be my career. The high school had not only the typical fine arts offering but also Life drawing, Drafting and what was labelled as Vocational Arts. An art teacher named Mr. Robinson inspired (in other words kick my butt) me to pursue a graphic design college education. I recall my first watercolour lesson with him, two brush stroke swirls and a face appeared. Also the investment in a fine watercolour brush that I still use today. He was very perturbed when I didn't get into my and his first choice of college programs. It turned out to be a blessing, as I came to Toronto for my graphic design college education.
3. Which of your designs are your favourites and why?
a    My painting of my love when she was pregnant. Its titled – of course its a Madonna.
b    My painting of Rose Bay, Nova Scotia – fond memory of sleeping by the ocean for the first time.

c    Albany Packaging – Branding Project. Client has asked for a complete redo of its image – externally and internally audiences. Logo and my latest designed web project completed so far with more projects in the works.
d    Ninja Dog – has great potential to extend brands' promise and refresh over time. Too bad cS buyer chose another.
e    Dinner Delivered – client has keen eye and appreciation of design. They know their business and respected that I knew mine.
f    The Dobbs Group – extended the awarded cS logo project into a relationship that has resulted in a few direct projects.
g    United Seafood – Cape Gourmet Seafood Retail Packaging – series of four, clients collaborating style worked well with the common goal of a timely delivery without sacrificing investment into packaging appeal on the shelf. Wasn't a hurry up and wait for approval project.
h    Michael Cooper – great photo imagery to choose from for direct mail campaigns. www.coopershoots.com
4. Who/what are some of the biggest influences on your design work?
My wife – always tells me the truth and has a great perspective and honest advice.
Michael Cooper – Photographer I have collaborated with for years. Captures the moment of light that makes every art director looks like they know what they doing to the client.
Magazines – I used to read everything but time restrictions have curtailed that activity of late. Always a great deck moment at a friends cottage, reading a dog eared National Geographic with a pint of Guinness. Hope to one day start my own cottage collection.
KY Ho – founder of ATI Technologies Inc. One the best experiences in my branding career. Came about as a result of knowing and respecting my opportunity to work with this gentleman.
Charlie Harper – illustrator – became acquainted through one of my daughters first alphabet book.
Eric Gill – renaissance designer – typography and printer.
Takao Tanabe – Painter – viewed a retrospective exhibit in Halifax NS a couple of years ago and it still haunts me in good way.
Lawren Harris – Painter – member of the Group of Seven. Kept pushing his painting styles and subject matter through out his career.
5. What kind of on-line resources do you use?
www.smashingmagazine.com
www.globeandmail.com/business
www.vectips.com
www.ehmac.ca
6. Mac or PC?
I am a diehard Mac user – some would even say evangelical. Worked at a job where PCs were dominant and frankly couldn't do the leap. Not to say Mac don't have issues – they do – but in my experience the mac community is more willing to assist with a solution.
A MacBook and a MacMini are the current hardware. Adobe CS4 is the software. Filemaker for biz stuff. Came to Cs to improve my Illustrator skills with real projects. I learn best with with real outcomes. I think it also factors heavily into the time crunch we are under these days to produce. I want to create my own stuff while I follow along the software tutorials – online or in the CS class book editions – cherry pick what I need to know and move on.
8 x 10 inches Sketch Pad black with wire bindery and a yellow HB pencil. No eraser. Stashed in the recently found (almost perfect) vertical laptop bag. Bit of a quest over the past couple of years to find such a laptop bag.
7. What is your dream design project?
Still searching and I think that is the essence of what makes being a graphic design problem solver such a great career. I challenge my limits to be creative and my ability to work smart.
8. How do you promote your work?
Read a great business book about growing my business through referrals and its guidelines are working for me. Get More Referrals Now! by Bill Cates
Linkedin.com has a online tool for presentations. To view the portfolio presentation, please visit my online profile at http://ca.linkedin.com/pub/edward-laurin/4/292/bb9
My new website  www.lorewrencodesign.com
9. Please describe your typical work day.
I work from a home office, and my hours are dictated by my daughter's daycare schedule and my wife's commuting schedule.
I am generally in the office from 10 a.m. – 3:30 p.m. and go back at it after 8:30 p.m. when a deadline is looming.  I tend to scan eMails on my iPhone while having my first cup of brewed coffee. I find that doing eMails during the day can eat up a fair chunk of time so I need a bit of a regime of reading and answering to equal out the blocks of design productivity. Some creative procrastination, in the guise of research, to avoid accounting duties for as long as possible. I work with a sketch book most days – projects in the works or project notes or even phone call doodles. Trying really hard to break the scrap of paper habit for notes – just adds to the clutter on my desk. Computer work always follows the sketch phase. My idea generation is quicker with a pencil than with a keyboard and mouse.
10. What are other ways you use your creativity?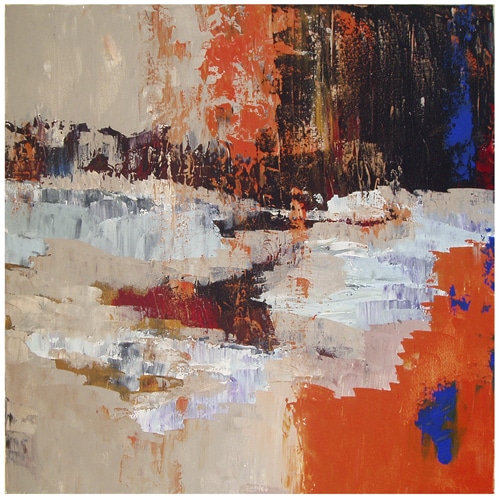 I paint. It is a completely selfish form of expression that doesn't involve a brief or sales objective. It takes me away from everything and it is good for my state of mind. My paintings are on display for sale at a local restaurant and most recently part of group exhibit at a corporate office.
Cooking (thanks to Jamie Oliver). Can't help but modify a recipe if need be to suit items in the pantry or when making dish for the s econd time. Before getting rid of our TV cable (now use a HD antenna from a box store and get great HD reception) I watched the Food Network. Sometimes mindless chatter but always visually so much of a feast for the eyes.
Home renos – we own a 1920s built home. Always a To Do list in motion. My brother in-law is a working carpenter and I can always ask for advice or just get out his way and become the beer boy.
11. If you weren't designing, what would you be doing?
I would paint full time.
12. What do you do with your free time?
I spent that with my wife and sweet daughter being a family. Playdough is still one the coolest toys. Looking forward to the Lego phase.
____________________________
Thanks, Edward!