12 Questions: Meet Connie Carlson (USA)
In our 12 Questions blog series, we feature interviews with someone from the crowdSPRING community. For these interviews, we pick people who add value to our community – in the blog, in the forums, in the projects. Plainly – activities that make crowdSPRING a better community. Be professional, treat others with respect, help us build something very special, and we'll take notice.
We're very proud to feature Connie Carlson (crowdSPRING username: iconicdesign) today. Connie lives and works in Northern Minnesota.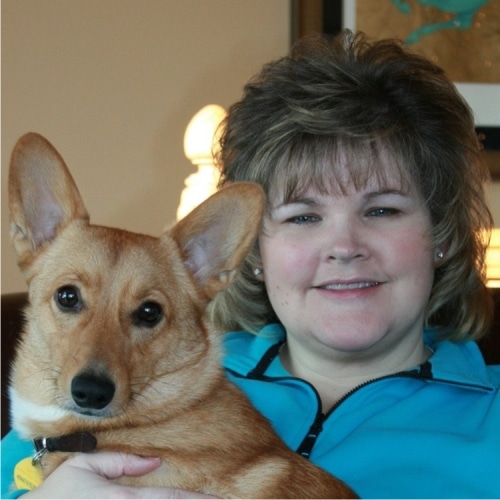 1. Please tell us about yourself.
Hello! I would like to introduce myself to all the talented creatives and buyers at cS. My name is Connie Carlson also known as Iconic Design. I was beyond thrilled to receive the April cS award, and then asked to be interviewed for the cS blog. I hate to admit it but I am not much into blogging, but I now can see it is a wonderful way to connect with others and express yourself. My husband of 23 years and 22 year old son and I live in beautiful Northern Minnesota and own a small hobby farm in the country, close to beautiful Lake Superior.
2. How did you become interested in design?
I am what you call an "old school, self taught designer". My father, a sign painter, started a small sign company in 1967 out of the basement of my childhood home. When I was young, I knew I was interested in a
rt, I seemed to always be visualizing letters, shapes and how things were made. Our family recreation was mostly driving around looking at potential sign work, and long discussions about how signs could be constructed to be visually pleasing yet most importantly functional. While growing up in the expanding family business, I soon realized that I wanted to work in the family business but didn't quite know in what capacity, so I started out doing odd jobs, sweeping floors, deliveries, coating boards or anything to be useful. In 1983, after my father invested in the first "signmaker computer", it was a rather simple machine, first designed to cut fabric for clothing. You really had to have a good imagination because you couldn't see your design on a monitor, you had to lay everything out on paper first and then choose your fonts and letter sizes and cut the letters out of vinyl and then apply them to your substrate.  Most people don't realize that even a simple parking sign need to be properly designed, what words should be emphasized,  minimal text to get the message across and best color combinations for viewing. That is where my design work started and with the progression of new technology in the sign industry, I was able to learn new design software and my love of logo design took off!
3. Which of your designs are your favorites and why?
Now having 25+ years of design experience I can't say that I have a favorite project because with each new project comes a whole new dimension of creativity and inspiration; they are all unique, but if I had to choose a couple of my favorites since joining cS it would be Shady Oaks Farm because it is a simple, classic design and because it
involves horses, my second love in life! And the second design would probably be Wheathead Brewing, I really enjoyed designing a beer label and I loved the vintage feel it has.
4. Who/what are some of the biggest influences on your design work?
My father was a large influence initially on the drive that I have for doing design work, and today I keep my eye open via the internet and print media for new ideas to work off of and make each project my own with my personal sense of artistic interpretation.
How do you come up with ideas for concepts after reading a buyer's creative brief?
Ideas for new projects start largely on paper sketching out a few ideas. After that, I move to the computer and create the design from my sketches. Putting pencil to paper is the best jumping off point for me. It is very important to read the brief over and over and highlight what is most important to the buyer. I really enjoy the projects that the buyer leaves the design style to the creative.
5. Mac or PC?
I have a preference to using a PC for the only reason that is what I have always used. I have no formal training for graphic design. I have learned only by trial and error and experimentation. Someday, I hope to switch from Corel Draw to Adobe Illustrator for my primary design software. I encourage new designers to keep their heads high and never give up, with every project you will learn something and even if your design isn't a winner you can look back and analyze what you could have done different.
6. What is your dream design project?
I enjoy challenging projects no matter the size and I would not say that I have a dream project but I can imagine that one will come along some day. I really enjoy working for non-profits or small start-ups.
7. How do you promote your work?
At this point, I only promote my work through cS due to my health and the flexibility that it offers for me to work at my own pace.
8. Please describe your typical work day.
There is no such thing as a typical work day for me. Because of my disability I have to work when I am able. My chronic pain diagnosis crushed my dreams of taking over the family sign business. This disability has changed my life and my workday from a full time plus position to an occasional freelance job. I feel most creative in the evening.
9. How has your disability changed the way you work?
After being disabled in 2004 from a chronic pain condition and daily migraine headaches I thought my life as a designer was ove
r but then I started searching the internet for local design contests and then broadened my search and found cS. It has truly given me a new lease on life and I feel like a productive person again. I have a reason to get out of bed in the morning and the variety of design projects is a dream come true!
10. If you weren't designing, what would you be doing?
I can't imagine my life without design, but when I can no longer be creative in that sense then I would definitely switch mediums to fine art. I truly admire the creativity artist have whether it is with pencil to paper or paint brush to canvas.
11. How do you select the right font for your logo designs?
When choosing a font for a logo design I take several things into consideration, (1) Does the client want a contemporary, traditional, vintage or casual style. It is very important to use appropriate style fonts for the message you want to convey with your design. (2) I love to customize fonts by using a combination or adding custom characteristics. (3) The readability of the font is very important. I always have to take in consideration how the design is going to be used. The logo most likely will be used in many different medias from signs to print to vehicle graphics, large and small. A successful design must look good in black and white as well in color. (4) I am a proclaimed font geek! I spend hours researching fonts, even if I don't have a particular need for a new font. I love the hunt, I am a very visual person and keep lists of interesting fonts, by category, for future projects. My favorite font sites are- myfonts.com and letterheadfonts.com just to name a couple!
12. What do you do with your free time?
When I am not designing on the computer, I spend time with my two horses, two dogs, three cats, and my family. We have lived in Northern Minnesota our whole lives and enjoy the beautiful yet rugged country and the +10,000 lakes Minnesota has to offer. I appreciate my family for their support through a difficult eight years of my life upon falling ill. They are a true inspiration to me and make me feel strong and motivated to do what I truly enjoy: being a designer and creator.
____________________
Thanks, Connie!