12 Questions: Meet Angus Griffin (England)
In our 12 Questions blog series, we feature interviews with someone from the crowdSPRING community. For these interviews, we pick people who add value to our community – in the blog, in the forums, in the projects. Plainly – activities that make crowdSPRING a better community. Be professional, treat others with respect, help us build something very special, and we'll take notice.
We're very proud to feature Angus Griffin (crowdSPRING username: ninet6) today. Angus lives and works in London, England.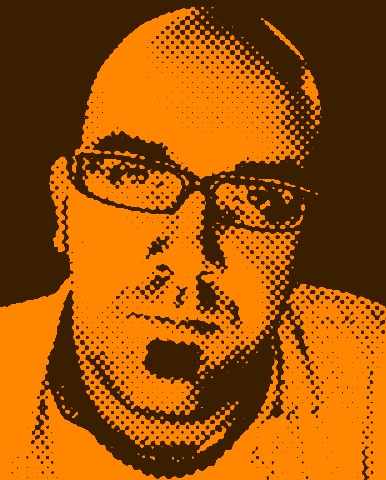 1. Please tell us about yourself.
Well firstly thanks to cS for interviewing me, quite an honour!
Hi there, my name is Angus and I'm 30 … Although the name might imply, I actually don't have much connection to Scotland. Well OK maybe a small bit, one of my Grandparents 😉 I was born in Holland to a Dutch mother and a British father, and having only experienced 4 years there, was whisked away to the rather greyer, but prettier countryside of Cheshire, in northern England.
I lived there for 9 years before my father got offered a great opportunity and we moved to South Africa for a three year contract. That ended up being 13 years. I actually remember speaking to my parents, soon after my first month living there, and saying, "you know what, you can go back to England, but I'm staying here!". The change of scenery, school, country and living style just blew me away. We also arrived at a rather pivotal and pertinent time in South African history, just after President Nelson Mandela was brought into power in 1994. It was truly amazing, and came at a point in my life when I think you make friends for the rest of your life, the beginning of high school.
Then a good few years later when times had changed, people got older and wiser, I decided to head back to the UK. And have been here now, ooh, 5 years!!
Work wise I started off studying the print side of things. I always believed knowing and understanding how things get printed, would be of huge benefit to the design side. So did that, became an apprentice in a trade based industry, and soon became a qualified photolithographer!! Then got head-hunted and moved into an Ad Agency, where I made the slow transition across to designer, and never really looked back. Actually cS came at a interesting time in my career … I was working for a Branding Agency in the centre of London, and the recession starting hitting hard, and soon I found myself without a job. So I sat for ages debating and toying with the idea of turning freelance permanently, do I, don't I. And I did … Shortly after found 99designs (I know, had to start somewhere), and not long after that, Pete emailed me about cS. I was lucky and starting winning fairly early on, bringing in extra cash, loved the environment, and have never looked back. After I got back on my feet, I then decided to get my own thing going with an old school friend, and now living to get that on the road properly … Granted not the easiest or best time to start something up, but hey gotta love a challenge.
2. What is the design industry like in the UK?
Well in terms of variety, talent and actual Design / Ad Agencies, you're really spoilt for choice, especially down here in London! Which I suppose on the flip side, will make it hard to find permanent jobs, and especially now! But a prime time for freelancers … The agencies aren't hiring staff, the staff they do have, are worked to the bone, but they still have briefs coming out of their ears! What do they do, bring in Freelancers.
I saw a while ago that the British Design Initiative carried out a survey that didn't make happy reading, saying that the industry is in trouble! According to the survey, graphic designers are struggling to charge the appropriate fees for their services commensurate with value and overhead investments. Design fees are at a 1993 level, despite salary increases and operation costs. This means that agencies are charging fees that are not far off freelancer rates – but with much larger overheads.
3. Which of your designs are your favourites and why?
Mmmm, good question. I think it is hard to decide … My favourites have always been the simple and clean designs. I've always been taught and believe that a brand needs to work in its simplest form. So with that in mind I often try to bring it back to basics, clean lines, and if it works in B&W, it will work in colour.
For those specific reasons one of my favourite is the Brooklyn Business Summit logo design. A simple leaf shape cut of a encompassing circle. Its not necessarily anything spectacular but always makes me look at it.
Purity Vision is another one of my personal favourites. They are a start-up company focusing on distribution and private label of organic (bio) food,
food-supplements and traditional medicines. Also natural organic cosmetics and health-care products. The idea was to create an enticing and thought provoking icon, but keeping it simple and in line with what they did. The idea ended being an icon where not only could you see leaves, flames, movement and a face with hair.
I was also lucky enough to work on FHM advertising whilst I was in SA! And I think the best project I worked on, apart from all the party stuff, was the branding of their mini cooper. I was part of a team that came up with the concepts and implemented the design. Definitely a bloke thing, and one that got sent round the internet, great to see. The bikini actually went up the side of the car, and tied in a bow at the end. We also managed to get a rather fitting number plate!
Another favourite was when Becks Beer came on board, and gave us an open brief to redesigning their entire brand for South Africa. So I worked closely with the CD, and came up with a great new design and campaign, that took off really well. Always great to see your work up and around, and hits home with a sense of pride when you see it out there.
4. Who/what are some of the biggest influences on your design work?
I suppose there are a few things really … One of them is definitely my mood lol, and what music I'm listening to at the time. I remember a years ago I was doing a painting for A-Levels and I was completely stumped at the time, could not get the brief through into my head. So I just started painting, with something really chilled out, like Ryan Adams, but not. Then half way through someone had changed it to I think Iron Maiden, and the entire theme of the painting changed within the space of about half an hour. So yeah, mood is a big thing, but I'm generally a tame and chilled person, so don't really get wound up, and that just lets me get on with things really.
People wise, although I appreciate and love great art  and artists, I don't think they have really influenced me in terms of my design. I have to say my very first creative director was a huge help and influence, and I respected him loads. Down to earth chilled out CD (which doesn't often happen I noticed), and was always there to listen, bounce ideas of, and generally get the very best out of you – without flogging you to death till the ungodly hours, that can and often does happen! Other designers as well … For instance here at crowdSPRING, when I first arrived, I was in bewildered awe at the talent that was around, truly was. I almost felt rather insignificant, but got stuck in, entering everything, and soon learnt from the guys that were on here, learnt new ways of doing things, new styles etc.
Everything around you is also an influence I find. If I catch a bus in London, I often just stare out the windows and just look what's around … Kinda of day dreaming on the move. Even if I go in shops I just look around and observe, and try and remember the things I've seen.
5. How do you come up with ideas for concepts after you read a buyer's creative brief?
Well I have to say read the brief again, and probably again. Branding or creating a logo becomes the channel through which an organization will show itself to itself and to various external parties. Someone once said, the fundamental idea behind the brand is that in everything it produces it should project a clear idea of what it is and what it aims are. The core idea should drive the organization, its what they are all about. So understanding how they tick, or what they do is integral to that. Granted more often than not, briefs can be rather weak, which doesn't help when trying to create what the buyer calls "an amazingly unique powerful logo".
But an issue which I think we often face is that (more often than not) the buyer has a very specific idea in mind, of what they want, and want to portray – even though they say its open to ideas. This in term leaves you with little room to create something that is truly unique and amazing, but rather make or turn what they want into a good design. Its rare, well I've found, to get a client that gives you an open but informative brief, leaves the creative up to you.
Sorry sidetracked there, my head went on a complete tangent … which often happens with many everyday things =]
So yeah, read and read, then depending on the project, I'd either get the sketch pad out and work on some doodles, or jump straight in. If an idea leaps out at me, then I'll dive right into it, jump to my machine and start working it up. But sometimes what I'll do is actually read the brief, and have a complete mental block, be stumped and confused. Then I'll go away and let it linger in my head. My desk if layered and stuck (in an organized manner) with post-it notes of little scribbles, mental notes and ideas. And then go back later and start working on it.
6. Mac or PC?
MAC definitely … Always have been. When I studied we were taught on both, which was cool, but from the first Repro House I apprenticed at, moved straight onto the Mac's. I have a lot of friends who moved back across to PC, but don't think I'll ever do that … Suppose should never say never. The price of software might leverage the decision. No, actually it won't 😉
7. How has technology affected your work?
Ooh hugely! I was very lucky in the fact that I was around computers from an early early age. My father worked for HP (Hewlett-Packard) so he always had some form of machine back at home, more often than not, one for me to play games on!
I actually remember when I got into the industry that the Power Macintosh had only been out for a short while, just before the first iMac was delivered to the world! The awesome Bondi Blue translucent plastic casing. And its just got better from there. I now have the Mac Pro, and to be honest don't know how I survived on the old iMac G5 for so long. I've noticed a massive time saving process since I've got it, its amazing. Granted I have got 8GB of RAM running through it, but its just great to not have to wait a while for a 300mb PSD to open for instance, or a 60 page book in Quark.
Even looking at the internet, and phone technology. I couldn't work without a net connection, I'd be screwed! And years ago people where saying, nah I don't need the internet. Well thankfully we do. Also being able to send, view and receive emails on your phone! Awesome!
Program wise; well now, I work mostly in Illustrator, Photoshop and Quark. However I did start off in Freehand. In South Africa that's what we got taught, from the beginning. I'd never even really thought about Illustrator until a Creative Director told me, before I left to go back to the UK, that most of Europe works in it!! However I stuck out with Freehand until one fine day my new machine with its new operating system wouldn't allow me to install the latest and last ever version of Freehand. I had no choice, but to learn Illustrator very bloody quickly LOL. But now, haven't looked back, and think why didn't I change over sooner!
8. What are your favorite websites for inspiration or learning about graphic design?
There are a few, but I also (space allowing) love having reference books. Sites are great and instant, but I enjoy sitting on the couch with my pad, and books piled up ready to go through. Site wise for logo design, I think they are the usual suspects like; Logomoose, Logospire, LogofromDreams, Logogala, Logofi, Logofury …
But then I also have loads of resource sites that come in handy, especially for colours, there's Kuler! Great site for getting a colour palette together.
9. Please describe your typical work day.
Well, Heidi (who designs accessories), my partner and I both work from home so its normally me that gets up first and makes the tea. Can't start a day without that one! Then its usually straight behind the machine in a dressing gown with tea, and checking emails. I have clients across most continents so often trying to get up early to catch the end of the ones out eastwards, and late for the ones in the west.
Then get dressed, by which time its normally getting close to lunch, and we both have to force our selves to stop and actually get some lunch. So eat whilst watching a bit of TV, then turn that off and turn back on the music. We both love listening to music, and on the slightly more alternative side of things. Music often helps me get into the zone for designing something,especially when you've got to focus on something.
I'd love to say we go to the gym and work out, but you know what, we don't. Kinda lazy in that respect, bad I know, but hey one day get back to gym. Then before you know it, its already 7pm and your thinking shit, we need to get some dinner! This we normally cook together, after dragging ourselves from the machines. Then unless there is something specific on TV that we want to watch, we normally just "quickly" cheap emails again, which can be 5min worth or a few hours worth. Eventually we try and chill out for a while, whether its TV or video games, something to take our mind of work. Then finally sleep … And then all over again.
The one advantage of both of us working from home, means that if we want to go out or go somewhere, we can. Makes it a lot easier, and especially in London, doing things during the week is much less busy and stressful than the evenings or weekends. Gotta love seeing a movie at lunchtime.
10. What are the most challenging and rewarding aspects of being a graphic designer?
Well now its slightly changed, since I'm doing it for myself. I think its a whole new ballpark compared to when your working for someone else and creating based on the job bag in front of you. There are some same principles in the basic graphic design part …
But in terms of challenging I suppose the main ones would have to be; finding work, money or rather finding it, making sure you keep the clients and keep them happy, other designers and their talents and keeping my skills up-to-date. I love learning new things, on a daily basis there is so much to learn, and keep learning it. I don't think we'll ever stop learning.
Rewarding wise; I definitely have to say seeing your work either published, online, on a side of a building or on TV. Also having the client love what you've done, makes it worth while, knowing that you hit the nail on the head for them. I remember when I did a TV commercial for Cadbury's back in South Africa years and years ago, first and last one I did. It was Friday afternoon, and my Creative Director walked into my and my copywriters office, slapped a brief down on the desk and said we need to come up with ideas by Monday morning. What he failed to tell us was that he'd had the brief for 2 weeks, and Cadbury's had bombed all his ideas, and they where on the verge of taking the account away. So we worked all weekend, did some scamps etc, and presented on Monday. Long story short, they loved it, and gave us pure director's scope over creating it. Filming and making the ad was great but the best part, was one random evening I went to the movies with a few friends, and one of the ads before the movie started was mine! Can't describe how that made me feel, was awesome.
11. You are the most awarded creative here on crowdSPRING. What is the secret to your success?
And thanks for that award 😉 should I actually be telling you this haha … Well I think firstly we're in an environment where there is nothing set in stone or guarantee … Many a time have I been pipped at the post, and you know what it happens! Nothing you can do about it. I always try and be polite, and explain what I've done, even though it might be basic description I still do it every time. This has definitely stood me in good stead, as often a buyer has written back going, "oh yeah I see what you mean", and from that point they've really thought about it, and maybe it lead to a win.
But I think the main thing is creating something that's simple and to what the buyer wants or needs. I often see some amazing designs, truly beautifully created bits of work (way better than I could do), but it doesn't work for the client. Again it comes down to reading the brief, and their needs. Even if their initial ideas aren't great, and you can think of something amazingly clever, the goal, I believe, is create what they want to the best of your ability. You need to make, or rather turn their thoughts into something that still looks great. I find it rare to be able to create a truly unique and unusual logo, from an open brief, those are far and few between (but nice when they come around). Granted I will voice my opinion to a buyer if I strongly believe what they are asking for, won't work. But I explain why I don't think it will work, and open up a dialogue keeping it light and easy going.
12. What do you do with your free time?
LOL I think that's one thing I lost when I started for myself. If you don't work, you don't get business or paid. However the flip side to that is that you can, if you want to, do things whenever you want (within reason), during the week, when its quieter. So we try and get to the movies, or do a day of movies and bit of shopping. Love going for a full cooked breakfast on Saturday mornings, or going for dinner at a nice restaurant … basically great food is always a winner, with a bit of video games afterwards 😉
We also try and get away for mini holidays … instead of doing say 2 weeks here or there, we go for mini 4 night breaks to places. Means you can get to a lot more places, and generally for fairly cheap, if booked well. We recently got a great A1 map of the world, and have started dotting off places that we've been. Cheesy I know, but great to see where you've been.
And then a bit of graphic novel reading always good. Currently going through the whole Preacher series (amazing and highly recommended).
Thanks for reading =]
_____________________
Cheers, Angus!